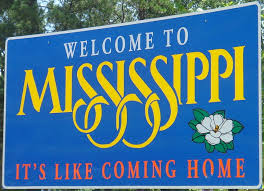 Fifty Nifty Takeaways
What do we hope to learn from this series? We hope you will gain a better understanding of the unique characteristics of local government in each state, we hope you will learn that there are others like you who are motivated to make a difference through the public sector, and we hope you will learn that it is best to learn from others' mistakes than yours.
Our Take on Mississippi
The 50 Nifty puts on its best seersucker suit as we head to the state of Mississippi to profile Parker Wiseman, Mayor of Starkville. Mayor Wiseman was a classmate of a number of ELGL members who attended the University of North Carolina MPA program. Before we learn too much about Parker, let's find out about what's going on in Mississippi.
Also known as the Magnolia State and the Hospitality State, Mississippi is the 32nd most extensive and the 31st most populous of the 50 United States.  Jackson is the state capital and largest city with 175,437 people. When ELGL thinks about Mississippi, we think about cowbells, Elvis, "One-Mississippi, two-Mississippi", and the Teddy bear (which gets its name from President Theodore "Teddy" Roosevelt who on a 1902 hunting trip to Sharkey County, Mississippi ordered the mercy killing of a wounded bear.)
As with all other U.S. states and the federal government, Mississippi's government is based on the separation of legislative, executive and judicial power. Executive authority in the state rests with the Governor, currently Phil Bryant (R). The Lieutenant Governor, currently Tate Reeves (R), is elected on a separate ballot. Both the governor and lieutenant governor are elected to four-year terms of office. Unlike the federal government, but like many other U.S. States, most of the heads of major executive departments are elected by the citizens of Mississippi rather than appointed by the governor.
Mississippi is one of five states that elects its state officials in odd-numbered years (the others are Kentucky, Louisiana, New Jersey and Virginia). Mississippi holds elections for these offices every four years, always in the year preceding Presidential elections, the most recent of which was in 2011.
Uniquely, Mississippi was the last state to give shares of its popular vote exceeding 85% and 90% to one candidate in a presidential election: in 1944, Franklin D. Roosevelt won nearly 94% of Mississippi's popular vote, and in 1964, Barry M. Goldwater carried the state with 87% of votes.
Mississippi has enacted its share of interesting laws such as:
Hazelhurst: You may not fish by using an Uzi.
Oxford: You may not cheer unless there is a reason too.
Temperance: You may not walk a dog without dressing it in diapers.
Tylertown: It is against the law to shave in the center of main street.
Winona: You may not honk horns as they may scare horses.
Vitals
Parker Wiseman
City of Starkville (MS) Mayor
Education:  Mississippi State University, BA, University of North Carolina MPA, University of Mississippi School of Law
Experience: Member of the Mississippi Municipal League Board of Directors
Connect: Facebook, Twitter, and World Wide Web
Background Check on Parker
Mayor Parker Wiseman has been the Mayor of Starkville, Mississippi since 2009.  Under his watch, Starkville has maintained budget surpluses, a growing "rainy day fund", and one of the lowest municipal tax rates in Mississippi.  With a disciplined, proactive approach, the city has exceeded targets set for infrastructure improvement and established itself as a model community for livability.
For its efforts in promoting healthy living and recreational exercise, Starkville was recognized in 2011 as the "Healthiest Hometown" in Mississippi and earned the Playful City USA distinction in 2011 and 2012.  Due to its steady population growth Starkville became the largest city in the Golden Triangle region for the first time ever in 2010.
Parker is a licensed attorney, a certified municipal officer, and a member of the Mississippi Municipal League Board of Directors.  He is a 1999 Starkville High School graduate, and he holds a bachelor of arts in political science from Mississippi State University.  In 2005, Parker earned a masters in public administration from the UNC School of Government, which currently ranks 6th nationally in city management graduate education.  He graduated from the University of Mississippi School of Law and was admitted to the Mississippi Bar in 2008.
Background Check on Starkville
Connect: Facebook, Twitter, and the World Wide Web
Starkville (population: 23,888) is the home to the largest university in the state, Mississippi State University.
The university is also the largest employer of Starkville. Students have created a ready audience for the Magnolia Film Festival. Held every February, it is the oldest film festival in the state. Other major events held in Starkville and heavily supported by the MSU Student Body are the Dudy Gras Parade, Cotton District Arts Festival, Super Bulldog Weekend, Old Main Music Festival, Ragtime & Jazz Music Festival, and Bulldog Bash.
The Cotton District is a community located in Starkville and was the first new urbanism development in the world. It was founded by Dan Camp, who is the developer, owner and property manager of much of the area. The Cotton District has elements of Greek Revival mixed with Classical or Victorian. The Cotton District is a walkable neighborhood that contains many restaurants and bars in addition to thousands of unique residential units.
On March 21, 2006, Starkville became the first city in Mississippi to adopt a smoking ban for indoor public places, including restaurants and bars.
Lightning Round
Best piece of advice from your parents.
There is never a good reason to feel sorry for yourself.  Life is full of bad breaks – some are downright terrible.  Nevertheless, my parents relentlessly instilled in me the notion that self pity is a bad response to even the worst situation.  As I've gotten older, I've come to value that advice immensely.  In a world where bad things happen to everyone, it's how we respond to the tough stuff that defines our character.
In a dream world, which bands would headline your retirement party?
Sir Mix A Lot and there is not even a close second.
(Complete the sentence) Before I die I want to…….
See Mississippi State University win a national championship in football, basketball, or baseball.
Most influential books in your life.
The Rise of the Creative Class

(Tie)
If you could FaceTime with five people (dead or alive and not including family members), who would be on the list?

Describe the inside of your car.
It's an old police cruiser with all of the original police radio equipment stripped out of it, and that makes it look bare in the middle.  Typically there are papers piled in the front passenger seat and the two back side seats.  The back middle seat has a child seat attached.  The floorboard usually has a few old water bottles, diet coke cans, and coffee mugs rolling around on it.
What's the meaning of life?
Love God and love all humankind with everything you have.
Q & A with Mayor Wiseman
Give us three bullet points that best describe local government in your state.
Broad authority in the legislative branch; 75% of Mississippi cities use a form of government that requires the whole governing board to decide hiring, firing, and disciplinary matters of all employees
Rural; despite having only 3,000,000 people, Mississippi has over 300 municipalities
Somewhere between home rule and Dillon's rule; Mississippi has a home rule statute, but the statute reserves the authority for the legislature to regulate any municipal activity it chooses
We'll assume you didn't grow up dreaming about a career in local government. What was your dream job as a 12-year old? What was your first local government job? How did you end up in local government?
As a 12 year old I wanted to be a professional football player.
My first job in local government is my current job – mayor of Starkville.  When I was in law school, I came back home (Starkville) to visit my parents.  A friend of mine who was involved in local government told me I should come home and run for mayor when I finished school.  I wasn't immediately taken by the idea, but I warmed to it the closer I got to finishing law school.  I don't even know how serious that friend of mine was who gave me the idea, but he definitely planted a seed that changed my life.
Give us your top three career accomplishments.
Doubling Starkville's reserve fund from 2009-13 while maintaining the lowest major city tax rate in the state
Having a plan for new city hall, court, and police facilities approved and under construction
We often learn from our mistakes. Name one or two career mistakes that you have made that you think we could learn from.

My first attempt to resolve Starkville's issues with declining city facilities went miserably.  The plan was to:

have a citizens committee assess current facilities and make a recommendation,
present the recommendation to the public for comments, and
have our board approve a project and a public referendum for general obligation bonds.
While the plan was executed perfectly, the result was a referendum that failed at the ballot box.
In retrospect, my mistake was in my perception of the issue.  The state of city facilities was a toxic political issue for a decade in Starkville.  I thought a citizen driven process would build public consensus from the grassroots up.  In actuality, my conclusion after the failed referendum was two factors were responsible for the issue languishing for a decade:
the public was firmly and irreconcilably divided on how to resolve facility issues; and
there was not enough public will to pay additional taxes to build facilities.
After the bond referendum failed, I pursued a public-private partnership to cut the cost of meeting facility needs in half.  The proposal did not call for general obligation bonds, nor did it carry tax implications.  Ultimately the proposal was approved and is proceeding forward; however, the governing board and the community remain divided over the issue.
In conclusion, the most important lesson I learned is that consensus is sometimes not possible on big public issues.  When that is the case, it is necessary to decide whether the issue is important enough to be advanced through a divided coalition.
Our experience has been many of our friends, family, and neighbors are not well versed in what it is we do in local government, many think we are a "planner" or "mayor". Has this been your experience?
Most people are familiar with the notion that a mayor is the chief executive of a city.  Nevertheless, my experience is that my friends and neighbors are less familiar with the nuances associated with the particular powers and duties of a mayor in varying forms of city government.
How can local governments better communicate their role in the everyday lives of the community?
It is important for local government practitioners to communicate the intersection of local government operations and the everyday lives of citizens.  I believe local government functions touch everyday life more than any other government function experienced by citizens.  Parks, schools, water, sanitation, public safety, and transportation infrastructure are the government services that people rely on most on any given day.  All of these services are typically local government services.
Would you encourage your family and friends to consider a career in local government?
Yes, it is extremely gratifying to be able to say that your job is improving the community where you live.
Hypothetically, if we find ourselves interviewing for a job in front of you, talk about three steps we can take to make a good impression.
Dress professionally.  I know this is the era of the "no collar workplace", but the very first impression you make in an interview is always how you present yourself.
Know the position.  While everybody brings their own unique skills and abilities to a job, there are certain core competencies associated with every position that are important to the organization.  Know what those are and how you meet them.
Tell me what makes you the best applicant.  Several applicants typically meet the minimum standard for a job.  The person that gets the job is the person that distinguishes themselves as having the most to offer the organization.  You are your best advocate.
 Mentoring is such an important part of local government. Name three of your mentors.
Carl Stenberg was my research advisor and mentored me in graduate school.
Mayor Johnny Dupree is the longtime mayor of Hattiesburg, MS and someone I often call on for advice.
(Complete the sentence) In 2018, local government will be …………
Even more focused on quality of life issues than it is today.  Millennials are attracted by the lifestyle amenities a community offers more than their predecessor generations.  That is dramatically changing the focus of local government.
Supplemental Reading
50 Nifty Profiles