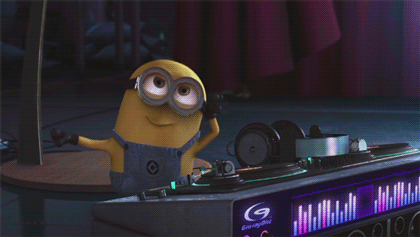 In this series, we're asking you to tell your life story through eight songs. Starting with your earliest memories, guest columnists will name their defining songs along with a couple of sentences explaining their meaning.
---
Shelby Teufel
City of Pleasant Hill, MO
Connect: LinkedIn & ELGL Profile
Before you check out DJ Shelby's tracks, check out our previous DJ – My Life in Eight Songs: Kirsten Wyatt.
---
Track 1: That's Not My Name – The Ting Tings
Shelley, Michelle, Lindsey.  That's not my name.  That's not my name.  That's not my name.
I love my name, but it's not easy being Shelby — let's not even start talking about the impossible task of obtaining personalized key chains, charms, or necklaces like all my friends had growing up.  A former Mayor whom I knew very well once blanked on my name during a speech.  I somehow took that long awkward pause much better than being called Shelley.  That's not my name.  Please take time to learn my name and call me by my name.
---
Track 2: Tubthumping – Chumbawamba

My father graduated from a university with an outstanding football program (shout out to the 2015 NCAA Division II National Champion Northwest Missouri State Bearcats).  In my best estimation, he was the studious type during college.  He is a die hard alumni regularly taking our family back to campus for college gameday.  There were times that I would go alone with him – primarily when I was a junior high student.  I have so many similarities to my father, which have been perpetuated into adulthood and in my career.  I fondly remember our conversations anytime I hear a hit from the Rick Dees Weekly Top 40.
---
Track 3: Thong Song – Sisqo

This was an anthem of my high school summers.  It was a classy time for music as we entered the realm of boy bands, Britney Spears, Christina Aguilera, Jessica Simpson, and a poppy Jennifer Lopez.  It was the time period where Total Request Live was on MTV.  My first local government job was as a lifeguard at our local swimming pool.  I remember many elementary aged kids singing this song.  I recall how odd it sounded to hear young children sing these lyrics.  I vowed to be a more involved and protective parent than theirs.  Flash forward 15 years: My kids love Amy Winehouse and can sing "They tried to make me go to rehab and I said no, no, no."  Kids don't know or understand the lyrics in songs at that age.  Ok, no more parental judgement from my 17 year old self.
---
Track 4: My Heart Will Go On – Celine Dion
A consistent theme among ELGL members is that we were involved in school activities and music/band was that outlet for many of us.  I choose the flute as my instrument in fifth grade and never looked back.  I must have been a child prodigy in my small town.  By sixth grade I was playing piccolo with the high school band.  I'm not certain how my scrawny, pre-pubescent 12-year-old self passed as a high school student during band competitions.   Flash forward a few years – Titanic is released and nearly every wedding in our small town wanted My Heart Will Go On played as they lit the Unity Candle.  I played this wedding after wedding in the summer of 1998.  I'm pretty certain I still have the flute sheet music if anyone wants me to resurrect it for any upcoming nuptials.
---
Track 5: Think – Blues Brothers & Aretha Franklin

As a collegiate cheerleader who practiced next to the Dance Team, we heard their dance routine songs on repeat. To this day, I can name this tune within two beats of the music.  The lighthearted memories of college rush over me every time I hear this song; I recall the friendships, college football games, sorority life, and especially Spirit Team practice.  It's an appropriate summation of that time period to hear Aretha sing "Freedom!  Freedom!  FREEDOM!"
---
Track 6: We Belong Together – Randy Newman
This song always reminds me of my Disney/Pixar loving children.  I have twin boys who are closer than any other relationship I've witnessed  – closer than siblings, closer than married couples.  They belong together.  I needed a break and an escape from the house when they were little.  We decided to see Toy Story 3 at the Drive In.  When Andy goes away to college, I looked at my two infants sleeping in the Pack N Play and realized that someday they would go off to college and as quickly as my entrance to motherhood began, my exit would be just as abrupt.  I realized their life events would hit me just as fast as if I had a singleton.  I wouldn't have a chance to wean myself into being an empty nester.  Then Randy Newman's song came on.  I looked at my husband and realized we belong together, our kids belong together, and for a brief 18 years, we all belong together.
---
Track 7: Beethoven's 5 Secrets – The Piano Guys
The Piano Guys transport me to another place in the world.  It's as if I escape my body and my mind wanders while listening to their mixture of classical music and more contemporary music.  This was the song that first pulled me in.  Secrets is a song frequently used by my Pilates instructor, during her choreographed class.  It's an excruciating arm song with dive bombs, which are the bane of my existence.  Listening to this version, I can erase the physical pain and struggle I often associate with this song.  I go somewhere else.  I take a break from life.  I reset.
---
Track 8: Skinny Love – Birdy

This song is a constant reminder to not let experiences define our future – especially ones we should rid ourselves of.  We often try to hard to hold on to something long after it's served its purpose. – at work and in our personal lives.  It's the song that I listen to that reminds me to move forward.  That the illusions of yesterday may not have been as perfect as I recall.