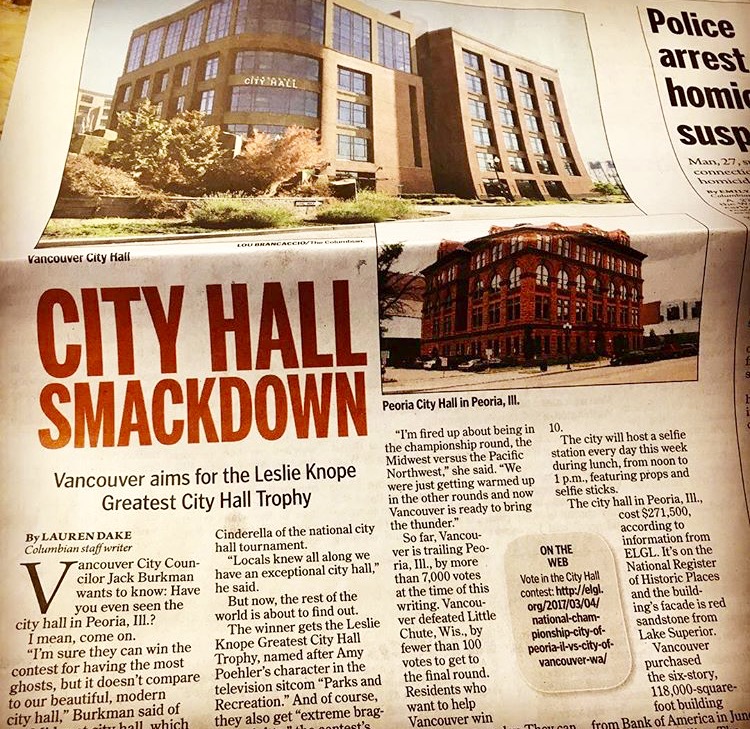 Bonus: GovLove will interview the wizards behind the social media accounts in Peoria & Vancouver later this week.
Update: You can vote once a day. Multiple votes from the same IP address will be removed from the final vote total. 
---
[polldaddy poll=9680824]
---
Here's how you can participate:
Vote. You can vote once a day.
Comment. A positive comment for your favorite city hall equals another vote.
Tweet. Tweet your support using #ELGLCityHall for another vote for your favorite city hall.
CityHallSelfie. A picture in front of your favorite city hall equals two votes.
Voting ends on Friday, March 10 at midnight EST. (ELGL members: Throughout the week, we'll be providing exclusive analysis on Laugh, Cry, Think.)
The winner will receive the prestigious Leslie Barbara Knope trophy, a complimentary ELGL organizational membership which includes unlimited job postings for the year, and extreme bragging rights.
---
Photo Album
Check out a sampling of selfies from the ELGL Facebook page. Vancouver has their own impressive album of selfies. Peoria has posted numerous selfies on their Facebook and Twitter pages. Fun Fact: Golden State Warrior and Peoria native Shaun Livingston tweeted his support.
---
Press Clippings

Peoria Public Radio: 'Selfie' Takers Swarm Outside City Hall, as Competition Comes to a Close
KGW News: Mayor Leavitt campaigns for Vancouver
The Columbian: City aims for the 'Leslie Knope Greatest City Hall Trophy'
CI Proud: Finals: Peoria City Hall faces off against Vancouver, Washington
Peoria Public Radio: Peoria Leads Opponent in 'Best City Hall' Finals Matchup
Post-Crescent: Little Chute falls to Vancouver in semifinals
WWCT: PEORIA'S BEAUTIFUL & HISTORIC CITY HALL IS IN THE FINALS!
Central Illinois Proud: Peoria City Hall in National Championship
NBC 25: Peoria City Hall makes final two
1470 WMBD: Peoria City Hall Finalist In Competition
Peoria Journal Star: Peoria City Hall reaches contest finals
---
Fun Facts: Vancouver, WA City Hall
The building is Gold LEED Certified – meaning it's design is energy efficient and environmentally-conscious!
The two-story lobby and meeting spaces feature rotating public art exhibits each month
The City of Vancouver took strategic advantage of a tough real estate market and bought the new City Hall building and vacant land for $18.5 million – about half its actual value in 2010.
Fun Facts: Peoria, IL City Hall 
In 1978, the 5-story building was added to the National Register of Historic Places
The building's façade is red sandstone from Lake Superior
The center tower was saved from the previous Peoria City Hall
---
Media Information
Engaging Local Government Leaders (ELGL) is a big-tent organization with more than 1,900 members from across the country. ELGL is committed to increasing diversity and inclusion in local government through the #13Percent initiative, embracing new technologies, and communicating in a "human voice" to attract and retain the talented professionals.
In 2016, ELGL hosted the first International City Hall Selfie Day which attracted more than 1,500 entries and highlighted the pride of local government professionals.
GovLove, an ELGL podcast production, has produced more than 100 episodes with guests ranging from Gabe Klein, author of The Start-Up City, Ocean Quigley, former Creative Director at EA in charge of SimCity, George Hawkins, DC Water CEO, Leah Treat, Portland Bureau of Transportation Director, and Pat Martel, City Manager of Daly City, CA and former ICMA President.
GovLoop has named ELGL a top government professional association and StateTech named ELGL a must-read state and local IT blog.
---
Word on the Street
---
"ELGL is among the most creative and insightful professional groups in the nation today," says Matt Horn, City of Geneva, NY City Manager.
"ELGL is Changing the Face of Local Government," writes John Thomson, PayIt Founder.
"ELGL is growing to be quite an influential organization among local government professionals in its relative short history.  The ELGL leadership is innovative, creative and leading edge," says Bonnie Svrcek, City of Lynchburg, VA, City Manager.
"I continue to be encouraged and amazed at the effort ELGL and its members give to providing information and support to students and public service professionals so that they can be even more effective public servants," remarks Bill Monahan, retired city manager.
---
ELGL In the News
The Oregonian: ELGL works for gender equality, collaboration in local government
Tigard Times: ELGL spreads across country
American City County Magazine: Municipal Outreach
The Cap Times: ELGL awards best municipal public service announcement
American City County Magazine: Faces of the Future
KC Biz Journal: KCMO wins national social media competition
Roanoke Times: Roanoke managers named to 'Chris Traeger List' for enthusiasm
The Finger Lake Times: Horn named to Top 100 list
The Journal News: Hamilton city manager makes unique top 100 list
Mac's List: Find Your Dream Job, Ep. 010: Landing a Government Job
Launch Yourself: LY Podcast feat. Kent Wyatt from ELGL
The Plural of You: Bringing Local Government and the Public Together
Route 50:  Why Local Governments Are Taking CityHall Selfies

Kansas City Star Article: It's #CityHallSelfie day, so you can officially have fun with that
---
ELGL Contacts
Kent Wyatt – [email protected]
Kirsten Wyatt – [email protected]
Ben McCready – [email protected]