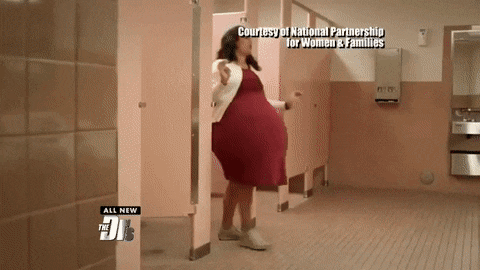 Today's buzz is by Sarah Henricks (LinkedIn and Twitter)
What I'm reading: Any and all search results on how to alleviate sciatic nerve pain during pregnancy and also The Goldfinch
What I'm watching: Mindhunter
What I'm eating: Still lots of ice cream
---
This is the second installment of my #MorningBuzz about navigating the family leave process. I'm now 39 weeks pregnant and the creature inside of me is sitting directly on my sciatic nerve making it incredibly painful to walk. I'm stuck between wanting it out yesterday and wanting it to be a little late so I can enjoy a few days of relaxation before I become a mother to an actual human being…I hear they are slightly more demanding than the two cats I've been practicing on.
My last day of work before going on leave is this Thursday, and, if I'm being honest, I'm ready. Throughout the pregnancy, friends, doctors, co-workers, and strangers have been telling me that I should go out earlier and enjoy the time off before the baby comes. I've been resisting this because I have stuff to do and I don't want to leave my co-workers in the lurch. But as this final week has gotten closer, I have definitely noticed a decrease in my willingness to take on new projects and an increase in the number of times I roll my eyes during the day.
The last #morningbuzz I wrote was about the joys filling out forms and learning what kind of leave I was really eligible for as a semi-new employee at the time of pregnancy. Once I got most of those formalities out of the way, I moved on to figuring out how much time to take off, planning how I would transition back to the working world of adults after only speaking in a baby voice for two months, and making sure that the work I have been doing for the last six months wouldn't fall through the cracks while I was out. That last one is what I wanted to write about today. 
There are a lot of really incredible people working for the Public Works Department in South San Francisco and they are all up for a challenge. As with most local governments, they are all super busy though and I hate adding to that burden. But, once this baby-thing gets here, I will be completely absorbed with all things baby and know that I won't be able to devote any real time to work, so I have to ask for help. I've been compiling a list of the projects and responsibilities I have and have been looking for ways to get other people involved in the work.
I started out by asking a colleague, one of our administrative assistants, to help me with some required reporting for our free shuttle service. She rocked out some pivot tables and made that job a breeze and is now sending in the monthly ridership reports. I've asked her to help me submit our quarterly report and reimbursement request this month, so she'll get a better idea of what we have to do to maintain our funding. She's also going to take on optimizing the new automatic passenger counters I'm having installed next week and getting a new tracking software up and running so our riders will be better able to track the shuttle. She's basically taking on a project management role for improving the shuttle, and I'm betting she's going to come up with some great ways to improve the program. We are anticipating the call for proposals for the next funding cycle sometime in December, so I'll probably have her work on that as well. 
Another of our administrative assistants who returned from maternity leave last week is a total rockstar with a ton of institutional knowledge and will essentially be taking over my role while I'm out. She has been my go-to since joining the city, so I know she will ace this new role. She'll be taking on a project manager role for most of my projects and doing the leg work for a lot of things I know will be due when I get back to work. I spent my Friday lunch sending her tons of emails to let her know who my external contact people were for different projects and providing s
ome context for the projects she isn't familiar with. When she returned from lunch, I warned her not to be overwhelmed by the number of emails from me in her inbox, and that none of them were urgent, but that I just wanted to make sure she had the necessary background info if things came up. I plan to spend the next three days going over projects with her and talking about expectations and varying levels of urgency or importance. We're submitting a PAF so her earnings will reflect the level of work she'll be doing and I'll be giving her my personal number so that she can contact me easily if she gets stuck or I forgot to tell her something. 
I'm trying to use my leave as an opportunity to strengthen the organization by giving other colleagues stretch assignments, which will increase their skill sets and deepen the department's bench; by giving myself a chance to serve as a mentor to another team member, which will increase and hopefully improve my management skills; and by ensuring that projects keep moving forward in my absence. The hardest part of this process has been finding time to actually create a list of the things I do that would need to be addressed while I am gone. I'm sure that I've missed some of them, but I have confidence in my team to pick up any balls I may have dropped and run with them. My advice if you're facing a period of leave is to make this a priority and to get ahead of it. I wish I'd had more time with my substitute before I left, but I know she'll be great and that the team will support her when I can't. 
What strategies have you or your organization used when you have team members going out on periods of leave? What has worked and what hasn't? Any advice on how to keep a baby alive and/or how to keep it from growing up to be a total butthead?