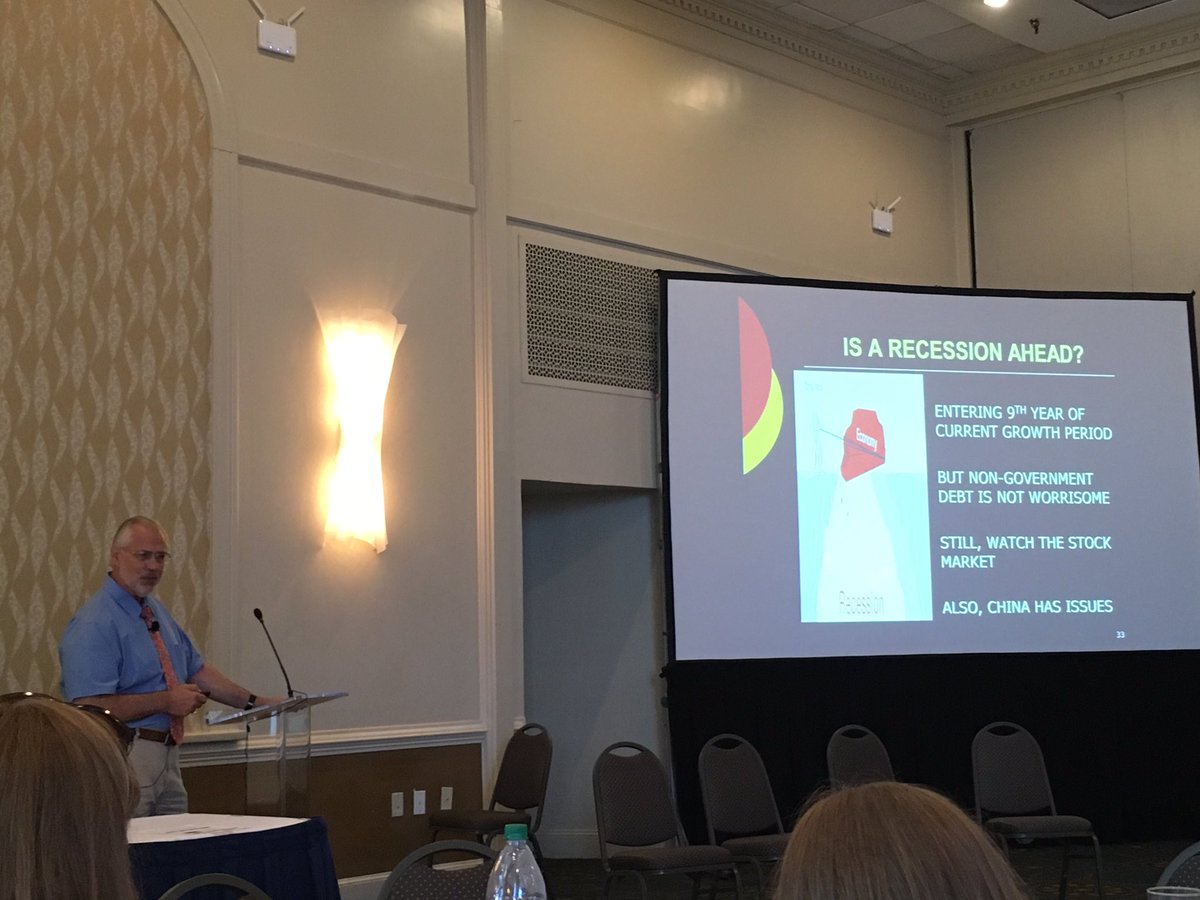 I'm headed to the beach! Or at least Wilmington, NC (close enough). I'll be attending and presenting at the North Carolina Local Government Budget Association (NCLGBA) summer conference and I plan to live blog what I learn over the next three days.
Check out the agenda: NCLGBA Summer Conference 2017
July 14 – 12:03 pm
It wouldn't be an NCLGBA conference without an economic outlook lecture. Dr. Michael Walden from North Carolina State University gave us the lowdown on how the economy has grown the last few years and the trends he's seeing. Learned a pretty good nugget, 2/3rds of all jobs added in North Carolina between 2010 and 2017 went to Charlotte or Raleigh. So even though North Carolina is growing like crazy it's not necessarily even across the state.
Learn more about Dr. Walden's work from his monthly economic indicators report:
Tweet of the Week
Even though I was paying very close attention to the lecture I did manage to see the Tweet of the Week. This really might be the most boring plaque of all time and I'm a big plaque fan so I've read a lot of them.
I believe I have found the world's most boring commemorative wall plaque pic.twitter.com/YzFCDz47vk

— Alistair Coleman (@alistaircoleman) July 12, 2017
Big Thanks to NCLGBA
Another awesome conference from this group with a great agenda. Can't wait to see what they get cooked up for Durham.
July 14 – 9:19 am
It's the last day of NCLGBA… I can't believe it's almost over either. This morning we're learning from the Town of Chapel Hill, NC about their internal leadership development and training program. ELGL member and Pop-Up planning committee champion, Rae Buckley, is part of the presentation. Here's her in action:
Learn more about the Town of Chapel Hill:
Oh and I gave y'all a preview yesterday, but go listen to the new GovLove podcast episode! I interviewed Ginger Spencer from the City of Phoenix, AZ. We discussed their ambitious goal of eliminating waste by 2050. She also shared what we should have done when it was 118 degrees out in Phoenix and a cool apprenticeship program to improve diversity in public works.

But, Ben what about last night?
I was getting to that. We started off at The George, which is a great seafood place right on the riverwalk. I had some mahi-mahi so be jealous. Here's our crew after dinner enjoying the sunset.
Then, of course, we visited another brewery. We went over to New Anthem Beer Project (that's right it's cooler than a normal brewery, it's a project) and I had a great sour beer. I'm normally not a fan of sours but it really hit the spot on a hot humid day after all the learning.
There was another bar after the beer project, but I've been sworn to secrecy so dedicated readers of Kittelson's Corner will have to bribe me in person to get that story.
July 13 – 4:37 pm
I'm basking in the glow of my successful session on resident engagement in the budget process. Huge shout out to the people who came and asked lots of questions. It was also great to have Karen Kixmiller from the City of Greensboro there because she managed their Participatory Budgeting program and her perspective on that program compared to what we did in Durham was great to have. I also interviewed her last year about her experience for GovLove, you should check it out:
You Really Need to Open This
Now I'm in a session on behavioral economics and tax collection, so pretty much a session made just for me. I was an econ major in college and behavioral economics is the most interesting topic in the field. The session is with both the Duke Sanford School of Public Policy and Guilford County, they worked on a project together to work on decreasing the delinquency rate of property tax payment.
The results showed they saved $44,000 in the pilot test phase and if they extrapolated out to the whole group it would save $132,000. Way cool.
Here's a great video summing up their project:
And here's a link to Tyler Gamble's thesis on the project: You Really Need to Open This. Using Behavioral Economic Nudges to Increase Property Tax Compliance
July 13 – 1:59 pm
The time has come, my session is on deck. I've got a great lead off hitting ahead of me, I'm currently learning about Human Centered Design and design thinking from two award-winning ELGL members, Sarah Hazel and Caley Patten.
Sarah is an Assistant To at Charlotte, NC and a friend of the pod plus one of the leaders of Southeast ELGL. She organized the ELGL Pop-Up in Durham and is helping again with the Charlotte Pop-Up this fall. Caley is the ICMA Fellow for Durham County and the City of Durham. She's lead IdeaLab sessions and worked on the city's What Works Cities project.
But what about your session…
Ahh yes, what you came here to see. Since I want to reward all you loyal Kittelson's Corner readers, below is my presentation. To give you the highlights we did a big engagement effort from January to March and used a short survey to determine what residents thought was the most important priority for the city.
At the end of the effort we had 2,139 people participate, which we're really proud of. Take a look and feel free to reach out if you have any questions.
July 13 – 12:09 pm
I had to take a break from the conference to get tomorrow's GovLove episode ready. It's going to be a good one, since we were in Phoenix, AZ last weekend for the ELGL Board Retreat I reached out to their Public Works Director, Ginger Spencer. We discussed her path to local government, Phoenix's ambitious plan to achieve zero waste by 2050 and a cool apprenticeship program to increase the number of women in Public Works. Check out this short interview she did with Governing Magazine to get a preview of our episode:
.

.
Oh and that reminds me…
The 2nd Annual Traeger List
ELGL is taking nominations for the 2017 Traeger List, the top 100 people currently working in local government. The deadline is today! So get your nomination in by the end of the day today.
Nominate: Literally the Traeger List Nomination Form
You can also check out the list of nominees so far for the NCLGBA conference attendees you will see a few familiar names.
July 13 – 10:34 am
We learned about some awesome resources for creating graphics that I'm really excited to start using. I tweeted the list and Piktochart chimed in.
Hi, Ben! Thanks for the mention 🙂 For all beginners, we've launched a Free Skillshare class, you can catch it here: https://t.co/mZ87sUprYr pic.twitter.com/MA3WZLWFHK

— Piktochart (@piktochart) July 13, 2017
Love the Gif and now I need to make an infographic with their website.
July 13 – 9:58 am
Loving this session, "Learn to be Icon-ic." Paarth Mehta from Catawba County, NC is sharing how they redid all their budget documents and style guide thanks to Google and the work of an ICMA Fellow. One of their role models was Sarasota County, FL who made this awesome citizens guide to the budget that includes the Top 10 things you should know.
Needless to say I need to create a document like this for Durham now. I love me some good handouts.
July 13 – 9:21 am
In my brewery section I neglected to mention the second brewery we hit, Ironclad Brewing. The space was awesome, old building lots of natural wood. And we took this awesome group selfie:

July 13 – 9:07 am
It's day two at the NCLGBA Summer conference. The schedule is jam packed with some awesome sessions (I'm particularly partial to the budget engagement session this afternoon). I'm starting the morning off with open data lessons from the Town of Chapel Hill, NC.
Check out their open data portal, you can create your own maps and lots of other cool stuff: Chapel Hill Open Data
Fun Fact: Chapel Hill's open data program is under their Library. And the Chapel Hill Library Director, Susan Brown, is an all-star ELGL member. She spoke at the Pop-Up conference in Durham last fall and is a great Twitter follow, @658point8. You should definitely check out her blog as well: 658.8 – Marketing, Management, Leadership, Libraries.
But what did you do last night, Ben?
Great question, thanks for asking. We went to dinner at Copper Penny because Steve Hawryluk (the 2nd VP of NCLGBA, no big deal) wanted to go to a "dive bar." I'm not sure he got what he wanted because this place had really good food and a great beer list.
Afterwards we hit Flytrap Brewing, which I would highly recommend. It's a small tap room with a great Summer IPA and a Rye Pale Ale that was delicious.
Of course on the way we had to get a picture with the City of Wilmington City Hall. It's getting a facelift at the moment, so excuse the scaffolding, but it is a beautiful building. Naturally I couldn't stop giggling long enough to take the photo. Pictured from left to right: Sarah Coffey, City of Winston-Salem; Josh Edwards, City of Durham; Steve Hawryluk, City of Winston-Salem; Justin Amos, City of Charlotte; Caley Patten, Durham City & County; and yours truly.
July 12 – 2:14 pm
The first session of the conference was a crowd pleaser, Jim Johnson from the UNC Kenan-Flagler Business School. He talked about preparing for the silver tsunami, but it's more than the usual presentation. One of his important points is that cities have to prepare to hep seniors age gracefully in their homes. Many public spaces will have to be rethought and remodeled to deal with an aging population.
Important for organizations is that human resources departments need to deal with employees that have elder care responsibilities or are raising grandchildren. Here's some of his writing for those interested:
July 12 – 1:21 pm
We've kicked off the conference here in Wilmington, NC and to start off our afternoon of learning we got a welcome from Mayor Bill Saffo. He encouraged us to have a great time while in his city and if we get in any trouble while we're here we can give him a call. I just hope he joins us at one of Wilmington's breweries this evening.
Some local news to get to know what's going on in Wilmington:
July 12 – 7:57 am
To warm up before the conference starts this afternoon, here's a mini-Kittelson's Corner.
What I'm Reading
The opioid epidemic is still ravaging communities across the country and this deep dive look at the panhandle of West Virginia shows how heartbreaking and troubling it is. The New Yorker goes Berkeley County, WV to talk to, not the addicts, but the people trying to battle against the epidemic and the families left behind by it. Every time I read something about this issue I come away thinking we need to make a huge public investment in treatment centers.
Bears now opening car doors, getting into vehicles in western NC
I found this article both terrifying and hilarious. Apparently bears are just hanging out inside of cars in western North Caroline. There's a quote in this article that really got me, "A family in Cashiers reported finding a bear in their SUV – after they heard it honking the horn." I can't imagine what I'd do if I was just going about my day and heard a horn honking only to find a bear in my car. Unreal.
What I'm Listening To
The Axe Files with Senator Cory Booker
This interview is great, I'm becoming a big fan of Senator Booker. He talks so passionately and honestly about the issues facing urban and low income communities.
Tweet of the Day
Yesterday I was reminded how awesome Twitter is, sometimes I can't believe the website is free. With all the breaking news of the day this Tweet about sums up how far Twitter has come and how crazy the first family's use of it is.
TWITTER, 2009: this is neat, Shaq responds to people and stuff!
TWITTER, 2017: the insane president's idiot son is live-tweeting treason

— actioncookbook (@actioncookbook) July 11, 2017