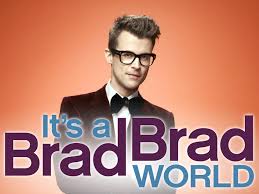 We're back with the new "New Sensation" feature. We've updated the questions based on your feedback. You'll now learn about the best YouTube videos on the web, read about gift ideas for the holiday season, and learn about the career accomplishments of our new members.  As a reminder, we developed this feature to introduce you to new ELGL members and as a way on connecting ELGL members with similar interests.
Vitals
Brad Kilby
Sherwood (OR) Planning Manager
Education: Eastern Washington University
Lightning Round
Tell us about three of your biggest accomplishments.
My biggest accomplishments include:
Serving my country as a United States Marine,
Participating in the state legislative process to pass Senate Bill 365 which will require insurance providers to cover the costs of treatment for autism beginning in 2015, and
The adoption of my son, Graham.
Top three holiday gifts that you've received. Given?
I love Mercy Corps, a relief agency that I tabled for in the past, and some of the gifts that I am most proud of are gifts that I have given through their gifting program.

My guilty pleasure in life is riding my bike, so one of my favorite gifts that I received was my 1996 Cannondale mountain bike that I converted into a commuter bike with a head shock and some hybrid tires.  I sold my car and rode my bike for three years before I received my greatest gift.
The greatest gift I have ever received is my son who is adopted from Ethiopia in 2008.  He has shown me the true meaning of life and the philosophy of "One Love."  
(Complete this sentence) I feel old when I……..
I love sports, and I love ESPN, but I feel old every time I turn on SportsCenter and realize that I'm not going to go pro in any sport except curling.
Tell us about two mistakes that you've made that we can learn from.
I relish in my ability to move on from my mistakes, and feel like I can honestly say that most of my mistakes have come from making assumptions and opening my mouth when it's not necessary.  I try to live my life through four simple agreements that I have made with myself.  They come from a book titled, "The Four Agreements" by Don Ruiz.  The agreements sound like they're common sense when you read them, but life becomes better when you consciously aspire to them.  The agreements and what they mean are:
How did you hear about ELGL?
My City Manager, Joe Gall, is an active member, and has encouraged his staff to become members too. I attended a presentation at the Port of Portland, and was impressed by what I learned.
Give us a few of your favorite YouTube videos.
I love YouTube and Upworthiest videos. I have watched so many, that I'm not sure that I could pick out a few.  I guess some of the ones I find funny are those where people are pulling pranks on their friends.  What can I say, I grew up in a household with four boys!  I also like to see the uplifting stories like, "Skateistan" about a school in Afghanistan for girls who are learning to skateboard as part of their curriculum.  The more disturbing ones are those that show natural disasters, people being hurt, and anything having to do with medical procedures.
Our annual conference will be held in October 2014. Name three topics or speakers that we should consider.
I love listening to inspirational people whose work helps to make the world a better place.
Neal Keny-Guyer  – Mercy Corps
Wajdi Saiid – Muslim Educational Trust/Portland Interfaith Group
Martin Glastra Van Loon – Urban Designer "Student of Great Cities" (Otak, inc.)
(Complete these phrases) Best thing about the….
90's was……Access to the internet!
00's was…..My son was born.
last year was…..That people are becoming more aware of what's going on around the world.
Name three of your mentors and describe them in five words.
My Grandfather –Kind, compassionate, courageous, strong,  and funny
Fred Cuny – Amazing, humanitarian, courageous, determined, innovative
Don Hanson – passionate about his work, patient, storyteller, laid back
First concert you ever saw? Last concert you saw?
I love music, and the first concert I remember was Bon Jovi/Skid Row. I'm going to see the Black Crowes tonight.
http://www.youtube.com/watch?v=LAQq72ULF_g
Fast forward one year, what will factor into your decision on whether to renew your ELGL membership?
I will definitely renew for the presentations, lunches, brown bags, and webinars.
What questions should we have asked?
What's your typical day like?
What do you plan to do when you retire?
Supplemental Reading