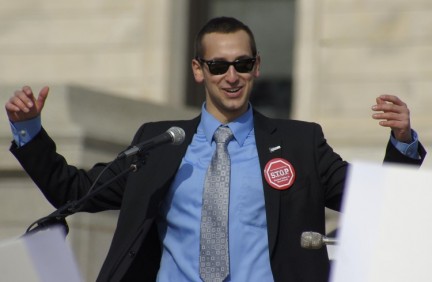 Since ELGL is not a big fan of icebreakers and since we would rather not know what animal you want to be, this blog feature will serve as a means of introducing new members. While you won't learn about their favorite animal, you will learn about their ideal Sunday morning, which dead people would they FaceTime with, and which song best describes their life.
Name: Andrew Spaeth
Email: [email protected]
Graduate: Oregon State University, Master of Public Policy
Undergraduate: Bemidji State University
LinkedIn: Profile
Background Check on Andrew
My interests in wilderness recreation, education, agriculture, and more broadly the environment led me to Bemidji State University, where I pursued a Bachelor of Science degree in environmental studies and applied public policy. In 2010, I graduated and began working in the nonprofit sector in Saint Paul. The Minnesota Environmental Partnership is the flagship environmental nonprofit in the state, advocating on behalf of 80 member organizations and over 400,000 Minnesotans. In my role with the partnership, I worked on nonpartisan candidate education and legislative outreach. Concurrently, I served as the State Chair of the Minnesota State University Student Association, which represents over 70,000 students in the Minnesota State Colleges and Universities system. As the chief spokesperson of the association, I advocated for accessible and affordable higher education at the campus, state, and federal levels.
In the spring of 2011 I left Minnesota on a series of adventures. The first excursion was an eighty day canoe trip from Lake Superior to Hudson's Bay, retracing 1300 miles of historic fur-trade routes across the boreal forest. After a brief reprise, I spent six weeks in the Commonwealth of Dominica, where I observed the development of that country's first comprehensive national energy policy and sustainable energy plan. I returned to the states and found myself skiing and working in northern California. Following a short winter, I moved to the San Juan Islands in Washington State and immersed myself in organic agriculture and the local food system.
Q&A with Andrew
Most interesting project you've worked on in your current position:
This summer I helped lead a team of OSU graduate students in the Social Business Challenge. The team's business plan captured the entrepreneurial spirit and innovation present in higher education and applied it in a way that fostered rural economic development. Dr. Mohammad Yunus, Nobel laureate, was one of the judges the team was given the opportunity to present the business plan to in the final round of presentations.
What's on your mind as you ride to class in the morning?
On my daily bike ride I take time to clear my head. It is a perfect way to start the day!
Your work/school mentors:
My mentors include former academic advisors, professors, and colleagues from my time in Minnesota. Since moving to Oregon in June, I've developed a relationship with a new mentor, who has taken me under her wing and provided valuable personal and professional guidance as I navigate graduate school.
Most recent concert:
The last concert I attended was an incredible Oregon State University choir performance.
What sites are bookmarked on your internet browser?
Google Scholar
NPR News
Minnesota Classic Public Radio
Proudest career/school accomplishment:
Serving as the State Chair of the Minnesota State University Student Association was my proudest career accomplishment. As the chair, I represented over 75,000 students to decision makers at the federal, state, and campus levels.
[youtube http://www.youtube.com/watch?v=jc11RvnAB64&w=560&h=315]
What song best describes your life?
Eye of the Tiger by Survivor.
If you could FaceTime or Skype with three people either dead or alive, who would they be?
Christopher Columbus

Albert Einstein
Winston Churchill
Suggest two or three topics for the ELGL Annual Conference. 
What are the emerging opportunities and challenges associated with public-private partnerships in Oregon?

I'm also very interested in generational change and succession planning in public administration. Young professionals often bring excellent IT skills and a strong public service ethic, but a transition in the workforce is not always smooth. What can public administrators expect as the workforce transitions and how can burgeoning professionals adapt to be successful in their new positions?
Favorite thing to do on a Sunday morning:
Make a big breakfast and then spend time hiking, paddling, or gardening.
Government is…..
To borrow a line from Lincoln's Gettysburg address, "government of the people, by the people, for the people, shall not perish from the earth." As representative democracy, built on the pillars of liberty and equality, this quote reminds us that our struggles are not for undue reason and that our nation has overcome tremendous challenges. Lincoln's speech epitomizes the importance of brevity, the two-minute Gettysburg address was not the longest speech of the day, but certainly has had the most resonance over time.
ELGL is….
an exciting new opportunity to connect with professionals and public administrators in Oregon.
What question(s) should I have asked you?
What are your favorite apps?
My favorite apps are Politico, NPR News, and Instagram.
 What is the best book you've read recently?
I really enjoyed The New Geography of Jobs by Enrico Moretti.
Supplemental Reading
[youtube http://www.youtube.com/watch?v=g1N-VJZlvIA&w=420&h=315]
Previous Profiles