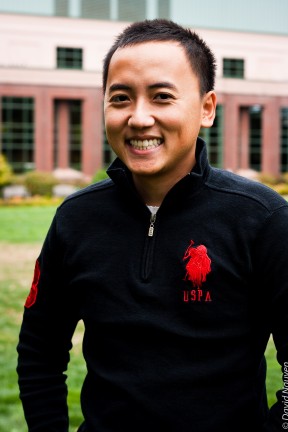 Since ELGL is not a big fan of icebreakers and since we would rather not know what animal you want to be, this blog feature will serve as a means of introducing new members. While you won't learn about their favorite animal, you will learn about their ideal Sunday morning, which dead people would they FaceTime with, and which song best describes their life.
Vitals
Name: David Nguyen
Email: [email protected]

Education: University of Oregon, Bachelor of Arts, Political Science, Business Administration
Current Position: Project Specialist, City of Beaverton and ELGL Conference Photographer
Previous Employment: Campaign Intern, Restore Our Natural Areas Campaign; Community Liaison, City of Portland; and Vietnamese Interpreter, City of Eugene, and Springfield, Oregon
Connect: LinkedIn

Q&A
Tell us about three projects that you are working on.
Archiving City's events from previous years
Building my photography website
Your mentors:
My Drill Sergeant
The internet
My close friends
Describe the inside of your car.
Filled with City of Beaverton's summer event promotional flyers.
Most recent concert you attended:
I haven't been to a concert in 6 years.
If you could only visit five websites for the next year, which ones would you choose?
Facebook
CNN.com
Militaryvideos.net
Youtube
(Complete the sentence) Before I die I want to…
serve my country
Best career accomplishment.
Graduating from college
Favorite TV show: Parks and Recreation, House of Cards, or other
Deadliest Catch
Survivor
The Amazing Race
What song best describes your life?
Somewhere I Belong – Linkin Park
[youtube http://www.youtube.com/watch?v=m_ALkV731hU&w=560&h=315]
Suggest two or three topics for the ELGL annual conference.
Government jobs for recent college grads.
If you could FaceTime or Skype with three people either dead or alive, who would they be?
Michael Jackson
Former president George W. Bush
Retired general William McChrystal
Favorite thing to do on a Sunday morning:
Take an afternoon nap
(Complete the sentence) Government is…..
filled with bureaucratic red tape.
(Complete the sentence) ELGL is …..
a way to network with your fellow government peers
What's the meaning of life?
Life is like a roller coaster ride.
[youtube http://www.youtube.com/watch?v=Fgj_Xl0HTX0&w=420&h=315]
What question(s) should I have asked you?
My experience with local politics here in Oregon.
Previous Profiles