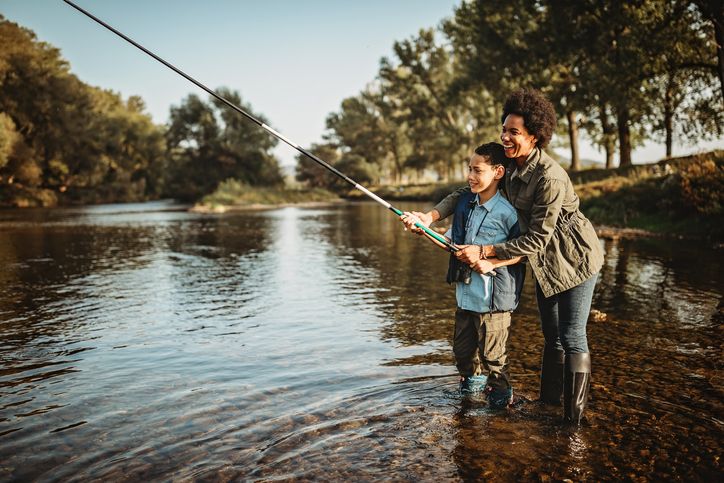 Today's Buzz is by Meredith Trimble, Content Manager, Editorial, with Tyler Technologies, Inc., and former Acting Chair, Farmington, CT Town Council (Twitter, LinkedIn)
What I'm reading: Beach reads all the way, including Where the Grass is Green and the Girls are Pretty, by Lauren Weisberger
What I'm watching: The U.S. Women's National Soccer Team in the Tokyo Olympic Games
What I'm eating: Lobster mac 'n' cheese from Town Docks on Lake Winnipesaukee in New Hampshire
I've seen mentions on my social feed lately of "shinrin-yoku," a Japanese-coined term for forest bathing as an antidote to hectic life. Actual studies have shown that forest environments promote lower concentrations of cortisol, lower pulse rate, lower blood pressure, greater parasympathetic nerve activity, and lower sympathetic nerve activity.
Nature is also a great equalizer that brings us closer together. During the height of the COVID-19 pandemic, nature provided a safe space for activities and recreation. Individuals and families flocked to the outdoors in record numbers over the last 18 months. Even with indoor entertainment and leisure options returning, outdoor recreation activities continue to see record numbers. Hunting and fishing licenses, for example, have increased by double digits, with park visits seeing an uptick like never before, according to data from YourPassNow hunting and fishing states. Diversity of participants has increased, too, with outdoor recreation use spanning all incomes, ages, backgrounds, and geographies.
This is precisely what outdoor advocates have wanted for decades, yet such a surge is not without implications. The pressures on outdoor management are growing right along with the crowds. Local and county parks, trails, and preserves play a mission-critical role in making the outdoors accessible to all. But managing (and maintaining) new levels of use can pose challenges. For that reason, local governments should explore new technologies that are easy and quick to implement to facilitate digital park management.
Digital Passes and Permits
Digital passes and permits are key to efficient internal recreation management and improved customer experience. They create a low-risk user experience while eliminating the frustration of waiting in line. They also reduce administrative task for employees, allowing more time for visitor engagement. With digital payments, jurisdictions and their constituents can enjoy streamlined and comprehensive digital park management.
State and national parks are already benefiting from this approach. Parks offering entrance passes see more than 10% of visitors making online advance purchases. Those with timed entry permits often sell out in the first 10 minutes of online availability.
In 2020, for example, Maryland sold 211,000 digital passes across more than 70 state and federal properties. At the popular Kilgore Falls, 58% of those digital entry passes were purchased after hours, and 79% were bought on a mobile device with an overall user satisfaction rate of 99%.
Maintaining Momentum
As concert venues, indoor arenas, and other activities resume normal capacity, local leaders would be wise to focus on retaining the exciting momentum in outdoor recreation. A 2018-2020 citizen survey conducted by the University of Utah and the Governing Institute showed that 71% of citizens nationwide are asking for simplified, consolidated access to outdoor recreation services. The use of modern technology and a centralized, digital outdoor recreation hub can give citizens what they want. To that end, cities would be wise to create a centralized digital area where users can purchase, upgrade, and store their outdoor recreation information. Adding activity passes to help with advance reservations for picnic shelters, fire pits, boat launches, or other booking can further elevate service.
Other considerations
While digital passes, permits, and payments are critical, other factors are at play. Local recreation departments need to remember to:
Manage expectations
Longtime visitors, local residents, and "power users" will feel squeezed at times, with longer lines or bigger crowds slowing down their experience.
Expect frustration and noise
Be willing and able to listen to feedback. Communicate the availability of technology tools to help with planning and help visitors avoid disappointment.
Make it fair
Use technology to diminish bots, resale, and scalping, and recognize how programs like first-come/first-served can limit accessibility. 
Local parks, trails, and preserves make the great outdoors more accessible. They bring nature closer to us. Many agencies, recreation, and open space departments today are doing a great job modernizing interaction with citizens via well-designed websites, social media channels, and digital passes. According to pewresearch.org, 97% of Americans have a mobile phone, so making the first contact with nature just a few clicks away will continue to foster healthy communities.