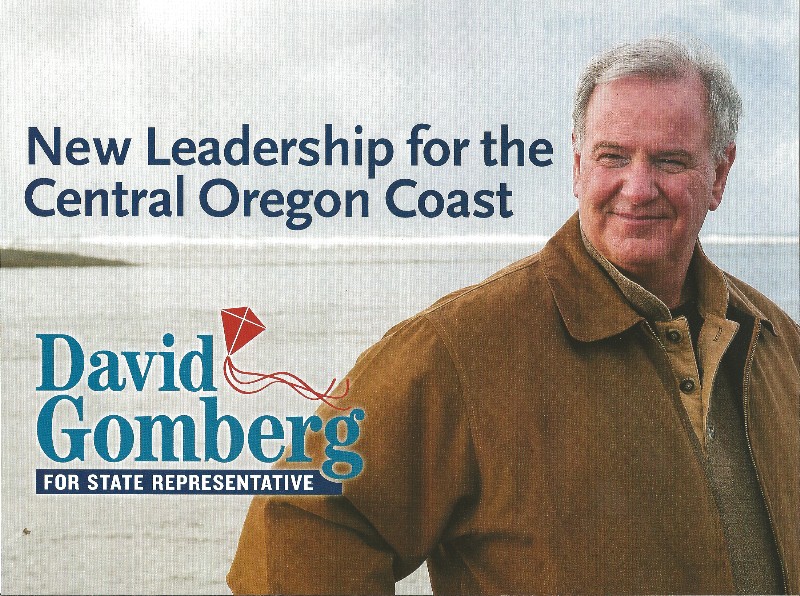 "Off the Stump" is a new feature that will introduce you to the members of the Oregon Legislature. We have invited every legislator to participate in "Off the Stump."   With an important session beginning in early February, it is especially important that we get to know the decision makers who will be working on key legislative issues impacting local and state government. We're also using this opportunity to give you a look into the strange requests that they receive, their holiday gift giving ideas, and what's playing on their iPod.
Related links: Off the Stump with State Rep. Margaret Doherty, Off the Stump with State Rep. John Huffman, and Off the Stump with State Rep. Vicki Berger
State Representative-Elect David Gomberg – District 10
Oregon House District 10 runs from Waldport in the south to Tillamook in the North and Sheridan in the East. It includes portions of Lincoln, Tillamook, Polk, and Yamhill Counties. Lincoln City is roughly in the center of the District.
Gomberg graduated from Oregon State where he served as student body president, and earned a Master Degree in Economics, History, and Political Science. He received a MBA from Willamette University and then worked two sessions in the Oregon legislature – first as a legislative chief-of-staff, and then as administrator of the House Education Committee. Later, he served as an Administrative Law Judge for the Motor Vehicles Division before moving to the Coast to take a position as Executive Director of the Lincoln City Chamber of Commerce. Two years later, he left to focus on his own business. "With Jean (Cowan's) retirement, we're losing experience, seniority, and a strong voice for Coastal concerns," Gomberg said My own work in the legislature and with administrative rules was a long time ago. But it will give me a head start on the job when I'm elected.
Gomberg and his wife Susan own Gomberg Kite Productions and Northwest Winds Kite Stores. They manufacture kites and wholesale to stores throughout North America.
Questions for State Rep-Elect Gomberg
Top three issues facing the Oregon Legislature: 
Balancing the budget, of course.
Job creation; job creation; job creation.
Continuing the effort to create efficiencies in health care, education, criminal justice, energy
Top three issues with the potential to impact cities:
My district has eight cities – none with a population of more than 10,000.  Small cities are impacted differently than larger ones. Our here, primary concerns include:
infrastructure (roads and water systems)
Will Oregon ever have a sales tax?
I doubt it. My district includes plenty of people on lower or fixed incomes. They don't want a regressive sales tax. And our many small businesses would have the greatest burden collecting it.
Let us into your iPod – what's on your "Recently Played" list? 
[youtube http://www.youtube.com/watch?v=s7V5-O8Zk2k&w=420&h=315]
Give our members three tips for communicating with their legislators during session.
Contact your own representative.
Come with concrete proposed solutions as well as problems.
Understand that time is limited.
What is strangest request you've received as an elected official?

I'm not yet an elected official yet. But out on the campaign trail, I was asked if I was married…
If ELGL was going to hold a one-day summit in Salem, give us your restaurant recommendations for breakfast, lunch, and dinner.
Forget Salem! Hold your summit here at the beach.
Two things you like best about serving in the Oregon legislature. Two things you like the least. 
Having the opportunity to be a spokesman for a region that largely feels isolated and dominated by the valley population centers. That's the best part – and also the worst part.

What will be the headline at the end of the 2013 session? 
"2014 Campaigns Begin!!"
Finally, we've wondered many times while we are waiting to have our gas pumped, why can't we pump our own gas? Any chance this changes? 
Come to my district. There are places here you can pump your own. Check self service at Spirit Mountain!
Related Links