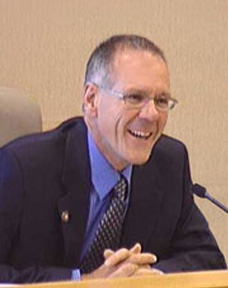 "Off the Stump" is a new feature that will introduce you to the members of the Oregon Legislature. We have invited every legislator to participate in "Off the Stump."   With an important session beginning in early February, it is especially important that we get to know the decision makers since we will be working with on several key legislative issues impacting local and state government. We're also using this opportunity to give you a look into the strange requests that they receive, their holiday gift giving ideas, and what's playing on their iPod. Related link: Off the Stump with State Rep. Margaret Doherty.
State Representative John Huffman – District 59
Email: [email protected]
District 59 is comprised of Gilliam, Grant, Jefferson, Sherman, Wasco, Wheeler and small portions of Deschutes, Clackamas and Marion Counties, 13,000 square miles of rural, eastern Oregon.  As of January 2013, District 59 will be comprised of West and South Wasco County, Wheeler County, Jefferson County and Northern Deschutes County.
Rep. John Huffman comes to the Oregon Legislature after years of raising a family, running businesses and serving his community in The Dalles.
John took over Q-104 radio in The Dalles in 1985, and built it into a popular and successful radio station. John later acquired minority ownership in the radio station, which he sold in March 2007.
Recognized as a leader in the industry, John served on the board of the Oregon Association of Broadcasters (OAB).  In 2001, he served as the association's chairman.
As the association's liaison to the Oregon National Guard, John joined military and broadcast industry leaders on two trips to Europe and the Middle East.  During that time, Q-104 listeners were treated to John's reporting on military training and his visits with U.S. ambassadors in Vienna, Austria and Cairo, Egypt.
John has operated several businesses outside the broadcasting industry, including 12 years as a manager of a 30-acre pear orchard in Parkdale.  He also started, operated and sold a sign business, Sign Pro, in The Dalles. He recently opened Auto Fix, a business to professionally recondition vehicle bumpers for auto dealers.
Questions for State Rep. Huffman
Top three issues facing the Oregon Legislature: 
Democrats and Republicans working together in a bipartisan manner to do what's best for Oregon.
Right-sizing our state government/budget balance/PERS reform-union contracts.
Setting the climate for proper, balanced management of our natural resources.
 Top three issues with the potential to impact cities:
PERS reform-union contracts.
Continued regulation in areas of land use/growth management, water/sewer.
Any additional issue that takes away local control and puts decisions at the state level.
Will Oregon ever have a sales tax?
No.  I believe a sales tax will continue to be talked about in the revenue restructuring conversation and I hear the topic talked about more openly and positively than ever before.  However, as has been the historic case, I do not see the trust in government by the people to allow for much tax structure tweaking.
What's the best Christmas gift that you've received? Given?
Thoughtful creations and notes from my kids.
A few years ago my brother and I (and our wives) went together and took our mother to Hawaii. She was so thrilled that we would do that for her.
Let us into your iPod – what's on your "Recently Played" list? 
I am all over the place on music.  As an old broadcaster/DJ, I love a lot of songs from just about every play list.
Give our members three tips for communicating with their legislators during session.
This is a tough one because we are all very different in our methods of communication.  My preference is an e-mail exchange,  although I do try to meet with everybody that requests a meeting.  I would recommend getting an early start (even before session begins), then as bills are dropped and you begin seeing issues that affect you stay on top of the evolution of those bills as they work through the legislative process and communicate your desires with your representative and senator, and other legislators you have built a relationship with.   Try to avoid bringing an issue to our attention at the last minute.  It is a very busy time and often very difficult to make last minute changes to an issue that we had not particularly been following.  I happen to try to be very responsive in communicating with my constituents but not all legislators are as quick to respond….stay on them.
What is strangest request you've received as an elected official?

After serving nearly five and a half years in the legislature, doing the job on pretty much a full-time basis, and working to be very responsive I receive a lot of requests, some pretty strange.  The typical thing I run into is that people don't really understand how their government works, the legislative process, and the actual power that a legislator has (meaning that it is most often much less than people think.  People tend to think we can just pick up the phone and make a judge or agency director do what we/they want.  There's a little thing called separation of powers that keeps us from doing a lot of what constituents would like for us to do.  Though I will say, I have worked to build good relationships with people in other branches of government and they tend to work well with me to accomplish what I need.
If ELGL was going to hold a one-day summit in Salem, give us your restaurant recommendations for breakfast, lunch, and dinner.
I suppose this depends on your goals and how many folks would be in attendance.  The two most common a room at The Salem Conference or reserving a room in the capitol and bringing in a catered meal (simple, box lunch type).  The real challenge is scheduling to get as many people as you can to attend.   Again, sessions are very, very busy times and everybody wants a piece of you.
Two things you like best about serving in the Oregon legislature. Two things you like the least. 
I enjoy being able to help people with their needs at the state level.  Typically it is a situation where they need help communicating their story with an agency that isn't slowing down long enough to listen.
The stress of a session and too often the lack of bipartisan cooperation.  Campaign time is also too often less than fun.
What will be the headline at the end of the 2013 session? 
My fear is that it will be something like…."The Oregon Legislature did precious little to change the regulatory environment to allow for needed private sector job growth"    and/or   "The Governor and the Oregon Legislature missed the opportunity for reforms that would have helped taxpayers and local governments with unsustainable PERS growth and liabilities".
Finally, we've wondered many times while we are waiting to have our gas pumped, why can't we pump our own gas? Any chance this changes? 
A few reasons for the resistance to pump our own fuel come to mind.  One I believe is lack of understanding of how pumping your own gas really works.  I have heard (typically elderly folks say) a number of times that they don't want to pump their own gas.  They seem not to understand that they wouldn't have to if they didn't want to do it themselves.  Also, there seems to be some kind of pride that Oregon is independent enough to be different from every other state, even in relatively small things like pumping gas.  Finally, I think the environmental community tends to scare people into thinking that there will be gallons of fuel spilled at gas stations on an hourly basis across Oregon by untrained fuel dispensing technicians, causing an environmental nightmare.
Related Links
[youtube http://www.youtube.com/watch?v=-hAzMYJRJiQ&w=420&h=315]