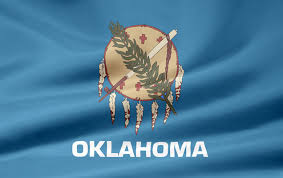 Fifty Nifty Takeaways
What do we hope to learn from this series? We hope you will gain a better understanding of the unique characteristics of local government in each state, we hope you will learn that there are others like you who are motivated to make a difference through the public sector, and we hope you will learn that it is best to learn from others' mistakes than yours.
Our Take on Oklahoma
Boomer Sooner! The 50 Nifty project has landed in Oklahoma, the 20th largest state in the nation. We arrive in Oklahoma with few very perceived notions except our memories of University of Oklahoma star Brian Bosworth, Oklahoma!, and tornado watchers. We'll see if Larry Stevens, Edmond city manager can enlighten us on Oklahoma and its local government environment. Before we do that, we provide you with a Cliff Notes version of all things Oklahoma.
A major producer of natural gas, oil, and agriculture, Oklahoma relies on an economic base of aviation, energy, telecommunications, and biotechnology. In 2007, it had one of the fastest growing economies in the nation, ranking among the top states in per capita income growth and gross domestic product growth.Oklahoma City and Tulsa serve as Oklahoma's primary economic anchors, with nearly two thirds of Oklahomans living within their metropolitan statistical areas.

One of our nation's most tragic events took place in Oklahoma City in 1995. The Oklahoma City bombing of April 19, 1995, in which Timothy McVeigh and Terry Nichols detonated an explosive outside of the Alfred P. Murrah Federal Building, killed 168 people, including 19 children.
What's the download on government in Oklahoma? The state has 77 counties with jurisdiction over most local government functions within each respective domain,  and five congressional districts. While each municipality operates as a separate and independent local government with executive, legislative and judicial power, county governments maintain jurisdiction over both incorporated cities and non-incorporated areas within their boundaries, but have executive power but no legislative or judicial power. Both county and municipal governments collect taxes, employ a separate police force, hold elections, and operate emergency response services within their jurisdiction. Other local government units include school districts, technology center districts, community college districts, rural fire departments, rural water districts, and other special use districts. Thirty-nine Native American tribal governments are based in Oklahoma, each holding limited powers within designated areas.
Oklahoma has been politically conservative for much of its history, especially recently. During the first half century of statehood, it was considered a Democratic stronghold, being carried by the Republican Party in only two presidential elections (1920 and 1928). Generally, Republicans are strongest in Oklahoma City, Tulsa and their close-in suburbs, as well as the Panhandle. Democrats are strongest in the eastern part of the state and Little Dixie.
Interesting Sooner State Laws
Ada: If you wear New York Jets clothing, you may be put in jail.
Clinton: Any person who leans against a public building will be subject to fines.

Oklahoma City: It is illegal to own a stink bomb.
Tulsa: You may not open a soda bottle without the supervision of a licensed engineer.
Wynona: Clothes may not be washed in bird baths.
Vitals
Larry Stevens
Edmonds City Manager
Oklahoma Municipal League's City Manager of the Year, 2007
Experience: City Manager, Pittsburg, Kansas and City Manager, Brookfield, Missouri
Education:  Master's Degree, Public Services Administration, Central Missouri State University and B.A., Criminal Justice/Political Science, Central State University
Background Check on Larry
Larry Stevens is the City Manager of Edmond, OK. He began his career with Edmond in 2002. Prior to that he was the City Manager in Pittsburg, KS and in Brookfield, MO. He has a Master's Degree in Public Services Administration, Central Missouri State University.
Larry was the recipient of the 2007 Gerald Wilkins Award which recognizes the most outstanding city manager in Oklahoma. Claremore City Manager Troy Powell described Larry as "dedicated to the profession, innovative and ethical in all that he does."
Connect: Facebook, Twitter, World Wide Web, and YouTube
Edmond is located in the middle of Oklahoma (north of Oklahoma City. With a population of 81,405, Edmond is the sixth largest city in the state of Oklahoma. The city has been recognized on CNBC's "10 Perfect Suburbs" list, listed as one of the "Top 100 Places to Live in 2007" by Relocate America, and selected as the most outstanding community by the State Chamber of Commerce. In 2009, Edmond appeared on Newsmax magazine's list of the "Top 25 Most Uniquely American Cities and Towns," a piece written by current CBS News travel editor Peter Greenberg. In determining his ranking, Greenberg cited the city's 10-day LibertyFest event, which includes the state's largest parade, as well as fireworks, a beauty pageant, kite festival, and rodeo.Department.

The supermarket chain Homeland is based in Edmond. The University of Central Oklahoma, one of the fastest growing in the state, is a major employer.  The city's economy is centered on technology, manufacturing, construction, wholesale, and retail trade.
The city of Edmond is making efforts to promote public art with murals, stained glass and steel sculptures. On a portion of mainstreet, statuary lines nearly every corner. On July 4, 2007, the City inaugurated a bronze statue of Nannita R.H. Daisey, believed to be the first woman laying claim on Oklahoma land in the first (1889) land run.

Notables from Edmond
Shannon Miller, America's most decorated Olympic gymnast
Former FEMA Director Michael Brown. Interesting Note: Brown worked as an intern in the city's Emergency Management Department while receiving a B.A. in public administration/political science from Central State University (now the University of Central Oklahoma), in Edmond. Brown was employed by the City of Edmond as the Assistant to the City Manager from 1977 to 1980.
Blake Griffin, forward for the Los Angeles Clippers
Actress Hayley McFarland An American Crime, Gilmore Girls, United States of Tara, Lie to Me
Mike Kennerty and Chris Gaylor of the pop rock group The All-American Rejects
 Lightning Round
Best piece of advice from your parents. Always be honest and tell the truth
In a dream world, which bands would headline your retirement party? Jethro Tull, Moody Blues, Beatles
(Complete the sentence) Before I die I want to…….see Alaska (the last frontier)
Three most influential books in your life.
The Bible, To Kill a Mockingbird, and Undaunted Courage (Lewis & Clark)
If you could FaceTime with five people (dead or alive and not including family members), who would be on the list?
Christ
Abraham Lincoln
Thomas Jefferson
Mark Twain
Rod Serling
Describe the inside of your car. Very plain vanilla, fairly clean and uncluttered
What's the meaning of life? To serve God by serving others
 Q & A with Larry
Give us three bullet points that best describe local government in your state.
Over-reliance on sales tax, and very limited ability to use property tax
Prevalent and active police and fire unions
We'll assume you didn't grow up dreaming about a career in local government. What was your dream job as a 12-year old? Major League baseball player
What was your first local government job? Admin. Asst. for Community Development in Warrensburg, MO
How did you end up in local government? I thought that I wanted to be a lawyer which lead me to law school. Despite getting good grades, I didn't like it and got out after a semester. Following law school, I went to graduate school at Central Missouri State University for Public Services Administration. I landed a local government internship when my graduate school advisor recommended me to the city manager in Warrensburg, Missouri.
Give us your top three career accomplishments.
Building effective and genuine Council and staff teams in several different communities
Creating and maintaining internal cultures of accountability and professionalism in several different communities
Willingness to tackle the tough issues
We often learn from our mistakes. Name one or two career mistakes that you have made that you think we could learn from.
(I realize these are not new)
Don't have the mind-set that the majority of the people in our communities are very interested in or even aware of what the City is doing or thinking about doing–for the most part they are not.  We primarily hear from the majority of our people when something goes wrong with the most basic of City services.
Don't take yourself too seriously—hopefully I haven't done this much for many years
Our experience has been many of our friends, family, and neighbors are not well versed in what it is we do in local government, many think we are a "planner" or "mayor". Has this been your experience?
Without a doubt
How can local governments better communicate their role in the everyday lives of the community?
We can never be satisfied with our efforts to COMMUNICATE with the people in our community and our organizations, no matter how good we think we are in this area, and we always need to be looking at new and different ways to enhance how we communicate—both externally AND internally
Would you encourage your family and friends to consider a career in local government?
Yes, depending on what their career goals are.

Hypothetically, if we find ourselves interviewing for a job in front of you, talk about three steps we can take to make a good impression.

Be genuine and act genuine—who I see is who you really are
Use "we" more than "I" in your comments whenever possible
Relax as much as possible, and be self-confident
Mentoring is such an important part of local government. Name three of your mentors.
John Vinson: city manager in Warrensburg and St. Charles, MO, and Broken Arrow, OK
Doug Leslie: city manager in Nevada and Cape Girardeau, MO
Leonard Martin: city manager in Rolla and Joplin, MO, Edmond, OK, and Carrolton TX
(Complete the sentence) In 2018, local government will be …………Much more impacted by more and better-organized special interest groups
What question(s) should we have asked you?
Do I have a life outside of local government? ( I do)
What is the most important skill in local government management (people skills)
Do I have a sense of humor and can I laugh at myself? (think I can)
Supplemental Reading
Edmond, OK City Manager and City Attorney Win Prestigious Awards
Q&A with Larry Stevens, Edmond, Okla., city manager
Interview: Edmond city manager Larry Stevens
Reason Foundation – The Dynamic Duo of Carrollton, Texas
Managing Successfully in a Complex Built Environment
Broken Arrow City Manager Dies at 56
Fifty Nifty Profiles