Omar Sandoval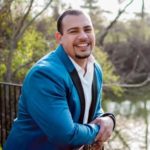 Director of Information Technology, Naperville Park District
---
Favorite song from 2018:
Panic! At The Disco – High Hopes
Favorite book from 2018:
Proudest work accomplishment in 2018:
Being nominated for and then named as one of the Four Under 40 Achievements Awards Recipients
People who most positively impacted you in 2018:
Too many to name but I am fortunate to have an amazing team I work with day to day, and a group of mentors at our leadership team level
New Year's Resolution(s) for 2019:
Expanding our free public WIFI to an additional 8 sites. Large project due to the scope…
Prediction(s) for 2019:
Excited to welcome the new additions to our family
What question(s) should we ask on the next new member questionnaire? ​
Favorite parts of their organizations or favorite service they offer the community?