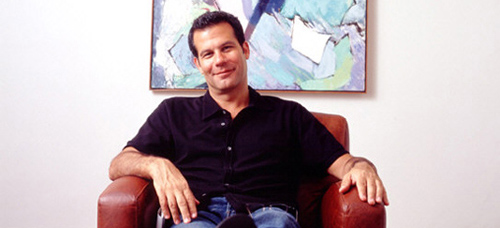 Richard Florida, Senior Editor at The Atlantic 
Author of award-winning The Rise of the Creative Class
Richard on the World Wide Web:
Website, Twitter (Time Magazine's 140 Best Twitter Feeds), Facebook 
The Director of the Martin Prosperity Institute at the University of Toronto's Rotman School of Management, Global Research Professor at New York University, and the founder of the Creative Class Group, which works closely with governments and companies worldwide, Richard Florida is perhaps the world's leading urbanist, "as close to a household name as it is possible for an urban theorist to be in America," according to The Economist. Esquire has included him on its annual list of "The Best and the Brightest," and Fast Company dubbed him an "intellectual rock star."
Florida is the author of several global best sellers, including the award-winning The Rise of the Creative Class ("one of the best business books of all time"—800-CEO-READ), and is a senior editor for The Atlantic, where he co-founded and serves as Editor-at-Large for Atlantic Cities, the world's leading media site devoted to cities and urban affairs. Florida appears regularly on CNN and other news broadcasts and is a regular contributor to the op ed pages of major newspapers and magazines. TIME magazine recognized his Twitter feed as one of the 140 most influential in the world.
Q&A with Richard
Based on reader feedback, what are the three most popular stories that you've done? Three that you are most proud of?
Strangest reader feedback that you've received.
That's an every day occurrence. But the people write hate mail because I criticize Rob Ford.
(Complete the sentence) Before I die I want to…
Play a great live venue as part of an incredibly loud and forceful 3-piece power trio, my brother on drums of course.
Dream job as a child:
Rock and roll guitar player. Strange as it may seem, I still think of myself more as a guitarist than a researcher – it was my identity as a young boy!
Who is your mentor?
What songs are on your ultimate mix tape?
Hendrix, Clapton, Buddy Guy, Johnny Winter, Jimmy Page … Need I go on … I'm a blues based guitar player.
Play librarian and give us some book recommendations:
Write a headline for your career:
He helped people better understand the role of community – where they live – in their lives.
Ever consider running for elected office?
Nope. And I tell my wife, family and friends to hold an intervention if wither that or an appointed position for me is ever suggested. I value my time and freedom and privacy too much. Plus I already have the best job in the world.
ELGL hosts its first annual conference in October in Portland. Give our planning committee an assist by offering three topics and/or speakers that should be included.
Technology

Talent

Tolerance
Related Links
Previous On the Public Record Features