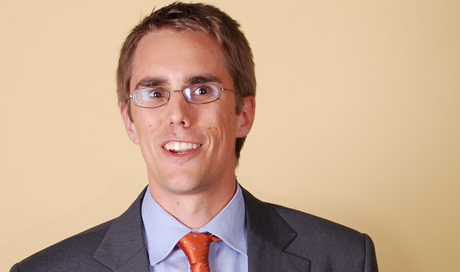 Steve Ressler

Founder and President of GovLoop
Steve Ressler is the Founder and President of GovLoop.com, the "Facebook for Government" that connects and fosters collaboration among more than 32,500 members of the government community. On GovLoop, members use social media such as blogs, videos, and forums to discuss best practices and share ideas on improving government.
Steve has won the 2010 GovTech Top 25 Doers, Dreamers, and Drivers Award, the 2007 and 2009 Federal 100 Award, the 2009 AFCEA Bethesda Social Media Award, and was a finalist for the 2009 ACT/IAC Intergovernmental Solutions Award.
Steve is also the co-founder of Young Government Leaders (YGL), a professional organization of over 2,000 government employees across the U.S.
He is a Master's graduate from the University of Pennsylvania where he received the Department of Homeland Security Fellowship.
GovLoop is the "Knowledge Network for Government" – the premier social network connecting over 60,000 federal, state, and local government innovators.
A great resource to connect with peers, share best practices, and find career-building opportunities.

Based on GovLoop traffic, what were the three most viewed stories of 2012?
Give us a story which you think should have received more attention.
I'm a huge fan of Frank Digiammarino's guide "Happiness is a Balance – Framework to Manage Your Career"  – it's a must read for anyone who has tried to figure out whether to take a promotion, how to balance work/life balance, & how to find true career happiness
Fast forward to December 2013, what will have been the top three stories/issues covered by GovLoop.
Tablets everywhere – I believe you'll see more government operations run off tablets.  A ton of city councilors use them for hearings and I think you'll see them in tons of places from parks to libraries to health workers (especially at $200-300 each)

Health insurance exchanges – Regardless of your political leanings, health insurance exchanges are coming and there is a huge amount of technical and marketing lift to get them to be used.  They'll be a lot of action at the state health agencies and federal level

Hiring? Retiring?  2012 saw the beginning of the baby boomer retiring (which we've heard about for you).  I bet you'll see it continue even more in 2013 & agencies will have to move out of hiring freezes in order to get enough folks to do the work.
From your experiences, what are three career tips for succeeding in government?
Do Great Work – do your core job fantastically well.

Learn How to Network – Go out of your way to meet others in your office (plan the picnic, join inter-agency committees, etc).  Find other people doing interesting things in government, in your agency, and get to know them.  Be active in gov't organizations (like ELGL) and online spaces (like GovLoop)

Take Risks – Push for new ways of solving problems.  Join new initiatives early.  Don't be afraid to change agencies or type of gov't work
Grade local governments use of social media.
Honestly it varies as much as a high school English class.  There's the kid in front row getting A+ and the kid in back who is barely trying, falling asleep with an F.  I am encouraged that in 2012 & going into 2013 there is a big push to integrate social media to solve real problems (such as communicate during emergencies ) versus being the trendy thing to do
ELGL is an Oregon based nonprofit focused on local government with 280 members and 12 corporate sponsors, tell our members and readers how we can benefit from visiting GovLoop?
[youtube http://www.youtube.com/watch?v=AAr6h0BSCTk&w=420&h=315]
Goal of GovLoop is pretty simple – help you do your job better.  We are a knowledge network of 63,000 federal/state/local government employees and we provide free trainings, career advice, and best practices.  Sign up for free updates & we'll send you a free e-book on Twitter tips for government agencies – http://bit.ly/TgRQzk
Which level of government is most effective at communicating on social media and websites?
I think local wins.  They have the closest relationships to the citizen & that makes great social media – whether it is City of Tampa sharing a great sunset on their city page to highlight pride or NYC communicating important info on Hurricane Sandy to its citizens.
Should government be run like a business?
Of course not.  Government is not a business – it's got different goals (not just about maximizing profit) & different stakeholders.  However, there are a number of principles that government can leverage from business – being efficient in use of capital, rapidly innovating and pursuing newer and cheaper ways of doing businesses, and hiring and retaining top performers.
Play librarian – what are your favorite books from 2012?
Is "good enough for government" an accurate phrase?
In its origin, good enough for government mean the opposite – it mean the highest quality.  I think we should all strive for that goal and you see government can – from starting the GPS system, Internet, having some of the world's best scientists and Nobel Prize Winners, to amazing coordination during emergencies.
Related Links
[youtube http://www.youtube.com/watch?v=4vh_HPQMVyc&w=560&h=315]