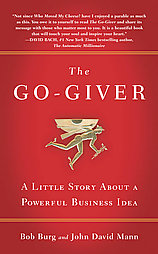 On the Public Record with Bob Burg, co-author of The Go-Giver
Twitter: Bob Burg, Facebook: Bob Burg
About Bob Burg and The Go-Giver
The Go-Giver: A Little Story about a Powerful Business Idea is a 2008 book written by Bob Burg and John D. Mann. It is a story about the power of giving. The Go-Giver as the authors tell, revolves around the story of a young professional (Joe) who is striving for success. Joe is ambitious, however lately it seems like his hard work and efforts are not paying off in terms of results. Following a disappointing quarter – in terms of sales results – he inadvertently seeks the mentorship of The Chairman. The Go-Giver's fictional story got the attention of several prominent business managers, including reviewers at Business Week. The book was #9 on the Businessweek Best Seller list.
ELGL on Bob Burg and The Go-Giver
What an incredible, life changing book. ELGL thanks Anthony Petchel, Bank of the Cascades for recommending The Go-Giver. It is rare that you read a book start to finish in an hour and are left with a lifetime of lessons and strategies for succeeding in your personal and professional career. Many ELGL members have read the book and now have the Five Laws of Stratospheric Success hanging in their office as a daily reminder. During the long Thanksgiving weekend, do yourself a favor and read The Go-Giver.
ELGL contacted Bob with a few follow up questions from The Go-Giver. You'll learn in the interview that he has a common trait with Phil Keisling (former Oregon Secretary of State and PSU Center for Public Service) – no iPod.
Do the Five Laws of Stratospheric Success stand the test of time?
Yes, they do. To take that answer a step further, there is absolutely nothing new in those Laws that haven't been stated and utilized long before. These are proven principles that have worked for individuals for at least as long as there have been relatively free market based economies, where people who provide great value can be rewarded for it. The key is that one must utilize all five of the Laws together, in conjunction. Using just one, two, three, or even four of them will not do it.
Would you revise any of them? Add? Subtract?
Those five work holistically, and we would never want to break up "the team." 
 Of course, there are certainly other character traits and success principles besides these five that are written about and discussed in many excellent books. Actually, I'd say that the systems in many books work…if you use them. And, that's terrific, so long as they are congruent with one's values.
Many of our members have read the book and use the lessons to guide them in their work life. Talk about the feedback that you received from others. Any negative feedback?
Very complimented, and greatly honored to know that members of ELGL have enjoyed the book and found it to be of value in their work life. Regarding feedback, John and I have been very fortunate to hear mainly from those who have utilized the Five Laws personally in their business (and personal) life, as well as brought the principles from the book into their organizations. Regarding negative feedback, not a lot. Of course, some of the reviews on Amazon.com have been less than stellar. Perhaps that's to be expected though.
What book(s) have you read lately that our readers would benefit from reading?
I love books so it's difficult for me to narrow my suggestions down into what I've read only lately. I interview authors whose books I've enjoyed for my blog (www.burg.com/blog – "Interviews" section) and some of your members might enjoy the interviews. Books on personal development, leadership, spirituality, sales, they all fascinate me. I'm continually reminded of how much I need to learn.
Give us insight into your iPod's recently played list?
Believe it or not…I don't have one. About the only time I listen to music is on YouTube when I need a relaxation break. Crazy, isn't it?
If you added a Christmas chapter, what would be on Joe's Christmas list?
Probably books, books, and more books (he wouldn't need a gift certificate for Rachel's Famous Coffee since he owns part of it) 

Tell us about what you are working on, any new books?
Yes, I'm working on a book entitled, "Ultimate Influence." It should be out in Fall, 2013. John, meanwhile, continues to be a coauthor in great demand, having coauthored and/or ghostwritten several N.Y. Times Bestsellers and working on multiple books at a time. He's an amazing, brilliant writer, and I was honored (and extremely fortunate) to have the opportunity to work with him.
Would The Go Giver make a good movie? Who would play Joe?
Actually, it had been discussed and a potential producer even attempted to come up with funding but was unsuccessful. I expect it will be a movie one day. Regarding Joe, I'm not sure, since he's sort of the "every man" (I think we've all been Joe at one time or another). We've definitely envisioned different people – modern day actors – in different roles however.
If you had to grade our society on how closely they follow the five laws, what grade would you give?
Not sure of a specific grade. I'd say that some people and some companies follow it beautifully and others absolutely don't. We both enjoy receiving letters from people telling us of a shift in the organization's focus after reading the book.
With the increase in social media and the increase in ways to communicate, ELGL would argue that it is easier to espouse the Five Laws in today's environment. Agree? Disagree?
I agree with ELGL. Social Media provides us with some great ways of establishing and cultivating relationships with those we would not have been able to do so previously. The key, of course, is always to remember that it is still about the people and about the relationships, not the technology. The technology – when utilized correctly – simply makes it easier to create the relationships.
Give us three tips for succeeding in our careers.
Shift from an "I-Focus" to an "Other-Focus."
Constantly find ways to provide value to everyone whose lives you touch (whether customers, co-workers, employees, employer, etc.).
Be teachable/coachable; stay humble and always be learning.
Finally, and most importantly, are you still able to save money in giving copies of your book to family and friends for their birthdays, anniversaries, etc?
While we don't sell the books personally so all the discounts are from places such as amazon.com and 800ceoread.com, we are offering some excellent incentives for the Holiday Season. Feel free to visit www.Burg.com/holidays for more information.
Again, thank you so very much. Please send my regards and best wishes for a Happy Thanksgiving to everyone at ELGL.
Related Links
The Go-Giver: A Little Story About a Powerful Business Idea
Book Review: The Go-Giver – A Little Story About A Powerful 
The Go-Giver – Wikipedia, the free encyclopedia
To Succeed in Sales, Suspend Your Self-Interest
Endless Referrals: The Go-Giver Way
[youtube http://www.youtube.com/watch?v=8UfODBPI7WY&w=560&h=315]