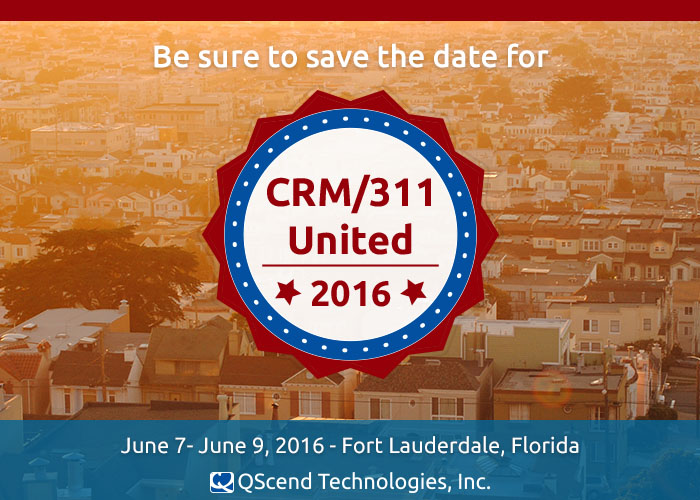 CRM / 311 United
June 7- 9, 2016
Fort Lauderdale, FL
Cities from around the country are coming together to share their successes
ELGL organizational member, QScend Technologies (LinkedIn and Twitter) is hosting a conference where City leaders and staff representing 10 municipalities will come together and share their citizen request management/311 success stories in this rare 2-day event. ELGL will be there to share their thoughts on what it takes to improve and maximize citizen outreach and engagement and why it is important.

Join Rebecca Olson (LinkedIn and Twitter) and Ben Kittleson (LinkedIn and Twitter) as they go 'On the Road' to Fort Lauderdale, Florida to talk Citizen Outreach and Engagement with QScend Technologies. This is the first post in a series that will chronicle their conference planning endeavors.
At this conference, attendees will learn:
The main components of a successful 311 / CRM 9citizen request management)
How to roll out a successful system from beginning to end
The latest trends in CRM
How to maximize social media
How to improve citizen engagement
How to get Department buy-in
Here's what QScend has to say about the conference:
This QScend Technologies sponsored event is your chance to learn from beginning to end how to successfully implement a CRM system in your municipality.  Our goal is to provide an environment for discussion, education and networking for anyone passionate about advancing citizen service in their community. What better way to learn than from a group of your peers?

This program is designed to give you the full understanding of what it will take to launch and what it takes to keep the initiative a success.
Supplemental Reading
Trends and Tech in Service Delivery – Webinar with QScend
Building Common Ground: Public Engagement Promising Practices