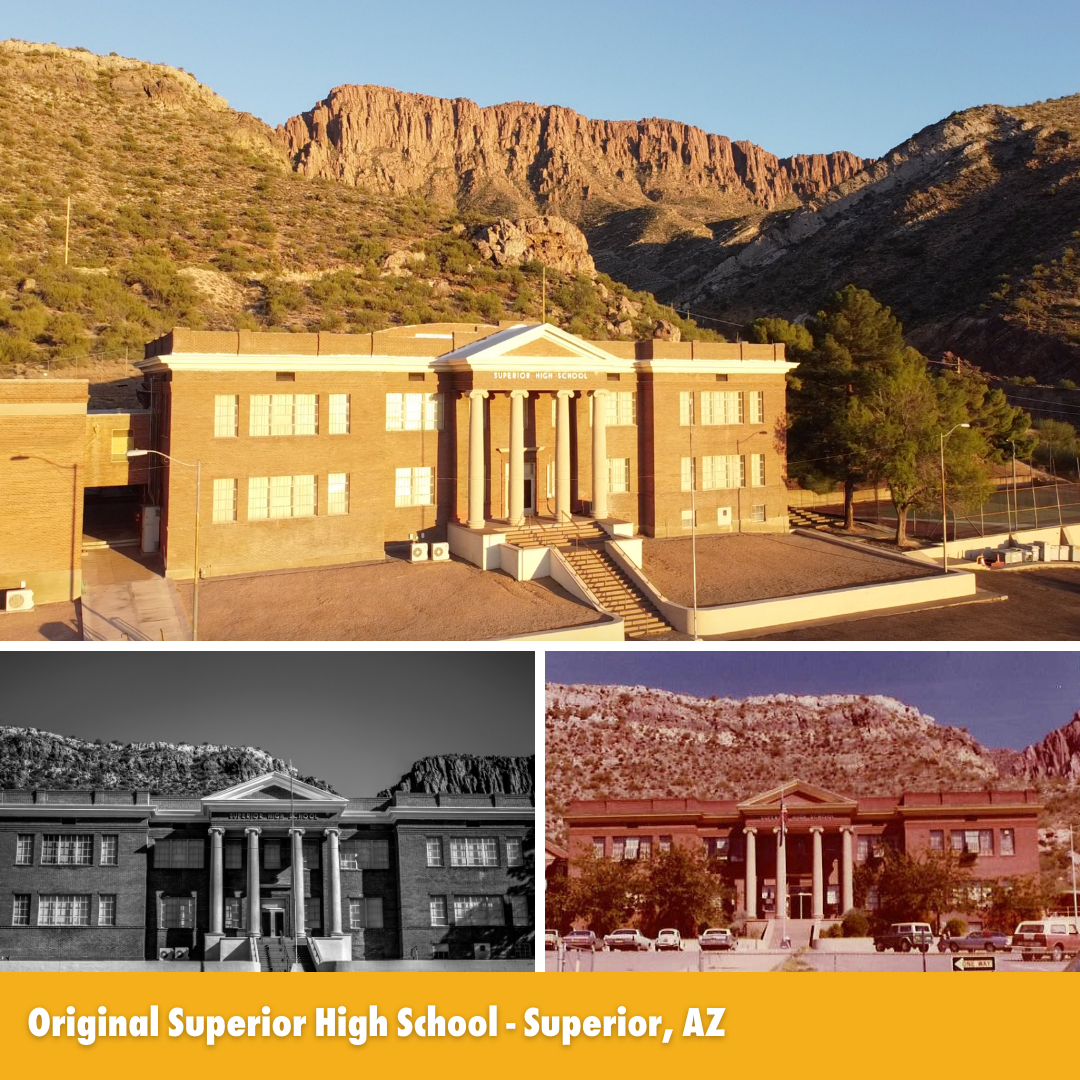 Voting for the 2022 Best Places in Local Government (aka the #ELGLKnope) Round of 32 opens on March 7, 2022 and closes at midnight PT on Friday, March 11, 2022. One vote per person. Learn more about this award online.
---
Original Superior High School
Superior, Arizona 85173 
Year(s)/Era:

1925 

Type of Place:

Building, Object, Site, Structure  

Nomination:

The importance of preservation efforts is multi-fold. It connects us to our collective past, while serving as a bridge to the future in the form of a physical time capsule. Preservation also provides the ability to revisit these once over looked artifacts, giving us a strong sense of place and community with the constant reminder of those that came before us. All the while saving time and money by reutilizing resources that are readily available at our fingertips.





For Superior, this historic preservation journey has begun with the Town purchasing the original Superior High School on January 28th, 2022. This iconic facility will become a multigenerational center featuring Town Hall operations, a library, workout facility, dance studio and senior center. The complex will also feature the Superior Enterprise Center, which will be the home to programing for job training and entrepreneurial development including a commercial kitchen to assist food entrepreneurs.





Developing a multigenerational center was a key strategic goal Superior's council set in 2016 to ensure that they continue to invest in and expand Superior's quality of life amenities. The original plan called for constructing a new building, but as costs escalated, dreams nearly evaporated. Superior being a by product of enduring economic hardships from the bust and boom of mining throughout the years, is positioning itself as a town with a mine, rather than a mining town.





"We are grateful that Mr. Elijah Cardon agreed to sell this important community building to the Town. As is our tradition, repurposing and modifying materials and places is how we honor and preserve our history, continue to tell our story and embrace the future." ~ Mila Besich, Mayor for Town of Superior.





The historic High School, built in 1925, will become a hub for all things Superior, and the historic and important building will once again be accessible to the public. The Town will be maintaining the structure of the building, only slightly modifying some aspects of the building to allow for accessibility and functionality. By providing a space for education, health, creativity and culture to flourish, Superior is strengthening a resilient and socially connected community. 

Most notable attribute(s):

The architecture! It is constructed of the original brick that was locally smelted in town. 

Special designations or recognitions:

It was the last operating high school gym still using fan backboards when the school closed in 2000

Three words to describe:

Future, Present, Past 

Anything else to share?

The Class of 1927 announced the birth of their first Annual/yearbook which was named The Mountaineer. Its dedication read, "to our mountains" with this quote "Above this tumult in the valley below, your immovable, everlasting heights have risen, serene and undisturbed. Though our future lies far away, the memory of you will be inspiration and an example wherever we may be". This quote is as relevant today as it was in 1927.

This is the first time The Town of Superior has been nominated to participate in a ELGL.org/knope voting challenge and would very much appreciate your consideration in moving the Original Superior High School into the bracket challenge. Superior's community may be small but is mighty and always up for a challenge! 
Local Government:
Town of Superior Arizona 
Superior, Arizona 85173 
---