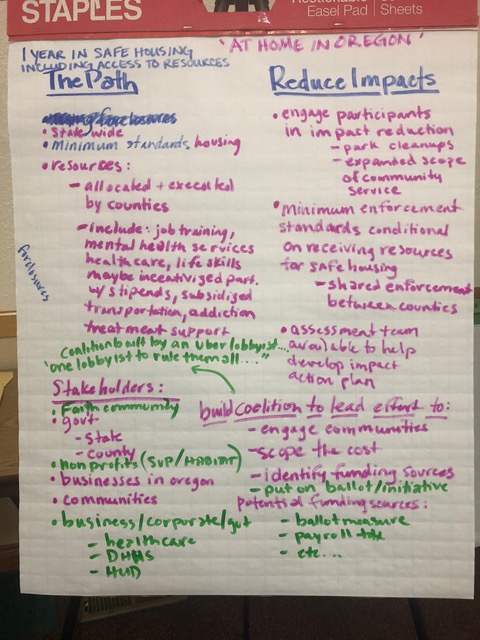 Sandy Belson is an ELGL member and the Comprehensive Planning Manager for the City of Springfield and she attended the Chinook Institute on a scholarship where she's sharing her experiences from Chinook with the ELGL membership. Read her first blog installment here.
---
When I sent in my previous blog, I was half-way through leadership training at the Chinook Institute, held at Aldersgate in Turner, Oregon.  The quality of my experience ratcheted up another notch (in the positive direction) as I got to know the other participants and we engaged in experiential learning.

My week's high point was a game to set prices for "pepulators".  Reed Wagner and Allison Kean lead us through the pepulator pricing game and debrief process, expertly drawing out the lessons and how to apply these lessons in our work settings.  The game revealed some surprising attributes of my fellow participants (from unexpectedly generous to ruthlessly competitive) as we strove to garner maximum profits for our "companies".  
Interactions between my "company" and the competitor involved flexing the rules against written communication through creatively cutting and folding the price-setting papers we sent back and forth through a messenger.  After establishing an initial rapport between the two companies, we upped our game by including candy and flowers in the price exchanges.
This experience highlighted the importance of establishing a relationship, even in impersonal arms-length transactions, and thinking creatively how to create rapport even in the context of communication constraints.
A different set of "companies" had a case that pitted the integrity of an individual against company gains – which resulted in real life ramifications.  The price setting exercise also revealed how hard it is to predict outcomes with limited information and to watch out for assumptions that may mislead your understanding of what is really happening.  

Continuing the day's theme of negotiations, Wednesday evening brought us another story-teller, Jamie Damon, Senior Research Faculty at Oregon State University.  She held our rapt attention as she described how time after time she has been called upon to enter a room of angry people to mediate a plan that moves forward with public support.  
She taught us to find the point at which someone cares within the whole continuum of caring. For example, ask a complaining neighbor if he would call 9-1-1 if the house next door is on fire.   If not, would he call 9-1-1 if he knew there are kids in the house that's on fire? She explained that some people make decisions based on values, some on facts, and others on emotions, and each of these bases for a decision is real.  
She described how she establishes credibility – by being authentic (true to herself) and using that authenticity to gain the respect needed to carry through negotiations and to lead disparate groups to a joint resolution.
Thursday morning, Turner's own leader, City Administrator David Sawyer introduced us to systems thinking.  Similar to the lessons we learned at the beginning of the week from Don Coyhis, David said we need to be archeologists, digging below the surface to understand the basis for the situation.  
He explained that the deepest layer is our culture and that if something isn't working, maybe there's something in our culture preventing it from working.
Louis Larimer helped each of us discover our own ethics.  As he set up scenarios and provoked us with questions, he encouraged us understand how we resolve ethical dilemmas, and revealed differences among us that helped us appreciate other people's ethics.
Throughout the week, after each delicious meal that put us all in a good mood, John Morgan reviewed the previous sessions and tied it all together to close with an inspiring recap.  (I have never had a breakfast buffet as amazing as the one served on our last day which included smoked salmon for bagels and lox, a bounty of fruit in addition to exquisitely prepared breakfast standards.)
There's so much more I didn't even touch on including human foosball, exchanging love letters, and dancing to music from the jukebox at Mister P's.
A week later now, I still feel motivated by the ideas and energy shared.  Several other of my co-workers have attended the Chinook Institute and are interested in meeting to support each other as we strive to become better leaders.  
This support will be critical as I serve as interim manager of a recombined division in the Department of Development and Public Works. I will be calling upon all these lessons as I strive to help lead us through these organizational changes so we can continue to build the bridge to an amazing future for the City of Springfield.