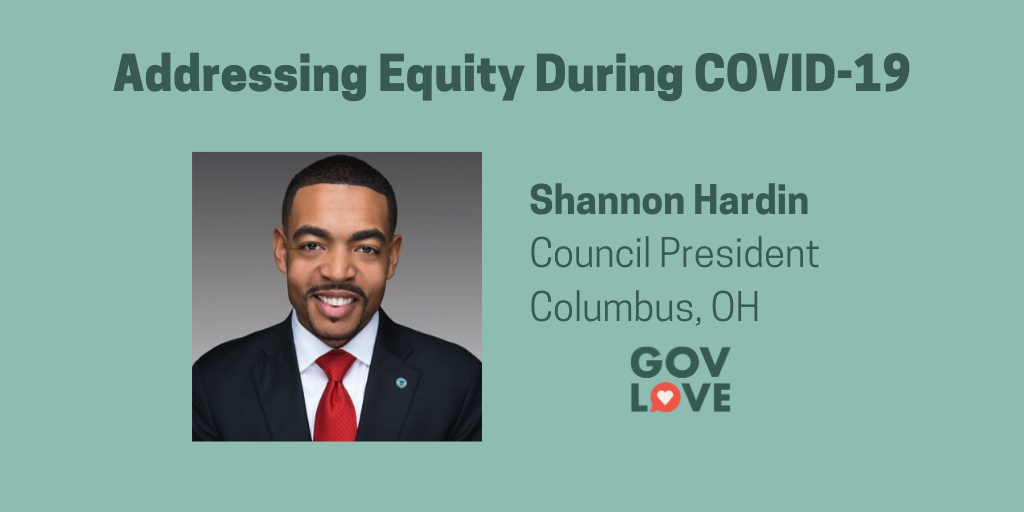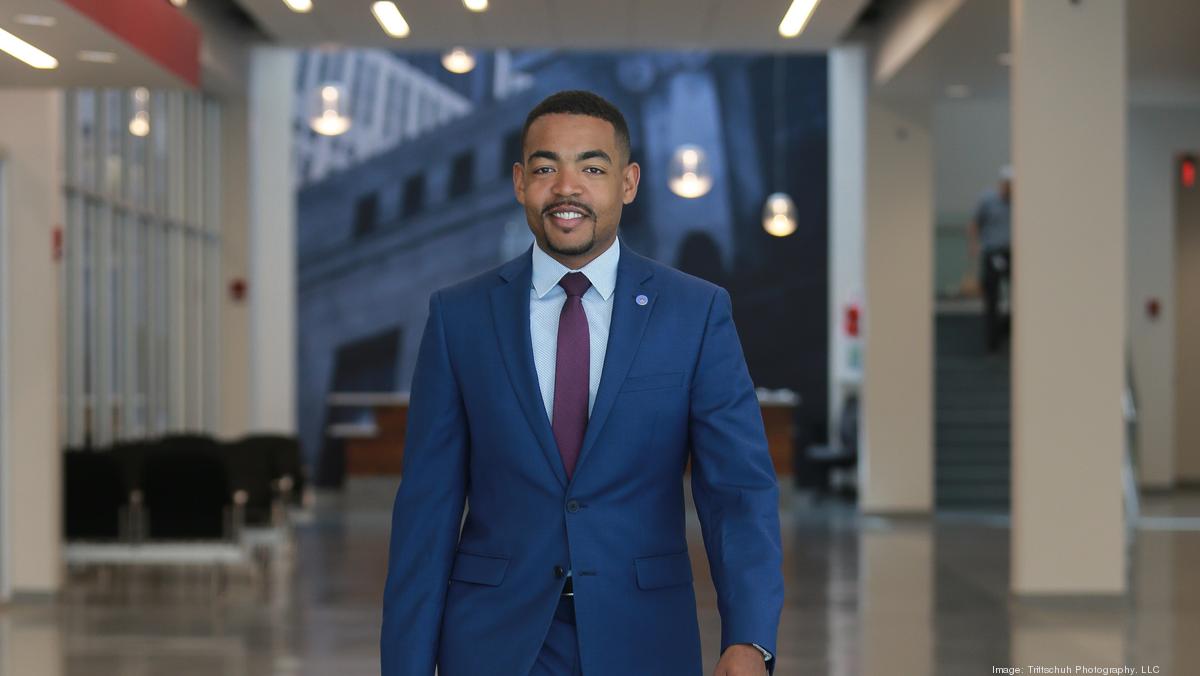 Shannon Hardin
Council President
City of Columbus, Ohio
LinkedIn | Twitter | Bio
---
If it's not for all, it's not for us. Shannon Harding, the Council President for the City of Columbus, Ohio, joined the podcast to talk about how the City is responding to COVID-19 and the policy responses they are pursuing. He discussed the disparate impacts of the pandemic on marginalized communities and how they are bringing equity into the response, from providing a hotel for homeless community members to supporting black businesses. Shannon also shared his career path into public service.
---
---
Learn More
City of Columbus COVID-19 Resources
Columbus City Leaders Address Racial Disparity Amid COVID-19
City promotes #BuyBlackThursdays to support businesses hard-hit by Covid-19
Columbus City Council Re-Elects Shannon Hardin As President
Who's Next: Shannon Hardin, Columbus City Council President
Can't Stop Columbus lifts spirits with curbside concerts
Hardin elected as new Columbus City Council president
---
Episode Transcript
Alyssa Dinberg
All right, let's get started. Coming to you from Denver, Colorado, this is GovLove, a podcast about local government. GovLove is produced by ELGL, the Engaging Local Government Leaders network. We engage the brightest minds in local government. I'm Alyssa Dinberg. And today I'm super excited to welcome Shannon Hardin, Columbus, Ohio city council president. Welcome to GovLove Shannon.
Shannon Hardin
Thank you so much for having me.
Alyssa Dinberg
How's everything going over there?
Shannon Hardin
You know what, I am safe and sound and lucky to be one of those folks who can stay at home during this crazy COVID-19 period. I think a lot about the folks who, for instance, the City of Columbus has 9000 employees, about 7800 of them don't have the luxury of staying home and so there are frontline worker there are Police and fire and trash pickup, our sewer and water division folks. And so I think about them all the time as I'm able to kind of stay, stay safer and stay at home to hopefully slow this spread here in Ohio and around the country.
Alyssa Dinberg
That's pretty amazing. I'm glad to hear that you're healthy. That's all I can ask for right now is my health and my family and my friends health. So…
Shannon Hardin
Certainly, certainly. Now I am locked up with my husband. And he's my new husband of four or five months. And I can say that we're still liking each other, which is a good day. [Laughter]
Alyssa Dinberg
That is very good. I know a lot of couples that are ready to wring each others neck. So…
Shannon Hardin
[ Laughter] Maybe a couple of weeks we'll see.
Alyssa Dinberg
Yeah. [Laughter] All right. Well, Council President Shannon Hardin is in his second term as President of City Council and at the age of 32, he's actually the youngest person ever elected to sit in the President's chair. He's born and raised in the south side of Columbus and is committed to building an equitable future for the work of every resident. Today Shannon and I are going to discuss the equity implications of COVID-19 in Columbus and how they're actively working to build a better future for all residents. Are you ready to get started with one of our GovLove signature lightning rounds?
Shannon Hardin
Uh Oh okay. Sure. [Laughter]
Alyssa Dinberg
Well, these are just some fun questions to get the audience to know who you are. And yeah, they're usually pretty fun and silly. Okay. So the first one, what is a food that everyone likes but you don't?
Shannon Hardin
I would have to say sweet potatoes. I don't like them fried, I don't like 'em mashed, I don't like them sweet, candied. I just don't like them.
Alyssa Dinberg
That is kind of a shock actually.
Shannon Hardin
And people love them now. Like they do like the sweet potato fries and stuff. That is just not my thing. No, I'm not.
Alyssa Dinberg
I love sweet potatoes.
Shannon Hardin
Not my, not my thing.
Alyssa Dinberg
All right, okay. Um, what is your most controversial non political opinion?
Shannon Hardin
Well, it's not controversial to me, but I went to Morehouse College, which is a historically black college and university in Atlanta. And I think it's the best college in the entire country, maybe in the entire world. And so I would just put that out there against everybody else's school.
Alyssa Dinberg
Plug for Morehouse. I'm from Atlanta. I know a lot. Yeah. I had a lot of friends that went there. Yeah, it's a good school. And so you've already talked a little bit about quarantine life with your new husband, what is your best self care tip in the time of quarantine?
Shannon Hardin
Um, everybody says keeping a schedule which is which definitely does help. For me personally, so I do a lot of webcams and conversations on video. My hair was growing and I was like becoming more and more self conscious. And then the other day I just decided to shave my head so I'm bald for the first time.
Alyssa Dinberg
Okay, all right. I think a lot of people have done that actually.
Shannon Hardin
It's one thing that I don't have to worry about anymore.
Alyssa Dinberg
It's true. That's true. I know a lot of people who have just bought clippers and are doing it themselves.
Shannon Hardin
Yeah, I went all the way there.
Alyssa Dinberg
All right, good for you. And my last lightning round question. And this is a question that I ask in every single interview that I do. If you were a vegetable, what would you be and why?
Shannon Hardin
Um, maybe I, this sounds funny. I'll be a collard green. Like you know, I love soul food. And I think the collard greens are just like one of those hearty staples, especially in the African American community, that just goes well with everything. It makes you feel better, makes you feel like family.
Alyssa Dinberg
So I'm surprised you don't like sweet potatoes since you lived in Atlanta.
Shannon Hardin
I know. I think that's why it's such a controversial thing that I don't like it. It's because every, every holiday, so they try to put it on my plate and I'm like, no, I don't want the sweet potatoes. Give me double greens. [Laughter]
Alyssa Dinberg
All right, so let's shift our attention to what you're doing in Columbus. So as I do with every interview, I do some research on the person that I'm interviewing. And I found a quote that is not only on your Twitter page, but it's also on your page on the City Council website. And I just thought it was really interesting. And so I wanted to talk a little bit about it. So the quote is, "We don't serve to get elected, we get elected to serve". And so I was hoping you could tell the listeners a little bit about who you are and why you chose to get into public service.
Shannon Hardin
Sure, I really am moved by public service. I think that I got my start, so I was born and raised here in Columbus and in high school, we have internship requirements and my internship requirement, I fulfilled it by interning with what was then called the Mayor's Action Center. It was the precursor to what many cities now have 311 call centers. But back then, in 2002, it was three old little white ladies in the basement of one of our city building, and they allowed me to go down and hang out with them and answer the phones with them. And our job literally would be to answer the phone, take someone's call, and then direct them to the, to the department that could get help them out. And they would always like, it became so important to me and so special to me, when you would get a call from somebody and they would be just pissed. They would be having a terrible day. And you'd ask them what's going on. And they would say, you know, the public service guys, the guys that pick up our trash, they skipped my house today and I'm just mad and the funny thing about it is, most of the time folks would call and engage with their government. They don't do it that often. So really, they were calling just to register their anger, not expecting that we would ever do anything about it. And it was it always not just brought me joy, but it's foundational to the service that I have that I that I do today, to be able to click over the phone, call the public service department and say, hey, could you send in a truck back around to so and so address and then be able to click back over and tell that person that, you know, the city was going to go help them and in the most granular way, and the most connected way, make that person understand and feel that their city government was actually working for them. I think that all of us who serve in elected offices, specifically on the local level, it has to be about constituent services, constituent engagement. That is what, what 100% anchors me to public life. I went to a leadership symposium once and heard the former Mayor of Atlanta speak, Shirley Franklin, and she said, you know, elected office is too hard not to do the harder things and not to do what is right. And I really do believe that and so you know, one of my favorite things to do in Columbus, our local grocery store and throughout the last gets progresses everywhere. But we have Kroger's here as a grocery store and I call it the Kroger caucus. When I walk through Kroger's, I hear the, the wants and the needs of my community, I hear what's going right and I hear what's going wrong. I you know, you know, I don't spend as much money as some folks do on poles because I can tell you what I messed up with that. I just take the take a stroll through Kroger's and, and I get to hear directly from my constituents and, and I think that that is something that is very unique and special to local government in particular. And really, that's what that's where my heart is. It's just that the direct connection like the the ability to see an issue, to bring some folks together, understand the importance of partnership and understanding that you have to get it done. On the local level, you don't have the luxury of hiding behind your ideology or, you know, kicking the can down the road or not balancing a budget, you have to get the job done. And I just love that about local government and that and the proximity that you have to the people that you're serving.
Alyssa Dinberg
Well, you are preaching to the right choir, I can tell you that. [Laughter] We also love government.
Shannon Hardin
It is the best seriously. I say this and my political folks hate when I say I will not run for an office outside of local government. I think that is the most pure form of government. I think city council members, I think mayors, I think they do the Lord's work again, and because of that proximity, and I I just I love my local elected leaders. I'm a part of the National League of Cities. 19,000 local elected officials and I get so much energy and matter of fact, as we think about this COVID period, every Friday I am on a call with the top 20 largest council presidents, City Council presidents. And when I tell you it was so helpful in the early days of this to hear from the council president from, from Seattle and from the Bay Area, about really what they were hearing and what they were doing, and what we should expect as this virus spread, spread throughout the country.
Alyssa Dinberg
So I know that you were elected to city council when you were 27. Did you serve in a local government role prior to that?
Shannon Hardin
Certainly. And that's really how I got here. So I the internship that I had was through the Mayor's Action Center. The Mayor was a long, long serving Mayor. His name is Michael Coleman. He ended up being the longest every Mayor in our city's history, first African American mayor of Columbus, and he really took me under his wing and became a real mentor for me. After I graduated from Morehouse, he hired me into his office and I worked as the community engagement liaison and then I became the director of that office. And one of the cool jobs that I had with him was to be his liaison to the US Conference of Mayors, which meant that I got to travel with him often. And we would also, we would often talk on those trips and in between work and I remember one flight home, back to Columbus, he started telling me about, he thought that I should step up my service that that was probably hitting my ceiling in his office and that he thought that I should, really that I should run for office. And I remember having this conversation just as clear as day on this flight and telling the mayor, you know, Mayor, I don't think that Columbus is for me politically, you know, I'm too liberal. And he was like, Shannon, what are you talking about? I said, well, Mayor, I'm young. And he's like, well, Shannon, I know you're young. And I'm like, well Mayor, I'm just too liberal. I don't think that this is really the right time. He's like, what are you talking about? I was like, Mayor I'm young and I'm black. I think that I'm just little too progressive for the city. And he's like so perplexed as I chanted, I really don't understand what you what you're talking. I know you. I've known you for several years. I said, well, Mayor, I'm not just young, I'm not just black, but I'm also gay. And it was my first time really expressing that certainly in a professional environment to anyone, but really to anybody. And so he said, well, Shannon, you know, that's the exact reason why you have to do it and why you have to do it now. That Columbus is a growing community and they have to see themselves, they represent themselves represented in their elected leaders and that's why you have to do it because you're young and because you represent a minority community and because you can show the diversity that is Columbus and really that was the the spring that got me to say, Okay, it's time for me to run for office, even at such a young age, and really has allowed me to own and and I feel that I'm at my best when I am just being my authentic self, representing the constituents, and Columbus is a city of 900,000 people. We come from all over the world. We have the second largest Somali population in the country. Our diversity is what makes us special. And me being able to be a part of that, it shows our diversity has really been something that I've really appreciated in my time of service.
Alyssa Dinberg
Sounds like he was an amazing mentor to you. That's really fantastic. Columbus is lucky to have somebody that represents them.
Shannon Hardin
Yeah, you are right. It was awesome.
Alyssa Dinberg
So you talked a little bit about the demographic, demographics of Columbus. I was hoping you could get into a little bit of what the challenges that Columbus face are.
Shannon Hardin
Yeah. So like many metropolitan areas, Columbus is growing, and unlike a lot of the rest of the Midwest, truthfully, and a lot of the cities throughout Ohio, so Columbus has a population of 900,000. It is projected that our city will grow by 500 to a million people, 500,000 to a million people over the next 25 years. That's a really daunting number, but it's also, it's far enough just far enough that it gives us time to plan. Growth is great. And I would rather lead a city that is growing than a city that is in decline any day. And unlike some of our peers like Austin and Nashville whose growth was so exponential, they happen, the growth that we will see over the next 20 to 20 years, they saw an eight to 10 years. And so they weren't able to get ahead of some of the things. I think that we might have the Goldilocks of terms of growth, if we do the right things. And so from my vantage point, the right things for our city in particular, is focusing on mass transit. Columbus is the largest city in the country without an advanced mass transit system. And so 80 to 85% of our residents use single occupancy vehicles to get to and from work. Well, we know that we cannot add 800,000 cars to our city with our current infrastructure So we're going to have to focus on how we can look at land use policies, how we can develop housing around densifying, around corridors of growth, so that we can build a transit system that serves everybody. That is going to be the biggest thing that we talk about and we focus on as we put forth our growth agenda, is how every policy has to, has to be seen through the lens of equity and how that this growth for Columbus has to be good for the people that are coming, but has to also be good for the folks that are here. And so, so focusing on transit, I think is one of those very, very important keys to that help solve issues around not just mobility, mobility is the is the obvious but around healthcare, access to health care, access to good jobs and economic development, access to the schools that your kids need to go to, and do so in a dignified way so that people aren't spending two and three hours getting back and forth to work, taking time away from their family. And also, as is right now, Columbus being such a car centric city, the projected, the estimates are, a car is about $8,000 worth of of economic burden on a family. So if we can relieve that burden by putting in high quality transit, I believe that that will help us grow in an equitable way. The second area that I believe that we have to focus on as Columbus continues to grow and grow in an equitable way, is around economic development. I believe that human development is the new economic development. We have to and I and I believe this is true to not just my city, but cities around the country, we have to focus on skills development, making sure that our people themselves have the skills to take the jobs now but also be prepared for the jobs of the future. And skills start at, we should be talking about a cradle to career pathway. So that means high quality, pre K education that is accessible to all. That means good K through 12 support in schools and making sure that there are public private partnerships supporting the schools. And then for us and what we're wanting to focus on going forward is that gap between 12th grade and the actual career. We are looking at, and I've started conversations here around Promise Programs. So many communities around the country have these. They say that if you, as one of our students, does what they're supposed to do, which is, you know, go to school, do their best, focus in and graduate that we will have their back that we will make sure that they will have that money, money will not be an option to get a two year degree, and maybe even a four year degree so that we then could have those skilled laborers here in Columbus. You know, folks are, these businesses are moving now. One of the reasons we may have lost out of Amazon, we were in the running and one of the top 15 cities, was because of our skilled work force We need to we need to invest in making sure that that we have the most skilled workforce. And so it's not an altruistic thing when we say that, you know, in terms of supporting and, and making a commitment to pay for, for college for our students, it's so that we will get a direct benefit from that as a community, as a city, and make us more competitive with our peers around the country. And then the last area that I think about when I think about Columbus, our demographics and our growth and equity is young boys of color. For me, this is this is very personal. My sister passed 10 days after giving birth to my nephew, Christian, he's six years old now. He's a little chocolate ball of craziness. But he's ours and we're in, our family as a whole, my mom, my brother and sister, we are raising him. But I want to make sure that Columbus sees Christian as an asset and not a liability, sees him as someone that they're all their hopes and dreams are laid on and not their fears. And for us and not this is not a Columbus issue. This is not, one, it's not a black issue. It's not just a black issue. It's a it's a all of us issue. It's not a Columbus issue. It's not an Ohio issue, it's an American issue really. We have to look what the data shows about young boys of color and their vulnerability. And and you know, and I talk about young boys of color in every part of my city. In Columbus, we're also an at large city. So I represent all 900,000 people in my city. And regardless of the side of the town I'm in regardless of if I'm in a senior citizen home and just talking to older white folks, or regardless, we talk about young black boys because if we can improve the numbers on black boy, say if we can if we can graduate more African American boys, well guess what that means, that our entire educational system does better. If we can make African American males more skilled and better prepared for a job, that that that makes our entire economy better. We cannot move forward, we cannot be that growth city that really is for everybody if there's a glass ceiling on who can who can really succeed and who can't. My biggest fear about Columbus's growth is that someday, folks, especially our young boys will think that this, all the success that all the success that we've had is not for them as well. And that that would be my biggest fear and we work day in and day out to make sure that that is not true. I have to say, I completely ripped it off of Pittsburgh, their Smart Cities application in our Smart City application. [Laughter] In our Smart Cities application, we all had to put together a video, and Pittsburgh video was so much better than ours. I can say that now, because we won so that makes me feel better. But at the end of their video, it says if it's not for all, then it's not for us. And that has to, that is my governing theory right there is that that all of these things, especially when you are talking about the public good, it has to be good for the entire community if we really want to move forward. And we really want to have an agenda that that serves the broader population.
Alyssa Dinberg
So can you talk a little bit more about these specific challenges and how COVID has either heightened the challenge that Columbus is facing, or if you're just not focusing on it right now?
Shannon Hardin
Well, we certainly are. So the thing with COVID is that, and this is not just specific to COVID, but with any crisis, what it seems to do is, it bubbles to the top the underlying stresses on a community that were already there. And usually those stress lines are drawn around race and class, truthfully. So people of color and people from marginalized communities and folks that come from poorer backgrounds, always, almost always bear the brunt of any crisis in a disaster. And that certainly is true when it comes to, to COVID. And so we have, we looked at, we are looking at this through a racial lens or equity lens, as we approach COVID. And one of the things that we have done is, just this week rolled out a center of diagnostic for a center of dynamic diagnostic data around equity, so that we can track and understand really what has made certain communities vulnerable, who is actually being mostly affected by this so that we can then use that that data, use that center as a as a way to drive our, to drive our policymaking. Ultimately, it comes down to following data and investing in communities of color. In the short term we've been investing, to get the word out to the black community on radio and social media. There were rumors around when COVID first started that black folks couldn't get COVID and that they were immune. And so we had to be really nimble and quick to get out to those populations that, that was not accurate information. And then come to find out the exact opposite that we were we were, even in Columbus, even though we were not, we were on par in terms of the percentage of African Americans that were acquiring COVID, but we were well over represented and those who were having to be hospitalized, further driving home that point around those comorbidities that that that makes this disease that much more painful for for minorities and people of color.
Alyssa Dinberg
Are you seeing it show up in any other areas? Like I know some communities, I think most communities are seeing a higher level of hospitalizations and deaths from minorities. But are you seeing a higher level of unemployment, homelessness, things like that?
Shannon Hardin
Most definitely. I mean, it's across the board. It's across the board, and one of the things, so I also in Council chair the Small and Minority Business committee, and we have seen of course, for instance, you know, as a country we were all excited. I was happily then appreciative of the PPP when it was passed and got out there and talk to all of our small businesses about how they can apply and you know, they can work with their banks and so and, come to find out that, you know, I have not talked to and this is the truth. This is just me, though, have not talked to one minority owned business and small business in Columbus that applied for PPP that actually received resources. And these are, these are folks with relationships with the, with their banks, and all that. I mean, that what that shows me is one that the need was that that large, and so I'm very appreciative that I think even as we speak, Congress is working to vote on a follow up package. But it also showed that, you know, there were there were systemic issues in terms of either African American businesses not being banked or not being well banked with some of the larger banks to really have those relationships and take advantage. One of the stats that I heard right away as chair of the Small Minority Business Committee, was that many minority businesses have one to 10 days of additional capital. And which means that, you know, two weeks into this COVID stay at home order, a lot of our businesses are already having to shut their doors because they just did not have the capital to draw on to keep their businesses open. And so that and many others are things that have really bubbled up in terms of focus areas that we're going to that we're going to have to, to zero in on to make sure that there is some equity as we come out of COVID, not come out because we're not there but as we move through COVID in our community is that is around Small Business and Economic Development. I get on a call every Thursday with African American leaders from around our city to share information but to talk about this and economic development, small business support is top of mine outside of the health effects that are happening here in Columbus.
Alyssa Dinberg
So, I found an article that that you wrote about COVID. And you said that COVID-19 does discriminate. What did you mean by this?
Shannon Hardin
Well, yeah, I mean, I said that it does discriminate, because even though it can touch anybody, anyone can catch it. The effects of COVID hit hardest in minority communities. Like I said, we've seen it on the health side. We certainly see it now on the economic development side. So over the past few weeks, I've heard a conversation doesn't that Coronavirus doesn't discriminate. I think it's true that anyone can catch it and pass it along to others. But you can catch COVID 19 regardless of how much money you make, the color of your skin or how much you eat, or however you worship. But in the recent days, we've seen new data around COVID-19, and the impacts on African American communities of color underlying the health and economic disparities, it means that the impacts of COVID-19 are hitting Columbus neighborhoods like the Near East side where I live hardest. African American residents make up 28% of the positive cases in Columbus, as I was saying earlier, but they make over 40%, nearly 40% of those who have been hospitalized so even though you know, so it shows that it does have a different effect on us and how on African Americans in minority communities and so you know, African Americans are over represented that number. Compared to their white counterparts, black patients are 40% more likely to have high blood pressure, twice as likely to have heart failure, three times was likely to die from AIDS related complications. And so, you know, I talk a lot about like those health issues that have been underlying within those minority communities. But also it's access to good health that has been, has been an issue with those communities. And so when you stack those two things on top of each other, these comorbidities, these health issues that have been in our community for a long time, also with the lack of access to high quality health care and a, you know, a provider, it really has it, it makes the perfect storm for what we're seeing not just in Columbus, but around the country.
Alyssa Dinberg
So what do you think the best way to address some of these disparities? So what is Columbus doing about it?
Shannon Hardin
Yeah, so I kind of talked about this. Last week, the mayor and I announced the creation of a Center for Public Health Innovation in the city health department, and it's to look at racial health disparities and recommend improvement. So our Health Commissioner, Dr. Mysheika Robert said that that effort will result in a more comprehensive list of policies that can, by the end of this year, take some steps to move the ball. We don't see this as a one off program or project. This is an ongoing commitment from our community. Matter of fact, we started this, we started talking about health equity as a part of the Mayor's State of the City in January. And so it just, it was timely that that we got to this point now and really rose the conversation, but it ultimately comes down to following data and investing in communities that need it. So we are, we're going to stay at it. We're going to we're going to focus on it. We're going to make sure that data instructs our policies and then instructs the resources that we then put out to make sure that our community is healthy and safe.
Alyssa Dinberg
That's fantastic. That's really good news. I'm excited to follow along and see what you do with it.
Shannon Hardin
Yeah, we're excited about it. Like I said, this is part of a health equity agenda that we have in the city and health disparities are one of the biggest and costly to us as a community. Again, we started this conversation before we knew what COVID was. But it really has, has really put a spotlight, and not just a spotlight. It has shown the importance and the urgency in policymakers focusing on equity, and it can be an uncomfortable conversation. I talked to the Mayor yesterday. We did the press conference on Monday. And I think today that we're recording is, you know, three days later. So the comments that we both received on our Instagram, and the literally the racist comments that came our way, you know, it was not surprising, but just shows you know, what, why leadership is so important. We have to look at data if we really want to solve these issues that we really want to make ourselves as a community healthier. We have to follow data. We have to go where, where the metrics say that the need is most needed.
Alyssa Dinberg
So I know that you wrote a piece about black men wearing masks. Can you tell me a little bit about that? Or your neighbor wrote it, I apologize.
Shannon Hardin
My neighbor wtote it and I kind of used that as a springboard for the piece that I wrote just about COVID not discriminating. And so a neighbor of mine, Aaron Smith, that he wrote an article that brought up the concern around protecting how we've been asked to protect ourselves by putting a mask on. And so protecting ourselves from COVID-19 is unique for the African American community. I mean, I live in a community that's historic African American neighborhood and pre COVID if you would told a young black male to put a mask on and go into a store or a corner store, that could be deadly. And so you had this moment where you know, and he was talking about is, it brought back so many memories to me of the conversation that so many black families have about just their own personal safety in, in, in the world in the community. The talk, as we call it about you know how to engage with safety officials, how you can't do things that other folks do. And so in, we were forced as a as African American unity to really think about how we balance our, our health, because of COVID-19 with some of the things that we've always been taught and know about how we are viewed and the stigma stigma that we that face African Americans, specifically African American males, when it comes to things like bandanas and face, implanting something over their face. And so it was to me was a really eye opening article, I was very appreciative for it. It was published in the Boston Globe and others for for expressing that view that a lot of us had, but had not been able to put really into words.
Alyssa Dinberg
Are these conversations that you're able to have with constituents during COVID as part of a community engagement effort, because I would imagine that a lot of your residents are having that concern? And so maybe aren't wearing masks.
Shannon Hardin
So I was very clear and very careful to say that I understand these concerns. I grew up with these concerns. Yet, you know, I've talked a lot about grace during this period of COVID, that we all have to have a extra abundance of grace with ourselves, but also with our neighbor. And, and a little bit of trust here. So regardless of that, that real intuition or not, or not even intuition, but that that real true belief and of how we were perceived and how we are perceived, I was still asking folks in my community to wear face masks, because right now we have a very clear and present it's it's a it's invisible, but it's like clear and in present danger to our community with COVID. And I need them, I need us to be safe as well. But also practice the grace. And so me kind of writing my piece that went off of Aaron's piece that talked about the facemask. I was writing that to the greater community. So that so that all of so that everybody could understand what these young African American folks may be thinking or going through, and the challenges that that they might have just by putting on that mask, and to ask for that grace and understanding during this this period of time.
Alyssa Dinberg
It's really important that we have these frank conversations in such a hard situation. Because everyone's facing it, and it's not like we can, can come together as a community in person. And so forcing these conversations is really important.
Shannon Hardin
We've got a lot of good feedback. And like I said, that was that shouldn't be that that was not a black conversation alone. That was a community conversation. So that we could all kind of check ourselves and think about those things and just be a little bit more aware. And I think that has happened.
Alyssa Dinberg
Fantastic. I hope that more communities start to do the same thing. So at the beginning, you talked a little bit about your love for local government and why you chose local government. And one of those reasons was delivering essential services and being able to make a difference in people's lives. And in order to deliver those services, we need frontline workers. So I know that a lot of governments are currently struggling with the question of hazard pay for frontline workers. Many of those frontline workers are people of color. How do you think or what are you thinking about hazard pay?
Shannon Hardin
So I mean, the work that our frontline workers are doing is the Lord's work. It is what is keeping our communities moving, is keeping us healthy. It is, they are putting themselves literally at risk for the benefit of all of us. And so I am certainly supportive of hazard pay. And I've been really appreciative of the leadership from our Senator Sherrod Brown and my Congresswoman Joyce Beatty, who have been advocating for this and fighting for this from Congress. The truth is on the ground here in Columbus, and I'm assuming around the country I mean, COVID has rampaged local economies and local governments ability to provide basic services, though Columbus is one of the 2% of cities around the country that gets our revenue from income tax. So as we've seen, just today, another 5 million folks go on unemployment rolls, that's going to have a direct correlation to what we're able to do as a as a local government. Columbus, we ran the numbers on hazard pay if we could just because we were of course, we were looking to see if we could do it out of our city budget, our basic city budget fund. It says they came back with the projection of $12 million per week in terms of hazard pay. And truthfully, that's just something we can't afford on our own. And so we are asking for this help and asking for the support from the federal government. Because we believe it is it is necessary and we should be having we should be supporting our frontline folks any way that we can, and being appreciative for the work that they're doing. And but like I said, we have to balance our budget here in Columbus. And we know that's something we cannot do by ourselves. And so that's something that we certainly are advocating for.
Alyssa Dinberg
I know a lot of cities are facing that exact issue, whether it be income tax or sales tax. A lot of cities around the country are making some really tough decisions on how to move forward and how to be able to balance that budget. So it'll, it's gonna be interesting to see what happens in the next couple years.
Shannon Hardin
It's really tough. But you know, again, you have to invest in your workforce. These are the people that will, one will have gotten us through this when it's all said and done, but also will be the people that we will need to stay out there and even work harder and lean in as we try to ramp back up this economy. So, you know, I don't think those are bad investments at all to make, in making sure those families are made whole for the sacrifices that they made now and are able to continue to contribute to the economy.
Alyssa Dinberg
So what kind of steps has Columbus taken to support the economically vulnerable during COVID, whether it be staff or residents?
Shannon Hardin
So right away the first week of COVID-19, Council immediately once we got down to the executive order from our state governor, they said no gatherings of 10. I immediately postponed council but we had we held one meeting, and it was literally right on the cusp of making sure that we can legally do this. We, we were one of the first cities in the country to hold a virtual meeting, a whole fully virtual meeting. And we didn't even know that we had the capacity. We did it on the fly because we needed to get some of these things out the door because we knew that we were gonna have to shut down. So we passed them emergency million dollars right off the way on March 20 to get get money out the door, and what that helped us do was quickly set up a emergency COVID relief hotel for our homeless population, so that as they show symptoms that we could create the social distance within our shelter system, and yet relieve and give that place a, give our most vulnerable population, a place to go in and be healthy or to recuperate. And so that was just one way we focused on economic development, economic development, small business support, we worked with the county and worked with the Columbus Urban League to set up a resiliency fund to support folks, and as they apply for and get their stimulus money and get their unemployment, so we try to be very targeted. We also see this as, this is not, we see this is a long a long game. You know, we're a month and a half into COVID. But we know that the stress of this will go well into the rest of the end of this year and further on. And so we're trying to be as well positioned as we can to be able to be supportive all the way through. So a lot of it has been coordination and coordinating efforts around with our big foundations and our corporate foundations to make sure that and understand and identify the gaps and see where then we the city or even partnership with the county can come in and fill those gaps for our most vulnerable residents.
Alyssa Dinberg
That's fantastic. I do have a quick side question, because I'm sure a lot of our listeners are curious. What platform are you using to do virtual council meetings?
Shannon Hardin
So we have an application built into our system called WebEx. And WebEx is a part of our email system and I think we're on Microsoft, yes we're on Outlook.
Alyssa Dinberg
Okay, so you're using WebEx. Great. Just wanted to put that out there for anybody else looking for new sources that are working.
Shannon Hardin
It has been helpful. And you know, our shout out to our tech team. I know all around the country, in our cities, our tech teams, I've heard really bearing the load of this, and they are working 24 seven. But yeah, they've been able to get us to capacity. We paused for four weeks so that we could make sure we can make sure I think the most important part of it for us is people in, specifically local government in the legislature, that residents could also easily engage. And so when we came back last week, we came back for the first time this past Monday for our second virtual meeting. And now we'll be meeting every other week. We have the capacity for folks to, to call in, to video time in, and to speak on any piece of legislation that they want it. And so that was really important to me that we had that capacity for folks and residents still to engage as we as we had to move legislation.
Alyssa Dinberg
That's fantastic. We have to evolve with our current situation and find a way to keep democracy alive.
Shannon Hardin
Most definitely, most definitely.
Alyssa Dinberg
So in Columbus, you're promoting Buy Black Thursdays, can you tell us a little bit about what that is?
Shannon Hardin
So, you know, it's all going back to those underlying data that shows that minority communities are being hardest hit and not just on the health side, but on the economic side as well. And so we, you know, we are trying to do, just be creative. I think communities, cities around the country are trying to be creative in this time. What can we do when we have limited resources? One thing we can do is just encourage folks to support communities that need our support the most and certainly here in Columbus, that was true of the minority or the black business, small business community. I took so many calls last week, so many calls last week from small black business owners that said, hey, we did everything right, we applied for the PPP. And yet, I was not able to get it get any support, and what can you do and knowing the need, it wasn't like I could from the city just write a five or $10 million check to our small business because that would be depleted right away here in Columbus even. And so what we came up with was a community wide effort, where we highlight and support, we partner with the Columbus African American Chamber of Commerce, to categorize and catalog all of our minority owned businesses. And we started a social media campaign and it is going crazy right now. Some of our favorite restaurants, and I got a call from my communications director a while ago. One of our favorite restaurants, their phone lines went down because they had so many calls coming in, throughout the day. So those are good problems to have. And again, on the local level, we have to be creative. We don't have the luxury of just, you know, I could just hang up the phone from that minority business who told me, you know, three weeks ago I had 35 employees, today, I have four, and just say, well, man, let's just wait for Congress next week. See, if something happens. We had to just get it, you know, think creatively and say, well, you know, let's, let's use people power to support these minority businesses. And it's really taken off. So something I'm proud of.
Alyssa Dinberg
I'm curious to see if that spreads beyond Columbus.
Shannon Hardin
Yeah, I hope so. I hope so. Like I said, you know, local leaders have to do a lot with very little. And so it takes us being creative. Like, it doesn't cost anything from the city budget, but I know it's having an impact on these minority businesses.
Alyssa Dinberg
Yeah, the creativity is one of the reasons that I'll personally love local government. It's like a puzzle. You got to figure out how to deliver, deliver the services with not much.
Shannon Hardin
But you know what that does. It encourages you to find friends and create partnerships.
Alyssa Dinberg
Absolutely.
Shannon Hardin
Because you realize you can't do it on your own. And so it really encourages public private partnerships. It makes you lean on your friends and neighbor, it makes you lean on your faith community and say, hey, this is the issue. Let's get six seven people together and let's hack this thing and figure it out. And it works.
Alyssa Dinberg
I have one more question for you.
Shannon Hardin
Sure.
Alyssa Dinberg
This is a looking to the future question because we've talked a lot about now. And I think it's pretty apparent to everybody that normal, or at least what we thought our normal life was, will probably never be normal for us again. So what are your hopes for Columbus as we move forward into our new normal specifically with addressing equity?
Shannon Hardin
I hope that with this period of time we'll have done what has, it will have made us more, yearn to be closer together. I think that we have gone through the last 4, 6, 8 years, really othering ourselves and finding ways to get in our corner, be that ideology, be that race, be that age, be that side of town sometimes. What this period of time I think has done for, for me and for a lot of folks that I talk to, it makes you want to be out there and be more connected to to your neighbor. The one thing that one thing that we're able to do now in Ohio under our stay at home order. we are able to go on runs and hikes and such and walk around your neighborhood as long as you are social distancing. And I can tell you people are friendlier now than they have ever been before. Even if it's from their porch. They're just trying to they they're trying to physically connect and talk to folks. And I want us to lean into that. You know, the greatest generation was birthed after the, out of the distress and the challenges that came after World War-II. And I think that we're going to see this generation become that much more thoughtful, that much more engaged. And I think that will we will be better better off for going through this very challenging time. And it's very hard and we are working our our hardest to make sure that we keep people safe and that we keep people fed and we keep shelter over people's head. But what we all realize is that we are all in this thing together, that we can't do it alone, that we need one another, that we're gonna have to lean on one another. And so I really just hope and believe that in Columbus, it will bring us, it will bring us closer together.
Alyssa Dinberg
I hope you're right. I've definitely felt that when I've gone out into public, that people are just so yearning for human interaction.
Shannon Hardin
It's amazing.
Alyssa Dinberg
Yeah, it is. We were at the, we went for a sunset walk around the lake last night and the amount of people that that said hi and asked how we were doing and told us to have a great night, it was just, it makes you feel better in such a isolating time.
Shannon Hardin
It's something that we needed. We were getting, we were getting away from that. We were hiding behind keyboards and tweets and such. And now we know that we actually need one another.
Alyssa Dinberg
Yeah. All right. So my last question and we end every single GovLove episode with this question. And I'm curious to hear what you say. Umm, if you could be the GovLove DJ for the day, what song would you pick as our exit music for this episode?
Shannon Hardin
Oh, that's a good question. Um, so okay, let me just plug one coolest thing that I've done during COVID-19 real quick. There was a group of young hackers, like young tech folks that came together right after COVID in Columbus. They created this platform, they were trying to they say they would come together, many of them lost their jobs. So they would they would come together to solve issues related to COVID, for the community for free. So I called them and said, hey, one of the biggest issues that we are going to have is our seniors being isolated, and they don't use Zoom and all these new technologies, so we have to figure out a way to engage seniors throughout COVID. And these guys, and it really almost makes me emotional like to think about what I saw this weekend in a very short period of time. They work with our local foundation, they work they work with local artists, came up with this idea to pay local artists to do curbside concerts for senior citizens. And I got to drive the truck. They gave the, a local car company gave out all these trucks to go out and do these, these concerts. The foundation paid the stipends of the local artists because artists are out of work now and we drove up, we drive around, and we are doing this for hundreds of our seniors each day in Columbus. And the song that literally had me in tears over the weekend when I was out was Lean on Me. And I think that is, that's the most fitting song right now for a lot of us.
Alyssa Dinberg
That's a really good pick. Yeah, that's beautiful. Well, thank you so much for coming on and talking with us. I know that our GovLove audience will really enjoy this episode and hopefully take away some things that they'll be able to apply in their community. And that ends our episode for today. GovLove is produced by a rotating cast of awesome ELGL volunteers. ELGL is the Engaging Local Government Leaders network. Our vision is to amplify the good in local government and we do this by engaging the brightest minds. A reminder, that our full suite of COVID information and resources is online at elgl.org/COVID-19. For our listeners, you can reach us at elgl.org/govlove or on Twitter at @Govlovepodcast. And if you have a story for GovLove, we want to hear it. Send us a message on Twitter or email [email protected]. Thanks for listening. This has been GovLove, a podcast about local government.
---