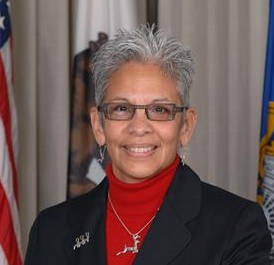 Pat Martel
ICMA President
City Manager (Retired)
Daly City, CA
Twitter | LinkedIn.
---
The local government interns are back! Roger Gonzalez and Mark Yager, are currently interning in their second set of cities as part of a year-long four city internship program. They recently sat down with ICMA president Pat Martel for a great conversation. They chatted about everything from getting started in local government and standing out in a pile of resumes to Pat's goals for her ICMA presidency.
---
---
The President's Bio:
Pat Martel is the City Manager of Daly City, the largest and most diverse full-service community in San Mateo County. Ms. Martel was appointed City Manager in May, 2005. As City Manager, Ms. Martel also serves in the capacity of General Manager of the North San Mateo County Sanitation District.
During more than thirty years working in local government, Ms. Martel has held executive management positions with several California municipalities including the cities of Inglewood, South San Francisco and Daly City where she previously served as the Assistant City Manager from 1995-2001. In 2001, she was appointed by then Mayor Willie L. Brown to serve as the General Manager of the San Francisco Public Utilities Commission with responsibility for managing the Hetch Hetchy water delivery system which serves 2.4 million people in the Bay Area in addition to the sewer and power systems serving the City and County of San Francisco.
Ms. Martel is an active and engaged professional community leader, serving on several boards. Ms. Martel is currently president-elect of the International City/County Management Association (ICMA) board of directors, director of the California City Management Foundation, executive committee member of the League of California Cities City Managers Department representing Northern California cities with a population of over 100,000, chair of the San Mateo City Manager Association, and chair of the Board of Peninsula Family Services.
A graduate of the University of Southern California, Martel holds a B.S. degree in Public Affairs and a Master's degree in Public Administration. Ms. Martel is also an ICMA Credential Manager.
Guest Hosts
Roger Gonzalez is an intern at the cities of Beaverton and Hillsboro, OR. Connect with Roger: Twitter & LinkedIn.
Mark Yager is an intern at the cities of Lake Oswego and Wilsonville, OR. Connect with Mark: LinkedIn.
Be sure to subscribe to the podcast on iTunes or SoundCloud! And if you have a story that you want to share with GovLove email Ben Kittelson [email protected].