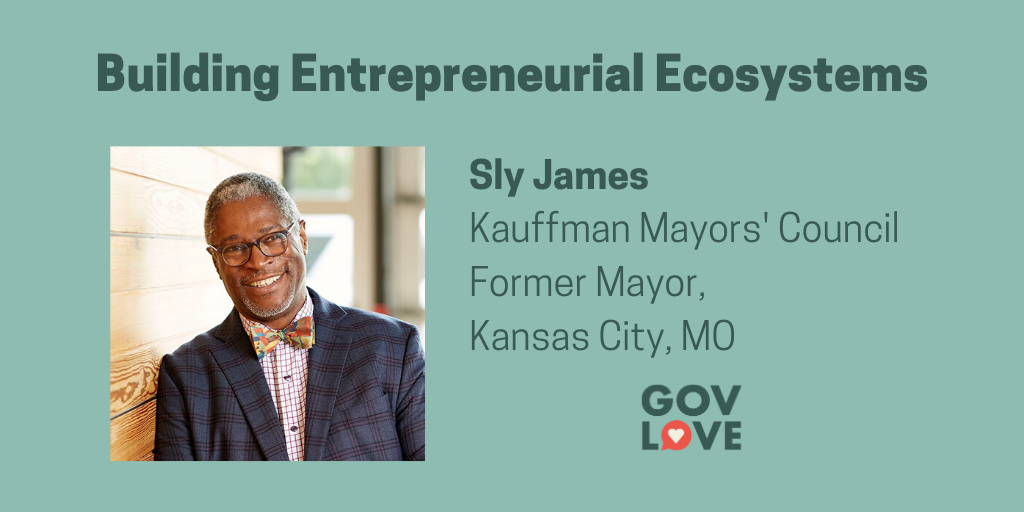 ---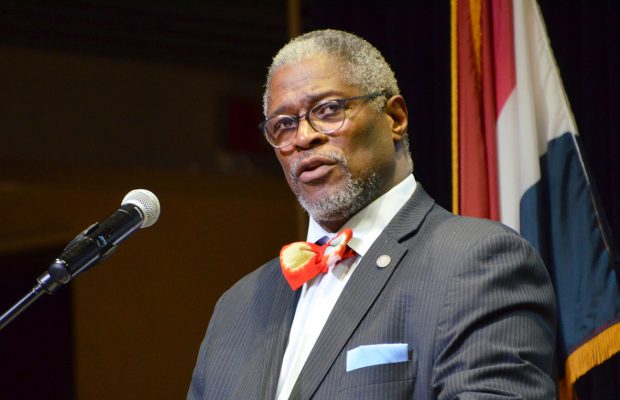 Sly James
Consultant
Former Mayor of Kansas City, Missouri
Bio | Twitter | LinkedIn
---
An entrepreneurial mayor. Sly James, former Mayor of Kansas City, Missouri, jointed the podcast to talk about the work of the Kauffman Mayors' Council and attracting talent and supporting entrepreneurs. He shared two programs led by the City of Kansas City, an innovation partnership program and a startup in residence program. He also discussed the racial gap in entrepreneurship and the need to incorporate equity in economic development.
This interview is part of a four part series with the Kauffman Mayors' Council. The Mayors' Council harnesses the knowledge and experience of former mayors to support cities across the county in efforts to build equitable community wealth.
Host: Alyssa Dinberg
---
---
Learn More
Advice From 3 Former Mayors: Grow Your Own Entrepreneurs
About the Kauffman Mayors' Council
A great entrepreneurial city is open to all
KC Mayor Sly James leaves office with a legacy of achievement
---
Episode Transcript
Alyssa Dinberg
Coming to you from Denver, Colorado, this is GovLove, a podcast about local government. GovLove is  produced by ELGL, the Engaging Local Government Leaders network. We engage the brightest minds in local government. I'm Alyssa Dinberg and today I'm very excited about today's episode. I'm joined by someone with a reputation for iconic bow ties and for belting out a song or two, the former Mayor of Kansas City, Missouri and my former colleague Sly James. Sly left office in August 2019. After two four year terms as Mayor of Kansas City, many credit James's tenure for Kansas City's Renaissance as evidenced by his countless accomplishments in office. He joins us today as the newest member of the Kauffman Mayors' Council, which was formed in January 2019 as an advisory group for the Kauffman Foundation. Thank you so much for joining me today Sly. I'm super excited.
Sly James
Hey Alyssa, how are you? You doing all right out there in Denver?
Alyssa Dinberg
Doing well. The weather's beautiful, so can't complain. So this episode is one in a four part series with the Kauffman Mayors' Council. We'll be talking to all four members in the coming weeks about a number of topics and the reflections on the current public health crisis and efforts on the economic recovery. The Kauffman Mayors' Council is comprised of former mayors representing geographically diverse cities, who assist on initiatives throughout the foundation, using their knowledge and experience as former mayors to support the foundation's work and entrepreneurship, education and civic innovation. One of our big focus areas in helping with the Kauffman Mayors' Council Mayor's Conference on Entrepreneurship, which ties in well to our topic today since we're going to be discussing entrepreneurship with former Mayor James. So as we do with every episode, we start with a signature lightning round where we just ask some fun questions so our audience can get to know you. Are you ready to get started?
Sly James
Yeah, sure.
Alyssa Dinberg
Okay, so my first question is something that the entire time I worked in Kansas City, I actually wondered, and I was too scared to ask you. So I figured this would be a good time. Um, do you have a favorite bow tie? And if you do, which one is it?
Sly James
I have. I'm always unable to settle on a favorite. Bow tie is one of the things I really like about 'em is that I can use them to match your or, or signify a mood. But if I had to narrow it down, I would say my daughter Asia gave me a bow tie from my favorite place that makes bow ties called Asiatica. So she gave that to me for Christmas. And I like that for quite a bit. And that it would be politically foolish to say anything other than that.
Alyssa Dinberg
[Laughter] What does it look like?
Sly James
Actually, it's very, it's golden and beige with some black in varied patterns and stripes. It's really eye catching in muted colors, but the design and the patterns make it really pop. So I get a lot of wear on that when I'm wearing dark, particularly black clothes or, or things of that nature, or yellow shirts really stand out with. But the other thing about it is, is that Asiatica really does some fantastic work with Japanese silk. And I can't afford to get everything I have from there. But when I want, I want to splurge, that's where I go to have 'em make me a bow tie.
Alyssa Dinberg
Nice. Sounds beautiful. Hopefully I see it in a picture sometime. Maybe we'll have to try to snap a picture for this episode with you wearing that bow tie. We'll see what we can do.
Sly James
No worries. That's, that's doable.
Alyssa Dinberg
All right, perfect. So my next question is what is your most controversial non-political opinion?
Sly James
Well, I'm sure that you were probably hoping for something a little lighter, but then I'm not sure that it's totally non political. It's really more educational and governmental. And it's that we don't spend enough money and effort to, to spend time developing our children between the ages of zero and five. I just see that as a huge educational poverty issue. And one that if we really did want to address would help reduce the levels of poverty and things in the future. But that's it's more of a passion than a, and probably somewhat controversial, but not totally.
Alyssa Dinberg
Yeah, you worked a lot on that during your time in Kansas City as Mayor, so that actually doesn't surprise me.
Sly James
It's a big deal.
Alyssa Dinberg
Yeah, it is.
Sly James
It's a big deal for me.
Alyssa Dinberg
So to lighten the mood a little bit what is your go to karaoke song?
Sly James
I don't do karaoke.
Alyssa Dinberg
That just surprises me.
Sly James
But I'm a big Blues lover. Well, no I don't do karaoke if women if I ever sing in public I'm usually doing that with a band that I've at least rehearsed the song with. I learned some time ago that that a lot of times I would know people in bands when they said come on up come on up and you go up and do it and you hadn't rehearsed hadn't stretched your voice or anything and you'd sound like crap, and I just didn't like sounding like crap. So I don't I don't do that without having practice. But I love Blues. Susan Tedeschi, Matt Schofield trio, Nimmo Brothers, Joe Bonamassa. I just love Blues like BB. So I if when I do have an opportunity to sing, I usually sing some sort of a blues song, maybe some BB King, The Thrill is Gone or something like that.
Alyssa Dinberg
I have had the opportunity to hear you sing multiple times and I have enjoyed it every time.
Sly James
Well, you need to get out for it then. [Laughter] You know, I used to do this when I was in high school and I absolutely loved it right after high school until I had to go into the Marine Corps and we were quite a good band. But vocal cords are like any other muscle. If you don't use them and stretch them and train them, they get atrophied. And then when you're my age as well, that seems a little bit more. So I try to pick my spots, but I do love to do it.
Alyssa Dinberg
Yeah, that makes sense. So my last question for our lightning round is, if you are a vegetable, what would you be and why? And I ask this question of everyone that I interview.
Sly James
That's okay. Is tomato, a vegetable or fruit? But one way or the other it's tomato.
Alyssa Dinberg
Okay. Why?
Sly James
I said tomato. Well, because I love my favorite salad. When I go to restaurants sometimes, I learned a while back you can ask the restaurants to do a lot of different things and they're happy to do it for you. So rather than getting regular salad, I would start getting tomato onion salads with blue cheese crumbles and ranch dressing and that's my favorite salad. And every now and then they wouldn't understand and they'd bring me back those ingredients with lettuce. I say no, no lettuce, just tomatoes, onions, blue cheese, dressing. And we go from there. But that's one of my favorite things.
Alyssa Dinberg
I yeah, that sounds delicious. You would definitely do well in the Middle East because it is a lot of tomatoes and onions and cucumber salads. Yeah.
Sly James
Oh, yeah. You know, I haven't had much cucumbers lately. Usually I eat cucumbers in the form of pickles. But I'm going to have to start looking at going back to cucumbers and maybe adding that to it.
Alyssa Dinberg
Yeah. So let's shift our attention to the Mayors' Council and Entrepreneurship. That's gonna be the main focus of this interview today. So when we mean, what do we mean by when we say entrepreneurship? And why does it, why is it important to make a distinction between entrepreneurship and established businesses, especially in public policy?
Sly James
Well, entrepreneurship is really the conversion of an idea, a business idea, does not always even have to be straight up business, but conversion of a business idea into a working concern. Entrepreneurship is simply a state of mind that compels you to put together a structure to accomplish a specific goal. And it's kind of interesting. There are differences between them, but the differences are the differences that we experience in life. You would not have the same situation and regulation for a baby as you would for a mature adult. And an entrepreneur is nothing more than a baby business. All businesses of some sorts started as an entrepreneurial idea. Somebody had to think of it, somebody had to figure out how to get it done, how to get whatever specific purpose done. And then they had to build a structure in order to accomplish those goals. And as the business continues to grow and mature, the needs of the business, the goals of the business, the regulation of business ought to change along with the situation. So with entrepreneurs, you need to have environments that allow them to flourish and to fail just like the kid was failed. You don't leave them on the floor when they fall down and draw on the porch up. You go figure out how to keep them up off the floor and teach them okay, if you want to get from point A to point B, do it a little bit differently. And then you watch them grow into mature adults and that's really all entrepreneurism is, is a young baby business that came out of an idea of some person's head.
Alyssa Dinberg
Why is entrepreneurship so important for cities?
Sly James
Well, you always want to have you it's in any, it's like anything else. You don't want to have everything be at the age that at the end stage, you want things that start to grow and grow and grow. And then you want other things starting behind them. It's a matter of making sure that you have constant economic growth and opportunity. Also, the new ideas that come from different businesses and entrepreneurial ventures propel society along in some ways, and you can always find ways to again, take advantage of those. So you want to have entrepreneurs because you want ultimately to have the businesses that are employing people and creating economic activity, which generates taxes, which allows you to continue to do what businesses do.
Alyssa Dinberg
So during your time as mayor, what are some of the things you've heard most commonly from entrepreneurs that were roadblocks and how did you look at the city policies that were created? And how did you approach them differently after talking to the entrepreneurial community?
Sly James
Well, some things are that they raised were not things that the city to do anything really about it in in the ways that other private business could do. Specifically venture capital. It is difficult for a city to find opportunities to invest in things outside of governmental goals. And those goals are usually prescribed in a charter or something like that. So you can't take tax dollars and invest in business a directly. You can however, do things hopefully to encourage outside venture capitalists and, and people who have money to make those investments through using your bully pulpit and powers of persuasion, etc. So venture capital was always a concern of an entrepreneur. Where do I get the money to keep this thing going? How do I get the money? But the other things that that were, that I heard were that they didn't understand, didn't believe in or the regulatory scheme was not appropriate for what they were trying to do, and it created roadblocks and challenges for them. So I think you have to be aware as a person in city government, your regulatory schemes and how it needs to change in advance with certain significant movements in in entrepreneurism and in business. So you have to have a regulatory scheme that is breathing and living that you can alter in order to meet current circumstances. That was one problem. And I think that those were probably the two main things that I heard is one, where government really could help with the regulatory scheme, and the other where we can help with trying to encourage others to engage in providing capital for businesses to continue to thrive.
Alyssa Dinberg
What were some of the creative things that the city did to support entrepreneurs while you were there?
Sly James
Well, a couple of things that we did, we started with, one of my favorites was the innovation partnership program where we by ordinance and agreement, reached out to our entrepreneurial community who might need platforms to beta their product or to advertise or show their product. You know, I know that as mayor, anytime that you go outside of a place and you're offering to say something about a product that you've got, or something that you're trying to get adopted, they always want to know who else is doing it. All right. So if you're able to say to Cincinnati, or New York, that you've got a something that they should consider and they say, well, who else is doing it? You could, and you can say my hometown, Kansas City is doing it, then that gives you a leg up. And it might even give you an opportunity to say and if you want to see how this works, come to Kansas City and I'll show you, we can do a demonstration. Or you can take it from Kansas City to them depending on the portability of what we're talking about. So that was something I really, really liked. And the agreement was, you can work with our assets and infrastructure. But we expect you to stay here and grow your business here. And we also want to have access to whatever product or innovation that you're doing. And we came up with several businesses that were doing that Tim Sylvester and, and the data, predicted that analytics group that we have, all sorts of different things came out of that. But it really showed the entrepreneurs that there is a way to work with government if you would like to do so. And then the resident, the partnership program and the Startup in Residence, were that was another thing that helped us work directly with entrepreneurs, about their programs and how they were getting results and to make sure that those things were known by others. So those were good things.
Alyssa Dinberg
I have to say that Demo Day for the Innovation Partnership Program was, I went to, went to it two years in a row. And I have to say, those are two of my favorite events that I went to that the city put on. It was pretty cool to see how those companies were evolving to support city services.
Sly James
You know, it's really, it's really a good thing to do. One of the things that is very popular in government and I think it's in part because of the disruptive economies and, and the economies weren't just disrupted by things like Uber etc. It was disrupted by thought. It was like, okay, maybe we can think about things differently. You don't always have to do something different. If you think about things differently, a lot of things get done within the ordinary course. And one of those things was public private partnerships. How do we work better with the private entities in order to accomplish a goal that has both private and governmental reward? So entrepreneurs are perfect for that, because they're in the stage of needing to expand and do things differently. And if you can marry that with government, local government who wants to do the same thing and simultaneously and work together, then you bring a lot more resources and totally different perspectives and a broader reach to the entire thing. And everybody benefits by it, so it's perfect.
Alyssa Dinberg
Yeah, yeah. So many, many economic development agencies and staff are traditionally focused on business recruitment and retention. How do you get them to stay focused on helping to grow new business rather than just established businesses or big businesses?
Sly James
Well, I don't necessarily agree with the basic premise, to be honest. I think that there are, I think that good people who are doing economic development are focused on different types of things. For example, in our economic development corporation, we focused and the KCADC, we focused on existing businesses, but we also had a huge focus on talent, bringing talent into the city, and bringing entrepreneurs into the city. In fact, we offered $50,000 grants to people who competed for those brands in order to do it. So the business retention effort is across all levels. And again, it has to be across all levels because you can't just rely on established businesses and frankly, you can't just rely on entrepreneurships to keep an economy running. There has to be a collaborative and complete effort across the board. But the one thing that everybody is competing for now is talent. Who are the bright people who have bright ideas who might do something or collaborate with others to do something? Or who are the bright people I need in my entrepreneurial venture, in order to get me from place A to B? Who thinks like, I need them to think? The recruitment of talent, I will say talent is the currency of economic development these days, and it was in certainly in the latter days, my tenure as mayor, that's what we were focused on. While we still maintain the desire to bring in established businesses, you can't have an entrepreneurial base if you don't have established businesses to provide mentorship or outlets for the product. So that's, it's always going to be a universal and incomplete approach if you're gonna do this, right.
Alyssa Dinberg
So what are some of the things that you take into consideration in terms of city policy if talent is really the main focus right now, as you're building a city, what do you need to take into consideration to bring in that talent?
Sly James
Well, one of one of the problems I have sometimes is, it's very difficult to separate bits and pieces from the whole. And, and one of the favorite things I say is that we build cities for our children. All right. And my youngest child is 27 years old. So I certainly want the city where she wants to live. She is an entrepreneur in and of herself, and, and her with her partner, you know, they could have gone anywhere after college and settled down. So we want to build a city where people want to be. That's the main thing. And entrepreneurs are no different than anybody else. They want schools for their kids. They want places where they can entertain themselves. They'd like sports, they'd like the good reputation of a city, they'd like ease of travel, all sorts of different things. So you build a quality city, and you sell that quality city to everybody, including entrepreneurs, and you tell them why it's in their benefit. But you also need to promote the work of the existing entrepreneurs and talent in your city so that they know if I go there, there will be others like me. And that is the relationship that you establish with your existing entrepreneurs, and business community to get that message out. And then you tell the same story across the board. And, and and it works, but showing people what you're doing and how you are a friendly place for everything that they want in life, including the economic ideas and entrepreneurial ideas, that's what brings people to your cities. And that's why I think we've been successful because we've done that over the years.
Alyssa Dinberg
I have to say that I think Kansas City excels exceptionally at presenting a full city with everything that you have to offer. And I don't, I think a lot of other cities do a good job at it. But Kansas City's overlooked so many times. And the recent marketing campaigns that the city has done as well as KCADC, and the Chamber's has been phenomenal.
Sly James
You know that sometimes it's and your right, it has been overlooked. It's been known as flyover country. But generally, that's just the way east and west coast people have to think of the world. I found, particularly people on the East Coast don't believe that there is any world any further east than Philadelphia. And then you kind of somehow magically have to touch down in Chicago and wind up in LA or San Francisco, but that stuff in the middle why stop there. But the interesting thing about it is that it's very interesting what happens when you have the ability to flourish, and then surprise people with what you're doing. All of a sudden, people start looking at you differently. We surprised a lot of people over the years with things. One of the big surprises was when Google decided to make Kansas City in Kansas City, Kansas, the first gigabit cities in the country. Everybody else was saying, why the hell there? Well, one of the reasons that they said and told me was that we were the easiest ones to work with. Other cities were ridiculous in their regulatory scheme, weren't willing to do the things necessary to get it done. They were engaged in an entrepreneurial venture. And when they came to us, they found us to be the best out of 1100 cities competing for this entrepreneurial venture. I know it's hard to think Google as an entrepreneurial venture. But that's exactly what it is. And that particular item of Google one gig fibre to the home that was totally missed, and that was an entrepreneurial venture in and of itself, but they came here because it was easier to work with us and because we offered to work hand in glove with them in a regulatory thing and provide them with the resources and things they needed in order to get the job done. And it happened. And all of a sudden, people started looking at Kansas City totally differently. We became a place that now all of a sudden you have to think about if you're going to relocate, resettle, for some sort of a tech thing. And that's cool. That was a lot of fun. That was a lot of fun.
Alyssa Dinberg
Yeah, that was right when I moved to Kansas City, and when I moved there, everybody was like, I don't understand why you are moving to Kansas City. And now everybody knows about Kansas City, and it's on the map or closer to being on the map and people are starting to recognize it, which is very exciting.
Sly James
Yeah, it definitely helps to have, doesn't hurt to have the Chiefs too.
Alyssa Dinberg
No, it definitely does not hurt to have the Chiefs. As a Chiefs fan living in Denver with the Broncos, that's an interesting experience. [Laughter]
Sly James
No, no doubt, no doubt.
Alyssa Dinberg
So while, while Mayor, you implemented two initiatives – the Innovation Partnership Program, which we already talked about, and the Startup in Residence. Both of these helped the city work directly with entrepreneurs in their ideas. Can you tell us a little bit about the Startup in Residence?
Sly James
Yeah, the Startup in Residence program really worked with bringing connectivity between city staff and the startup. For example, with the technology startups, they would interact with and be attached to and trade information with and ideas with our city staffs that dealt with the various technology issues and in residence type of a program so that they could address problems with city technology and fix it. Which is really pretty cool because one problem with cities is that buying new technology at the rate technology changes and that the cost is extremely difficult from a budgetary standpoint. So a lot of times we're working with 2005 technology that we have to make work like 2000, like 2020. And so the residency, the Startup in Residency program really helped us work on that and come up with different things. Programmers were able to do some different programming for us and do some stuff there. That was really great. But then they got the opportunity to say, here's what I did elsewhere when they go out to Cerner, or whoever the guys are, that that need their talents, and say, this is what I've done, and it wasn't like a test or something and it wasn't in college. This was real work. And you can see the quality of that work, or they can use that to basically move into an Innovation Partnership Program perhaps. So it's a way of bringing hands on experience mentorship benefits, kind of a personal public private partnership to people who wanted to start a program or business.
Alyssa Dinberg
If you're okay with it, let's just turn our attention a little bit to COVID. Because I know that entrepreneurship and COVID has been critical and will be critical in the recovery of cities and towns. And so one of one of the things that you focused a lot on was minority small businesses. And it's a known fact that minority small businesses often lacked traditional capital or lending mechanisms. This has been highlighted in some of those stories from the SBA COVID relief loans. How do we address the racial startup gap?
Sly James
By eliminating systemic racism. I mean, I don't mean to be flippant. But this isn't new, and it's not a racial startup problem. There's a race problem. You know, in every economic marker, the society treats minorities differently than it treats majority people. Its harder for minority people to get a loan, it's harder for them to get a value on their house, it's harder for them to move into certain neighborhoods, it's harder for them to move into housing. It you know, so the way that you address that issue is to recognize and eliminate systemic racism, where other majority startups can go. They have family wealth, in some instances. I'm not talking about millions of dollars, but somebody who's got some money in a savings account that they're willing to give to that person. That is not necessarily true and very seldom is true in the minority community, not because they don't work as hard, but because they have not had the ability over 50, 60, 75 or 100 years to build family wealth, which is usually based on property. So if you want to look at that, then you also have to just look at the basic racism that exists and has existed in this country. It ain't going anywhere. Minneapolis, I think may have shown that, other places have shown that. It is not changing. So in order for us to make sure that minorities are on the same foot, you have to build some sort of a platform, that is equity. It is not enough for it to be equal, because it's not equal, but equal simply means that everybody gets to stand on the same piece of ground that's on the same level. But if you're five inches shorter than the other guy, and the fence is three inches higher than that you aren't able to see over, only the tall guy is. So equity means that you put a platform under the short guy that is sufficient to raise him up to see over the fence too, and that has to be done from a banking standpoint and access to capital standpoint, all sorts of things. But at the end of the day, I'm gonna be very blunt about it. Systemic racism and racism in this country is always the big issue and it doesn't matter. We get to talk about programs all the time. What really needs to be done is to eliminate that racism. Look at the NFL, they're still having trouble hiring African Americans in their front office and as coaches, but they sure don't have any, any problem hiring them to run the football and blockers for people. It's racism in the starkest manner. So that's it. Federal Government has come up with programs. It hasn't solved the problem. You know, you can do spot stuff here. But at the end of the day, they it's it still hasn't solved the problem. It's an entry, but it doesn't move very far beyond that because they still have to gain access to markets.
Alyssa Dinberg
Were there any programs in Kansas City for minority small businesses that did provide that additional support?
Sly James
All sorts of different things for sure. The AltCap fund certainly did, the Economic Development Corporation had a loan program. We tried to work with developers and construction companies to create programs. And they did that. So yeah, there's some impact for it. But when you still look at it, the numbers really haven't changed much. This you know, it's brought more attention, but it's, it hasn't changed that much. So the, in order to achieve true change, we have to start working on people's attitudes and the ability to accept that people who don't look like them can have every bit or maybe even more qualifications and opportunity to succeed as them. That is the main thing. Everything else is putting a band aid on a bleeder But there are programs out there that have helped some companies get off their feet, and to sustain some flow of capital while they get there. But look at just what recently happened with COVID. The money that went out in in the payroll protection plan, very little bit of that got to the minority groups. They ……., frankly, it went to some of the bigger businesses. That's not, that is simply a failure to recognize that there are minority groups who are just as deserving and to make sure that there's a path for that money. And that's basically systemic racism. I don't want to, I hate to be too controversial, but that's the bottom line.
Alyssa Dinberg
That's okay. Yeah, no, I mean, you're in good company with our audience. I mean, obviously, I don't know everybody that's listening. But I think it's fair to say that you are in good company with our audience. Um, so research has shown, research has shown that entrepreneurs and or businesses that are less than five years old, create nearly all of the net jobs in the American economy, including fueling net new job creation during economic turn downs or downturns. How do we restart the economy in the face of all the uncertainty caused by COVID-19, by focusing on entrepreneurship specifically?
Sly James
Well, I think first things first, you need to be, you need to find the ways that you can support some of the entrepreneurial ventures that are catering before they reach the tipping point. And I think we also need to recognize that some entrepreneurial businesses simply will not survive this. They weren't on steady enough financial grounds, etc. But you also have to be recognized that uncertainty often brings about opportunity for people who are entrepreneurial. They see okay, there is a gap here, that that has been brought about as a result of the entire situation with COVID. How do we fill that gap? What can we do in order to solve that problem, and they will come up with entrepreneurial ideas that will grow out of this and there were others there will be others that fail. It's I think it's almost evolutionary, in the way that it happens. You know, the environment weeds out those who are, are not on this firmer ground as they had hoped to be. and, and presents opportunities to new seeds to be planted and grown. So I think that's what it is. Try to support those you can support on the front end, but also recognize as early as you possibly can and try to partner with and see what they need for new growth coming out of the back end. Does that make sense?
Alyssa Dinberg
It does. Yeah, absolutely. I would love to see the idea of or the premise that the Innovation Partnership was built on, expanded across the country, especially right now because local governments, counties, states are having to innovate in ways that they've never had to before. And this is the most opportune time to take advantage of the knowledge that is in those startups.
Sly James
I agree. I think that I think any time that you can, what's the word I'm looking for, institutionalize an attitude, that's a good thing. And if you can institutionalize an attitude of an innovation partnership or, or relationship of government to entrepreneurs, that's a very good thing. And I think it's a type of thing that we ought to encourage. And frankly, I think more and more people are. That's one of the reasons why Mayors' Council with Kauffman is so important.
Alyssa Dinberg
Right. Yeah. Well, I hope that people are able to look up the Innovation Partnership Program after this interview and maybe implement some of those tactics into their own organization because it Kansas City really, really benefited from it.
Sly James
And still does. And frankly, one of the things about COVID is that city budgets and state budgets, particularly city budgets are going to be very hard pressed. Because they've made expenditures that they weren't planning on making across the board. And a lot of things have happened. And on the double whammy, people haven't been working at the rate they normally were. Therefore, sales tax and earnings taxes are going to be down, which means the next budget cycle is going to be difficult too. So you've got fewer and fewer opportunities to do things and are really just very basic. So in the process of trying to address that, now is the perfect time to say, maybe we ought to take a look at this, maybe we ought to take a look at that, maybe we ought to work with these people who say that they can save us money by doing this that and the other so that then they can. Again, this creates more opportunities for entrepreneurs to fill gaps that caused by problems, but it also presents opportunities for the government to work with those people to make sure that both are getting something out of the process. It's a perfect opportunity in a lot of ways. Sad opportunity, but it's an opportunity in terms of the entrepreneurial situation that needs to be recognized and built.
Alyssa Dinberg
Yeah, I'm not sure what's going on across the country. But I know at least in Colorado, a lot of cities have been hit really hard. There's been furloughs and layoffs are coming. So hopefully, hopefully, hopefully city leaders start looking at things like this.
Sly James
Yeah, yeah. Agreed. Agreed. I'd like to think, I like to think one of the things I liked about Kansas City and, and, and one of the things I was trying to be was an entrepreneurial mayor. Again, entrepreneurs don't necessarily always have to produce a product. Sometimes it's good to have entrepreneurial thought and I tried to think entrepreneurially because I didn't see any reason why we couldn't do things a little bit differently in government. And that's what we tried to do. And by doing that, we hopefully encouraged an entrepreneurial ecosystem to develop and grow. And don't get me wrong. Still a lot of room for growth, still a lot of room for development. But we were, I think we were able to move the ball forward significantly, by trying to be entrepreneurial in the way that we govern.
Alyssa Dinberg
And it was a really fun organization to work for at that time, because it was different than most governments. I had a I had a blast.
Sly James
Good, I'm glad I'm glad. Your fantasy football team didn't do all that well, but i'm glad….[laughter]
Alyssa Dinberg
Yeah, we can talk about that offline. For the listeners, Mayor James and I were on a fantasy football league together and I got my butt whooped. Let's just say it was the big league. [Laughter] They took it very seriously. [Laughter]
Sly James
Oh, yeah. It was fun.
Alyssa Dinberg
It was a lot of fun. Um, there was a lot of trash talking too, which I really enjoyed.
Sly James
Yeah, it was all in good fun though.
Alyssa Dinberg
Yeah. It was all in good fun. So my last question is about the Mayor's Conference on Entrepreneurship. We have a lot of listeners that are probably interested in it. And we've talked about it on every episode so far. And so I was hoping that you could talk about it a little bit more, and how it's gonna better prepare mayors and city leadership to tackle promoting in investing entrepreneurship and innovation.
Sly James
Okay, sure. Well, you know, one thing about mayor's is this that, and the reason I like local government over state and federal government is because basically federal government couldn't agree on where to go to lunch. And state government is politically dysfunctional in some ways, because it's all partisan politics. Local Government is really more focused on hey, we got to get this stuff done. Period. End of story. Nobody gives a damn if you are a Republican or Democratic Mayor, if your trash ain't picked up and in fact, most of these are non partisan anyhow. So you don't get all that back and forth partisan nonsense. The job of the mayor is to get things done. Now, the problem is, is that cities are like, like, people in some respects, you know, the cost of goods continues to go up. But unlike a person, you can't go into your boss and say, hey, I'd like a raise, or go find a job that's got more money. Your only income is fixed income based on the taxes that you're able to accrue. So in order for us to get more and more things done each and every year as the cost goes up, but the revenue stays relatively flat. You've got to find new ways to get those things done, that breeds entrepreneurship, that breeds new ways of looking at things. It forces you to look at things in a systems like approach so that you are solving three problems or one problem or two problems with one solution. So that means that more entrepreneurial forces are applied, more entrepreneurial businesses are engaged, and more entrepreneurial thought is given to how to get the things done in cities that need to get done. It's just that simple. Now, when with the Mayor's Conference on Entrepreneurship, it gives mayors and any other interested party the opportunity to have conversations about exactly that. So you come and you're able to talk when another thing about this, we freely share information because we've all got the same problems. Everybody has infrastructure issues here. Everybody has housing issues. Everybody has revenue issues. So it's nothing for us to call, pick up the phone and call and none than there were other mayors and say, hey, I've got this problem. Have you had this? Yeah, I have. What did you guys do about it? Oh, that sounds good. Can you put me in touch with somebody or send me some information? That's what we did. This is the same thing, making cities better by bringing people together to talk about how to increase the level of entrepreneurism and the level of innovative thought processes in city government is a good thing, because our main job on the local level is to respond to the needs of the people on the street. And the best way to do that is for mayor's to talk together and the best place to do that is at the conference on entrepreneurship.
Alyssa Dinberg
Absolutely, it sounds like it's gonna be fantastic. I hope to be able to attend and just so everybody knows while it is put on by the Mayors' Council, it is open to mayors, city managers, staff, anybody that's interested in improving cities, you're welcome to attend. So I think I only have one more question, unless there's anything else that you want to say about entrepreneurship.
Sly James
Only that entrepreneurship is one of those things, you know, when I said my pet peeve was, or my most non political controversial thought was that we don't spend enough money in the 0 – 5 years for children, we don't spend enough money in the 0-5 years of for entrepreneurs. You know, if you want your child to grow up and have an option and have a start and a chance to compete, then the foundation is absolutely crucial. And it goes for entrepreneurs the same way. Yeah, so I think that what we, what we could do is to frankly, we talk about business and in this country, business, every business started as an entrepreneurial venture, every single one. I can't think of one that didn't. They don't just grow out of the ground. It starts in somebody's head and says, hey, what do you think about greeting cards, and then Hallmark cards comes into existence 60-70 years later, or two people traveling on the train looking for a job that have Mr. Burns MacDonald engineering, but it started with two people with the thought working together, or all the computer stuff started in somebody's garage. So if we spend more effort, encouraging, building that zero to five period of time with entrepreneurs on a national level, we would have greater, more robust business community across the board, which means more jobs for people, which means more prosperity. In that whole process, there has to be a intentional, direct and focused approach to equity. There has to be the same amount and equitable amount of attention for women and equitable amount of attention for people of color, an equitable amount of attention for people who have various disabilities, and everybody should be treated in a way that builds possibility. And when we do that, we can do it. Now, that's one of the things that at mayor's conference, those are the types of things that we want to talk about and get ideas from. And those are the types of policies we want to push. So help us do it, both for people who believe the right things for the right reasons, and not to be doing things for political reasons.
Alyssa Dinberg
Very good advice. We have an upcoming election. So I think that's fantastic advice.
Sly James
Yeah, well, sometimes it drives me a little crazy, but there we are.
Alyssa Dinberg
Yeah. All right. Well, I have one last question and we end every episode like this. So I'm really excited to hear what your answer is. If you could be the GovLove DJ for this episode, what song would you pick as our exit music?
Sly James
I would pick Kansas City by Mumford and Sons on the Mumford and Sons basement tapes. That's one of my favorite songs. I love. I love. Have you ever heard it?
Alyssa Dinberg
Yeah, I actually have and I am really glad that's the answer.
Sly James
I love that song.
Alyssa Dinberg
So just some insider information for our listeners. About two and a half years ago Javon and I interviewed Mayor James for the podcast. We were going to do a two part episode with Mayor James as well as our city manager. And it was our first interview that we had ever done in person and unfortunately, we had some technical technology issues and we lost the entire interview. However, Mayor James picked that song and he's saying it for us at the end. It was a really beautiful moment and I think both Javon and I had tears in our eyes and to lose the episode was heartbreaking. So I'm really glad that you chose that song and we will be sure to play it as we close out this episode.
Sly James
Fantastic. Good to hear. And it's good to hear from you and nice to know that you're doing well. Just keep on going, keep on doing it. All right.
Alyssa Dinberg
Thank you. It's really great to hear from you. Thank you so much.
Sly James
All right, you, you take good care of yourself. You did good work when you were in Kansas City and I know you're doing good work now.
Alyssa Dinberg
Thank you so much Mayor James. As we mentioned ….
Sly James
All right bye now.
Alyssa Dinberg
Bye. As we mentioned, one of the big focus areas of the Mayors' Council is helping with Kauffman Foundation's Mayors Conference on Entrepreneurship. The conference is going to be held virtually this year on September 17th and 18th. For our listeners interested in learning more about the conference or registering, you can visit mayorsconference.kauffman.org. You can reach out to Kauffman's Mayors' Council by emailing them at [email protected]. That ends our episode today. GovLove is hosted and produced by a rotating cast of awesome ELGL volunteers. For our listeners you can reach us at elgl.org/govlove or on Twitter at @govlovepodcast. Please subscribe to GovLove through your favorite podcast service and leave us a review so more people know that GovLove is the podcast for local government topics. And if you leave us a five star review, we'll send you some super sweet ELGL swag. And if you have a story for us, we definitely want to hear it. Please send us a message on Twitter or email [email protected] Thanks for listening. This has been GovLove, a podcast about local government.
---