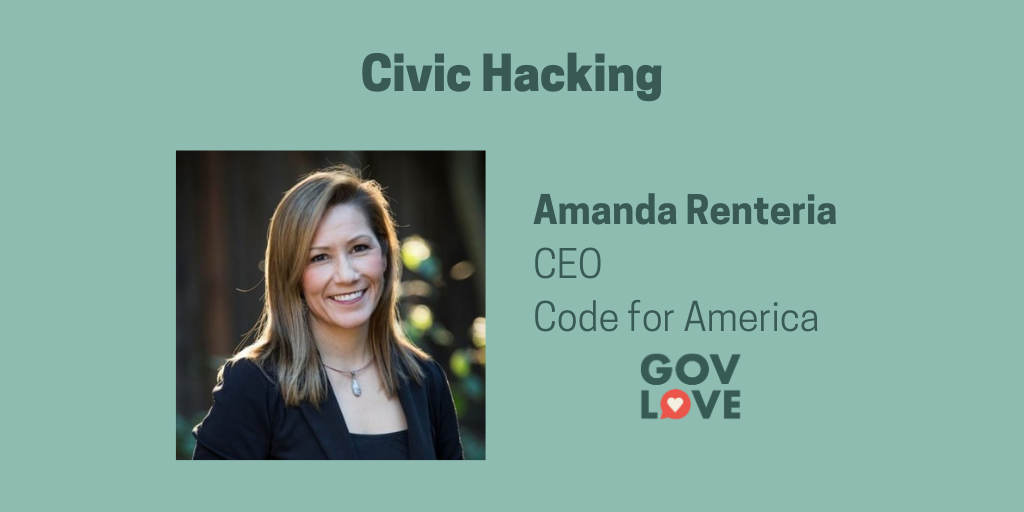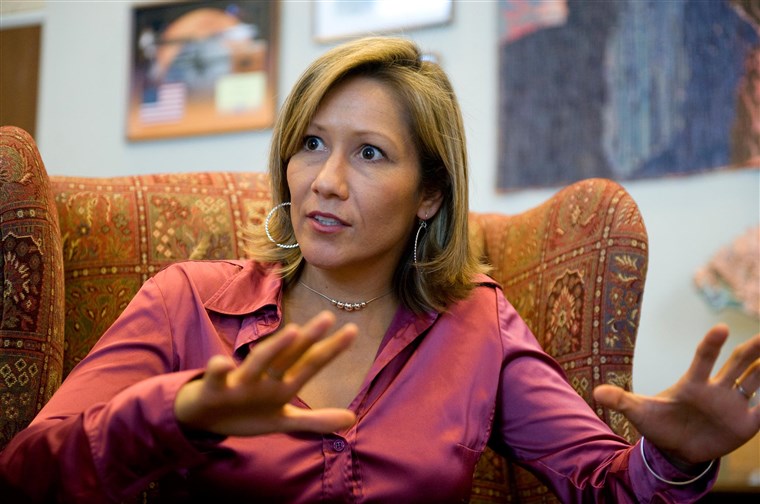 Amanda Renteria
CEO
Code for America
Bio | LinkedIn | Twitter
---
Reimagining government. Amanda Renteria, the CEO of Code for America, joined the podcast to talk about using technology to serve communities and use technology for good. She discussed how Code for America wants to encourage a delivery driven government that starts with people it serves. She also shared her career path in public service and example projects completed by Code for America brigades.
Host: Javon Davis
---
---
Learn More
Examples of Code for America Projects
Code for America Appoints Amanda Renteria as New CEO
What's New in Civic Tech: CfA Makes Election Day a Holiday
Code for America's New CEO Has California Roots
---
Episode Transcript
Message
ELGL Oktoberfest is coming. Instead of gathering in person this year for a few days of learning and fun, we're going all digital. So for the whole month of October ELGL members from across the country will be gathering together virtually, to talk all about local government. We have three tracks to choose from plus summits on Creative Placemaking and Innovation and Strategy. It's going to be a great time. To get you even more excited, here's a couple of our amazing speakers. Brian Platt from the City of Jersey City, New Jersey is joining us. Dr. Farris Muhammad from the City of Peoria, Illinois, and Tina Walha from the City of Seattle, Washington is going to speak at the conference as well. You can learn more at the ELGL website and register for the best conference of the year. Go to ELGL20.org. That's ELGL20.org to learn more.
Javon Davis
What's up GovLove listeners? Coming to you from a very stormy Philadelphia, it's me Javon Davis. Today we have a very special guest, Amanda Renteria of the CEO of Code for America. Amanda has had a very diverse public service career as an educator, the CEO of the California Department of Justice, the national political director for a presidential campaign, and the first Latina Chief of Staff in the history of United States Senate. Amanda, we're really excited to learn more about you and hear your experience. Welcome to GovLove.
Amanda Renteria
Hey, thanks for having me.
Javon Davis
Of course. So we'd like to get started with some fun questions to get to know you, and even though I hate to do this, this theme is, this round is about, you know, COVID questions. So you know, we live in a new world for now. What have been some of your new quarantine activities to get by?
Amanda Renteria
Walks and sunsets. So just being intentional about you got to get out. And so we go on a walk, and then I try and make a sunset as much as possible during the week with my kids.
Javon Davis
That sounds great. That sounds like a very beautiful California thing to do.
Amanda Renteria
It is.
Javon Davis
So what has been the hardest adjustment for you in our new reality?
Amanda Renteria
Yeah, God, there's been a lot of them. But I think the thing I think about most is I love people, I love people getting together, I love the energy it creates. And I think for me in this particular role, I joined as CEO from a distance. And so I've not, I didn't meet anyone on my team as I stepped into being the CEO. And I think as it goes forward, I just miss that energy that you get inside a room when everyone comes together.
Javon Davis
Yeah, I mean, I guess I wonder if you can elaborate on that, you know, you're starting a new job during a pandemic, over, you know, virtual technology where you can't really interact. What have been some things you've seen that, you know, really helped you connect with people that, you know, will be good advice for someone who may be starting a new job during the situation right now?
Amanda Renteria
One is just that we're all in this together, right. And so even from the very beginning, I was lucky and blessed to be what has been welcomed from a team that really is welcoming and in the crisis together and trying to figure it out together. But remembering that everyone's a little awkward, gives you a sense of grace, that it's going to be okay, that we're all sort of juggling and stepping in awkward spaces. But then I think the other piece to it all that made it in some ways easier, is the intentional, how're you doing question that sort of rises, right. And so that part definitely came in a little bit easier.
Javon Davis
Yeah, that's great. I think it's really important, especially now to check in with your staff and your friends and you know, doing the zoom happy hour. They're just doing all those things to kind of make sure everyone's doing okay, and getting by. It's a tough time.
Amanda Renteria
That's right.
Javon Davis
But I do think there are some things I think will change us for the better, and what are some things that you think will you hope will stick around after we get through the pandemic?
Amanda Renteria
You know, I think we've all noticed our, you know, what quality of life means? Right, the ability to get out and walk around and do things to have certain freedoms in our lives. I think that, that has been present. I think the other piece is how much we rely on each other as human beings, as you know, to go to the store or to just how much it is nice to see strangers and make a connection with someone you've never known before or talk to, but yet you smile across the way I mean, how much smiles actually matter. I hope that when masks get lifted, and we can again go back into stores or move around that we just remember the humanity and the and the specialness of connecting with humans all around.
Javon Davis
Yeah, you know, for those I'm not really good at smizing so that we can get to take my mask off, and you know, just, you know, not feel like I'm like, Oh, they can't see me smiling or the little, our body language has changed, too. It's been weird for me as well.
Amanda Renteria
Yeah, I hope we don't get numb to that, right, where it's like, oh, I don't need to smile anymore. So therefore, I'm not going to. I hope that we do the opposite, which is, now I get to smile.
Javon Davis
Yeah, I hope so too. So you know, just looking at your background, it seems like you've done so many different things, you know, you've worked in the campaign, to run for office. You know, what are some lessons that you've learned from your political journey? And then how does that still stick with you? What are some things it taught you that really stick with you today?
Amanda Renteria
Um, you know, I think the first being, often one of the few either women in the room or women of color in the room and some of these higher levels of government is how important it is to speak up. And recognizing, you know, there, there have been times in the room where I'm like, am I the only one that gets why maternity care matters? And the answer is, yes. Sometimes you are actually the only one with the lived experience that really has something to say about it. And so the importance of speaking up in politics, just in general, because, again, politics, public service is supposed to be about the people. And if the people aren't represented in one way or another, and you're the only one there, it's your responsibility, not just an inspiration, but it's a responsibility to speak up. The second is to know what you're fighting for. You know, I think in the world of politics, there's a lot of things going on. But how do you, you know, as somebody at the table, remember exactly what you're fighting for, and stay stay true and all the way through. And then the last thing, and this is really built over the course of my career of being two decades in public service, is what I've realized is there are these moments of opportunity, and knowing when to lean into an opportunity, like when the Affordable Care Act is being passed, or like we're in now, and people are learning digital first, how do we lean into those moments and bring the talent that the world requires or the perspective that the world requires at that moment?
Javon Davis
Yeah, those are those are great, great lessons and great things to pass on to others. All right. Finally, this is my signature question that I ask every guest. And I think to me, it's, it's an important one. Say you live in a world where you can go to brunch, and you're with friends. Are you drinking a Mimosa or Bloody Mary?
Amanda Renteria
Little bit of both, but I go Bloody Mary first.
Javon Davis
Okay. You mix it up. No one's ever said they do both. So that's cool. I think like most are either, either or they're like,
Amanda Renteria
[Laughter] I love mixing it up.
Javon Davis
[Laughter] Cool. Thanks for the lightning round. Let's jump into the interview. I think it's, since you do have such a varied like interesting background, I would love for you to tell your life story in about two to three minutes. Well, maybe for you since you've done so much, four to five minutes. How about that?
Amanda Renteria
All right, I think I might be able to hit the three minute mark. So I for me, it all starts off, really where I grew up in rural Central Valley, California. My parents were former farm workers. And really, I learned from them hard work, and ended up becoming the first woman, the first Latina from my high school to go to Stanford, later went on to Harvard. And then I did work in the private sector, but where I really fell in love with public service was being a high school teacher back at my hometown. And I thought, man, if I could figure out a way to bring all, to bring the talent to of the world, the energy of the financial industry, for instance, or the energy that you see out there to figure out how to make the world better. And that's what I felt like I learned in the classroom, what a great place to be. And I found that calling as a teacher and then as a public servant at all levels of government. And so I've been in public service for the last two decades, and have been able to see the world from the local, state and federal level. And then on the campaign side, as well in politics, where it's not just about the policies, but it's about who we elect. And then in today's world as the CEO of Code for America, really trying to bring, how are we making sure that the entire system works for all people. And technology is really a lever to do that. And so I often call, you know, my life's calling is public service. But really, if I dig a little bit deeper than that, it's, it's still this world of making my parents proud and seeing people who grew up in the places that I did in the ways that my parents did. And so my journey has really been trying to pave a path so that people can see others and themselves in their government in their country. How's that? I got there ok.
Javon Davis
That's great. Yeah, actually, you know, I was so enthralled with what you're saying, I didn't look at the time. So I think you did a great job. [Laughter] So I think, you know, I hear a lot from teachers who later run for office or who do something else, they always kind of, I feel like something about teaching must really stick with the people. Is it because you are not only working with young people, but you get to, you also have to deal with what happens to the students when they go home. And if their parents are, you know, struggling for work or they can't really feed the family.  Is that, do you really see all those issues come together in high schools and middle schools that do something thing that sticks with people, because for that reason?
Amanda Renteria
I think what you're building as a teacher is you see the world in that you're preparing these incredible beings to be to do it on their own. And it really does put a focus on what is the world they're entering. I think, in some ways, you know, I was a teacher before I was a mom. But I had the same experience as a mom, where all of a sudden, the world just gets both broader and longer. And as a teacher, I felt that same thing, like here are my high school students and like, what are they going to be? How do I prepare them to reach their full potential? And when you start to ask those questions, you start to see how systems see them and treat them. And, and so and I think that's exactly why I fell in love with it is, I was able to go, wait a second, not only do I love seeing these incredible students, like see the world and say, god, I can do anything. But how can I keep the promise to them, that they're entering a world where they really can do anything? And that leads you into public service to say, what are the kinds of policies and systems we have? And where are those changes being made at scale, where they see the students on teaching, and really allow them to reach their potential. And so naturally, that really does lead you to what are our public servants doing? What are our policies that they're executing on? And then how do we get people in power who have at least a sense of what it feels like to be in a classroom, launching these, this potential into the world? So I think there's a natural connection there.
Javon Davis
Yeah, that's, I can totally see that. So I have a little bit of experience with the Code for America in Kansas City. I worked with the data team there for a little bit. And we often would engage with our Code for America brigade. But for someone who maybe has never heard of it, what is Code for America?
Amanda Renteria
Yeah. So Code for America is, what we try and do, they're there, I should start with what we believe. And what we believe is there are two levers to change people's life at scale. That's government and technology. And we do, we basically put these together to improve people's lives. And we focus on the hardest to reach community. So we have a couple of different streams of work. One is our volunteer network where we bring people together to solve problems within each of their cities or communities. Things like as an example, food mapping, right, when there's a storm or when there's a hurricane, how are we food mapping? Or how are we just in general, making the city better so people can find the resources they need within the city, and using technology as the lever to do that. And we're deep in work like food stamps, and in California Get CalFresh is very well known for being user friendly, for being for treating people who are using food stamps with dignity and respect and meeting them where they are. And using, again, technology to do that. One way of thinking about it is, if you think about government having a conversation with people, what are the systems that are having the conversation with people? And how can we change those systems to really see people, to serve people, and to treat them with dignity and respect, and Code for America, sits with government public servants to try and do that better. And, and so, you know, some people might look at us and go, oh, it's Code for America. They make things work. What they don't see is the reason we make things work is because we are using technology to see people and to serve people in ways that maybe our old systems haven't done so. And so it's really, particularly at this moment in time, where we have to do things differently, government has to do things differently, I think there's a real big role for technology to take us to a new level, where not only our service is easier, but where services actually see people work with them. And the conversations we're having with people are really empowering in a new way.
Javon Davis
Yeah, now absolutely. Technology is definitely the future for, you know, enhanced government services. And I've been laughing with my coworkers, about how fast we've had to adjust with the City of Philadelphia, you know, in the past two months to get everyone allowed to have to work from home, to get everyone this new system. And that would have taken years before. So it's been kind of fun to say, oh, wow, it took a pandemic for us to get x you know.
Amanda Renteria
Yeah, and it shouldn't be like that right?
Javon Davis
It should not be that way.
Amanda Renteria
I mean it shoud be that our systems are there right and I think the opportunity we have right now and what our brigades are doing all around the country is filling in those gaps. And I think it's what's beautiful about our brigades is, that this is a group of volunteers who get together to figure out how to solve problems, of course, using technology. But there's also not all people are technologists. Some people are process designers figuring out what are the steps it takes, you know, to apply for UI? And how can we make that better? What are the steps it takes to know where the Foodbank is? And how do we make that better? And that's the beauty of it is that even if you're out there and saying, all right, I have some time, how do I help? We want to be the brigade you go to, to really put those skills thinking of resources to use to help people.
Javon Davis
Yeah. So you've done many different things in your career. So why Code for America for you? What drew you to the organization?
Amanda Renteria
You know, I've always been in love with public service for work. You know, my mom was a secretary for the schools for a really long time. And when I was thinking about getting in public service, she says, you know, Mika, you have to go to the frontlines to see how it works. And when I think about that interaction, where government is meeting people where they are, that's the front lines. And when I think about the country we've been living in for the last decade, government has felt very far away from the people and the people it serves. And in fact, in some cases, government has largely not even seen certain people. And the work that Code for America has been doing for the last 10 years in some of the hardest programs, and some of the hardest to reach communities, and making it work is this kind of space I got into public service for. And you know, as the world has come to where we are right now the country has come to where we are right now, I think Code for America is the kind of solutions we need, where where can we think of or utilize technology to bring worlds that may have never been together, finally together, and do it in a way that really does create just this connection again, and really sees everyone. I can't I can't stress that enough that we're seeing this in the streets, right there communities that have been largely left out. And technology gives you an opportunity to see them. And if we can, if we can level up our government and our country in that way, I think that kind of worlds students will grow up in or my kids will grow up in will be better for all of us.
Javon Davis
Yeah. So I think that really ties into what I want to talk about next is like, you know, you are a new CEO, you came in at a really crazy time. But I know you still have ideas and visions for the future of the organization. What does that look like to you?
Amanda Renteria
Yeah, so for Code for America, I, you know, I think for a long time, Code for America has been convincing, or even tech folks have been convincing government like, hey, you can use technology in this way or that way. And it's almost been an additive to government. I think what's happened within COVID times is people have been understanding that it's actually the way to deliver services. In fact, in some cases, the only way you can be communicating with folks. And that's really changed how Code for America can play in government services. Because now you get to use this new lever of technology. And the way Code for America has done it by focused on the hardest to reach communities. We cannot just make it easier for people who might be coming into government for the very first time. But we can create systems that finally see people, that connect to folks in the hardest to reach places, not by not by accident here or there, but by design. We actually build the programs, we actually build policies. And that's really the next level that I'd like CFA to get into is now we know what you need to do to deliver services in that last mile. How do we now go back and reverse engineer the kind of policies we need in order to truly get, you know, our safety net to help people no matter where there are, no matter where they come from, no matter how hard it has been in the past. But now as a matter of design, we are catching people and helping to make sure that they're empowered in this form of government. And so it's really exciting right now, to be with a team that has been thinking about that for the last 10 years. And now we're in an environment that needs it and is asking for it. And so our job is to scale up as fast as we possibly can, and to really be there as states are open as the federal government is open to doing things in a new way.
Javon Davis
Yeah, that's an excellent goal. You know, people that are hardest to reach have also been the people hardest impacted by COVID-19. So looking for ways to engage with them and get them more involved is, it could be life saving work. So let's just stay on this loop. You feel like COVID-19 is gonna, you know, really make people look more to organizations like Code for America or really, you know, really take civic tech to the next level?
Amanda Renteria
I think it can. And I think this is where it's important that the kind of investments and thinking we're doing, one of the things we talk a lot about and wrestle with a lot at Code for America is, there are always easy, short term solutions to something right. Let's put up a quick website. But hold on a second. Are we making the website friendly to the hardest to reach communities? And we really wrestle with that. And it's an important piece as we think about governments doing things differently? How are they doing things differently? Are they just doing things differently to reach a couple more people? Are they really doing things differently, to reach the broadest set of people, especially the folks who need the most? And that's the part that I think is the game changer to civic tech, making a real difference, and really changing the way governments work, the way governments see people. And really the resilience, what I call the resilience in this country, right? We are a more resilient country, if we can see our communities who need it, who need government most and bringing them, um giving them what they need, the tools they need, so that they can reach their potential.
Javon Davis
Yeah, that's great. So you know, looking into Code for America and like my involvement, you know, not involvement, but my experiences working with people, we talk a lot about delivery driven government. What does that mean to you?
Amanda Renteria
Yeah. So it's really putting what I call sort of people first, and building the service around the people who use it. Sometimes in government, and I've been on the policy side, right, we negotiate or we battle around what policy you should have. And you and I, and I remember this being part of the ad committee work, we fought really hard for the school lunch program, to make sure that that was in, that was in legislation. And then all of a sudden, when it gets to implementation, um, you know, all those things we fought for, somehow they don't quite get out. It's like telephone, they don't quite get all the way through the people. And so if we flip that around, and instead, start with the communities intended to serve, and work backwards in building, not only the way we give services, but even the policies and the systems that exist, we would have a different kind of government, which is really delivery driven government. For us at Code for America, you know, one short way of saying it is the way we do it at Code for America. Right, we first start with the people that serve, we then iterate, we try it. So a lot of people talk about think tanks out there. I would argue that we are probably more of a do tank. So we do a lot of thinking around the user. But then we go and try it. And we do it and we sit with clients, we actually go through the application ourselves. And we say, man, it timed out at 30 minutes. I would never bite a kid running around. There's no way I could finish this. And so because we take that approach, we get in we do it, we iterate and we improve. And the feedback loop is really important, which is then we learn lessons of what policy changes do we need, so that it's more focused on the services that we are delivering to people.
Javon Davis
That's great. I want to learn more about the brigade network. You know, how many brigades are out there? And what type of projects could our listeners reach out to their brigade, for help with?
Amanda Renteria
Yep. Great. Thank you for that question. Because we have about nine I think it's now up to 90 per day, 25,000 volunteers all around the country. They are, and they are doing everything from like I said before, food mapping. So when there's a disaster, how are we making sure that people know where they can go to the food bank? Or how do we, how are we linking the different services that let's say lower income communities need right from this bus stop to that bus stop? How do we make sure to map that out? How are we, how are people navigating websites for benefits? And are there, one of the beauties about our brigade network is, everyone for instance as a plot that are applying for UI or school lunch program or pandemic EBT, when they go out and every single state has something different. When we put our brigade network on it, you actually can see how this state does it different than that state. And our hope is that as we especially in this crisis, we are learning what are the best practices and how do we go back and go okay, State of California, let's do it in this way or federal government as you're thinking about the policies, here's what we've seen across the nation, when people are going to your web, to the websites across the country. If people had, you know, if we could change this policy or that requirement, how much how many more kids we can reach in the school lunch program or the food stamp program, right? So the kind of work that's really fun, I always encourage people to come to our Brigade Congress or National Data Hacking, where we actually do put people in groups and say, okay, you're going to go to the website, you're going to do a map of what is every single step that it takes in order to apply for something. And what comes out of that is a wonderful group effort of figuring out how we can make government services better together, and then giving that back to government and saying, Okay, how do we now actually put this as a part of, you know, how the city of X works a particular system. And it's really insightful and helpful to a lot of city governments out there as well, because they get a read on how it's working, or how it's not working.
Javon Davis
Yeah, when I was in Kansas City, we had a Code for America fellow kind of stay with us for a few months, and really help us work through something. And it was really great to have just kind of a third party outside perspective. But also, they were working actively to help us improve a process, I believe, and that was, it was cool to have him there for a little bit, so they can help us walk through, you know, while we were doing something the wrong way and help us fix it. It was it was really, really, really fun.
Amanda Renteria
Yeah, and it's almost like bringing in a new language. Right. And I think I've always appreciated really seeing the work through other ways of thinking about it. Because we learn something. Not only does Code for America learn something in that process, but the public servant who's doing the work, is like, Ah, that's a great way to think about it, right? Or that's a great process change, to make life a little bit faster and easier.
Javon Davis
So, you know, as, as we sit here, out there, there are thousands of people in DC for a march on, you know, next march for the, you know, the on the anniversary of the MLK's you know, Martin speech. You know, we've seen thousands of protests across the country this summer. Do you feel like civic hacking has a role to play in helping fix some of our country's historic inequities?
Amanda Renteria
Yes, yes and yes. I, this is partly what I'm so passionate about. You know, technology is going to exist in our world, one way or another. And it could be tech for good. It could be tech for profit, it could be tech for a lot of things. It is up to us to bend that curve of tech, for good. And as I think about, you know, marches, as I think about our government system, we can recreate this stuff to see people and do it differently. You know, just a very simple example. Right? Very, very simple example, is when people put their names in some of our government forms, if there's an accent accent, you get kicked out. I mean, what does that say? What is the system this government system telling you? Right? And how do we change it? Or what we know is we can expunge records automatically, we can do it so much faster, and we can reduce the burden of criminal records on people's lives. Right. And we can use technology to like right that wrong, right now today, right? Or we can use technology as a surveillance tool that targets certain people. Those are the two choices, right? And what I believe is, as we think about being digital first, whether because by force right now that we're in, or whether we will just continue to walk this path of having a lot more digital natives growing up. We're going to bend that one way or the other. And what I hope is, and what I believe is, is we're going to come all to a technology consciousness. And what I hope Code for America has done is, we've pulled that thing as hard as we can, for tech for good, for tech for righting wrongs of the past, for tech for creating the kind of world in a country that actually sees and serves all people with dignity and respect once and for all.
Javon Davis
I love that Code for America – tech for good. That should be a new slogan or motto for you guys.
Amanda Renteria
It's something we talk about a lot.
Javon Davis
So if you have to be at the National Day of Civic Hacking, what does that look like for you all? And what do you guys have for that?
Amanda Renteria
Yeah, so this is a day when everyone comes together and we start to, we actually work through systems. So people are given different options, right? One is around pandemic EBT. Right? This is the school lunch program, that now that schools are closed, how do we get card to those families for grocery shopping? And one of the things we do is, we put a lot of people in the room, we talk about, we talk about what the problem statement is, right? How do we find kids? How do we get these services to them? Should we have one card, should they have two cards, and it's real people conversations. And then we come up together with the, with the solution. Some sometimes that's understanding the process of the application, sometimes that's understanding the process of delivery. But it's really putting people together to kind of figure it out. Another idea is, how do we asset map? So we talk about, let's say, somebody lives in the county, I grew up in one of the lowest income counties, Tillery County, and we say, what are the demographics look like? What does the income look like? How do people get around, and we start to together figure out all the services, let's say we want to make it about health care. We look at all the services, where are the clinics, where the free clinics, where are the nutrition programs, and we start to build a map for people that they could actually use in their community, if you're looking for healthcare, right, or if you're looking for that clinic, or if you're looking for healthcare information. So those are the kinds of things we do. We're also going to do a design audit, where we really do have people go to all the different sites about how to find benefits. And we come up with what is the best way for cities or counties, to present benefits to folks, so that it's easy and usable, and you can find it. Sometimes this develops into micro sites. Sometimes teams will take it and they'll build, you know, they'll build a literal printout of where all the asset maps are. And they'll drop it on people's doorsteps for, you know, Healthcare Week. So those are the kinds of things that get generated when you put a bunch of people together, really thinking through how systems work. And, and with a tech, a tech process, and a tech bend to it. For all of those, for anyone listening, who is like, I want to do something I want to actually have actionable, I want to feel like I made a difference in people's lives because we are producing something that is actionable and practical. That's really what National Day of Civic Hacking is all about, is all of us coming together to solve some of these problems together.
Javon Davis
That sounds like a really busy day, but a day full of a really fulfilling day of doing amazing work to help people. So kudos to you all. Yeah.
Amanda Renteria
Thank you.
Javon Davis
Well, you know, I just, this is the last question and one of my favorites. If you could pick a song that you think really encapsulates the episode, what would that be?
Amanda Renteria
Gosh, um, I have to, the first is and because it's on my mind today is The Story of Tonight, which is Hamilton? And if I just think about we are recreating our government right now. It's the Story of Tonight. And then the other one I would have is Las Mañanitas, which is really what you sing as a happy birthday song. But it's really the morning after song of a rebirth. And so those are my two songs for you.
Javon Davis
I love them. I love them.
Amanda Renteria
Hamilton and Las Mañanitas. [Laughter] There you go.
Javon Davis
Well, thank you so much for coming on and chatting with us. It's been great to hear your perspective and hear all the great things you are doing at Code for America.
Amanda Renteria
Thank you for having me. And thank you for really giving voice to government love, man. I know I have it.
Javon Davis
Yeah, you know, we really want to help, you know, give resources and give something for local government workers that have something to come, to come together about and learn more about other people working in a field and it's really a joy to kind of be able to help facilitate that.
Amanda Renteria
It's awesome. Thank you for doing that.
Javon Davis
Of course. Well, that's been our episode for today. GovLove is hosted by a rotating cast of ELGL members and produced by Ben Kittelson. For listeners, you can reach us at elgl.org/govlove or on Twitter at @govlovepodcast. We are on all your favorite subscriptions and services. Please subscribe to GovLove on your favorite podcast service and leave us a five star review. And we'll send you some sweet swag. If you have a story for us, we want to hear it. Reach out to us on Twitter. Thanks for listening. This has been GovLove, a podcast about local government.
---