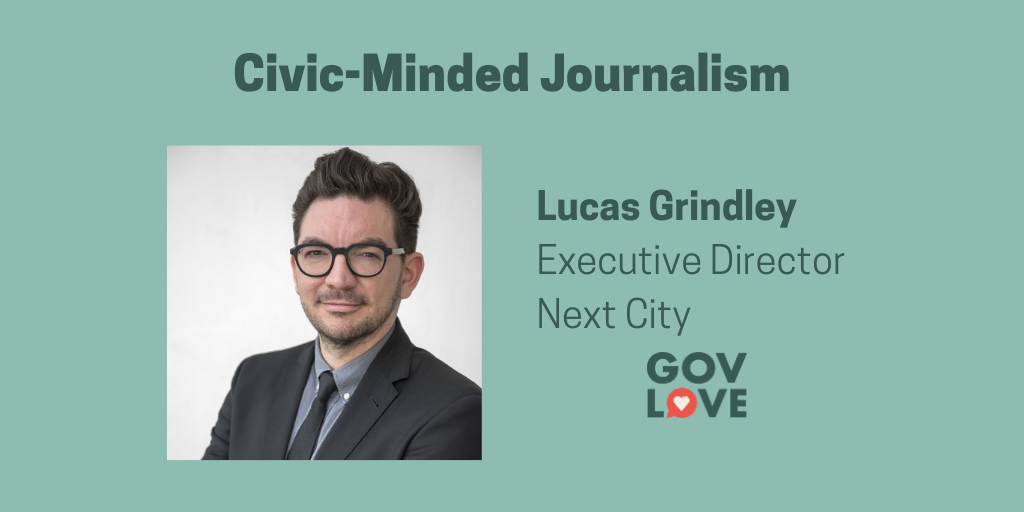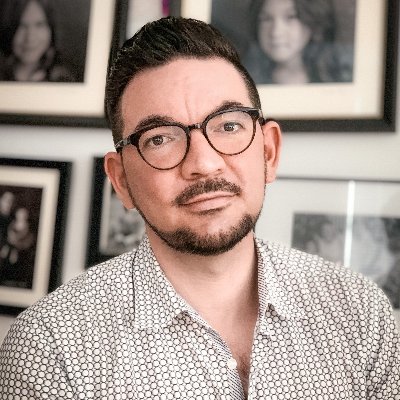 Lucas Grindley
Executive Director
Next City
LinkedIn | Twitter
---
Inspiring equitable cities. Lucas Grindley, the Executive Director of Next City, joined the podcast to talk about local journalism and the role Next City is filling by covering issues that impact cities. He discussed non-profit news organizations and solutions journalism. Lucas also shared he career path into journalism and the topics Next City has covered that local governments can learn from.
Host: Javon Davis
---
---
Learn More
Former Advocate editor lands new job in Philly
Next City Names Lucas Grindley as New Executive Director
---
Episode Transcript
Message
This is Brian Murphy, ELGL's Data Manager. The ELGL Diversity Dashboard is the first national data collection on the gender, race and age of local government leadership. We're excited to launch our third full year of data collection. This year, we're expanding our collection to include all levels of local government positions, not just Chief Administrative Officers, in an effort to get a better understanding of diversity across a wider variety of local government positions. This year's survey is looking for responses from local government leaders working in many different positions. We look forward to hearing from department heads, project managers, analysts and others as we hope to get data on the diversity of local government leadership. You can find more information on the survey and a link to respond at elgl.org/diversity-dashboard. We hope you'll respond and follow the data as we work to make local government more diverse.
Javon Davis
What's up GovLove listeners? Coming to you from a rainy city of brotherly love and sincere affection, it's me Javon Davis. For today's episode, we'll be chatting with the Executive Director of Next City, Lucas Grindley. Lucas, welcome to the podcast.
Lucas Grindley
Thanks for having me.
Javon Davis
Yeah, so you know, we love to start every episode with some fun questions. So I think I have some particularly interesting ones for you today. First, if someone were to make a movie about your life, what celebrity would you want to play you?
Lucas Grindley
You know, I should really go the Dr. Fauci route and say Brad Pitt, but especially since it happened for him, maybe it'll happen for me. But no, I've heard comparisons to Jeff Goldblum. So I'm just going to go with them and say Jeff Goldblum.
Javon Davis
I could see that. That's a good one I think. Alright, for some reason, this is a very popular show. If you were on the Masked Singer, what would your costume be?
Lucas Grindley
So I have to admit that I do not watch the Masked Singer The only clip of the Masked Singer I have seen is Sarah Palin, the reveal that it was Sarah Palin, which was insane. But I did some googling and I found one that is the robot and the robot had like, hard shoes on and I thought I like that because it's well, for a lot of reasons. But because we're always compared to you know, people just out there doing the work and like we're supposed to leave ourselves at home and we're just sort of robots in the system. But now actually we are people and we're vulnerable and have, you know, our hearts on our sleeve with the work that we do.
Javon Davis
I love that. I love a well thought out costume answer. That's great. And to be clear, I do not watch the Masked Singer either. I just know that people love the show. So I just I know it's very popular and out there, but I have not watched it. Okay, so another, staying on the theme of popular shows, which historical event would you narrate on Drunk History?
Lucas Grindley
Okay, so do you watch this one because I don't watch this one either by I watched some clips.
Javon Davis
I do watch clips, I don't watch it regularly. But I will watch it on YouTube every once in a while just to pass time.
Lucas Grindley
The clips are funny. I don't know what would happen if I were drinking and trying to reiterate history. But I will say apparently for the show, they make everybody train and like repeat the storytelling over and over again so that they can actually tell it while drunk. And I will say that one piece of history that I've had to like reiterate many times over the years because before this job in Next City, I was the Editor in Chief of the Advocate magazine, which is the longest running LGBT news magazine. And I would tell the story of the founding of the Advocate, which came about because of this thing called the Black Cat protests. Some people called it a Black Cat riot. It wasn't a riot. It was an uprising, a protest. It was very organized anyway. And that happened in 1967, two years before Stonewall. So I had to tell the story a lot about how the founders of that protest started a newsletter that then became the Advocate magazine. So I would probably tell that story as best as I could on several Manhattans.
Javon Davis
That's great. I also love a good Manhattan. So…
Lucas Grindley
Or an old fashioned, depends on your mood.
Javon Davis
Yeah, yeah, we're both in the same city. So maybe one day, in like 2023 we can have a Manhattan.
Lucas Grindley
Those will be the days.
Javon Davis
Indoors. You can tell me the story in person. That'll be fun.
Lucas Grindley
One day. Yes.
Javon Davis
Speaking of that, you know, while we were in quarantine, a lot of people picked up new hobbies and new ways to pass time. Did you pick up any new hobbies during quarantine?
Lucas Grindley
Not any good ones. Mostly just eating I think would be my [laughter] my new pastime but so I like at some point realized that I was just waiting around for something to happen. Like you thought early on that this wouldn't be a years long thing that happened. But it seems that it is and at some point I realized I needed to take more control of what was going on in my own life. So I got all these crazy things that I'm doing now. So I got like an app that I can count, like, check off my to-do's and say, okay, yeah, I made the bed, and I did took my vitamins and like, all these little things to get some sense of control of my life. And I now have a water bottle that counts the amount of water that I'm having. So I can, you know, just take every little bit of control. So I have apps for everything now. So that's how I'm that's how I'm doing.
Javon Davis
Yeah, that was like self-care as a hobby. That's good. I mean, I think, I think it's an interesting point. You know at the beginning it was like, oh, like, if we did quarantine for two weeks, then like, we can beat this. Right.
Lucas Grindley
Exactly.
Javon Davis
I think we were quickly like, oh, several months? A year, a year and a half? Oh, okay. Yeah.
Lucas Grindley
And then you hear Fauci now is like, well, vaccine will be 2021, q2, q3. Depends on how you look at it. Yeah. So get in, settle in and get ready.
Javon Davis
Yeah, well, you know, at least you're drinking your water now. That's great. You know, at least you'll stay hydrated as we wait this out.
Lucas Grindley
Mm hmm.
Javon Davis
Okay, so again, imagine the world that we're out at brunch with friends. This is my signature question. Are you more of a Bloody Mary person or Mimosa person?
Lucas Grindley
I am hard on the  Mimosa side. In DC, I used to live in DC. I was the, I was an online Managing Editor for National Drama magazine. And there was a pizza place where you could go for brunch, and you could get a pizza with an egg on it and drink bottomless Mimosas. And I would love to go back there one day when this is all over.
Javon Davis
That sounds delightful. Yeah, I do miss a good bottomless brunch where there's a buffet and then endless Mimosa's. Like, I can't even I can't even say in words like how much I miss just drinking on a Saturday at 11 eating, uh, eating great food and just spending time with friends. That seems like, it seems like I haven't done that in like a year. And that's the truth. [Laughter]
Lucas Grindley
I think technically, you're still allowed to drink on Saturdays and have great food. It's just the social distancing with friends.
Javon Davis
I know. Yeah, you're right. I can do that at home and have a have a have zoom brunch.
Lucas Grindley
A zoom brunch. There you go. Innovation.
Javon Davis
Yeah, we'll figure something out. Cool. Well, that was our lightning round. Just some fun questions to get to know you. And good to know that you're making the most of quarantine and you know, taking care of yourself. So let's jump into the regular interview. We learn more about your work professionally and learn more about Next City, which I'm really excited to share with our listeners, because you guys put out a lot of great work. But before we do that, can you tell us your life story in two to three minutes?
Lucas Grindley
My whole life? Sure. [Laughter]
Javon Davis
From birth.
Lucas Grindley
Where to start. From birth…I was born in South Korea actually because my parents eloped. And my dad was in the military. So in South Korea under I guess, a martial, like it's some sort of curfew ordered and my mom went out and flagged down an ambulance and said, I'm having this baby, which is a story we tell often in our family. Yeah, so that's where I was born. But then we got like a ….
Javon Davis
That sounds like a great Drunk History story.
Lucas Grindley
You're right. [Laughter] So we, I don't really have one of these cities where I was like, attached to and grew up in.  So many people that we cover that city have lived in the community that they are working to better for their whole lives or for a long time. And I'm one of these people who's moved around more. So my family came from, not like, a lot of means. We were people who benefited from secondhand clothes, and we went to food banks at some period of time and we were on government cheese, we would joke about government cheese all the time. And somehow, over the years, through my parents hard work and through the benefits of our society and the privilege of being a white person, we were able to move up, I guess, in the income levels, right. And I was able to go to college on Bright Futures back in the very first year Bright Futures in Florida, where we ended up living. They used to give out full scholarships for pretty good GPAs and I had a pretty good GPA so I could get a full scholarship and that's how I got to go to college on that. And I met my future husband in Sarasota, Florida. So I call Florida somewhat my home. But we had to leave our home. Because back then when I met my husband back in 2002, we were living there a few years we realized we wanted to start a family. It was illegal to get married. It was illegal to adopt children in Florida. Our friends were maybe doing surrogacy. We thought well, that's too expensive for us. We can't afford surrogacy. And we headed to the promised land Massachusetts where it was legal to get married. We had one of those moments where it's like the combination of the Great Recession, media, and, you know, unjust civil rights problems. We were in Boston for three months before the newspaper, the startup newspaper I worked closed down, because the great recession was hitting, and it hit us first. So I had a moment there where we were sort of couch surfing. And I ended up luckily, in Washington, DC, working in National Journal magazine, and we were able to get married in Washington. We got married in the very spot where the Marriage Equality bill was signed in Washington, DC, just because that happened to be our church. And then somehow, we ended up in California, where we were finally able to adopt children. And we did foster adoption. And that's kind of the story of how we were set off from our actual home in Florida, and had to head out into the world to try to have a family and get married.
Javon Davis
Great, thanks for sharing that. And thanks for you know, being vulnerable with us. I mean, I get you know, it just I think, you know, 2002 was not that long ago, and you know, 2015 marriage equality pass was also only five years ago, I think, you know, here, you break down the steps of having to move to be married. It's kind of stark, and I know, just like, it just I guess, is just crazy to think about, but I'm glad we're in a better place now. And hopefully, those things, you know…
Lucas Grindley
Through the hard work of a lot of people.
Javon Davis
Yeah, absolutely.
Lucas Grindley
All over the country who worked, you know, in their own cities, or in their own states to try to make it happen, and then work it up through the court. There are a lot of people working on it. People always talk like, oh, it happened so fast. Just all of a sudden, we got marriage equality for LGBT people. And no. [Laughter] Yeah, … was formed in 1967. It was a long time ago that people even started organizing for their rights. And maybe marriage wasn't the focus at the start, but doesn't mean people weren't working for equality.
Javon Davis
Yeah, and that, you know, I'm sure your working at The Advocate, you know, really helped change minds and move people as well. And I wonder if you can talk more about why you chose journalism and kind of your experience working on Advocate and other LGBT issues through journalism.
Lucas Grindley
You have to believe if you're a journalist, that the work that you're doing matters, even though you don't see, oftentimes, the end product of your work, you write this thing, or maybe it's TV, or maybe it's radio, and you don't see the reader or the listener on the other end, and you don't know how your writing and your reporting, your words are impacting them. Maybe they don't even know like it can, you know, it's all kind of part of a bigger picture, right? So information contributes to hopefully something that's organic that happens. But why I started in journalism, I mean, it's one of those things where, you know, back in high school I was in, I've always been in journalism, right? Like in high school, I was in the high school newspaper, I was the editor of it. And in college, I was the editor of the student newspaper there, but it wasn't that you kind of fall in love with journalism along the way. And it's a weird falling in love where I remember in high school, that it was actually my brother, who we don't always see eye to eye on many things. He comes from a different political background, even though we come from same, the same place, raised the same way. But he had an experience in grade school where a teacher had pushed him. And then the local newspapers covered it. And I was frustrated because they didn't really come to his aid. Like they didn't really do enough. I thought, I thought they let it go. And I was disappointed by that. And then when I got to college, there was one giant moment that really crystallized things for me, which was I was a young reporter, and Matthew Shepard was killed. You remember Matthew Shepard was killed, he was tied to a fence in Wyoming and left to die. And there were vigils everywhere. For some reason, this story had broken through, that people were paying attention to a gay kid who had been killed. There had been other gay people killed. But this story broke through maybe because people thought that this young, attractive white college kid was, you know, relatable to a large audience of people, for some reason. He was everybody's son, I don't know. But I had been covering the university presidents effort to bring anti discrimination ordinance to university campuses, to our university campus. They've done like a big commission right to study this. Nothing had happened. They did the commission, they issued the report, nothing was happening until Matthew Shepard died. And then the president of the university who I greatly admire, her name was Betty Pastor at the University of South Florida in Tampa, and she, she was a politician. She understood how it worked, and she told me, I don't remember if it was for a story or an aside, that, you know, timings important. And she could build on what had happened to Matthew Shepard, to turn that tragedy into something that could be a motivator for good, that if you could take a story, even of a tragedy, and use it to invigorate information and to create greater awareness about something that was going wrong, you could really change things. And Matthew Shepard's death, at least at our school did lead to the passage of the anti discrimination ordinance, but not only at our university, our university president got that passed for all universities in Florida, and the ripple effects of what happened from Matthew Shepard to death, because it was covered by media, at least in part, right, because of all the people's actions led to all kinds of good changes in the world. So you can take, I think it has a real impact on the world. And that's why I do it. So when I was in Washington, DC, I went to Washington thinking, okay, you're going to do stories, and there's going to be these lawmakers reading on the other side of stories, they're going to get this interesting detail about health care, and that's going to change their minds and change the world. And I have to tell you, it's not that way. In Washington, DC journalism works that you your gift, putting out good information, and then they're sort of plucking it for their side and arming their side with whatever good information you have. They've already made up their mind. So in some ways, you're like an arms dealer who's arming both sides of the gridlock, right? So you had to go out to the people really, and that was the Advocate, was like, you can have a direct relationship with people who are trying to change the world, and that is Next City. You can have a direct relationship with people who are trying to change the world. You give them information, and they're arming their side. So the journalism in itself has to pick a side. And we're on the side of people who are trying to bring greater racial equity to cities.
Javon Davis
No, that's really great. That's really powerful. I mean, you kind of, even watching, like, I've been reading more of like, you know, national news, I think we all have been more paying more attention to what's going on in the world the last few years, and especially this year, and it's like, oh, like I only have Facebook, because that's where I see the Times and the Washington Post headlines. And, but that's the only reason. And now I'm trying to figure out, do I just delete Facebook and download those apps instead, you know, it's like, but I do value that we have such robust, you know, news organizations who can help us stay informed in really scary times. So just really glad that we have journalists like you who are out there trying to make sure that people like me just know what's going on. And, and I think that really helps, you know, impact change, but also keep us calm and what it can be really crazy times.
Lucas Grindley
Yeah, I think journalism is under attack, like a lot of things. But journalism is a valuable engine of democracy for so many reasons. And that what happened with Matthew Shepard is just one of them. But if we could have more awareness about everything that was happening right now, and real information that you could act on, that would change the world. And in Washington, not many people know this. But even where I worked, it would cost thousands of dollars to get access to that information. Like you could only afford that if you're a lobbyist. Or if you are a big corporate player. And if you want real information about what happens in Washington, you need big money in order to afford it. And what's left for all of us is politics. We get like the horse race story about how climate change might affect a race, not how do we solve climate change? That's what we really need. And one thing that we do in Next City is, everything's pay what you wish to access our information, because we don't want to create a barrier to knowledge, especially when we're trying to raise up real examples of how you do solve things like being more resilient as a city to climate change or to reduce emissions. or pick an issue. I mean, it's so many things.
Javon Davis
Yeah, that's a great segue. Can you just for those who haven't, you know, been on the Next City site or seen the e-books, can you kind of introduce Next City to our listeners, and let them know, what you all do and what your purpose is?
Lucas Grindley
It was founded 17 years ago, by college students actually. They weren't journalists at all. They were people who cared about, you know, this broad term, urbanism that I guess we all find ourselves in right, someplace of urbanism. And they just felt that cities were talked about mostly as sources of problems and sort of scary places, when in fact, there's a lot of innovation that happens and that the people who are affected by problems have the solutions to them, too. And so they felt like the power of journalism could help spread information about solutions. And that's what we do. We're called solutions journalism, which is a term that didn't exist 17 years ago, as far as I know, but is now an actual brand of journalism, where we say we're not ignoring problems, but we're confronting problems with the solution to them and saying, here are the people who are trying to do something about it. And here are things that you could emulate. So if we, if we amplify what's working in one town on, you know how to support minority business owners, that then maybe that someone else hears it, who says, oh, wow, that's something that I could use, that's what we're trying to do is to cover it in enough detail that someone could actually use it. And maybe they reach out and say, hey, I heard about you from Next City. I'd like to do something similar here. We do stories, but we also do webinars in which we enable just that to happen. So someone who's a practitioner can come on and say, from Newark, for example, there's the Newark street team that got a lot of attention after the uprisings, because in Newark, they had different outcomes. It wasn't, they had less violence as part of the protest movement. And one of the things that all these sources pointed to is this Newark street team, where Newark was itself emulating other cities when it put this together. But they could look at who are the people most likely to become victims of violence, or to be involved in violence. And then how do we provide those people the resources they need to kind of avoid that, that cycle. And it's about actual human connections, and they've been doing it for a while. And then this was one example where you could see their work in action, right. But they track all kinds of things in terms of just, you know, violence in terms, even murder or other things that other data about violence, and they can see those going down as a part of their work. So we try to we gave them you know, an hour to talk about what it is they worked on so that other people can hopefully emulate it. And we do that all the time. All year long. We do over 600 stories a year. We do almost 30 webinars a year, we do a handful of e-books that try to put together all the best information about this.
Javon Davis
Yeah, it's really like a remarkable, like depository. So if you like have an issue I love like, if you're working on something about parks, you can just go to Next City and like look at their parks features. And you can see like, oh 10 cities are doing this, maybe I should reach out to them or, you know, if it's homelessness issues or anything like that. It's like, there's so many resources on the website. It just, it feels like close to home for anyone who works in local government, because it's like, oh, like these are sometimes written by people that work in local government or just you know, it's it's, it just seems like it's written for people who are interested in making cities better. And that's a lot. That's the kind of, that's what I love about it because it just feels like it speaks to us as people who care about others and care about community and want to be part of the solution. So I do love that about Next City personally.
Lucas Grindley
Thanks for saying that. Yeah, that's exactly what we're trying to do. You totally get it. [ Laughter]
Javon Davis
Yeah, um, and I think kind of, do you feel like, Next City is stepping in for because I know, like local journalism is taking a big hit right now. I was wondering if you can talk about how with, you know, big media conglomerates buying local stations, and local newspapers taking a hit as far as like, you know, having to, I think, even here in Philadelphia, The Inquirer just laid off 500 people, and that's happening around the country. How does that hurt communities and do you see Next City is kind of hoping out as far as civic engagement. Oh, can you just talk about that?
Lucas Grindley
It's a massive problem that is strangely underreported, since it affects journalists. But it's a massive problem that's happening right now. And it was happening before the pandemic, the pandemic worsened it by a lot. So, and the effect on communities is deep and unseen. But let's talk about the problem with just journalists first, which is last year, at the end of the year, I did a presentation around September, and I was looking for well, how many journalists have been laid off this year. It was 7000 by September last year were laid off, which is a lot of journalists. I mean, you just think about one journalist, how many stories they write in a year, 7000 journalists were laid off last year, all those stories are gone. Those stories are gone and the impact of those stories, that's also gone. So 7000 was last year and at that time, people were like, oh, this is terrible. It's called a media landslide. And there was a article in The New Yorker. It was headlined, Does Journalism Have A Future? And then the pandemic hit, and obviously, media and newspapers, local TV, it's all powered by advertising, and advertisers, if they don't have customers, they don't spend on advertising. And there's been massive layoffs and furloughs in journalism. The New York Times as of May 1 had counted 36,000 journalists laid off or furloughed this year, and that was by May. It's gotten worse since then, since then, but I don't have a new updated tally. But 36,000 journalists, is a lot of journalists. And already before the pandemic, Pew Research Center had they do a study tracking like how is this how is this contraction happening because it's been happening for a long time before 2019. Then they said, okay, over the last 10 years leading up to 2019, they found a 45% decline in the number of people working in newspaper newsrooms. That's almost half. It's like newspapers that are the people who would cover some local solution, some great thing that you were working on, or that would hear about a great thing being worked on another city, and then they would localize that story. There's half as many people to do that. That is a serious problem, because then you leave journalists behind who are just overwhelmed, right? They are trying to get by every day with but can you imagine the number of people pitching them stories. The census found that before the pandemic, journalists were outnumbered by PR people, six to one. You can imagine their email inboxes, when you're outnumbered six to one by people who want to pitch you stories, and they all have good stories. And then there's other people who don't even have PR reps, and they have good stories, right? There are towns now where there are literally one reporter for the whole town. And you're right, they're owned by these large and growing conglomerates of newspapers that are largely owned by hedge funds. And the way hedge funds work is, they're trying to extract as much last bit of money out of that newspaper, out of that community, and put it in their pocket for as long as they can until it will go bankrupt. And that'll be that. They sell off the buildings. It's all over the industry right now. And what that means for communities is, I was in Newark, we did one of our big Vanguard conferences in Newark. We can talk about that later, but was hearing from people about, they were talking about the narrative about their city, that Newark was seen as this place that was only ever talked about, around violence and things that were going wrong, right. Much like our founders were hearing cities talked about when it was founded. And the effect on them was this, I was listening to this high school student who was talking at an event I was at. And she said, in her neighborhood, the definition of success for kids her age is to leave, to go someplace else. Because what they hear about their neighborhood is only bad. It's only when someone is killed or robbed is their neighborhood ever covered. If you have a newspaper, which thrives only on subscriptions, so people have to be able to afford a subscription, or where advertisers need to reach people who have money, then, of course, sort of naturally, right, you end up with a newspaper or a local TV station that covers places that have money, can afford to subscribe or afford to buy things. And you don't end up with coverage of low income neighborhoods that have long been disinvested and ignored. And this, you don't hear about the neighborhood where this young girl is living. And when you do, it's only because something bad has happened. And at some point, that narrative, you risk internalizing that, that you are just a bad person living in a bad place. And it's broken, you got to get out. And that is not true. It is not true. And there are loads of people who are working to try to change those neighborhoods. And we try to report about what they're doing.
Javon Davis
Yeah, you know, something that kind of makes me think now is, if we rounded journalists who have the bandwidth to really cover local stories, how can local government communications professionals tell stories about their organization, but also about their communities? And they're like, we try to put out positive stories and kind of share our initiatives. How can they how can we better be more effective at telling those stories?
Lucas Grindley
Journalists will get that question all the time. Because everybody feels that they're like, I am working on something worth being talked about. I am doing good work. And you are. You are doing good work. And you more people should hear about what you're doing. Imagine a journalist who is out number six to one by PR people, right? It's not about trying to get the right email to them. It's not about like, can I have the right sort of news conference. It's gonna be very hard to break through when you have a reporter as overwhelmed, as most reporters are right now. And let's say you even do get a story, right. And it's about inclusionary zoning, and a journalist that is left in that newsroom where half of their colleagues are now gone, probably doesn't have a lot of experience covering inclusionary zoning. They might not know a lot about, I don't know transit oriented design, or whatever it might be working on. So you might be a little dissatisfied last time you actually do get that story in the newspaper or wherever it might be on the website. You might be a little dissatisfied with the quality of that story. I'm dissatisfied all the time with stories I read, for example, about opportunity zones, where I read an entire story from the perspective of a developer and the people who had money, who were all patting themselves on the back for some like new luxury development in a low income neighborhood. There was not a single person who lived there who was quoted or a person of color. They were all white. And that's how it is. So I think it's even worse than like, I can't get my story covered. It's when you do get that story covered, what is the quality of that story, really. So you need outlets like Next City that are nonprofit news organizations, and there is a nonprofit news organization movement happening. Right now, there are almost 200. I think this may be more than 200 now, nonprofit newsrooms around the country. You can support those newsrooms, with your donations, with your readership and sharing their stories. And that I think helps lead to more quality coverage. Because maybe, then they can hire more people actually reporting the stories. I don't think the solution is, how do I get the right press release or things like that. There's a systemic problem happening in journalism right now. And it's not gonna be fixed by press release. So if you really I mean, one practical piece of advice, if you think that you, that's not enough, you're like, I need something right now, what can I do? You really do have to make a try to create a relationship with that overwhelmed journalist to try to break through. That's my best piece of advice for you on that.
Javon Davis
Yeah. And what do you think about like, cities that have their own blogs, and you know, different departments that have their own blogs. I feel like those are, are great, but they don't really have the reach that the newspaper has, or the local press has. But I think it's, you see it as like a kind of a way to tell your own story opposed to waiting for the burnt out journalist.
Lucas Grindley
[Laughter] I feel bad calling it burnt out journalists. But yeah, so it's great that more people have tried to tell their own stories. And there's so many ways you can do it now.  I mean we look to social media as maybe a way to tell our own stories. Or you could use Substack and start a blog and try to maybe you're one person who's trying to be a reporter in your community. I think that's great. At the same time, when we have, let's say, foundations, or all these associations that are now putting out reports about the things that they support and are working on. If you're reading that report, you are probably thinking, Okay, well, they're telling me a story. They're telling me what a what they want me to hear, because that's their job. They want you to think they're doing good work. And it's kind of a self perpetuating cycle, you give money to something and then you're like, well, I gave money to it. Now it must be good. So you need I think independent journalism, and by journalists who know what they're talking about, that can look at that supposed solution and say, yeah, I think like 80% of that is exactly as described, but 20% isn't. And there's a few things from other places in the country where you could take some lessons from it. And that's what we do to try to, to fill in. So I think it's good, I think you have to, you have to try to tell your own story. Because you have no other real choices right now. But I think as readers of those stories, we should be skeptical. And I think it does lead to a bit of inaction. Because you have to pause and think, okay, is this really actionable information I'm getting? But Next City you do. Because, you know, we're not trying to tell you a story, you know.
Javon Davis
No, that makes total sense. It made me kind of laugh, because I think about when we write blogs for city government and stuff, it's very much like praise, like, pat myself on the back. We did a good thing today. And it's not..
Lucas Grindley
Didn't we?
Javon Davis
It's not like, you know, journalists are gonna press and like, you know, whoa, well, what about this population? How does that affect them? It's, it's a great point that, you know, yeah, you can tell your own story, but is it gonna be the full story if you tell yourself, and that's what journalists do. They kind of get the full story. So that's, that's great.
Lucas Grindley
Yeah. MmHmm.
Javon Davis
And like, you know, during the peak of the pandemic, I was just like, really impressed with Next City's coverage of like, you know, just how cities were adapting to the crisis. So I was wondering, from your point of view, what did you see that you, what are some of the common, you know, trends that you were seeing during the, well we are still in the pandemic, but like, as things were, like, really rapidly changing, that you that you were impressed with? What do you think is going to stick around for cities after this is over?
Lucas Grindley
Coincidentally, we are right now preparing for our big solutions of the year, end of year special issue and display solutions of the year three day workshop that we're going to do where we've picked what we think are the 20 most important things that you should not overlook that we've covered for the year. And a lot of them are about things that happened during the pandemic and the response to the pandemic. We've already done, we just kind of the other day, because we were having a board meeting, we did over 200 stories about solutions to the pandemic so far. Which is shocking to me at the same time, even while saying that. It started out a lot of them were sort of tactical solutions, especially about how do we feed people? How do we house people? How do we prevent them from getting evicted? And there were things like in Seattle where, you know, there were all these programs that said okay, students, you can no longer access food in your cafeteria, but you can come to the cafeteria once a week, or whatever the schedule might be, and we will give you meals and people at those cafeterias who are working there said, you know, why are we only giving meals to the students, their parents are also hungry. And in Seattle, they said, well, we're not going to do that anymore. We're going to give it to anybody who comes through, and we're going to work out the money later. And there are lots of examples like that where in San Antonio, that food bank where you saw that giant line of cars, there was a sort of signature picture that happened early in the pandemic. And people were shocked to see this miles long lineup of cars waiting to get their box of groceries, that was at the San Antonio, San Antonio Food Bank, and we had done the story about them, at least a week or so before that picture went viral. And I remember them saying, someone in there was saying, we're just going to give until we can't give any more, which literally meant until we run out of food, because they were running out of food. And the story was about how they're going about sort of trying to replenish their stock and how they distribute the food the best way, which is the you know, one box for the week of groceries, which was at the time sort of a new thing. So it's, it's been about weird, unusual things like that. Some people use school buses to deliver groceries to students, since they already knew the student, where the students were. They could just drop off the groceries along the bus route. We did stories about that, we did stories about how libraries were still trying to get books to people, stories about eviction programs that you involve a counselor to try to avoid eviction. Also, the eviction bands, I mean, we've done so many stories about the response to the pandemic. I think we're putting together a panel at the for the end of this year, that is, what can you take with you into 2021? I think all 20 solutions you can take with you into 2021. And that's why we're highlighting them. But this is definitely what we're putting together now.
Javon Davis
Yeah. And I just I just love that it's solution based, you know, like, it's not just we're telling stories, we're like sharing solutions to real problems. And I think that's really helpful, especially when you can get it in one place. I'm looking forward to seeing that come out.
Lucas Grindley
Yeah. Well, and part of it is because, you know, I keep saying I feel like despair is at risk of spreading as quickly as the pandemic and the sense of hopelessness, that things can't get done. But they can get done. And there was this one story we did about a city that plans to completely end homelessness, that's their goal. And they're doing it through casework, essentially, that it's like, we're going to talk to every person who is experiencing homelessness. And we're going to figure out which of our tools we can match to that person. And this is a strategy that's working not only in Rockford, Illinois, where we did the story, but all over the country. And one of the things one of the leaders said was, one of the main things about this work is just believing that it's possible. So I feel like the stories that we do, it's not all encompassing of all the solutions that are in action across the country. But every single one of those even if it's not something that you're working on, gives you this counter narrative, that is it is possible, change is possible. And it's happening, and there's no despair. There's reason to be sad, and there's reason to kind of be upset about the what's been laid bare by the pandemic, which is this gross inequity that we've long experienced that the people are sort of astonished by the way that people of color have been affected by the pandemic disproportionately. Well, it's not astonishing if you knew what was already going on, right? And that's what we have to do something about now is, we can respond to the pandemic in the short term, but in the long term, it has to be about the systemic changes that ensure that an entire group of people isn't dying, because of things we didn't do.
Javon Davis
Yeah, no, that's, that's all really great work. And like I said, I'm looking forward to seeing as it's beautiful, like messaging, it's like, okay, there are a lot of hopeful things happening. It's not all bad. We're resilient, we're responding to it. And that's really a great way to kind of view the work you are doing and I totally agree with that.
Lucas Grindley
Thank you.
Javon Davis
So yeah, I wonder if now if you can tell us more about Next City's Vanguard program, which is my real introduction to Next City. You know, I definitely knew it was out there. I kind of read some of the pieces but for me, just like you know, to be honest, with one of the most meaningful and fun and engaging and just professional experiences I've had so far, it was just great to connect with other Vanguards. But first I want you to kind of give everyone a rundown of what Vanguards, what the Vanguard program is and where it came from.
Lucas Grindley
I didn't even mention Vanguard. So we do the stories. We do the webinars, do the eBooks and we do an annual conference that's called the Vanguard Conference. And it's more than a conference. Like conference sounds like okay, I'm going to go into a hotel area and we're going to go to sessions one after the other. It's not that and you know it, which is we pick 40 people from hundreds of applicants who kind of represent the people who read Next City, they're doers and changemakers. And they have had impact in their communities. And they're looking for inspiration for continuing in their work. And we introduce them to solutions happening in the host study. So we're supposed to go to Greensboro this year, it's going to be next year at Greensboro, North Carolina. And you go to Greensboro, you go to Newark, or Sacramento where you were, and you hear from people who are trying to change their communities, and you are walking and you're biking, and you're taking a train, whatever it might be, we go from morning until very late at night, as you know, immersive we'll call it immersive. You're immersed in the city and with each other, and you create this bond with people who it's like you've found your people. That's what I hear from people all the time. And that is invaluable. I think that this the networks that exist in communities all over the place, or that stretch across the nation or the world are the things that it turns out, make a huge difference to whether or not anything gets done. So the fact that the Vanguard's have all these other people who they know and I think feel some sort of kinship or fellowship with, I think makes a big difference. But I think it's also just a microcosm of what we're trying to do with Next City all the time is to say, there are other people like you out there who are trying to do this work.
Javon Davis
Yeah, and I think one of the coolest parts of the like I said, it's not like a regular conference. It's like 40 people, a lot of them work for cities and towns. Some of them are architects, some of them are artists. Some of them are, you know, people who just care about community, care about, I mean care about local issues. And then you go there, and you had to help the whole city solve a problem. And it's like, it was it's weird, because you feel like you're kind of like a consultant, like you're coming in with a fresh perspective, but it's 40 of you working on a project for the whole city. So I think that's it's so different from going to a conference and just hearing presentations for four days and drinking hotel coffee and trying to stay awake. And, you know, it's so much better than that, because you really get to connect with all of your other Vanguards, and then you know, prior Vanguards and Next City staff, it's just a really great conference. And I definitely would recommend people, you know, to apply for your city to be a host, and then of course, for people to apply to the next conference.
Lucas Grindley
Absolutely, yeah. It's like a crash course in understanding before being understood, because you go to the city, you're learning about what's happening there, you're meeting the people who are working on things, and then you're giving them essentially feedback on something that they've assigned. Every city has a different sort of challenge. But the experience itself, the Vanguard's are always like, how are we going to do this in three, four days, and then somehow it happens.
Javon Davis
Yeah, and I was really impressed with a lot of the presentations and stuff. And I think it's like a really vulnerable thing to do for the whole city too. Because you essentially invite people that have some background, like work in cities from across the country, and they like it, then they essentially can evaluate the work you're doing, but also help you, you know, give you new ideas. So I'm sure for them, it's probably a little stressful, but also exciting at the same time.
Lucas Grindley
Oh, it's definitely stressful. [Laughter] I can guarantee that. Yeah, no, and you're right, it's a vulnerable experience. But I think that's what we need, in all of our networks, whether it's like just the workplace, right, or it's in our professions, where, especially people of color are asked to leave their experiences at the door, and come in and then only speak to things that can be proven via research or for other things and anything you've experienced or are experiencing right now while you're out trying to apply for an apartment or whatever it might be or try to earn enough money for a house or we pick what's going on systemically that you're up against. Those experiences are considered almost anecdotal and not part of who we are. But to be working in urbanism, whatever that word really means, but to be working in that trying to change cities, you're doing that be probably because of some personal experience that led to you to care about your neighbors in this way, right. And to think that it's possible to make things better. And I think if we could all bring more of our selves to our work, that our work would be more effective. And so we're working on how to kind of expand into that in 2021 how to have real conversations about that, so that we can not be so stuck. It's like we're stuck. We're doing the same things over and over again. And I think part of it is because we're not allowed to be or recognize all of our experiences. We have to be true neighbors to each other in that way.
Javon Davis
Yeah, and I think another beautiful thing about is that it's not just for the US, one of the most moving moments or the comments for me was when, you know, we were working on our project to help, you know, Old City Sacramento kind of revamp and like fix a corridor to get there and we were talking to an older Vanguard, older and you know, they had been at Vanguard before, ……. I thank you. And they were like, we were in Australia, and we're talking to the, you know, the people who live in this town, they actually didn't even want what we were doing. And that was kind of our feedback. And it was just like, you know, we're all the same, you know, whether you're working on a project in Australia or in Sacramento, California, like we all have so much that connects us. And now I really got to engage with people where they're at. And I think that was a really like, eye opening part of my experience, at least.
Lucas Grindley
Yeah, and I'm so glad that I get to go to them, and help organize them.
Javon Davis
Yeah, I'm looking forward to you know, whenever we can do that, again, in real life, you know
Lucas Grindley
Soon. Hopefully, yeah.
Javon Davis
So just, you know, not you know, we've already talked about some of the, you know, COVID related projects. Can you tell me some of the highlights of the year, the work you've seen from around the country, and some of the things that you think that everyone should kind of have on their radar that to be applicable to their community?
Lucas Grindley
Mm hmm. That's a good question. I, for the solution to the year, I don't want to give away all the things in the solution their magazine writes, but that's what's going to be in it is the 20 best. And there are examples of, especially on for example, just during on the on the uprisings, for example. So there's a question right now about, well, all those plywood murals that were out there with George Perry Floyds face on them, and then others, Breonna Taylor. And those are actual pieces of history and pieces of art that need to be preserved. Who has the right to preserve those? Are they going to be picked up by some large museum? Or are they going to be preserved by the community? And there are people who are working on that, and trying to answer that question and actually do something about it, right. There's also interesting ways more systemically that they're trying to combat the sort of continuing cycle of police brutality. And an interesting one that we wrote about was the power that's kind of hidden in municipal bonds, where one thing that goes unnoticed is like so after Ferguson, for example, there was in the lobbies, but there's been lawsuits, and then those lawsuits become huge payouts, rightfully so. And that is on its own kind of a risk to the city that could be factored into municipal bonds in a way that there was more awareness about it. So there's a group called activists that is trying to put pressure on cities, financially via how much does it cost them to essentially loan themselves money via these bonds, right? That it's going to cost you more if you're more at risk of these giant payouts. And that means if you're not doing things, to help, you know, prevent violence by police, or if you're if you are doing things like warrior style training, like they were doing, for George Floyd was murdered. So those things put you at more risk. And you could use a financial system in that way to help prevent police brutality, which is a sort of amazing idea, right? So we explain how that works. There's so many different solutions from all different facets. We're all working in, like finance or in transportation. As you mentioned, there's artists that are part of the movement for greater equity in cities, we all have to come together and learn from each other the ways that kind of each of our superpowers so that we can combine them and get something done.
Javon Davis
Yeah, that's I can't wait to like, I can't wait to read that. You know, we talked about all the great work that Next City does, but how can our listeners connect with Next City?
Lucas Grindley
Sign up for the newsletter. That's the most important thing. So we, the main way we communicate with people is to be our email newsletter. So go to nextcity.org, find the newsletter section, sign up. You can check us every day on nextcity.org. And soon we will have an app. So keep watching for that.
Javon Davis
Ooh, Next City app. That sounds fun.
Lucas Grindley
Mm hmm.
Javon Davis
Okay, and finally, what should be the song that ends the episode?
Lucas Grindley
So I'm worried that all my references are just going to be way gayer than yours. But to go to this whole thing about that, I think we have to be more vulnerable that we're not just robots, like to go back to the Masked Singer references, I will pick I'm not a robot. am not a robot by Marina & The Diamonds.
Javon Davis
Cool. Lucas, thank you so much for chatting with us today. I really enjoyed this conversation. And I really hope our listeners check out Next City and all the great work that you're highlighting from localities, towns, nonprofits around the country that are focused on equity and civic engagement.
Lucas Grindley
Thanks so much Javon.
Javon Davis
That ends our episode for today. You know, thanks again for coming on. GovLove is hosted by a rotating cast of ELGL members and produced by Ben Kittelson. For our listeners, you can reach us at elgl.org/govlove, or on Twitter, at @govlovepodcast, and we're on all your favorite subscription services. Please subscribe to GovLove through your favorite podcast service and leave us a review and we will know that GovLove is the podcast with local government topics. If you leave us a five star review, you can get some sweet ELGL swag. If you have a story for us, we want to hear it. Send us a message on Twitter. Thanks for listening. This has been GovLove, a podcast about local government.
---