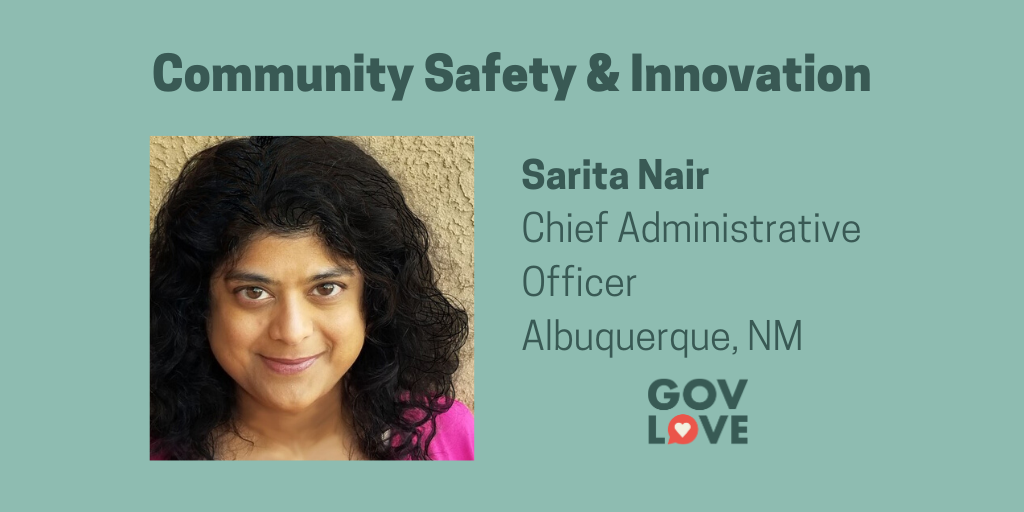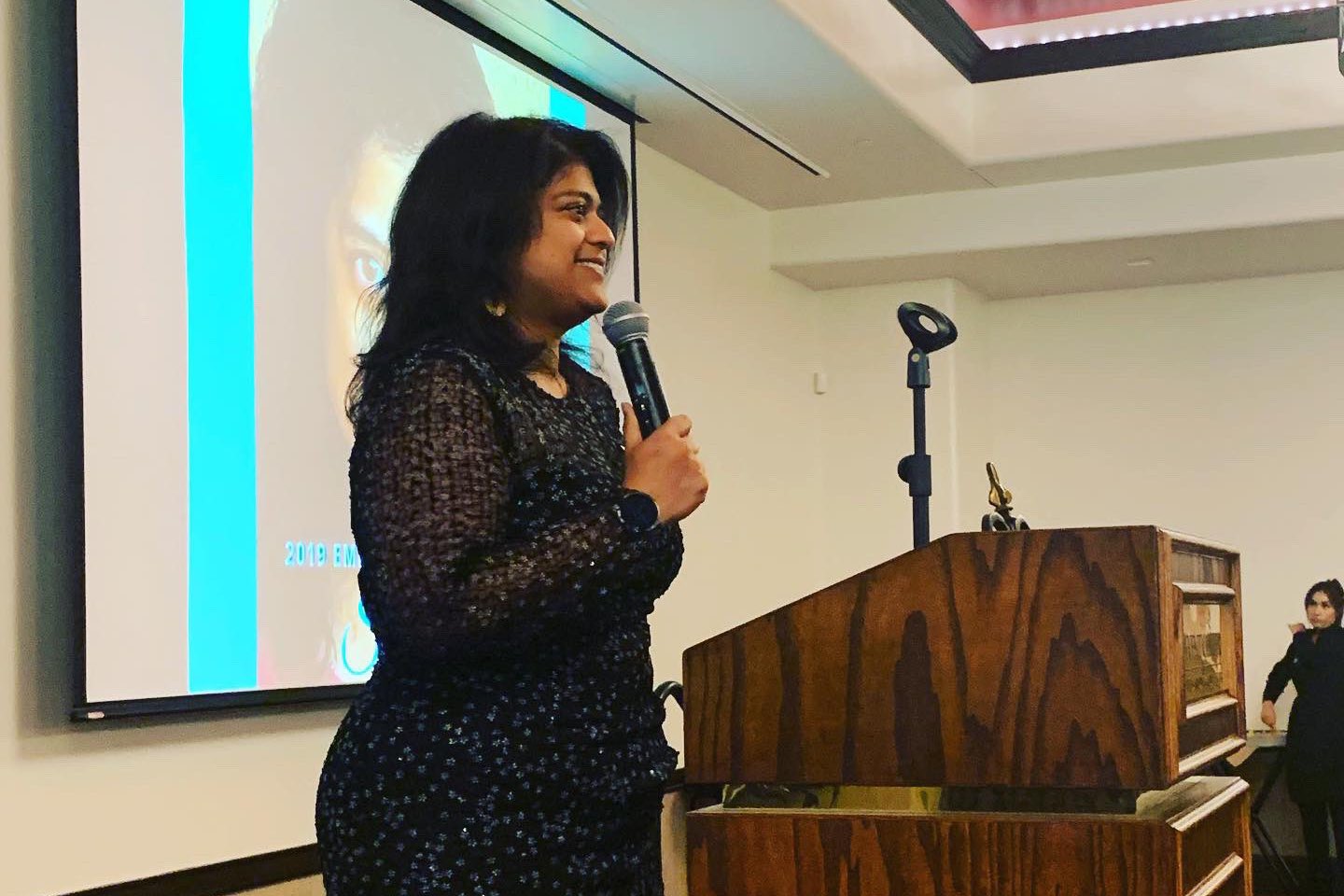 Sarita Nair
Chief Administrative Officer
City of Albuquerque, New Mexico
Bio | Twitter | LinkedIn
---
One Albuquerque. Sarita Nair, the Chief Administrative Officer for the City of Albuquerque, New Mexico, joined the podcast to talk about a new approach to public safety and implementing innovation. She discussed the City's new Community Safety Department, the impacts of COVID-19, and creating a fund to support the Black community in Albuquerque. She also shared how innovation training has changed culture and her career path into local government.
Host: Ben Kittelson
---
---
Learn More
Albuquerque Community Safety Department
Getting an 'instant return' on innovation training
Albuquerque's Chief Administrative Officer Sarita Nair Honored as a Woman of Influence
Amid calls to defund police, Albuquerque creates an alternative department
---
Episode Transcript
Ben Kittelson
Hey y'all, this is GovLove, a podcast about local government, brought to you by Engaging Local Government Leaders. I'm Ben Kittelson, consultant at the Novak Consulting Group and GovLove co-host. We've got a great episode for you today. We're going to take a trip to Albuquerque. Before we get in today's episode though, I just want to remind our listeners about the ELGL Annual Conference. #ELGL20 is going digital. So we're going to take, the conference will take place October 12th to 16th. All online, and details will be announced soon. But we're spreading that out over a full week to avoid that that Zoom burnout. And as a reminder, the best way to support GovLove is by becoming an ELGL member. ELGL is a professional association engaging the brightest minds in local government. And we're also looking for your feedback. You can visit Govlovesurvey.com that tells a little about you and what you think about the podcast. Now, let me introduce today's guest. Sarita Nair is the Chief Administrative Officer for the City of Albuquerque, New Mexico, a position she's been in since 2017. As CAO, she's the city's top senior executive manager, overseeing all 19 departments of municipal government and a budget of over 1 billion. Prior to her current role, she was a lawyer for a number of years and served as the Chief Government Accountability Officer and General Counsel for the State Auditor of New Mexico. Welcome to GovLove Sarita and thank you so much for joining us.
Sarita Nair
Thanks for having me.
Ben Kittelson
Awesome. So we have a tradition on the podcast to do a lightning round with some fun questions to let you warm up, get to know you a little better. So my first question for you, what book are you reading?
Sarita Nair
Actually rereading Albuquerque – A Novel in light of Rudolfo Anaya passing. It's one of his great books and so I decided to give it another read. And it definitely is different than when I read it almost 20 years ago. It is a lot about politics and local governments. So really enjoying them.
Ben Kittelson
Awesome. Cool. And then I saw on your Twitter that that you're a hiker. So do you have like a favorite hike or a hike recommendation for if our listeners are ever in the Albuquerque area?
Sarita Nair
Absolutely. So on the backside of our Sandia mountains on the east side, there's a hike called Tree Spring. And there's sort of a four mile version that takes you to a really beautiful overlook, and then there's a seven mile version that takes you to an even more beautiful overlook, and I think it's great for as long as you're okay in altitude, it's a great hike for visitors.
Ben Kittelson
I imagine if you're if you're hiking in Albuquerque, you kind of have to be okay with altitude. Yeah.
Sarita Nair
Right.
Ben Kittelson
All right, my next lightning round question for you – what was the first concert that you went to?
Sarita Nair
So it was the Bee Gees in like 1979 or 80. I was five. And I just was obsessed with the Bee Gees. And so my parents, God bless them, they got me tickets and we all went.
Ben Kittelson
Oh, that's so fun. [Laughter] Awesome. All right. My last lightning round question for you. Where do you go for inspiration?
Sarita Nair
I go to the mountains or to the river, I go out of cell service basically.
Ben Kittelson
Disconnected. [Laughter] I'm always interested kind of in people's path to local government. And one of the kind of fun things about doing this podcast, you get to hear kind of that there is no one route to the this field. So for you, how did you end up in local government? What kind of led you to the position you are in today?
Sarita Nair
So I was in the private practice of law for about a decade and I did some work with local governments. I did some industrial revenue bonds and those types of business transactions and then in 2014, I just realized that I wasn't loving private practice anymore. And board lawyers make mistake. So I just kind of left with no game plan. And in November of that year, the current mayor just had been elected as state auditor and called me completely out of the blue and said, how would you like to make half as much money and work just as hard at the State Auditor's Office? And in a moment of either weakness or clarity, I said, sure, I'll try it. And then I came and became his Government Accountability Officer, and we got to build that office for the first time from the ground up. And it's really a it's like the what not to wear of government, right? Because you see all the worst things that happen in government. But you also see the huge impact that government can make and I'm sure as your listeners know like local government is just unlike any other profession in its ability to make an impact on people's daily lives. So when he ran for mayor and asked me to join him here in this role, I said absolutely yes.
Ben Kittelson
Yeah, we don't, and I feel like we don't talk much about like the like auditors. Um, so what did you get to work on like, like if someone was were to join that office now or when you were there like what will their kind of like maybe you know the big tasks or the some of the things that you guys got to work on through that office?
Sarita Nair
So we had a Special Investigations division that would take referrals and complaints and we looked at you know, a lot of theft, a lot of all the way down to like just violations of internal controls, but what I got to do with the GAO was do some more big picture work. So we had a money, we called it Money On the Sidelines Report, but we looked at unspent fund balances at every level of government all across the state and just found billions of dollars just sitting around because prices had escalated. You know, you try to cobble together your couple million dollars a year for a $20 million project and you get to 20. Another project cost 30. That was, that was one of the really cool projects. And then my, my sort of Capstone and my favorite project was we did the audit of untested rape kits across the state. And that was there were over 5000 in the state and three quarters of those were right here in Albuquerque. So that was a particular lead joyful thing was to be able to come here. And we have now sent all of those kits out for testing. So it was great to come full circle. Yeah,
Ben Kittelson
Wow. That's a, that's a, fun, maybe the wrong word. But that's like such an impactful project to, like, get to work on and then like, actually change. That's awesome.
Sarita Nair
Yeah, it was, it was amazing. I feel very blessed and still talk to victims all the time and survivors who were just so grateful that their kit didn't sit on the shelf forever.
Ben Kittelson
Wow. So did you help with the mayor, the mayor's like campaign and stuff or did you just come in once he was, like, building his team to come into office?
Sarita Nair
Yeah, you know, it's funny because I was working on the official side. And also I was General Counsel. So I was actually super strict about none of us in the office can have any role in the campaign to the point where, you know, once we got here, he was like, but did you even listen to any of my debates on the radio? [Laughter] He could have paid attention, but no, we had a really hard wall between the two. So we really just went straight from doing the auditor's work to jumping into city government.
Ben Kittelson
In like, I think, in public administration, so like the I know, when I got my MPA and in my career I, like almost never interact with a CAO because they're mostly working in like a city manager form of government or Manager Council, form of government. So how do you guys, you and the mayor worked together to lead the city? What is that kind of relationship like? What is that, like how do you kind of do that as a team I guess?
Sarita Nair
So we have a very unique system. We used to have a Council Manager form of government and there was a, primarily ceremonial mayor, Alcalde they used to call it. And then about 10 mayors ago, they converted to a strong mayor form of government, but they kept the strong CAO, the strong city manager. So I always tell people, I have the best of both worlds because I have the strong city manager role with only one boss, instead of, you know, nine or 27 council members [laughter]. So it is it is really great. And I mean, I like to think of it as I'm sort of the Queen on the chessboard, which is funny because I'm the first woman to have this job, but it is I get to move sort of in all the directions and have that sort of org chart authority, which is great. And then we have a COO who has direct supervision over the line departments, solid waste, transit, the everyday departments. And then I have as my direct reports, the internal services –  so legal, DTI, and then public safety – fire, police and our new department.
Ben Kittelson
Yeah. Well, since since you kind of queued us up there, I read that you guys created a new Community Safety Department. So can you tell our listeners a little about like, what the focus of that department is and kind of what led to its creation since we are in a time of talking about reforming and even defunding the police. So what is what is the Community Safety Department and kind of how does that fit into the into this current conversation?
Sarita Nair
So you know, we actually started over two years ago. We have a public safety working group and we get together three weeks out of the month and it's you know, police fire emergency but it's also civil rights, Equity and Inclusion, code enforcement, transit, solid waste, all the departments that touch safety in any way. And we do fun experiments, you know, we come up with a problem and we come up with an idea and we just try it. And one of the things that we tried was, we get about 16,000, we call them down and out calls a year, which is, it's literally you see someone who's down or out passed out at a bus stop and someone calls 911. And they, they dispatch somebody to that call, and historically, they had dispatched police and fire and it was a huge waste of resources. 60% of those calls are ghost calls, meaning they show up and the person's already walked away. So just from a pure resource management function, we moved all of those to fire and that right away, saved a ton of resources and also like reduced the escalation of the call because you don't have an armed officer coming to someone passed out on the park bench. You have a paramedic who's trying to help. And then we took the next move, which is we moved them to some of our transit security folks. So now it's completely unarmed. And the transit folks, they, you know, if they take a ghost call, it's no big deal because they're just driving up and down the corridor anyway. And that's that was hugely successful. So, and we had a couple of these other experiments with homeless encampments, where we were moving functions out of the police department to a less resource intense and less likely to escalate function. And so when we kind of had this moment where everybody was talking about these issues of de-escalation, and what should police really be doing, we said, let's just go for it and have a whole new department and just take these issues off of the plates of police because we have a severely understaffed police department here. We walked into 830 officers for a million 911 calls a year, just on the police side. So it's like dramatic under staffing and so you know we're not in a we're not in defund mode, we're actually in build up the police to just be able to handle our level of crime but we can do that way more effectively if we're also taking out of their world the calls that they just really don't need to be on.
Ben Kittelson
Yeah, I think that's such an interesting approach like the creating tree as a, like a public administration problem and like, well, we have you know, police officers going to all these calls that maybe they're not needed at and if we created a group that could take some of that workload off their plate. And so that's really cool. So have you guys like gone through and identified you know, for these you know, 700 I don't know, however many number of calls, we're going to dispatch this group instead of police or is that kind of as a kind of like a start small and add as they kind of get more, get more established?
Sarita Nair
Definitely start small and add but we are in the process of looking at every 911 call in the last 12, we're taking the pre COVID 12 months since the COVID data is a little skewed on both police and fire and saying, okay, let's look at this by priority, by shift, by geography, and by what actually happened when we arrived on scene. And then let's break that into categories of who, who a more effective responder might be. So one of the really shocking things was like anywhere from a third to 40% of graveyard and swing shift police calls are mental health calls in our city, which is shocking, right? So yeah, I mean, if we could, if we say that even just the lowest priority of those, let's say 20% of those are not they're low priority, low risk of violence or no risk of violence. If we could send someone to actually help with services, take someone to a detox or to a mental health facility on those calls, we can not only save police resources, we can actually move the needle on public health in our city.
Ben Kittelson
So is the, so like is the staff that make up the department primarily like like mental health workers or like social workers, or is there a kind of a mix as you're identifying the types of calls that you're responding to?
Sarita Nair
Yeah, I think it's, it's gonna be a mix. And we have some of these professionals already in the, in the building. And so we're hoping to just sort of build them out. But it's social workers. And then we're trying to decide whether we want those more skilled crisis intervention folks who need to come in with a strong mental health background. They'll probably always be paired with police in a lot of situations because there is a risk of violence but if we can have them in house and available to also strategize on how to respond to other kind of calls, I think it can be really powerful.
Ben Kittelson
Interesting. What's the just out of curiosity, what's the reception been like the kind of this this new approach to like public safety from like the police and fire and the traditional, I guess, public safety departments?
Sarita Nair
They are so positive. When I called our fire chief to say, you know, what do you think about this? And he didn't say anything for a minute. And I said, Chief? He said, I'm just smiling. I'm smiling because we've needed this for so long. And, you know, largely our police reception, our mayor went with the police chief and briefed every shift of our field officers and they had largely the same reaction, which is like, yeah, we know that we're not in the right places at the right times. And we feel like we could be more effective in fighting real crime if someone else was taking these calls. So it's been overwhelmingly positive.
Ben Kittelson
That's awesome. Yeah, they probably didn't get into police work because they went to respond to mental health calls, right? Like they wanted to ….
Sarita Nair
Right. Yeah.
Ben Kittelson
Well, and also in kind of preparing for this interview, I read about the the One Albuquerque fund that you guys established. And so can you, can you I guess I'll I won't try to explain it can you tell our listeners about the fund and kind of what the city hopes to accomplish with it?
Sarita Nair
Sure. So a lot of cities have this and they call it a Mayor's Fund, or something along those lines, but it's basically a support organization to raise money for city initiatives that, you know, we just either can't fund or can't fund to the scale we want to in city government, and the mayor wanted to do it differently. So a lot of mayors funds go with the mayor and when they leave, they become another Community Foundation. He said I want to, I want to leave this with the city. So we tied it sort of inextricably to the city. It is actually officially a supporting organization under tax code. And we have four initiatives under it. Originally there was job training, housing vouchers for people experiencing homelessness, and officer recruitment and youth programming. And then recently we launched out of that a black community investment fund that is specifically dedicated to the, to the needs of Albuquerque's black communities, and we were able to get council to put a million dollars into that portion of the fund. So they're getting ready to do some really exciting work, both on needs assessment and then on actually deploying those resources.
Ben Kittelson
So is that like your funding and an external organization that will that will do some of the initiatives or is it still like under, you know, the direction of the mayor and kind of city staff?
Sarita Nair
So most of what happens in the fund on those other four areas is private citizens or companies give money and then that money gets used to pay for city contracts for providing the services. So if you give money for housing vouchers, then that money goes to the city's contracted housing voucher administrator. And then but on the black fund, it's going in the opposite direction where we've asked the fund to do its own, you know, we wanted to really center this within the black community itself. So we've asked the fund to step up and build enough community participation and to really get a strong sense of say, to tell us where that money needs to be deployed, and it's an independent organization, but we work closely together on both of those types of projects.
Ben Kittelson
That's exciting. What's, what's kind of the timeline on kind of their, their engagement and, like, efforts and figuring out what they're, they're gonna kind of work on?
Sarita Nair
And they're starting now and moving you know, pretty quickly, so I'm thinking in the fall, we'll start to see their recommendations, which is really exciting.
Ben Kittelson
Awesome. So we'll have to stay tuned for our listeners. [Laughter]
Sarita Nair
Yes.
Ben Kittelson
So, one thing we've talked a lot about on the podcast is about the impact of COVID-19 on different operations. And when the pandemic first started, we tried to highlight how it was impacting different departments and different organizations. So for you now that we're kind of, in, like into an, I don't know, medium to long term of the, the pandemic, what's been the impacts of kind of the pandemic on the City of Albuquerque and kind of how you guys, I'm interested, like we had all these like, short term responses, right. And, and now this is kind of a, I hate to use a phrase, it's sort of been beaten to the ground but a new normal. What has that kind of been like for you for you guys and kind of what is maybe the, the new normal for the City of Albuquerque?
Sarita Nair
That's a great question. You know, I everybody will tell you that COVID exposed all the cracks in the, in the safety net, in the social system, in our, in our health care system. But in Albuquerque, it really showed a lot of our strengths too. We are a community that is good at coming together around crisis. And I think it just comes from you know, just it's this is a family town and when chosen in in biological and so we were good at coming together. And so my challenge to our departments has been, how do we keep this spirit of taking care of the most vulnerable and in being super agile and super responsive and make that the new normal instead of waiting for the next crisis? And we've had so many crises back to back that it's kind of just happening for us. So, you know, Memorial Day weekend, I was I was talking to the head of the Office of Equity and Inclusion and she was going away and we were planning, you know, who was going to cover her work at the emergency ops center. And I said, you know, this time last year, we were getting busloads of asylum seekers in moments that we didn't know. And I was having this conversation because you wanted to come away from Memorial Day weekend. And it's been you know, just nonstop crisis after crisis since then. But I do, I want to hold on to this spirit of just there's a real spirit of like, we can do this, we can tackle this, we can wrap around communities and individuals who have really intense needs and we can get those needs met. That's the what I hope is the new normal for all of our city governments.
Ben Kittelson
Well, that's interesting. Like that's a it's like keeping that that we're all in this together spirit alive. Does that does that what does that kind of look like from an operational or like a, I don't know like what what does that mean for like maybe staff day today like how to other than kind of like a, like a new approach or a new attitude or a new vision, but is there like a day to day impact, kind of, on how they operate or maybe an example of something that the city's done kind of in that spirit?
Sarita Nair
It's an urgency and also just a shattering of silos. You know, I think our departments have been really good about un-siloing, but it's a slow process, and the COVID just didn't allow for it to exist anymore. And so we set up, we worked with the state and we set up a system of non congregate shelter. Basically, we rented out entire hotels for people who needed to self isolate that couldn't do it for whatever reason. They were homeless, they had a substance abuse issue, they didn't they lived in a one bedroom apartment with five other people and they needed, they were either COVID positive or they were waiting test results or they were self isolating. And with every single one of those people who came into that system, we jumped on the call with the State Department of Health and private service providers, nonprofits in the University Health System and made a, we triaged a care plan for that individual. And I mean, these folks, it was amazing, it was so it was like a public health fantasy come to life. And like if we could just do this forever for all the people who need it. I mean, if I had said that in January, everybody including myself would have thought I'd maybe had lost it but like we can, we did it. Like we can do it. We did it. And so that's the kind of thing that now all those folks who you know have been talking every day for four months are actively strategizing and how we have that level of response to people in crisis in our community.
Ben Kittelson
That's so cool. Like that, like that's such a like a fun, or not fun. I keep using fun. [Laughter] That's such a like an interesting like new, like new approach and like way to like support people like in a, although it's a pandemic now like if you can kind of retain and continue that's, that's like a huge like transformation.
Sarita Nair
Yeah, you know in government we look at incidents and services and responses and moving shifting to looking at a person as a person instead of a series of isolated incidents is just it's my goal for all of government and even if it's you know, we look at you and we see, instead of seeing like your trash bill over here and then your your building permit over here and your you know, whatever else and alcohol permit over in this other area we're looking at you as a whole person and able to provide services more efficiently i think is just that human centered approach to service provided provision is where I would love to see us heading.
Ben Kittelson
That reminds me of, like a Budget Director in North Carolina that used to talk about this as like a data problem, almost of like, what if we had the data to show like, these households are the ones that are using the public health system, and then they also are using the parks and rec department and you're able to, like, connect the users of all these systems to be able to like, you know, get new insights about the people you're serving or the, the, you know, the services they might need. And so is there like a, I don't know, with that kind of like, human centered approach in mind is there like a you know, and like a data or like a different like, approach to understanding like, or connecting customers across silos that maybe you know, didn't exist in the past?
Sarita Nair
Yet you know, it this bumps up against the big brother world pretty good. [Laughter] If I could only just have a chip in you, I can scan you when you come to city services, it's like, no, we don't wanna go that direction. But it is, I think, you know, some of the efforts that we're trying is single payment system. So you have one account with the city. And if you're buying a pass to the zoo, or you're paying for, you know, a renovation permit, it's all the same number, same login, all of that unified, which, I don't know, maybe other cities are light-years ahead of this, but it's been a big lift for us. But that's one place where we're doing it. The other place we're doing it is in youth programming, where we began we first unified all those systems because like you said, it's a data challenge, reunifying all the all the systems so that, you know, our entire planning process for this project was we told everybody working on it, pretend you're a single mother, and you need to find something for your kid to do in an hour. Right? And that just like immediately changed everyone's mindset and they saw the absurdity of four different websites and, you know, not being able to tell whether a program was free or not, and not being able to search by location and Fine Arts and rec in the same system. Like, it was just a big light bulb moment. And we were able to just reconfigure the way that we even talk about those programs. And so I think it's those little things, it's those little, you know, just breaking it down one sort of system by another and then eventually we'll get to the place where we're linking all the systems.
Ben Kittelson
Really cool. Well, one of the articles I read in ….was about kind of some of the innovation and like, training and like culture shifting, that you've worked on it at the city. And this is like close listeners to the podcast will know this is one of my like, favorite topics. I've talked to a ton of, you know, folks that work in I-Teams or work in kind of this innovation, you know, field for lack of a better word about this. So what's kind of what have you done in Albuquerque, what's kind of the training you've done and some of that work in the innovation space?
Sarita Nair
So we, we were lucky to participate in a program called the Bloomberg Harvard City Leaders. And so our mayor was selected. And a couple of us, senior leadership got to go to that track of the program. And we're really immersed in this model of I don't remember what they call it, but we call it rapid experimentation. And the idea is, you know, you make big problems smaller, you try small solutions faster, you learn those lessons cheaper, and then you either persevere, pivot or perish. And we just became a little bit evangelical about this process. And we trained all our directors in it and it was just a total game changer. We started using it and all these working groups like the Public Safety Working Group, And then I said, well, you know, if anybody else wants to be trained on it, I'll just personally I'll personally do the training sessions. And I, to be fair, like, forgot for a second what my role is because I forgot that maybe people don't perceive it as fully optional when the CAO is offering a training. But nevertheless, we can we trained 200 people in two months on this model. And because we were doing it as we were training people, we had great examples of how it worked in the city itself. And so now this is just how we talk about it. Like I can say, minimum viable product in any department in the city, and they will, someone there will know what I'm talking about. And will understand what the what the task is. And it's just again, I just all credit goes to Mitch Weiss and all the professors who worked with us in that entire program with Bloomberg and Harvard teaming up to provide that training. But we've definitely believe in innovation throughout the org chart. And then in addition, we have a performance and innovation office that is fabulous. It started out as just one person and we told her, you know, we're gonna call you an office for now [laughter] and someday you'll have more people and now I think she has three people with her. So they're like a legit office and they do a lot of perform, like they've revamped our hiring process, they revamped our procurement process. Even for them, the fact that they can go into a department and present ideas in this framework has been, it's just made their work latch on a lot quicker.
Ben Kittelson
Well, yeah, it's having that that common language and like understanding like walking in and not having to like, like, retrain each department or each before each project gets going.
Sarita Nair
Right. And it's also empowerment, I mean when I, the part of the training where I said, if you're directly, if you have an idea for an experiment and you can't get an audience with your director make an appointment with me and your director. The eyes in the room were like, what is happening? And then the other thing was, you know, I offered it to legal and being a lawyer, I'm always, you know, I feel like I can make fun of lawyers. I was like, yeah, you know, legal is invited, but there's no real reason for them to come. They all came. And I was so glad because now they're not in the way. Like if I say, please just put together a basic waiver so we can just try this thing for two months, they'll do it cuz they're fully bought in and I, I totally didn't understand the power of having legal go through innovation training, and now, I'm a huge believer.
Ben Kittelson
So, like, doing training is always good. And I know when we were when I was in the City of Durham, like we did some innovation training, but you can only get so far without like creating space for folks to do you know some of this work within their job. So is that, was there an effort to like, hey managers, supervisors, like you know, even though your staff may be frontline and they've got these duties, they also need to, it's okay for them to have time or space to like, do you know, other stuff? Is that like how is that I guess, done in an organization to like, you know, allow employees to have the time and feel like they can prioritize or, or do kind of this experimental or innovation stuff?
Sarita Nair
So, this is gonna sound crazy to listeners in this era of belt tightening and COVID. But what we did was in the 20, fiscal year 2019 budget cycle, so at the end of 2018, after we'd done this training, normally the budget call goes out and we say send us your budget and historically the city had said, and you can only submit proposals for capital coming online or neutral or cost cutting, and we turn that on its head and required five issue papers, which is what we call the proposals for new programs. And one had to be innovation, and one had to be interdepartmental. And one had to be negative. So you had to propose for cost cutting and you had to propose one of these experiments basically. And oh my god, it was so cool. Like the things that they came up with was just amazing. And it was so ground level. And I'm the example I always use was, Senior Affairs does a meal delivery program. And they wanted to do an experiment where they used the same software that solid waste uses, because they have a route planning software. And they said, you know, if we could plan our routes of meal delivery more efficiently, we could like maybe even double the number of meals that we're providing with the same number of staff and I mean, nobody on the 11th floor, which is like what we call the mayor's office up here would have ever dreamed of that. And I don't even think the directors necessarily would have dreamed to that. But by forcing them like, we're not going to accept your budget until you come up with something inter-departmental, they did it and it was it's just it was amazing. And not, of course, not everything worked. But we did end up funding, I want to say about a half million, three quarters of a million dollars of those innovation projects. So, you know, that doesn't that's not a lot of money in a billion dollar budget. But when you think about what an innovation office usually gets, it was it was a lot.
Ben Kittelson
It was a ton, yeah. [Laughter] Well, and that's like the power of having, like those frontline staff or like staff out in departments come up with ideas because like, you're right, they, you, the director would have never come up with that maybe even the manager of the program might not have like, but like the people that are doing it, like they recognize the inefficiencies as they and they can think about new ways of doing things. So that, I agree, that's, that's totally powerful. That's awesome.
Sarita Nair
Yeah, yeah, we're I'm especially a big believer in safety in the workplace, you know, just that safety to experiment, to be vulnerable. And I think that if you can create that culture of safety, and people start giving you their crazy ideas, that's when you take it sort of to the next level.
Ben Kittelson
So you force people to submit ideas in your one. Did that that continue in the second budget year afterwards? Or did you guys take a different tack?
Sarita Nair
It did. So we didn't require, I forget why I think in in this in fiscal year 20, that just ended I think we said, you have to submit in a negative and an interdepartmental. And that was it. Because it was a lot of work too, especially for our budget stuff. They're like, this is a great idea. And so we we didn't require it, but they kept coming. And they keep coming. I mean, even in this cycle because we have CARES money, and we have a little bit of opportunity to do something different, they, they keep them, they keep them coming.
Ben Kittelson
Yeah, well, that's the power of like, institutionalizing it I guess in a way, and then and then rewarding the good ideas with funding, is that like they'll not, they'll keep coming right.
Sarita Nair
Right. I think it's the Government Alliance On Racial Equity that we do work with. They always say, you know, that you've, you know, you've institutionalized it when it shows up on a checklist. And because then it's just, it's harder to take it off the checklist than it is for everybody to just go through the darn checklist. And that that was like a huge shift for me mentally. I was like, okay, I gotta get this on a checklist. And that's really how we came up with the issue paper idea. It's like everybody has their budget checklist. We get this on there, and we'll be all set. And so that's how it came to be.
Ben Kittelson
That's awesome. Awesome. And how do you think, or how do you feel the culture like change and kind of that, like shifting, you know how people think about innovation and kind of incorporate into their work is that? I mean, it sounds like it's been pretty successful for maybe like, we're getting good project ideas, but how does that kind of filter through the departments in the way you were expected or kind of dreamed up?
Sarita Nair
I mean, it really surpassed what I dreamed of. Yeah, it really did. And, you know, I feel like it did change the culture even just in, in how we communicate and the risks that we take with each other in what we're doing. And COVID was the time when we just said, you know, like, again, like we don't, we don't have time, money, space or resources to fumble around. Like if you have a crazy idea, and you think it'll get it done. Let's just get it done, and that we could not have done that. We would not have been as prepared for COVID as we were, if we had not gone through these prior two years of unwittingly practicing for a, for an emergency. We didn't know, that's what we were doing. But in fact, that's what we were doing.
Ben Kittelson
Well, that's such a good point. I was gonna ask what what the impact is because in my opinion and my belief is that by, you know, integrating like innovation in your organization, you create a culture of like, being able to deal with change, and being able to adjust and, like what at a time to have that already kind of had that legwork in place for a moment like this where, you know, everything is changing, and you have to reassess, you know, every part of your operation. Was there maybe an example of like, wow, thank goodness, we had this training, like, it came up with this idea that I don't know what may not have come up otherwise, because like in the middle of COVID?
Sarita Nair
Sure, absolutely. I mean, one of the one of the very cool experiments we were able to do was when the schools announced they were shutting down. We have a huge digital divide here in Albuquerque. And so our DTI director said, what if, he said he said all of our para-transit vans have hotspots in them. And also, our para-transit calls are down to zero because it's these are the exact people who are isolating and, you know, definitely not using public transit. And he said, what if we parked these para-transit vans all over the city so we create hotspots for the kids who don't have internet at home, and then they can drive up, they can be totally isolated. We did it at the same schools that had the meal, the meal giveaways because we also have a huge, you know, hunger issue here in Albuquerque. So a person, if they could get themselves in a device and then the schools gave out Chromebooks to kids who needed them. So it all kind of came together where we created a situation where you could go to your regular school, you could download your, you know, your lesson plan for the day, you could pick up your meals and you could go home. And they called it Wi-Fi on wheels. Wow. And we had a cool little logo. And it wasn't perfect. I don't think it was used nearly as much as it could have been. But they're coming up with this idea and willingness and ability to try it out. And also just the fact that the transit director was also in a mindset to be like, yeah, sure. Take the vans, like, we just couldn't get it done. All of that was really enabled by this deeply ingrained experimentation philosophy.
Ben Kittelson
Yeah, that's that's so great that I'm wondering like, Wow, that's awesome. What an inspiring like, way to like, show like how important you know, this innovation culture and this like experimentation and change culture is, like why it can be so valuable.
Sarita Nair
Absolutely. Yeah, Albuquerque is super cool. You should come out. Your listeners should come out. We do a lot of great things around here. We're a little, you know, under the radar, but we are doing a lot of great things out here.
Ben Kittelson
Yeah, well now we have to organize a couple of trips out there or something. [Laughter]
Sarita Nair
Yes.
Ben Kittelson
As soon as the pandemic is over. Awesome. So we do have a tradition on GovLove, that we let our, our guest pick the exit music for their interview. So if you could be the GovLove DJ for the day, what song would you pick as our exit music?
Sarita Nair
This was the hardest question for sure.
Ben Kittelson
Yeah. It always is. [Laughter]
Sarita Nair
I landed on, Be Thankful by William Divine.
Ben Kittelson
Awesome. Awesome. We'll get that, we'll get that queued up.
Sarita Nair
All right. Great. Thank you so much. This was fun. It was very inspiring to be able to talk about all this stuff you forget in the daily grind, you forget all the cool that every local government leader is doing amazing things every day, and we rarely get a chance to reflect on it. So thank you.
Ben Kittelson
Yeah, of course. Thank you so much for coming on and talking with me. That ends our episode for today. GovLove is brought to you by ELGL. You can reach us online at elgl.org/govlove or on Twitter at the handle @govlovepodcast, And listeners, you can support GovLove by joining ELGL. Membership is just $40 for an individual or 20 bucks if you are a student. Subscribe to GovLove on your favorite podcast app. And if you're already subscribed, go tell a friend or colleague about this podcast. Help us spread the word that GovLove is the go to place for local government stories. With that, thank you for listening. This has been GovLove, a podcast about local government.
---