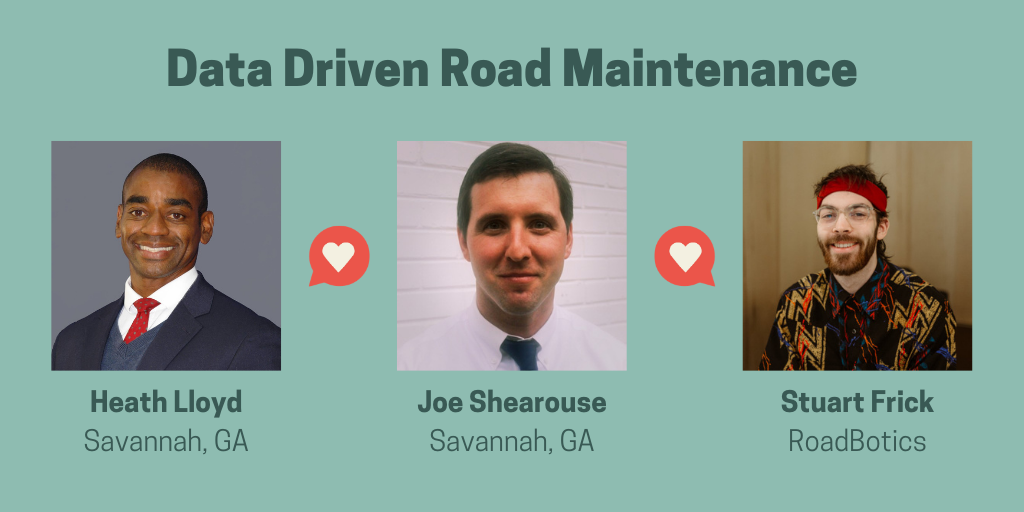 ---
Heath Lloyd
Chief Infrastructure &
Development Officer
City of Savannah, Georgia
Bio | LinkedIn
Joe Shearouse
Assistant to the City Manager
City of Savannah, Georgia
LinkedIn
Stuart Frick
Partner Success Lead
RoadBotics
LinkedIn
---
Using data and technology to monitor streets. Three guests joined the podcast to talk about how the City of Savannah, Georgia is using new technology to understand the condition of their road infrastructure and more efficiently maintain their roads. Heath Lloyd is the Chief Infrastructure & Development Officer for the City of Savannah, Joe Shearhouse is the Assistant to the City Manager for the City of Savannah, and Stuart Frick is a Partner Success Lead for RoadBotics. They talked about how Savannah adopted RoadBotics to measure road condition more effectively and use data to better invest road maintenance funding.
Host: Alyssa Dinberg
---
---
Learn More
RoadBotics – New Technology to Assess Savannah's Roads
City of Savannah RoadBotics Case Study
Savannah, Georgia, Saves Money on Road Assessments Using RoadBotics Software
'RoadBotics' to continue evaluation of Savannah streets
Savannah uses survey to priortize road repairs
---
Episode Transcript
Message
You can register right now for the ELGL Oktoberfest. ELGLs annual conference will be entirely digital this year. And to help avoid that Zoom burnout, we spread the conference out over the whole month of October, you know, hence the Oktoberfest theme. We have sessions on Equity and Anti-racism, Efficiency and Happiness plus two summits on Creative Placemaking and Innovation and Strategy. To get you even more excited, here are a couple of our amazing speakers. Amethyst Sloane from the City of Fort Worth, Texas for joining us, Mariel Beasley from Common Cents Lab, Ashley Traynum from the City of Asheville are all speaking. The best thing about this digital conference is that you can customize your registration and pick the sessions that either you're most interested in or work best for your schedule. You can learn more at the ELGL website and register for the best conference of the year by going to ELGL20.org. That's ELGL20.org to learn more.
Alyssa Dinberg
Coming to you from Denver, Colorado, this is GovLove, a podcast about local government. GovLove is produced by ELGL, the Engaging Local Government Leaders network. We engage the brightest minds in local government. I'm Alyssa Dinberg, and today's episode is all about two things that I love to nerd out about, public infrastructure and data. We're going to hear from Stuart Frick from RoadBotics and Heath Lloyd and Joe Shearouse from the city of Savannah, Georgia. Welcome to GovLove. I'm really excited to have everybody here.
Thanks for having us.
Alyssa Dinberg
All right, so as we do with every episode, we're going to start with one of our signature lightning rounds. And these questions are just meant to be fun and fairly light hearted so that our listeners can get to know you. And I'm gonna have all three of you answer all three questions. Um, so this first question, let's start with Stuart for this question. Um, what have you done during quarantine to keep yourself sane?
Stuart Frick
Um, I've been painting quite a bit. That's been my go to, you know, it passes a lot of time. So it's good whenever you have a lot of free time.
Alyssa Dinberg
That's good. That's a good one. I think a lot of people have taken up the arts, which is amazing. Um, what about you, Heath?
Heath Lloyd
Yeah, so mine's a little less exciting, but I've been doing a lot of garage work and a lot of yard work.
Alyssa Dinberg
Also, I think a lot of people are doing that. I think Home Depot is probably having a boom in sales.
Heath Lloyd
Yeah. I would agree. We spend a lot of time there.
Alyssa Dinberg
Yeah. Joe, what about you?
Joe Shearouse
Yeah, you know, here in Savannah, we had a really pleasant spring and beginning of summer. It wasn't quite as brutal heat wise as it usually usually is. So you know, I was out in the yard a lot too. Like Heath we've been biking a lot. I got the kids to start a little vegetable garden, which is nice. So we enjoyed a nice, nice, pleasant spring at the beginning of the COVID pandemic.
Alyssa Dinberg
That's awesome. That's great. Spending time outside has definitely been one of the things that's kept me sane for sure. Um, okay, so my next question, for this one, let's start with Heath. What is your weird life skill blind spot? So, by this, I mean, what is something that you should know how to do, but you don't?
Heath Lloyd
Now Alyssa, that's an interesting question. And I'm gonna I'm gonna answer it as long as you don't tell my wife. Right now, I don't know how to wash clothes. I am not really good at the separation of the whites and the colors. I've tried a couple of times and it never turns out well. [Laughter] So I don't know how to do laundry the right way.
Alyssa Dinberg
No, that's a great answer. And I promise I will not tell your wife. [Laughter] Mine, and mine kind of goes along with yours. And I think my mom to this day is like very embarrassed by this. I don't know how to iron. Like, to this day, I do not know how to iron. Like I own a steamer and that works well. But like if I'm in a hotel and I need something ironed, like I make my mom do it, and I'm embarrassed about it, but like she does it. So she's empowering my lack of ability…
Stuart Frick
She's an enabler for your lack of ironing skills.
Alyssa Dinberg
She totally is.
Heath Lloyd
Heath. All I know is how many times can I fail. My wife won't let me fail, but so many times, right. [Laughter] So after that, she just takes over.
Alyssa Dinberg
There you go. She's enabling you too. [Laughter] Um, Joe, what about you?
Joe Shearouse
Well, you know, I have got to put some thought into that. You know, there's one small task that I've struggled with and I need to just watch a good YouTube video. That's buttons. So you know, like if I lose a button on my shirt, a button on my pants, I mean, I feel like I should have the ability to just sew that button back on. I mean, it doesn't seem like too difficult a task. I need to just sit down and watch a good how to video on it. Figure it out. You know.
Alyssa Dinberg
I think that's a, yeah, that's a really good one. I don't know if I could sew a button back on. I probably could like figure it out, but not do it the right way.
Joe Shearouse
You got four holes. You know, there's got to be…..[Laughter]
Alyssa Dinberg
Yeah, yep, it's true. What about you, Joe? Or what about you Stu?
Stuart Frick
Mine is in a little bit of a different vein, but I am very clueless about car care. And, in particular, I don't know how to change my own oil, which is something that I feel like could be a very integral life skill if I could just learn it.
Alyssa Dinberg
I definitely do not know how to do that. Ah, nope. Couldn't do that either. I'm learning a lot of blind spots I have during this interview.
Joe Shearouse
Keep a list. Keep a list.
Alyssa Dinberg
Yeah, I know. I should have been working on all this during quarantine. Oh, well, um, okay, so my last question is something that I ask everybody. If you were a vegetable, what vegetable would you be? And let's start with Joe for this one.
Joe Shearouse
Oooh , vegetable, um, you know, my grandmother used to make some okra and I guess I'm fairly certain that okra is a vegetable. But she used to always say, you want to make good okra, you just fry the hell out of it. So I'll stick, I'll stick with okra. I think I might be a nice piece of okra.
Alyssa Dinberg
Hmm. I love okra. I'm from the south and I really miss it.
Stuart Frick
I was going to say, what a what a perfectly Savannah answer that is. [Laughter]
Alyssa Dinberg
It really is. Alright Stu, you are up. What vegetable would you be?
Stuart Frick
I would say, this might be wishful thinking, but I would like to be at least a shallot. I love shallots. They're like one of my favorite like aromatic flavorful ones. Because it can occupy the same space as garlic and onion in a recipe if you use it right. So I like them a lot. Might be wishful thinking though.
Joe Shearouse
I'd be careful with them though. You don't want to eat too much.
Stuart Frick
Yeah. You have to be delicate.
Joe Shearouse
Yeah.
Alyssa Dinberg
That's so funny. I don't think anyone has ever said shallot, but it's a good answer. Like I really appreciate that answer. Um, all right. Heath, what about you?
Heath Lloyd
Yeah, so I'm gonna go with the simple one, right? So rutabaga. I say simple. I don't know. It's something just about the name at least to listen. If you asked me why, I couldn't give you a good answer. Except for I think I like to say rutabaga. That's my that's my that's my vegetable of choice.
Stuart Frick
Rutabagas I think are one of the most one of the most underrated vegetables there are. I've had the rutabaga chips a few times, and they're delicious. And I'm like, why isn't this in, you know more frequently here. But…
Joe Shearouse
Oh, yeah. You mash up some rutabagas put some butter on them. Oooyeee. [Laughter]
Heath Lloyd
Heath I think I think for me Alyssa, I just like to say the word rutabaga.
Alyssa Dinberg
I think that they just helped you come up with why. You should go with that.
Heath Lloyd
Heath I know. I know. Now I gotta try the rutabaga chips, right? [Laughter]
Alyssa Dinberg
Yeah. All right. Okay, so I feel like we are thoroughly warmed up and ready to go. Let's shift our attention to the roads and yes, I did come up with a pun for that. I hope everyone gets it. But shift roads haha. Okay. [Laughter] Anyway, okay, so I intentionally did not do much of an introduction for you all. So I want to spend our first like, five minutes or so letting you all introduce yourselves. So um, who are you and what do you do? And Stu if you want to start off?
Stuart Frick
Sure. So my name is Stuart Prick, and I work as the Senior Partner Success Lead at RoadBotics. So to give a bit of an intro to RoadBotics, we are a tech company out of Pittsburgh, Pennsylvania, and to put it as simply as possible, our goal is to digitize assets for local governments with a primary focus on roads and road networks and provide, you know, good data to make database decisions off of for the leadership in those local governments. My role particularly deals with our engineering firm partners that we work with. So I spend a lot of time working with both engineering firms that service local governments as well as local governments themselves, doing business development, and generally communicating and fulfilling needs that they have.
Alyssa Dinberg
Awesome, thank you. Okay, Heath, what about you, who are you? What do you do?
Heath Lloyd
So, I am the, have a dual role here with the City of Savannah. It's always a challenge for me, but my roles are the Chief Infrastructure and Development Officer. Under that umbrella, I manage a lot of our infrastructure projects. So infrastructure goes from the boundaries of water and sewer and stormwater, what I refer to as the underground underground infrastructure, all the way to parking and capital projects. And don't forget about your streets and your traffic and those kinds of things. So I manage all of that as part of my job, but I also am the Assistant City Manager. So I also have roles with that as well. So I look at my job as you know, really just doing a tremendous amount of the infrastructure and development related projects here with the city of Savannah.
Alyssa Dinberg
Wow, you got a lot on your plate for sure.
Heath Lloyd
I got good people like Joe. I got good people.
Alyssa Dinberg
Alright, Joe, you are last but certainly not least. Who are you? And what do you do?
Joe Shearouse
So, yeah, I'm Joe Shearouse. I'm assistant to the city manager and I mainly work on legislative and external affairs. But, you know, my main role is to work at the direction of the city manager to create capacity for him and others like he to tackle more strategic roles. So, you know, I take things as they're given, but mainly the box that I fit into is legislative and external affairs.
Alyssa Dinberg
Great. All right. Well, I am super excited to have all three of you on this episode. Um, so I read that prior to your work with RoadBotics, the City of Savannah, recruited, trained and managed interns to assess their roads. And it's a great opportunity for interns, but I'm super curious to learn more about what the outcomes of that was and what the catalyst for choosing to work with RoadBotics was. So I guess, Heath, or Joe, if one of you want to tackle this question?
Joe Shearouse
Yeah. So before we really engaged with RoadBotics, we used to hire interns over the summer to manually assess our road networks, and it's important to understand and when you hire interns, they can't just go out on the road and begin to assess the networks. You, you have to have an administrator that trains them to do that particular job. And most interns are only employed for somewhere between 6 to 12 weeks. So you only get them for a certain span. And we have a road network like Savannah 700 miles, even a team of interns over the summer can only tackle a third of that road network. The challenge there is, the next year you have to do another third with a totally different set of interns, which are trained again and deployed to assess the road network. So there were some inconsistencies in how they would assess those, those particular networks and then there was time that it took to train them. And the catalyst that really started us to look at this process was, we developed some goals within our strategic plan, came across RoadBotics and really saw some efficiency gains we could get from moving from a manual assessment tool with interns to the method that RoadBotics deploys.
Alyssa Dinberg
Heath, did you have anything you wanted to add to that?
Heath Lloyd
Yeah, I really wanted to emphasize the consistency that Joe or the inconsistency that Joe talked about. That was one of the biggest challenges. From a management perspective, when you really talk about creating a road paving program, a paving program where you take 700 plus miles, and you really determine which road needs to be addressed the quickest. So which road is the priority road, I guess I would say. And that was the challenge with the interns. Not only this one third of the roads being done per year, but the inconsistency. And so we were looking for a tool that would really help us, you know, try to try to get to all of those roads at one time, but then have a consistent approach. I can't stress, can't stress enough that consistency. With interns, they're great, we love them and it was a great opportunity to work with the city but we did notice some inconsistencies. And we really wanted to kind of, you know, get rid of those inconsistencies so we could create a really sustainable road paving program.
Alyssa Dinberg
Yeah, I mean, it sounds like an amazing opportunity for interns. I would have loved that when I was in college. Just getting out and assessing roads. Sounds cool. But that kind of leads into my next question, and I'm not sure Heath if you want to tackle this one, um, can you help the listeners better understand the state of public infrastructure in Savannah? And why the need to assess them consistently?
Heath Lloyd
Yeah, I'll take a swing at it. And I'll give Joe an opportunity to add anything that I might miss. But you know, I would summarize it overall by just saying that Savannah is in a very good position right now. There has been tremendous growth in our infrastructure, not only just with the city, but also with the ports. As you guys might know, we are the fourth busiest port in the nation. We're actually the fastest growing port in the nation. We have the largest terminal container facility in North America. And just this some, put it in some some type of perspective, we have, or we we get about 33 million tons of cargo per year, that comes through Savannah. And I just want to pause there to really talk about why that's important specifically for RoadBotics. Those trucks that need access to our roadways to you know, move the equipment from the ports, to wherever it goes, are vitally important. So when you have that kind of traffic on your roadway, that is huge. But it doesn't stop there, though. I mean, one of the other things that we have is, we were recently named the logistics corridor, a logistics friendly city in the nation, three years in a row. And then most importantly for us, in terms of that same perspective as relates to the ports, we are pretty much at the crossroads of Interstate 95 and Interstate 16. There's a lot of traffic that flows through this area. There's certainly a tremendous amount of truck traffic. But the other thing that's important to us from a citizen perspective is, you know, really figuring out which roads of our 700 mile network we really needed to pave. So we're growing. There's a lot coming through our area for the ports, and we certainly wanted to also be responsive to our citizens. So that's kind of what's happening with public infrastructure in Savannah.
Joe Shearouse
And, Alyssa, yeah if I could just add, I think, I think Heath did a good job of summing it up. You know, we've got a lot of positive attributes logistically here in Savannah. You know, he mentioned the cross section of two federal interstates 95 and 16. We've also got two Class 1 railroads that operate here in Savannah, and the ports. So we've got a lot of positive momentum and growth as far as our demand for logistic services. But we also have a lot of challenges. I think a lot of people will know that Savannah is a 300 year old city. And when we talk about a city of that age, we're not just mentioning, you know, our buildings, but you also have to keep in mind that our sewer systems, our water systems, our roadways and sidewalks, a lot of those were built 300 years ago and require a lot of maintenance and upkeep, especially to keep up with the logistical backbones that we have here in Savannah.
Alyssa Dinberg
Yeah, absolutely. I've been to Savannah, and it's one of my favorite cities. So um, how long have you been working with RoadBotics?
Joe Shearouse
What is it Heath? I guess has it been two or three years, two years now?
Heath Lloyd
Yeah. It's been about two years. Yep.
Joe Shearouse
Yeah, two good years.
Alyssa Dinberg
Okay. And what all have you guys seen? Like what's what's the change been since you started, when you since you've transitioned from working with interns to assess the roads to RoadBotics?
Heath Lloyd
Well, I'll speak a little bit to that Alyssa I mean, the biggest change for me is our ability to put everything in perspective. And let me elaborate a little bit, from a perspective, which roads need to be addressed. And in our past, what we were doing was, you know, we were using the interns, but as Joe pointed out, we were only assessing a third of our roads, and there was some inconsistency there. And so I was always, previously I was in a position where I could not collectively compare all of our roads to say, hey, we need to tackle this road first. This road needs to be a priority. This is a path forward or a plan for us. And that's what I've been able to do. And I've seen that probably over the last eight months, I've been really been able to not only shape the future road pavement plan, but I've also been able to justify the current road paving plan. I can provide a justification as to if I look at two roads, I can provide a justification as to why Road A is a priority over Road B. And that's always important just in dealing with the citizens, but it's also important just in creating a sustainable road paving plan.
Alyssa Dinberg
Okay.
Heath Lloyd
Joe, you got anything to add?
Joe Shearouse
Yeah, no, I think I think what he hit on there, and he's kind of mentioned this once before in our conversation, that is sustainability. So to all the, you know, any other city administrators out there thinking about using some software like this, accurate, accountable data is the most important thing you can get for making important decisions. And you know, that's what Heath is tasked with doing, is determining what road gets repaved at what rate and the only way for him to make good decisions is to have good information to allow him to make those decisions. And that's what, that's the big change I think we've seen from our previous intern led assessment to now a more consistent, reliable format through RoadBotics.
Alyssa Dinberg
Cool. I'm super curious to learn how it works. Stuart can you tell us a little bit about that?
Stuart Frick
Yeah, absolutely. So what we do at RoadBotics is, we try and provide leaders like Heath with what we call asset transparency. So what that means is that we provide cities like Savannah with data and software that they need to understand the kind of fuller picture of their road network. And the way that we do that, specifically is that we use really inexpensive sensors in the form of smartphones, to collect imagery for every 10 feet of their road network, in this case, around 700 miles for Savannah. So you're getting in a really large mass of data in the form of images. We then process those images and produce a conditional rating using machine learning platforms that's been trained to identify different types of pavement distresses. So you have machine learning models that go in, look at all of the images for every 10 feet of the road for the whole network, come back with conditional ratings so that you're able to compare apples to apples, different roads within the same network and get an overall sort of holistic view of what the health of the full network is. Then after all that post processing of the data, we provide it on a visualizer platform that allows for a lot easier decision making and focus of that work. So instead of kind of, you know, going through dozens and dozens of spreadsheets and things like that, you get a much easier to parse through map of the conditional ratings of your network along with the images of those ratings. So you're able to go in and say, okay, you know, we can pinpoint on this kind of heat map, where our problem areas are, go in, look at the images, images that are present there from there, decide on what types of treatment might work best, and put together a pavement plan from the data that we're providing. So, you know, our biggest goal with all this is to give cities like Savannah, both reliable condition data through using machine learning, you know, you have a computer looking at it rather than people so you have more consistency, more repeatability. What that allows for is their confidence and allocating the resources for that maintenance. There isn't any, you know, back and forth or, you know, consideration of whether those assessments are accurate or not. They're able to just take that information in and make the choices that they need to and Heath and Joe can probably speak to this a little bit more, but something that I've seen working with the governments that I have is that a big part of this is using our data and the roadway platform as a political tool to help explain, like Heath was talking about why certain measures are needed for the roads. You know, it's it's put in a much easier to digest format so that you can go to a city council and say, hey, you know, this is why we're asking for this funding. This is why we're saying these roads should be looked at before these other ones, so on and so forth.
Heath Lloyd
Yeah, and and Alyssa, like, if I can piggyback on what Stu said just to you know, I love the term asset transparency, right, because that's what he is referring to. Just this morning, I did that very thing where again, you know, transparent about the City of Savannah's assets as it relates to roads. When you can, the system is color coded. When I can use a color coded system to define, you know, which roads need to be paved, and which words don't, it really is a communication tool. And so I love that term, Stuart used – asset transparency, because that's really what it has helped us do. So.
Alyssa Dinberg
So I, I don't even know how to phrase this question. Is it ongoing, assessing the roads? Or is it like a one time a year type of thing? Does that make sense?
Stuart Frick
Yeah. So it's, it's generally one time a year. Just because of the amount of data that's getting taken in by the cameras, it would be you know, it's already a pretty large amount of data. It would be massive to do continuous collection and things like that.
Heath Lloyd
Yeah, but Alyssa I'll take, I'll take, I'll take a moment to and I'm gonna I'm gonna ask Joe to respond. But you know, yes, it's once per year, or it's on a routine basis. But I think there is certain value in that information. Again, the value in that information and is to watch how our roads change over time. Joe made mention of this being a 300 year old city, and I apologize, I've been getting excited about it, but this is the exciting part of it to me, is that you know, you get to figure out which roads are deteriorating, that rate, and then you look at the causal the cause the cause factors, right? Is it heavy truck traffic, is it you know, heavy, you know, POVs? What is causing that and then you begin to get ahead of that process, and as a city, a 300 year old city, you know, it's important for us to be more proactive. And I think that's the beauty of, you know, getting even if it's done once every year, you have that snapshot. But when you take all that snapshot, that data and put it together and really try to make data driven decisions, and I don't, I don't I won't go too heavy into analytics and those kinds of things, but certainly an analytical approach to it, you can almost, my hope is, you know, over a five, six year period, I can predict what's going to happen. Right. So I know which of the pavements are going to, you know, probably come up in the future. And then for me, it's really a strategy about, you know, knowing things before others know it and making the preparations, you know, before others even realize that we need to do that. Joe, can you speak a little bit about that? Because I know you and I've talked about that about, you know, looking at the roads and how it changes.
Joe Shearouse
Yeah, Heath really brings up the greatest value to public administrators and RoadBotics is the metric of rate of deterioration. And the reason that that's important is, I think we all know that some roads get used more than others. So a major arterial may need to be repaved every 10 years because it gets more use than other roads throughout your city like or just a residential roadway, which may only need to be repaved every 20 years or 25 years. But the even, the even more exciting piece of the metric of rate of deterioration is something that we know is that cities are constantly growing and changing. They're not a stagnant asset. They're continuing to change. And I'll give you an example. Let's say you have a warehouse facility that was built a one year that didn't exist the prior year. That facility will change the amount of usage of the adjacent streets. Well, RoadBotics will pick up on that usage and the rate of deterioration and show you that so that you can plan for the investment you have to make in that roadway. Another interesting thing and the way to look at roads is, they're much, much like a patient in the hospital. You know, a road does not have to deteriorate to the point where you have potholes, and, you know, cracks that cause your vehicles to bump and shift. There's signs that the road is deteriorating well before it gets in that condition, and RoadBotics gives you a way to flag that a road is beginning to deteriorate so that you can make smaller investments up front in order to prevent it from requiring a full scale repavement. So you can also make take steps to slow that rate of deterioration. But the first thing you got to do is know what the rate is before you can do anything. So it's really exciting to have to have that information through RoadBotics.
Alyssa Dinberg
I think that's so cool. Like being able to predict what's going to happen to your roads. It's just yeah, as I said at the beginning, I love nerding out about public infrastructure and data. So I'm all about all of this. So cool. Can you talk a little bit about how you found out about RoadBotics? Because before this interview, I had never heard about them? And I would imagine there's a good bit of our listeners that haven't heard about them either.
Joe Shearouse
Yeah, sure. Alyssa I'll jump on that. Um, you know, I first came across them in a magazine. It was Public Management magazine, where I read an article in there about RoadBotics, and it was a few years ago. And I found that it was interesting, particularly compared to the way that we were assessing our roads here. And then about around that same time, the City of Savannah developed a strategic plan, one of which was a road repavement plan and schedule, which I thought matched up well with the article I read in the magazine. And then I heard about RoadBotics a second time was really sparked me to bring it to Heath's attention. And like many of us know with ideas, you can have a 1000 ideas, but it takes somebody to really champion the idea and move it forward. And that's where Heath came in. I brought the idea to him. And he's the one who picked it up and moved it across the finish line, which is kind of where we are today. We're not quite finished, but but I'm excited about the direction we're moving with it.
Alyssa Dinberg
That's awesome. Where are you with the assessment right now?
Heath Lloyd
We have assessed all of our roads. And we have also, and I do have to thank Joe. I mean, one of the things about finding this technology, it gave me the springboard to, you know, make the pitch for our infrastructure. So we have assessed it all 700 plus miles, and then we were able to successfully convince our city council to invest approximately $24 million over the next six years via our SPLOST funding and that's huge because where we were before we were only, you know, probably getting about $2 million for our road network. So when you $2 million per year and so when you put that in perspective we have really put our roads on a path to be sustainable. So, I mean, I think it's great. And we couldn't have done that without this tool. Part of the selling, to really get our city council to buy into and making that kind of investment was an understanding of where our roads were, and where we were headed. And by where we were headed, I convinced them that if they would support this initiative via RoadBotics, that I could put with the help of others like Joe, the City of Savannah on a more sustainable path for its road network. And so I couldn't have done that. I do not believe without Council. In fact, we did it in two phases, and Stu can speak to that if he'd like. We assessed basically half of our roads the first time and that gave me an opportunity to show the tool to really engage in discussions about how valuable the tool would be with our city council as well as our staff. And then I found support to go and finish the initiative and do the second half of the road network. And as I was doing that, I think city council saw the value in that. And they could see the vision of where we were going. And that had a lot to do with our ability to get such a large investment for our road infrastructure.
Alyssa Dinberg
Hmm. That's interesting. So prior to my current role, I worked for the City of Kansas City. And I helped out with the citizen satisfaction survey. And one of the questions on there, one of the sections was satisfaction with road infrastructure. And so I'm just curious if the data that you're collecting through RoadBotics is public information to try to build some of that public trust of where the money goes and how you're, how you're improving things that residents can see every single day.
Heath Lloyd
Yeah, and so it's not public as you might think of it, like the platform, the web based platform is not for the public to kind of go in and log in. But I'll say this in terms of the notion of asset transparency. One of the things that I do, I made reference to an email that I sent earlier today, is I share that information with our residents when there is a concern or a question. So, yes, it's available. No, they cannot go on and just kind of login. But I readily share that information with any resident that calls and has a concern. One of the things that I think this tool allows us to do is a screen capture. So that screen capture really puts it into perspective about what I always describe as a road network, that's the network of roads that's surrounding a specific road. And it really allows us to put in perspective and sometimes the citizen is right, you know, that road does need to be paved. It is you know, trying to get a four or four and a half and it does need to be you know, addressed in the very near future. And so, uh, you know, I think it's a balance is what we strive for. Certainly transparency, certainly sharing. But at the same time, you know, we're trying to really take out some of the politics of it, and and really put together a sustainable path.
Alyssa Dinberg
If I were a resident in Savannah, I probably would email you daily just to ask what the status of roads are, just because I think it's so cool. So it's probably gonna ….
Stuart Frick
It's actually very interesting that that came up. I'm not sure if you guys may have seen it in one of our product update emails. And truthfully, this might be worth a conversation following this as well. But within the past, I would say three months or so I believe it is, we came out with a feature called embeddable maps where you're able to take your assessment and embed either the entirety or like a portion of the map on a public facing website so that you could do kind of what you're talking about where citizens can go in and see, you know, okay, this is where all the level five rated roads are. So it's where they're thinking and paving next or, you know, things of that nature, but I mean, I'll be glad to get a little information from our product team, maybe some materials on it and send it over to you guys, if you think that would be helpful.
Heath Lloyd
No, absolutely, Stu. Yeah, I think I think that's, that's, that's how we're going to use that tool. And, and, you know, the tool is going to transition for us. So we started out, you know, two years ago and I was beginning using the tool to not only justify our path forward and really speak to that vision, but I would like to do that as well as the next phase is to really use that tool to enhance our communications with our residents and our businesses, primarily so that they know why we're doing what we're doing. To Alyssa's point, there are always these questions, why are you paving that road? You know, and some of it is that road needs to be paved and if you can engage them in that conversation I think it really builds trust you know, with our businesses and with our citizens, with our citizens because businesses as well sometimes they wonder you know, why why am I paving their the road because and because if you know, it becomes a challenge for them, right, and inconvenience. And so it's easier when you can really have that conversation about, you know, the roads that we're choosing and why we're doing it. So yeah, I would be very interested in learning a little bit more about this.
Alyssa Dinberg
Let me know once it is live, so I can check it out.
Heath Lloyd
I know. See Alyssa is gonna go try to figure out my road path, she's gonna figure out my road ….[laughter]
Alyssa Dinberg
I'm gonna do it all the way from Denver, Colorado. I'm gonna know your roads better than anybody else. [Laughter] Umm, actually that that leads into my next question pretty well, Stu. Um, what's the future for RoadBotics? I checked out your website before the interview and, and saw that you have a bunch of different products, not just the road assessment tool. So maybe you can spend a couple minutes talking about what else RoadBotics offers, and maybe what the future looks like.
Stuart Frick
Yeah, absolutely. So the future of RoadBotics is really kind of a two pronged approach in a lot of ways. On one hand, you know, continuing to update and create greater granularity and you know better information around the road data that we're introducing. So doing things like bringing out our individual distress identification product for roadways, where you're able to see not only the conditional rating, but also what types of distresses are leading to those ratings. So getting more granularity on the roads, but particularly in more recent history, branching out into other types of assets that we're able to analyze and assess or even just collect data and information on. So for example, being able to collect imagery of sidewalks that can be displayed on a GIS platform really easily. Being able to assess parking lots, and of course, long term looking at you know, different types of assets aside from just paved things. So being able to see signage as more of a long term goal, for example, but in terms of current products, being able to collect imagery of sidewalks, being able to assess parking lots, being able to assess things like bike trails, and really kind of spreading out so that we can help cities in more ways than just the roads, helping the things that are connected to roads or in similar, you know, areas that aren't necessarily within the same exact network.
Alyssa Dinberg
That's awesome. That's super exciting. Um, so I think we have time for one more question. And I guess this is for, I guess, all three of you can answer it from your perspectives. So what would you recommend other cities interested in RoadBotics or repavement programs? And let's start with our Savannah team. What would you recommend?
Joe Shearouse
I'll jump in first. You know, the first thing I'll say and I think a lot of our our public administrators out there know that we're really moving into an age of data. And we as as governments have access to a lot of data points that many others don't. And I think it's incumbent on us to use that data to increase the efficiencies of our, of our decision making. And Stu just mentioned this in his previous comments. This is only the beginning of how we can use data to strengthen our decision making capability. He talked about how some other exciting new products could assess sidewalks and signage and, and who knows what the future holds, identify illegal parking and even assess, you know, property code violations. So there's a lot of unique opportunities I think will be here sooner than later. I think all cities want to position themselves to be able to use this data in the appropriate way. If I was going to recommend other cities, you know what the next step is in a process like this is first of all to review how are you collecting your data related to roads now? How clean is it? Is it objective? Because RoadBotics provides a way to cure any of those issues that may or may not be where you want them to be. And then through that clean data, you can better prioritize your investments. If, if you're not lucky enough to have the 20 plus million dollars that Heath got from, from our particular city council, make what you do have go further, by prioritizing what investments go where, at what, at what point in time, and then hopefully make your case to your political body for additional investment in the future. So that's what I would recommend to our friends out there.
Alyssa Dinberg
Awesome. Anyone else have anything to add?
Heath Lloyd
Yeah, I'll say this. And I'll try to I mean, very similar to what Joe said. But I'm going to say it a slightly different way. I think, I think analytics, analytics is the term that I would that I would use. Because I think it's time for government administrators to really get into more of the, you know, traditionally the business they usually refer to as business analytics. But it is simply where you take all of that data that Joe made mention of, and you analyze it constantly. And I want to take it one step further. I mean, we have data in our, in our water and sewer distribution systems, like pressure data, you know, we have, you know, data that we can get from our traffic lights, you know, there is a tremendous amount of data out there and government has to take advantage of that. So what I'd like to see is more governments, you really, and even for the city, you know, really emphasize data analytics, you know, almost to the point that we as a spin off from an IT department where there's an analytics division, that's, that's all they do. I got so excited, or I get excited about being able to predict the future because that's the business that I think government should be in. If we know what's going to happen or have a good idea before it happens, and that's an exciting tool that we can really take to our citizens and get away from, you know, being reactive to certainly more proactive. So.
Alyssa Dinberg
That's awesome. Anything from you Stu? Any closing thoughts?
Stuart Frick
I guess, sort of my thoughts on, you know how best to utilize RoadBotics and you know what to do next, if you're thinking about it, is focusing on two things. One, the flexibility that the technology allows for, especially now whenever a lot of local governments are experiencing budget crunches and figuring out how to allocate new funding, on the flip side of that, things like that, utilizing the flexibility that some of our new products allow for so being able to collect just imagery of roadways, for example, for lower costs and things like that, but with the primary goal of starting to get information now so that you can begin utilizing that even further into the future like Heath was talking about, you know, being able to see that over time, degradation of a road network and being able to target efforts in that way can be really valuable long term. But to be able to start utilizing that you have to get information currently so that you can base your decisions off of that later.
Alyssa Dinberg
Great. Yeah, I think this is awesome. I think it's gonna be really helpful for a lot of our listeners. And we have a lot of people that are really pushing to move more towards data driven decision making, especially around budgeting. And and this is definitely aligns with that. So thank you so much for coming on to talk about this and I really appreciate it I think we have one more question and you guys can either answer this as one or you can answer it individually whichever one you prefer. And we close out every episode with this. So if you could be the GovLove DJ, what song would you pick for our exit music for this episode? And I feel like you guys are gonna have some really good answers based on our lightning round.
Heath Lloyd
Okay, I'm gonna go first because it just jumped into my head. Highway to Heaven. I don't I don't know how to find it and I don't know the lyrics but Highway to Heaven right. So RoadBotic has really been my, it has really paved my "highway to heaven" [laughter] It really has. It has paved my highway to heaven. I mean I got, I got the 24 million bucks, you know is my heaven.
Joe Shearouse
I mean I'm thinking Willie Nelson On The Road Again, probably. I'll go with that one.
Alyssa Dinberg
That's a good one. What about you Stu?
Stuart Frick
I would say, this one might not be as well known because I'm going to shout out a local Pittsburgh artist. But my favorite thing to do on the road is stick an arm out of the moonroof while you're driving so I'm gonna say Moonroof by Brittney Chantele would be my pick.
Alyssa Dinberg
Probably some new music for our listeners. I love it. That's awesome. All right, well, that ends our episode.
Joe Shearouse
Keep one hand on the wheel Stu. You can't ……..[laughter]
Heath Lloyd
Interesting question, but yeah, let me do one thing Alyssa before you go. Stu i do want to take an opportunity just to thank you, you know, for the RoadBotics technology. It really has been, you know, something that we have really invested in. So I know you guys came down and really spend a lot of time with us, but I do appreciate all the efforts. So thank you. And certainly you Alyssa for all of the back and forth, right. Yeah, it's been a pretty hard one to set up. I appreciate your patience. I really do.
Alyssa Dinberg
No, I appreciate your patience. We, for all of our listeners, we were we were getting ready to record this right when COVID hit. And then everyone's work lives kind of exploded with other priorities. And so unfortunately, we had to put it off several times. So I'm super glad that we finally were able to get it recorded and I was able to talk to all three of you. It's very interesting. That ends our episode for today. Thank you so much for coming on and talking to me. GovLove is produced by a rotating cast of awesome ELGL volunteers. ELGL is the Engaging Local Government Leaders network. We are a social startup with the mission of engaging the brightest minds in local government. For our listeners, you can reach us at elgl.org/Govlove or on Twitter at @govlovepodcast. And if you have a story for GovLove, we definitely want to hear it. So please message us on Twitter or email [email protected] Thanks for listening. This has been GovLove, a podcast about local government.
---