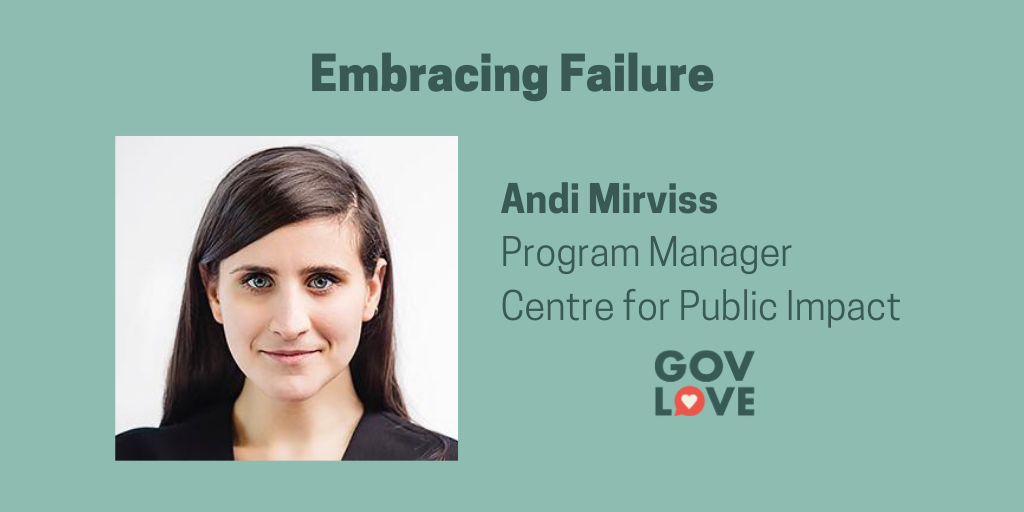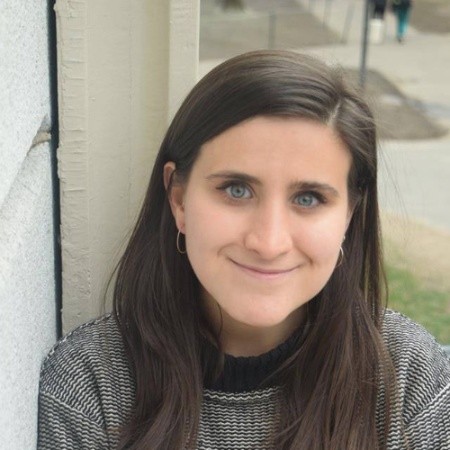 Andi Mirviss
Program Manager
Centre for Public Impact
Bio | LinkedIn
---
Linking innovation and impact. Andi Mirviss, Program Manager for the Centre for Public Impact, joined the podcast to talk about failure in government. She shared how failure is key to innovation and embracing it allows people to embrace new ideas. The Centre for Public Impact has a new report about Failing Forward and understanding how local governments can fail forward and create a culture of innovation.
Host: Javon Davis
---
---
Learn More
Governments need to fail forward, now more than ever
Failing Forward in Local Government
Failure is an option: Why learning from failure is the key to unlocking innovation in government
Helping Local Governments Embrace Failure: New Initiative Launched by the Centre for Public Impact and the Aspen Institute
How can local governments 'fail forward'? We're not sure, but we're working on it.
---
Episode Transcript
Javon Davis
What's up GovLove listeners? Coming to you from Philadelphia, Pennsylvania, my name is Javon Davis with the City of Philadelphia. Today we're talking with Andi Mirviss about Failing Forward in local government. Andi is currently a Program Manager with the Center for Public impact and has worked extensively on a project that looks to challenge local governments to be more open to taking risks and being innovative. Andi, welcome to GovLove.
Andi Mirviss
Thanks so much for having me, Javon.
Javon Davis
Well, Andi as you know, we were supposed to have this interview in person in Philadelphia after I spent the day with your team doing a workshop about failing forward but alas, COVID times we're doing this virtually.
Andi Mirviss
That's right. I believe that we cancelled it the day before there was the first case in Philadelphia and we were debating whether or not we could travel. So it seems like that's almost a lifetime ago.
Javon Davis
It does. Yeah, it was a really sad time, supporting time. I was looking forward to the workshop. I also had a vacation planned to go to Arizona the week after. So we were like, okay, do we, do we cancel our vacation? Do we still go? Do you need me to work next week? And it was like, okay, cancel everything. You're staying here. We're gonna get down to it. So instead of going on vacation, you actually get to work, you know, 60 hours a week. So it's, it was yeah, but that's for like a lifetime ago. But luckily, we're in a little bit better place now. So on that point, I want to learn more about how you've been coping with the quarantine. Have you learned new hobbies, have any cool new quarantine activities, how you've been getting by?
Andi Mirviss
Cool yeah, I've I'm not much of an athlete, but I have been exploring different DC running trails. DC has Rock Creek Park, which is actually twice the size of Central Park. And so I've been able to kind of feel like I've been going on hikes or a little trail run. And then within the city limits, which has been pretty great, and definitely a change for me.
Javon Davis
That's good. Yeah, I did want to get more, to be more outside as well. I've been doing some social distance picnics with friends and parks and stuff. And yeah, I think we're all learning to appreciate being outdoors more these days since we've been cooped up inside for so long.
Andi Mirviss
Definitely. Definitely.
Javon Davis
What has been the hardest part of our new reality for you? Out of all the things that have had to abruptly change, what do you think is really been the hardest for you to accept?
Andi Mirviss
Yeah, it's a great question. I think, for me, you know, I live maybe 45 minutes away from my folks. And so I used to like you know, to come by every couple of weeks there on the weekend and it's been hard to only be able to do that kind of outside on the porch, keep social distancing. And we are so dependent on the weather, so you know, if it rains we can't meet up and that that feels like a big change that I didn't think would take such an emotional toll but I think it has.
Javon Davis
Yeah, I think you know, we really take you know, being near family for granted some time. I know like in college my mom complained about me not coming home and now it is like, oh, it's bad for me to actually go home now. I need to be extra careful. So I think it's, it has been really eye opening for a number of ways.
Andi Mirviss
Yeah, definitely.
Javon Davis
But I think a lot of it has been, there have been some positives to all the many negatives but what are some things you think you would want to see stick around after this is all over?
Andi Mirviss
Yeah, great question. I mean, I love the kind of expanded paths for pedestrians and kind of what happens when people aren't driving on our streets. It's been really cool to see, particularly in DC because it kind of expanded past the sidewalk in lots of neighborhoods, which has been really great. Thank you for on the road. And I also feel like it's made people generally kind of slow down a little bit and pick up maybe hobbies or things that they, you know, always had the back of their mind. And maybe it's not things that they, you know, actually do consistently. But it's opened people up to I think some of the things, some of the more like slowed down activities that can give us a little bit more meaning, which has been nice to see.
Javon Davis
Yeah, absolutely. I mean, I have I've had a guitar for literally six years and never touched it. And I've actually picked it up and I started doing online lessons and stuff. I think it has been great to, to read more, just kind of chill out a little bit.
Andi Mirviss
That's awesome.
Javon Davis
I still hope that people especially in local government realize that teleworking maybe not so bad, maybe we can do that. I think private sector is kind of picked up on that more than government has and I think a lot of cities have had to adjust as well, and maybe that some of that will stick around for the public sector. We'll see.
Andi Mirviss
I've heard I've heard whisperings that that is going to be true in some cities. I think as a way to help balance the budget. So keep your eyes peeled on that. I think…..
Javon Davis
Absolutely. So in doing a little research about you I learned that you are a risotto aficionado. So to you, what is the perfect risotto recipe?
Andi Mirviss
I'm so curious where you heard this from. I do love making risotto. It's my favorite dish to make. I think I will say two times in the past three weeks I've made a lemon pea risotto. It's been really good because it's nice and summery and bright. But I also love a butternut squash risotto and I can't I can't decide between the two.
Javon Davis
Have you found anywhere in DC that makes anything good? Or you just want to, are you just really fond of your own?
Andi Mirviss
Oh, I would never eat risotto out. I mean personally because what if I, what an ego hit that would be [laughter] if it was that much better than the risotto that I make which I'm sure is far from gourmet. But also I love the kind of like social experience of making risotto. And I love just doing it with a friend around because it takes so long and it's so labor intensive. So I try to save it for when I make it myself.
Javon Davis
Yeah, that's great. And I learned that about you from your medium bio. It says, your last line is something, I was passionate about Risotto. So yeah, I'm not just like creeping on you. [laughter] It's publicly known.
Andi Mirviss
Sure enough. I forgot that that was there. [laughter] I believe that up. That's great.
Javon Davis
And this is my signature question. So imagine you live in a world where you can go to brunch without any fear of getting a deadly virus, you're with friends. Are you gonna, are you more of a Mimosa person or Bloody Mary person?
Andi Mirviss
I think I wish I was more of a Bloody Mary person but in reality I'm more of a Mimosa person. I think I wished I would ….more savory but realistically, I probably am craving a Mimosa more often.
Javon Davis
Yeah I'm strongly on team Mimosa myself so. I think Bloody Mary is seen as more cool and exotic because they're, you know, an interesting breakfast cocktail, but not for me.
Andi Mirviss
Yeah, there's only so many. There are only so many Bloody Mary's you can drink but I think you can probably have a lot more Mimosa, so, depending on the nature of your brunch.
Javon Davis
No, I think that's definitely true. Unless you want to get full off your breakfast cocktail, then you drink a whole lot Bloody Mary. I don't think that would go down well for me.
Andi Mirviss
That's right.
Javon Davis
Okay, well, thanks for indulging me. That was the you know, the fun lightning round. Let's talk business now. But first, you know, I want to hear more about you and your life story. Can you give us kind of an overview of you, where you're from, where you went to school, what you work on, where you've worked, that type of thing in a couple of minutes?
Andi Mirviss
Sure. So my name is Andi Mirviss. I, as Javon mentioned, I'm currently a Program Associate at the Center for Public Impact in our North America office, but I was born and raised in the Maryland suburbs of DC in Mecklenburg County, and, and have been back here ever since I left for school. But I did go away for undergrad and I studied history and literature and African American Studies, and quickly realized that as someone who was kind of aspiring to work with the public sector that was not, well, provided really great historical knowledge and great, you know, ability to like close read literature, it didn't really give me the kind of tactical skills I needed to do the work that I wanted to do. So I was able to go abroad and study social, comparative social policies, which is sort of the study of what in Europe they call welfare institutions, but to me, was really about everything that governments do that isn't the environment and foreign policy. And I learned a lot about how different government's approach those kinds of things. So thinking about how different like pension systems are set up or child welfare systems or childcare systems, and it was a really helpful basis to kind of think about, a) how you compare different places, and b) kind of what the land of opportunity of government can look like, which was pretty cool. And then sort of ever since then, I've actually been working on with the Center for Public Impact about on the broad project of re-imagining government so that it works for everyone. So it's been a nice tie from that academic background on kind of thinking about, like, what is the possibility of government? It's been really cool.
Javon Davis
Yeah, that's great. Thanks for the overview. You talked about going abroad and studying policy. The London School of Economics has a Master's in Cities which I am really intrigued by. I think it'd be kind of fun to learn more about cities globally, in a program like that. I'm sure you had a similar experience looking at, you know, such a broad view of, you know, social systems and government abroad.
Andi Mirviss
It's really interesting. Not having the USP, the center of focus when you're thinking about public policy, because I feel like so often, the US can kind of like subsume conversations when it's involved, but if you know, Germany is the model for pension system, the US doesn't even compare in that respect. So it's like a really, really interesting kind of learning about the different approaches for sure.
Javon Davis
Yeah, that's really great. I will say that I apologize. One down downside of being stuck at home is that I mean, my neighbors and their two young daughters are home and apparently this is time for instrument lessons. So we have drums and the violin in the background, and I apologize to Ben, who will be editing this episode [laughter]. Now, before we start, I just kind of want to learn more about the Center for Public Impact. First, before we jump into your project, can you tell us just kind of an overview of the mission of the center?
Andi Mirviss
Yeah, I sure can. So I kind of hinted at the mission a moment ago. But essentially, we're a nonprofit organization founded by the Boston Consulting Group in 2015, with the mission of re-imagining government so that it works for everyone. So what does that actually mean? It's super broad. And we kind of think of it in terms of two almost like twin challenges. Thinking about legitimacy and effectiveness. So we kind of, we believe that when government is more effective, when it's able to do what it wants to do, or do what the people want it to do, umm residents view it as a more legitimate and serious, more legitimate institution. When governments have more legitimacy, when residents trust government to do the work better, it's able to be more effective because it has more public buy in, etc. It's kind of like a self perpetuating cycle. Unfortunately, the cycle can also kind of be self reinforcing the other way. And so when we think about how to work alongside government, we think about it both in terms of how can we develop resident relationships with government and also how can you promote government effectiveness. So that's a little bit intellectual and you know, talking about it that way, but that sort of is the guiding light in the rest of the work that we do. But tactically we do a lot of work kind of working with focusing on city innovation, and working alongside city governments, either in training programs on Human Centered Design or other capabilities, or doing research projects on the future of American cities or other kind of working with philanthropic partners on programs that they have in investing in city governments. We also do work focusing on economic mobility, working with a range of partners, researching government's role in economic mobility, and thinking about different ways to promote inclusive growth or an inclusive economies from a cross sectoral perspective. So we always try to center government as we're doing this research and thinking about how government can kind of be a jumping off point for better outcomes for folks.
Javon Davis
Thanks for sharing that. Now I'm even more disappointed that I couldn't see your your workshop and that I can't go to FailureCon, that I was really looking forward to going and meeting with all the other city leaders from across the country and kind of seeing more about seeing more of your work and connecting with those folks because a failure convention sounds really fun to me.
Andi Mirviss
I am optimistic that we will have a FailureCon eventually. I, maybe not until there is a vaccine, but by then you'll have so many conventions booked up Javon that this will be lowest on your list, I'm sure.
Javon Davis
Never. I definitely will [laughter] make time to go to FailureCon. Speaking of failure, like I know everyone has their own definition, it's a scary word for many. But what does Failing Forward mean to you? Or mean to CPI? What does that look like? How did that frame the project that you all started?
Andi Mirviss
Yeah. So I have kind of two answers to this question. And the first one is kind of this like technical answer, the shorthand that we think about when we think about Failing Forward. And that's the process of identifying, communicating about learning from and doing something about failures. So you know, you are you able to see that a problem exists. We think of a failure as an unexpected or an undesired outcome. So it could be like a huge, you know, public disaster, or it could be an error, a systems error that a person, you know, keeps making over time. So Failing Forward could be that, you know, identify, communicate, learn and take action. But it also is kind of a mindset its really about, you know, how does an individual view failures? Do they view it as a learning opportunity? And do they operate in an environment that fosters their ability through learning. Is the environment something that encourages someone to talk about or learn from their mistakes or talk about and learn from problems that they're seeing in the broader system? And so it's kind of both an action and a mindset.
Javon Davis
Okay, now that we have that kind of framework to go off of, can you tell us more about your Failing Forward in local government project, how it started, who are your partners and what you were hoping to get out of it and when you all started the project?
Andi Mirviss
Sure. So we are partnering with the Aspen Institute Center for Urban Innovation on this broader project that explores, why is it so difficult to learn from failure in government? And what can we do about it? But the reason that we sparked this project, or the kind of primary inspiration is that back in May of last year, we published a report called the future of America, this Future of American Cities, and it was really kind of an analysis on what's the future of innovation in local government. And, and we had a little mini convention and we had lots of folks from local governments come and we celebrated, you know, lots of, lots of examples of cities doing great innovations all over the country. And at the end, someone came up to my colleague Josh and shared that you know, we had, we had highlighted a program that he had worked on as a case study in this report, you know, I'm so grateful for that. But I gotta tell you like this was a nightmare working on this project, the whole thing until the very end was just trial and error, trial and error. We didn't think you were going to get it right. And I really think the more compelling story here is, how hard it was to figure out the right program. And that kind of, you know, took us all a little bit aback because we've written about failure and learning as an important value in the future of American Innovation in Cities, but we didn't think of it as this story that hasn't really been told or hasn't really been explored. And so we did a little bit of digging and did some research and, you know, it seems like you know, in the public sector, sorry, I should say, in the private sector, you know, fail fast, fail often, you know, move fast and break things is like totally, you know, really common in the text base, right. 3M assumes that 15% of people's time will be spent on projects that fail. But there's really very little exploration of failure in government. And so, and we know that it's really important to innovating. We think that, you know, if you to innovate is to admit that something at the very beginning is unsuccessful, or it's not achieving its goal, right, because you need to improve it. And so failure is baked into the innovation process from the very beginning, let alone as you are innovating, and you're doing trial and error and trying to figure out what works. So we realized that we kind of tapped into a market or I shouldn't say a market, an area that really needed or begged for further exploration and what does learning from failure in local government? Why is it so hard for people to talk about? Why, why is it something that you know, everyone knows it's happening, right? There's tons of failures in the status quo of any complex system of any government. And that's, you know, no government's fault. It's just what happens when you're working through complex issues or complex challenges. And so we kind of took that to mean, okay, let's, let's explore failings, like what learning from failure looks like in government? Why is it so difficult to do that learning? And what maybe can you do to make it easier?
Javon Davis
I love that. And it's kind of my mindset of always thinking, like, let's just try something new. Let's just try it. But, you know, of course, there's always push-back. Well, we could, you know, the press might find out that it didn't work out or we have limited resources, let's not waste them. So I think that's great that you guys are trying to push that forward. I also really appreciate it like in your writings about the project and surrounding writings you've done. You guys have been really open about not knowing you know what the right answer is or not knowing what it looks like. I think that's part of you don't think something we're doing government's like, oh, we have to know how this is gonna work out. And even you all, you're framing it as is, you know, we'll see what happens when we, you know, go out in this endeavor. I think that's really honest. And I really appreciate that about learning more.
Andi Mirviss
Yeah, we definitely one, you know, philosophy that we have is that everyone in government is the expert of their own experience, we, but we can hope to, like, you know, look across a range of governments and see what connections are happening or what similarities are happening and, and that was really the tact that we took with this with this program. So I, that's definitely how we approach this kind of thing.
Javon Davis
So they had probably mentioned a few things you've heard before about, oh, well, you know, we got to be good stewards of public dollars. You know, we don't want to get roasted by the press. What are some other common barriers or things you hear people are afraid of and government embraces this sort of culture change?
Andi Mirviss
Yeah. Umm, so I think the first thing I want to mention is there's just a general overarching mindset in government, which is that the failures within the status quo so the things that are already happening that are not really achieving their desired, their desired outcomes are not necessarily felt like aren't talked about as though they're failures. They're not like explored as though there's failure in the status quo. And I think that that mindset, this kind of, this is the way it's always been, this is the way we're always going to do it can have a really, really powerful impact on people who, you know, might want to change things because there's it's almost like stuff, it can be almost like soporific. Another kind of element of that mindset is that if you try something new, there's a fear that if it doesn't work the first time, that there won't be kind of like support or leeway to keep trying to figure it out. So it's almost like the way that we think about failure isn't quite right. And isn't, it needs some tweaking, because it's, it can be a little bit of a barrier in terms of like either innovating, or, you know, finding things to change as they're already happening. And another barrier, you know, is less about, you know, the present and what's going on externally. And it's more actually about how people on a team relate to each other. We think about the power of human relationships as a key barrier and, and a key enabler of learning from failure. So if people feel like their team has their back, if they talk about a challenging issue, or if they feel like the leader of their organization encourages them to be talking about challenging things, to be admitting mistakes, to be kind of modeling the learning behavior, then it's a lot easier for people at all levels to be learning from failure. But a lot of times, a lot of times teams don't have that kind of psychological safety. And so that can serve as a barrier because people don't feel like they can talk about the failures that they're experiencing or the failures that they've seen. And there's some others as well, we think about kind of the overarching systems and processes in government that might cause challenges. You know, one of them is how power is shared. This is maybe a topic for a larger conversation, but we find that, you know, people actually have to be empowered to learn from failure, they have to feel like they have a stake in the game. And sometimes when it's the same people who make the decisions over and over again, in terms of policies and tweaking them or starting new things, folks, maybe on the front line or otherwise don't feel like they, that their voice matters, and so the failures that they're seeing, might not like it, you know, they don't actually even have an avenue of a place to raise them to. And then of course there are, you know, standard communications challenges, silos, you know, within and across departments. And the classic one that everyone says, which is that we don't have the time. Lots of people say, you know, we, we are so busy, we're nine, you know, we're working 60 hour weeks, you know, so intensely all the time that there's just no time to pause and reflect and learn. And that I think it's a really big one as well.
Javon Davis
Yeah, I mean, some of the issues you've kind of raised seem like they are long standing, deep entrenched in the culture of most local government work forces. What do you do, you know, based on your research, do you know, where local government got that, you know, risk adverse, you know, deeply entrenched culture, or is it, is it just the nature of the government  where you are held accountable by people and that type of thing? Do you know where that culture came from?
Andi Mirviss
Yeah, no. [Laughter]
Javon Davis
That's a big question. I can't put that on you.
Andi Mirviss
Yeah. No, it's a it's a great question. And I think, you know, a lot of it is the perpetuation of what I just talked about. It's how people, it's the team that you join, and the way that people talk to each other on that team and how that can, you know, kind of be self perpetuating over and over again. It's kind of the general mindset of what you're taught, you know, what you're taught to question what you're taught to promote. But I think that, I think that one you know, and I one additional note is, in local government in particular, the risks are so much higher because, you know, for a lot of people, it's their neighbors. If policies don't go right, it's not just a you know, an absent shareholder or, you know, someone who lives way up, you know, way across the country. But it's people that you know, it's people in your backyard. And I think that risk aversion makes a lot of sense in that context, because you don't want to let your neighbors down. And so I think that, that, I see that as we've seen a lot of that is just a fear of, well, you know, these people are my friends, or these people are like, in my community, and so I don't want to let them down.
Javon Davis
Yeah, I mean, totally get that. It's, you feel a lot of responsibility in a lot of government offices that you have to make positive changes. So I guess the thought of making a negative change, or even no change is daunting and scary for most people. So that makes sense to me, but doesn't mean we shouldn't always push for something new and keep trying to see what sticks.
Andi Mirviss
But, I think you know, to jump into that point, I think there's that gets back to that mindset of what, like, what the power of failure is, is like, obviously the failure in the status quo over, you know, like 40 years of trying to implement the same policy that's been unsuccessful and had bad outcomes for a really long time. Like, people, you know, that's if it's not talked about as a failure, then people don't feel like they can question it as much. But instead, people often think about failure as like a forward thing. You know, you try something new, and it doesn't work. And I think that that has a really big power on risk aversion because it doesn't feel risky to keep doing something that you're doing, even if it isn't working.
Javon Davis
Yeah, that's a great way to frame it. I think that's definitely a more positive viewpoint on failure. So we talked about why we think, why you guys, what your research has told you. So now, like, what are some of your methods to get cities to embrace a more failure oriented culture?
Andi Mirviss
Yeah. So I think that the first thing I would say is leaders are so important in this process. We, in every city that we worked in, having a leader like a, you know, a department director presence was the critical determinant of whether or not the team would be engaged, whether they would care, and whether they would like continue to want to talk to us. And so I think having leaders model, the changes they want to see and being really present about that is really the single most important thing. And I think the second thing is, you know, really about developing relationships on your team. We've seen actually cities do this really well in remote environments. And we found that technology can be kind of democratizing so there's a way to make meetings feel like more decentralized if people can be you know, commenting on Slack at the same time or applauding or asking parallel questions and, and it kind of actually can create a more like collaborative safe environment because everyone can do that, rather than, you know, the same two or three people that feel safe raising their hands in an in person meeting. And finally, I think, you know, bringing back to the kind of empowerment question that I talked about before is giving people an opportunity who don't otherwise have it, to be identifying the failures that they're seeing and kind of not just have that be tossed in, you know, kind of feedback meetings, but like, really seeing that their perspective go into changes in policies or that they actually have a voice at the policy making kind of side is a really big and exciting kind of way that you could address this challenge.
Javon Davis
Yeah, actually, I'd love to hear more about kind of your journey around, I saw you know, if you look on your website, we'll definitely direct everyone there after the episode but you kind of have little snippets of what you learn in each city that you've been to, except for Philadelphia, which is just coming soon because of COVID of course. [Laughter] Any of those experiences really stand out to you going to visit other cities, anything that kind of stands out that's worth sharing you think?
Andi Mirviss
Yeah, I, you know, I'll actually call up my, my home city as a start to that empowerment question. And, you know, the first city that we worked with was DC, and the, you know, one of the most striking things that we heard there was, you know, I don't think that if I say, if I say my perspective, anyone will listen. And or, you know, say what I'm seeing is this idea that anyone will listen. And I just think that was a really striking comment from a front-line worker who felt like the policy that she was implementing wasn't successful. So I think that really set the tone for how we were thinking about Failing Forward in a much less like technical way and in a much more kind of cultural way. But yeah, there's been I mean, I think and we saw themes of that in every single city that we worked in. So that's one thing, I think, you know, other things that we, we saw, I'll think …… about my experience in Seattle, for example, where they realized that I was, you know, I was working with the IT department there, and which, you know, is known for like, systems error, right? I mean, so you're kind of part of IT triage. And so it should be kind of baked into the culture. And the folks there, you know, had just an interesting perspective about it, which is that, in being so apt to respond to other people's failures, that kind of made it harder to take a systems look at their own work. And so they thought kind of acknowledging their own organization's culture, what would work for them would be, you know, having an environment where, you know, the director would like be honoring learning, and kind of promoting learning that happens as an organization. Now the Coronavirus. outbreak happened a week after we left Seattle. So I'm not, you know, I'm not sure that, that actually ended up happening, because they clearly had far more important things to do. But I think it, it kind of spoke to the need to like, what works in one city is really not necessarily going to work in another city, but rather saying like, okay, in our culture, we have a leader with all this charisma that people really respect. Like, let's lean into that and celebrate and like, you know, talk about learning for the sake of learning, we think that will really help us. So things like that, I think were really, really interesting.
Javon Davis
Yeah, that sounds great. Really. I mean, like you said, it's probably really cool to you know, bounce from in county back to DC and just kind of compare notes with you know, the opposite end of the country, is some similarities but many differences as well because of the small cultural differences between the two. I'm sure it's been really probably weird and frustrating experience for you to go into cities and like you should fail more. I'm sure you've also seen some moments that really were uplifting and like brought you hope. Can you tell us about some of those experiences that made you really excited for the future of cities?
Andi Mirviss
Totally. Yeah, I mean, I should say I think about on average four department directors asked us to change the name of our workshop, and, and call it like an innovation workshop or a learning workshop or something. Just because, you know, they were so afraid that if we sent an email invitation to one of their staff that they would think that oh, my God, I you know, I've been invited to the failure workshop. What have I done? So, you know, we definitely we definitely got a lot of push back.
Javon Davis
I just cringe so hard at another innovation workshop or learning workshop. Because how many of those do we already have?
Andi Mirviss
Right. Totally, totally. Yeah. How many I mean, ….., we use a lot of sticky notes in ours. So, I'm sure you know, cringing…… But I think, you know, most people come out of our program or  working through a program thinking that, you know, when we're talking about failure, we're not talking about major disasters, we're not, I mean, they are included in our definition of failure. So what we're talking about is preventing those major disasters. And we're talking, we kind of believe that the best way to prevent major problems is to be talking about the smaller problems earlier on in an existing program or in a newer program. And I think that, that helps kind of assuage those fears. But the primary thing that gives me hope is like, you know, what it comes down to in every city that we that we work in really is, most people say our biggest problem with learning from failure is like some element of our culture. There's some like interpersonal or kind of like process oriented things that keeping us from doing the learning that we really, really do want to be doing. And I'm really so proud of how many of the cities kind of wanted to take an honest look at that and talk about that in front of leadership at that, you know, at the table things, here's the problem that I'm seeing, and feeling safe. And being able to do that. And so I think that's something that gives me a lot of hope was a lot of the leaders that we worked with is, you know, department directors or otherwise, saying, actually, no, I really want to hear how we can make this culture better. I really want to be a part of that change. And so that really gave me hope. And then, you know, I'm fundamentally hopeful based on what I've seen, the amazing things that our cities are doing, coming out of COVID. I in no way take any credit for that. That is 100% them but I've been, you know, obsessively following all of their social, you know, city halls, social media and following all the local papers and it just seems like so many cities are coming up with creative ways to help serve residents and in different, you know, different kinds of ways and it makes me really hopeful that, you know, you have to assume that at least a little bit in the policies or programs that they come up with at the first iteration didn't work, or at a minimum that they were emboldened to try something new. And, and that gives me hope for the future is that even when, you know, people are really struggling and working crazy hours and you know, up against the trauma of a global pandemic, that they're able to come up with such goals. And I can give some examples of that as well. If you're, if you're interested.
Javon Davis
No, yeah, I would love that.
Andi Mirviss
You know, one, one example that I think is really cool, and comes out of Little Rock, Arkansas. We, I was just speaking with Melissa Bridges who works out there and does performance and innovation for the city of Little Rock and she was sharing that they, you know, built out a full program to promote the census in Little Rock. And obviously COVID happened and so their, you know, ability to do that was slightly different. And she shared that, you know, they were able to basically come up with an innovative idea to promote census filling out alongside people, you know, alongside food drop off basically, or food pickups. And so it was a great way to connect with folks who otherwise might not have reached the census. And also just to, like, make the best of what they had. And, you know, innovate quickly and try to re-calibrate really quickly in a way that didn't require red tape. It didn't require kind of, you know, huge process and fun, you know, additional funding and all that stuff. It was just kind of like, let's just try this and see how it goes. And so I was really excited to hear that example. It just sounded really, really cool. And, yeah, we've seen in Seattle, great examples of you know, bringing folks working, you know who were furloughed, because for example, libraries are closed due to COVID. You know, re-purposing some folks who are furloughed to be engaging with communities in other ways. And it's just been really cool to see the impressive amount of innovation and quick thinking, and boldness to try anything in this really tough time.
Javon Davis
Yeah, absolutely. You brought up the libraries being closed and I, I have a really hot book, I have the Color of Law and everyone's looking for all the books about racism and stuff, and I have it and I can't return it to the library and I just feel bad for everyone on the waiting list for this book. I can't give it back for someone else to read it.
Andi Mirviss
Oh my gosh. That is, that is our CPI book club book this month. So I guess no, but no one is living in Philly, but I'm sure that some people are still …….that so.
Javon Davis
Yeah, no, I feel bad. I hope you enjoy it. It's really, it's a really great book.
Andi Mirviss
It is a really great book. Yeah.
Javon Davis
Yeah, I was gonna ask you like how you thought COVID-19 will impact cities willingness to embrace, you know, these ideas. Because I think often people are like, okay, we had to cut the budget, let's get back to doing the basics. And I think there's gonna be a lot of inner conflicts and somebody has to be like, well, we maybe can just be more creative. And maybe we can just be more innovative and people would be like, no, we just need to pick up the trash and, you know, pave the streets. Because I think this is you, maybe you guys have worked with, well maybe embrace it more than the cities that you have. And do you, how do you think overall COVID-19 will make us think about failure?
Andi Mirviss
Yeah, I think I mean, I think that we've seen on – Well, I guess I start with this, which is that there's so many unknown in COVID-19, both as, like a disease and how it impacts you know, impacts people and how it's transmitted, and all that stuff. And there are also so many unknowns about what its impact will be on us as a society, and, you know, as a culture going forward, that I do, I'm really optimistic actually, because I've seen so many amazing public servants deal with the ambiguity of COVID-19 and the challenges that that ambiguity presents and try to make the best of it. And so I do think that it actually has empowered a lot of people in government to change it up, to be working with, you know, maybe you're not empowered to work remotely. Now you're forced to work remotely, but you've at least seen, what probably would have been in many places, like a three year transformational process, right. Something that….Yeah. And you see how quickly and incredibly, you're able to do that maybe not perfectly smoothly, of course, but you've proven to yourself that you can make these changes. And, and so, I think that, you know, as we continue to face, like or confront this disease that we still don't really understand that much about that there will be, you know, continued changes that folks are going to be forced to make. And I think that I'm really hopeful that that will encourage people to maintain these ideals and embrace them and, you know, try to be more innovative, finish really, when this is all over, whenever that might be.
Javon Davis
Yeah, well, that maybe.
Andi Mirviss
Yeah, strong whenever that might be.
Javon Davis
Can you, you know, this has been really great. I know you guys do a lot of amazing work. Where can people learn more about this project and learn more about the Center for Public Impact as a whole?
Andi Mirviss
Well, we are publishing a report that sums up all of our findings on August 4, so that will be on our website and all over our social media. And we really, really encourage you to check that out. Umm, we really tried to put the public servants that we've worked with first in the report and really celebrate their perspective. So I really hope you read it. And we'll have a panel discussion on learning from failure in local government on August 6. So I'm really looking forward to speaking with some folks across all different sectors, and talking about how you can create a an ecosystem that really supports innovation going forward.
Javon Davis
That's great. I'll definitely check that out. And this is probably the most important I'm sorry, go ahead
Andi Mirviss
I was going to say it is at 1pm Eastern time.
Javon Davis
Okay, great. Yeah, if you send me that information we will make sure to share that as well. I think it's a great resource that people should be more willing to at least check out.
Andi Mirviss
And I just want to also add really importantly, and I'm realizing now that that when you asked who we were partnering with, I didn't celebrate that enough. This, a lot of this work couldn't have been possible, and it's really been done in partnership with the Aspen Institute for Center for Urban Innovation. They're going to be hosting this webinar. And Jennifer Bradley who is at the helm of that has really helped us be a strong architect in understanding our approach to the research and helping us finding work with cities and kind of bringing folks together as we, as we culminate the report.
Javon Davis
That's great. All right, this is the last and probably the most important question. What do you think is a song that you know identifies with the work that you've been doing, or just a song that you like that you think we should end the episode?
Andi Mirviss
Oh, man, umm, I made a joke that to my colleague who's working on this project that there's a lyric in Lose Yourself by Eminem that says Option Of Failure Is Not. And I thought that that would be a funny tagline for us going forward, [laughter] maybe like, maybe like a moment for that, but pretty nerdy to say that one. [laughter]
Javon Davis
Oh, no, I think it's great.
Andi Mirviss
That's great yeah. I'm sure I'm sure many of your listeners are very familiar with that one.
Javon Davis
I'm sure. I think everyone knows that song. Well, Andi, thank you so much for coming on. It's been great chatting with you and learning more about your project.
Andi Mirviss
Thank you so much Javon. I really appreciated the opportunity to talk with you.
Javon Davis
Of course. This is the episode for today. Thanks for coming on and chatting with us. GovLove is hosted by a rotating cast of ELGL members, and it's produced by Ben Kittelson. For our listeners, you can reach us at elgl.org/govlove, or on Twitter @govlovepodcast. We're on all your favorite subscription services. Please subscribe to GovLove and leave us a good review so more people know that GovLove is a podcast for local government topics. And if you do, we will send you some sweet swag. If you have a story for us, we want to hear it. Send us a message on Twitter. Thanks for listening. This has been GovLove, a podcast about local government.
---