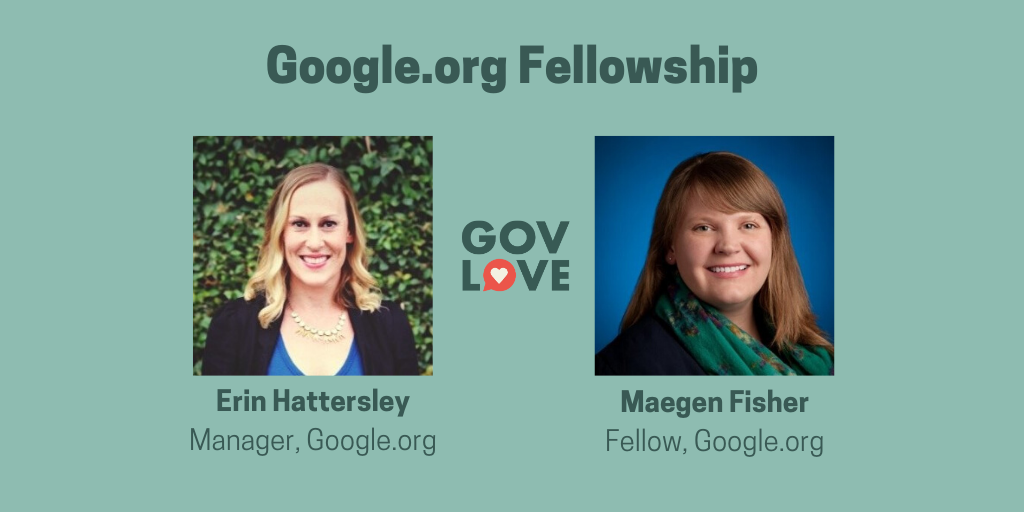 Erin Hattersley
Manager, Google.org
Google
LinkedIn | Twitter
Maegen Fisher
Program Manager Fellow
Google.org
LinkedIn
---
Improving access to city programs online. Erin Hattersley, Manager at Google.org, and Maegen Fisher, Program Manager Fellow, joined the podcast to talk about how Google is partnering with the City of Boulder, Colorado and the goals of the Fellowship Program. Google.org launched the Fellowship Program to bring small teams of Google employees into nonprofits and local governments to provide six months of pro bono work. Fellows use their technical expertise in product management, software engineering and UX design.
Host: Alyssa Dinberg
---
---
Learn More
City of Boulder selected for Google.org Fellowship Program
City Of Boulder Chosen For Google Fellowship Program
New Google.org Fellowship lets Googlers spend six months on pro bono work
Introducing the Google.org Fellowship
Google Is Paying Employees for Six Months of Charity Work
---
Episode Transcript
Alyssa Dinberg
Coming to you from the Google headquarters in Boulder, Colorado, this is GovLove, a podcast about local government. GovLove is produced by ELGL, the Engaging Local Government Leaders network, where we engage the brightest minds in local government. I'm Alyssa Dinberg, Management Analyst at the City of Boulder, and today I'm talking to Erin Hattersley Google.org Manager, and Maegen Fisher, Program Manager Fellow at Google. Welcome to GovLove Erin and Megan.
Erin Hattersley and Maegen Fisher
Thanks for having us.
Alyssa Dinberg
I'm so excited to be here. I've been wanting to come check out Google [laughter] and for our listeners, I just want you to know that it is everything that you read about in the newspaper and online. It's really cool. I might have to like sneak some pictures at the end.
Maegen Fisher
We can let you know where pictures are allowed. [Laughter]
Alyssa Dinberg
Well, thanks again for making time to be on GovLove. We are super excited to learn more about the Google.org fellowship. And so today we are going to learn from Megan and Erin about google.org and their civic focused fellowship. Through the Google.org Fellowship, teams of Google employees provide up to six months of full time pro bono work using their technical expertise across product management, software engineering and UX research and design to enhance services and accelerate social impact. Here in Boulder, a team of eight Googlers and staff from five city departments are developing a way to help households, in particular underserved populations more easily access city services and programs online. The program will help underserved neighborhoods and people gain access to city services and programs online that are not currently easily accessible. This may include easier access to services such as recreation centers, discounts, scholarships, affordable housing programs, food tax rebates, childcare subsidy, financial assistance program for older adults and energy rebates. We are super excited Boulder is among the first cities to be selected for this program. In 2019, the Google.org Fellowship delivered 50,000 hours of pro bono work to nonprofits and local governments across the world, with that work set to continue in 2020. I'm really excited to learn more about the fellowship as a whole and dive deeper into what you are doing here in Boulder. Are you ready to get started with one of our GovLove lightning rounds?
Yes, thank you.
Alyssa Dinberg
All right. So this question is for both of you. And we'll start with Erin. You unexpectedly find yourself pushed on stage to give a TED talk. What is one subject you could discuss for 18 minutes with no preparation?
Erin Hattersley
Well, I'm going to go with inclusion but more specifically, how to foster inclusion for people with different abilities. I care really deeply about this topic and have a family member with a rare chromosomal mutation. And I want to help create a world where he can always feel included. And I think that Ted Talks would be a great avenue to get that out there.
Alyssa Dinberg
I love that. What about you?
Maegen Fisher
Accessibility, so abbreviated here as A11Y, which is the 11 letters between the A and the Y. But it's really about building innovative technology and adjusting our products so that we can build a more inclusive world. People with disabilities should be able to be socially engaged, productive, and independent. They should be able to answer their phones and see where they are going on maps without having to have a lot of interference with the particular product that they are working with.
Alyssa Dinberg
Sounds like both of you are in the perfect field. [Laughter]
Erin Hattersley 03:39
Well, it's funny when we were discussing the answers to some of these questions, we literally had the exact same answer for all of these and [laughter] so we customize them slightly to be different, but you can tell we are quite alike.
Alyssa Dinberg
That's great. [Laughter] Okay, our next question is also for both of you. And we'll start with Maegen on this one. If you could spend a day in someone else's shoes, who would it be and why?
Maegen Fisher
I'm going to go with Oprah. I know this is not supposed to be a famous person, but I feel connected to her vision in terms of the way she's seeing the world, the way that she's helping lives, the way that she's basically passing on her passion for life. She has a "Soulful Sunday" engagement series online or it's actually on TV as well. But talking to people and asking questions that would be really hard to answer and I feel like to be on the receiving end of that would be amazing. So Oprah.
Alyssa Dinberg
Also she has an amazing garden that I'm super jealous of.
Maegen Fisher
In Santa Barbara, a really nice spot. [Laughter]
Alyssa Dinberg
What about you, Erin?
Erin Hattersley
I'm gonna go with RBG Ruth Bader Ginsberg. I feel like she's a fan favorite these days. But obviously all her supportive woman rights, LGBTQ. And just I think that she really inspires me to believe in the rule of law. And I admire her power and perseverance and would love to just have a level of respect that I think we all have for her for even an hour, let alone a day.
Alyssa Dinberg
That's a really good answer. All right, our next question is just for Maegen. What is the first app you open up on your phone in the mornings?
Maegen Fisher
It's my daughter's school cafe menu. She's a very picky eater. And, honestly, the ability to determine if she's going to go hot lunch or not hot lunch or I need to make her her sandwich is the first thing I look at. Then the weather, because I didn't know how to dress her for the day. [Laughter]
Alyssa Dinberg
I bet a lot of our listeners are shaking their head laughing because they probably do the same exact thing. All right. Our last question and it is my signature question. I ask it in every interview, and I'm excited to hear your response. If you were a vegetable, what would you be and why? Let's start with Erin on this one.
Erin Hattersley
So funny enough, we got this, we have the same vegetable, I don't know if you're going to mix it up, but I didn't know. So I googled how to know like what vegetable you are, and took a test. Turns out, I am a carrot. And it's because I am flexible and don't tend to push my ideas.
Alyssa Dinberg
Oh my gosh!
Erin Hattersley
Carrots are also very versatile, like me, [laughter] and can be prepared in many different ways. And then also carrots like I are very social.
Alyssa Dinberg
I, first of all, didn't know there was a test. And if you could send that I'm gonna have to share that on Twitter with all of our listeners, because I think that people would really appreciate it. That's awesome!
Maegen Fisher
And I came up with carrot without any prompting. And that's only because it's the first thing that popped into my mind and I think it has to do with, I really am an input person. So I feel like I help people see clarity and carrots are supposed to help you have better vision right?
Alyssa Dinberg
Yeah
Maegen Fisher
And also, my spirit and I've been told by many people is really bright orange so that's my carrot.
Erin Hattersley
I didn't know what color my spirit is. Yeah [Laughter]
Maegen Fisher
Well I could go further. Diamonds are my… diamonds are my guest [Laughter] sorry I'm gonna fumble here. What is the reverse down? Because April's my birthday and [inaudible] carrots
Alyssa Dinberg
I should have you all know that Erin is wearing an orange shirt right now. [Laughter]
Erin Hattersley
She came to me this morning and Did you deliberately dress like that? [Laughter] No, total coincidence. I packed before I took the online test that told me I was a carrot.
Alyssa Dinberg 07:39
That's so good. I'm really glad to know that of course there's an online test that tells you what kind of vegetable you are. All right. I feel like we're thoroughly warmed up and ready to go. Let's shift our attention to the work you've been doing with the City of Boulder through the Google.org Fellowship. Okay, so our first question, Maegen and Erin, can you tell us in two minutes or less who you are and what you do for Google? And I know, Maegen, you're currently a fellow. But if you could talk a little bit about what you do when you're not a fellow.
Maegen Fisher
Absolutely.
Alyssa Dinberg
All right, let's start with Maegen.
Maegen Fisher
Sure. So I'm coming up on my 15 year anniversary here at Google. So I spent a good third of my life here at Google. I've kind of grown up with believing in a mission of giving the world's information out there. I'm a longtime contributor to Google.org in some shape, way, shape or form, started as a volunteer in reviewing campaigns for their ads for grants program a long, long time ago. And that kind of naturally led me to starting some of the programs that that Google.org feels very strongly within the local offices. So whether that be giving week….giving week or something around the Google serves, getting volunteers out there. So I'm a big supporter and longtime supporter of Google.org. In my day job, I'm a Senior Solution Consultant, which translates into, basically, program manager for the G tech services org, which is the Technical Services team that sits here in this building that extends itself between product and the business of Google. So we support a lot of vendors and suppliers that help run our business every day. And I'm in I'm in the team that goes in and mitigates the risk, make sure that they are enabled with the tools and and information they need to do their jobs. But more importantly, that we keep Google safe and secure.
Alyssa Dinberg
Definitely a position that's transferable to local government.
Maegen Fisher
Yes.
Alyssa Dinberg
All right, Erin, tell us who you are and what you do?
Erin Hattersley
So I'll start with what I do. It's a lot easier. [Laughter] I lead volunteering for Google.org across the Americas region. So US, Canada and Latin America, which includes our fellowships and across the US here and with cities. Prior to Google.org, I led Google for Nonprofits, which is the company's product giving arm. And yeah, I guess more about me, me personally, or who I am obviously very passionate about having a social impact. It's really what gets me out of bed every day. And I've been at Google a while and in many different parts of the company as etc. And really hope that I could ultimately one day end up in a role where I could take the best of Google which, you know, besides its money, I think is its people and bring that to bear in different ways through volunteering or fundraising. So that's kind of been my career mission and aligns with my personal interests as well related to just fostering a more inclusive society.
Alyssa Dinberg
Great. I love that. Alright, so number two, can you tell us a little bit about the history of the fellowship? And what are some of the previous things that Googlers have done and worked on? Erin, this questions for you.
Erin Hattersley
All right. So I'm going to do two different versions of this. And then you can decide which one you want. [Laughter] My managers favorite kind of story and evolution of how the fellowship came to be. And I always love it when she tells it, I made her retell it to us again last night, was that we all remember probably Healthcare.gov when it launched and pretty publicly crashed. And a few engineers, actually from Google, as well as other tech companies like Facebook voluntarily took time off to go fix it. And through that, I think a lot of folks realize that money is not always sufficient, you know, the government had had the money and resources to invest in that platform, but they really needed people and in particular, they needed tech talent. So I think that's a good example of, you know, why the fellowship is so important and why it's important to offer tech talent to other organizations via nonprofits, or cities, who may not have the people resources, who can do things like user research or user design or really in depth software engineering, especially when we get into some of our nonprofit projects where we've done machine learning, a unique skill set that I think Googlers really excel at. So Healthcare.gov was a definite inspiration for I think, why we got into this work. And we know that tons of nonprofits and civic entities are facing similar challenges, but because of the nature of that it was very public, and everyone kind of ran to offer their assistance. But when we talk to groups, we find that there are often challenges that they would love tech talent support in addressing are facing and so that's that's kind of one version of how the fellowship came to be. [Laughter] The other is that the Google.org fellowship is you know, and that's Googlers with nonprofits or cities for up to six months of full time work. So that means they get to actually step away from their day job every day for six months as a team of Googlers. And we started out with different iterations of that. We've done shorter term stints, a volunteer efforts where a Googlers might spend three weeks working together with a particular nonprofit, or we've done civic work in the past, where it was one month full time. In that case, though, it wasn't also inclusive of engineers. So it was more of a consultation, a review of whatever the challenge was, and recommendations for what then the city could implement. And so through all of those different experiences and programs that we offered, we really realized that if we could get support from managers, to have a team of Googlers with all the skill sets necessary to solve that problem that either the city or nonprofit is trying to address. And have them work full time for six months, they could have a significant impact and really accelerate the work beyond a consultation or beyond a list of recommendations that they might want to consider implementing themselves. And that is why we announced last year in 2019, officially our fellowship program, and as you mentioned, completed already 50,000 hours of pro bono work today.
Alyssa Dinberg
It's amazing. It's really amazing. So are there any other cities other than Boulder participating right now? Or is Boulder the only one?
Erin Hattersley
So right now we have a couple cities participating. One is with the City of San Jose. Another is with the City of San Francisco, and actually building on a previous example of our fellowship, an earlier version of it with the City of San Francisco, a project that focused on 311 and 911. Our city of San Jose fellowship right now is around the same topic. So the city of San Jose maintains many different contact centers in the city that handle emergency non-emergency phone calls that come in. And these groups handle upwards of 600,000 non-emergency calls every year. And that's really burning wait times for 911 callers. So the aim of that fellowship is to reduce non-emergency contacts absorbed by those 911 call takers and ensure that residents are getting their emergencies addressed very fast. So we're doing a ton of work with the city to optimize those 311. I won't share too many details because it's obviously underway. But we will be doing a big marketing campaign in the City of San Jose later and hopefully March when the project's ready to really be announced.
Alyssa Dinberg
That's very cool. So I know that in the past Google.org has worked with nonprofits, why did you make the shift to work with cities?
Erin Hattersley
It's a great question. I think we always saw a great opportunity with I mean, logically, Google.org is our philanthropic arm. So we make grants to nonprofits. So there was an easy opportunity to combine, like I said, the best of Google, our money and our people together, and support nonprofits beyond just the financial aspect of what we can contribute in grants. And so that was like a logical first place to start. And then the opportunity to be better neighbors. In fact, yesterday, Maegen, and the team organized an open house with the City of Boulder and all the different folks that they've been interacting with at the city. And one of the things that I think, Maegen or one of our colleagues said, was that, you know, we work and live here, they work and live here in Boulder, and we want to be good neighbors, not just to the nonprofits that Google.org funds but also to the cities because the cities are so critical. The government is so critical to connecting community. I mean, there are nonprofits who offer these services, there are for profits who are doing work in the community to make it a better place as well. So I think it was a logical next step to expand our program to be inclusive of working with city governments.
Alyssa Dinberg
Did you have a lot of applicants your first year?
Erin Hattersley
Yes, we had a ton of interest for the program. [Laughter] And we were able to take that applicant pool and really match it to the skill sets needed to address the projects that were being scoped alongside the city. And in fact, for the City of Boulder, it was a wonderful experience. The city came to us with a list of I think nine or 10 awesome projects, literally every one of them we could have and wanted to say yes to. And then we narrow down the list based on a number of different criteria, which I'm happy to share more with you about if you're interested. And as a result of narrowing down the list, we landed on the project that Maegen will tell you more about and then really double down on recruiting the Googlers who we thought would bring the best skill sets to bear on that mission and that goal.
Alyssa Dinberg
Let's switch to you Maegen a little bit. Can you talk about what you're doing for Boulder, and kind of what the day to day operations of that looks like, as you are leaving your day job?
Maegen Fisher
[Audio not clear], although not much less work, right? I mean, a little bit different day to day. But for the most part, we're still working to kind of enable in my mind, instead of Google businesses, we're enabling the city to have more of a reach or connection with the residents and the community around the services that they provide. There are some nuances to that, right? I mean, you can go online right now and find probably 46 to 100 different services that the city is either directly in charge of programs that they put out, or they're somehow connected via county services or eligibility criteria. We were charged with as a team to come together with all of our different expertise. As Erin mentioned, we have a UX designer, a UX researcher, we have four software engineers dedicated to this particular project. I'm running the program, and then we have a product manager. That's essentially built something that helps foster this bridge between the community and the city services that they want to push out to, to the residents. And after a lot of information gathering, I think we've gone through the process of really, you know, we did a competitive audit of what exists out there, and who's our audience for this particular product that we wanted to build, and we landed on a calculator. And this service eligibility calculator is an online tool that allows people to go in and enter their information and if they want to know what services are available to them specifically, the more information they give us, the better off they'll be in terms of the results that we can kind of hone in on are good fit for them. So that we are among other deliverables that is the biggest, the biggest actual coding project that we have working on right now.
Alyssa Dinberg
Can you talk a little bit about what has surprised you the most in this project?
Maegen Fisher
Well, on the Google side is how quickly we came together. We formed, we normed we stormed, you know, we kind of went through that process so quickly, but because we were all Googlers, like looking to do something that had a social impact that had, you know, for the greater good, I think we all came together really quickly. And, and the idea that we all kind of jumped into these roles without really knowing exactly what our day to day would look like, was really surprising to me. Umm, you know, I was out doing usability testing, which for the viewers or listeners is a lot about making sure that what we're building and the initial designs is actually going to resonate with the people that are going to be using it and that's something I wouldn't do in my day job. So it was super cool that our team was able to form and kind of come together and work in different capacities against not subject matter experts. Because we're not all UX researchers or UX designers. On the city side, how quickly they were to meet us. I'll talk a little bit later about a motto that we kind of formed in the very early kickoff days of our project, but it's meeting everybody where they are. And that largely came to fruition with the team of people that they set up on the city side, which is 12, contributing members of various city staff from across six departments. They all are very different in the programs they offer and the way that their their departments are run. But they come together with us once a month, sometimes more. And they're really engaged. They give us decisions when we need them, and they allow us to move as quickly as Google can. Which has been super surprising but also feeling super fortunate for it. That's really great to hear.
Alyssa Dinberg
With the other cities, what can you talk a little bit about what those experiences have been? I know you're not one of the fellows. But as the program manager.
Erin Hattersley
Oh, I have so many thoughts I could [Laughter] share. It's been really interesting because there are a lot of similarities and things that we kind of try to instill as part of the fellowship itself. So an example that Maegen just alluded to is, you know, for all of the fellowships across the cities, we find it really important to do an in person kickoff, with the city and with the fellows. And we spend multiple days together doing not just project scoping and sharing more about what the different functions are that that we're providing them like what does a UX researcher do and or what does for the City of San Jose, they have a data scientist like what does a data scientist do exactly, but also investing in team dynamics. So we do workshops and trainings around helping the team come together both the city and the fellows and really understand that it is isn't just about the work deliverables and getting the job done. But then also, we need to establish psychological safety with one another. You need to establish trust early on with the city with each other. These Googlers don't know each other necessarily coming into it, which I think is something that cities and nonprofits don't realize. They think, oh, you're giving us a good team that exists that already is formed. But really, it's a team of individuals who raise their hands and want to work on this given project. And so it's really important to invest both in the team development aspects. So I think to answer your question more directly. There are a lot of things we do as a program to try and help remove roadblocks before they even come up. But then I would say roadblocks always that's kind of the fun of it. And that's the experience. That's part of the value I think Googlers gain through the fellowship is working through those challenges, learning how to work in a new environment. You know, many of the fellows have never worked for the city, especially or with the city, or have never worked in the nonprofit sector. So learning what that means, what the differences are, what the similarities are, and how you can really collaborate, bring the best of kind of both worlds together to align behind the project goals and the impact the project can have. So I think there's a ton of differences, a ton of similarities across specific, different projects that we're working on right now. But at the end of the day, you know, I feel like we're in a really good place. We're in our what, 52 days you said left yesterday, so they 52 days left working days.  And as Maegen mentioned, there's different like, phases of a team development, and there's the forming and then there's the sometimes storming, which is where people are learning how to work together and learning different work styles, learning that cities operate differently than Google. Um, and then there's forming and I feel like all three are really hitting their stride and in that What is it? Norming? I apologize. Let me say this again. They've all really hit their stride and are in the norming phase, which is where they can be most effective and productive and really accomplish their goals and work well together to do so.
Alyssa Dinberg
So at 52 days left, do you have a favorite memory thus far? And I'm going to start with Maegen, because I want to hear specifically with your experience with Boulder, and then Erin with the fellowship as a whole.
Maegen Fisher
Yeah, so my favorite memory so far, I'm outside of these cookies that hopefully will get posted because we brought those  and for the listeners, they have the City of Boulder logo as well as our Google.org logo, the design workshop we did for the city. So in the process of designing a calculator, we had to come together in deciding what was this design going to look like? What were the most important things that we needed to make sure we included who is the audience we were designing for? Our UX designer is incredible and she kind of gets you out of your headspace in terms of thinking about this, tactically, like logically, and she brought us into a room, which I will say the design workshop was happening, and she was in an unfortunate cycling accident, so she couldn't join us in person, which brought our team together so immensely because we were able to kind of jump in. I mean, I had software engineers setting up things in a, you know, a very, very non-technical setting, where we were in the room with like notebooks and pencils and stencils and things like that. So if you can imagine our team formed really tightly around supporting her, she was able to join us via VC, but it was not the same as her being there in person. However, within one of the exercises, she challenged everyone in the room and this was the 12 core team members from the city, as well as all of our fellows to think about combining an animal in a picture. So we were, we were pen to paper drawing this picture of a squirrel frog. [Laughter] You can probably in your mind, figure out what that looked like. And at the moment you're doing it, you're like constantly thinking, oh man, I'm the worst drawer, this is terrible. But as we went around the room, the fact that we were not talking about the project, we were all there together there was huge smiles on people's faces. And we really enjoyed watching everyone kind of come up with what their squirrel frog looked like. It later on became our mascot just because it was fun and, and one of our software engineers through a really good squirrel grub, but the city was, you know, all smiles and I think they don't have a lot of opportunities to come down off of what they do day to day, and just being in the present moment of working through the design, and it kicked off that way. And so the rest of the workshop was just amazing from there.
Alyssa Dinberg
That's great. It sounds like it really brought you all together, built a relationship outside the project, which is really important.
Maegen Fisher
Sure. Squirrel frogs, squirrel frogs. [Laughter]
Alyssa Dinberg
And I can't get the picture of a squirrel frog out of my head now. [Laughter]
Erin Hattersley and Maegen Fisher
We can show you an image. They took pictures of their pictures. [Laughter]
Alyssa Dinberg
That's awesome. What about you Erin? What's your favorite memory of the fellowship as a whole so far?
Erin Hattersley
So the fellowship as a whole? I mean, how back far back?
Alyssa Dinberg
Let's start with just this year. So just with the cities that you're working with right now. It can be a story that you heard or something that directly impacted you.
Erin Hattersley
I'll answer it more broadly, and then I can get more specific too. But honestly, I, I am just always so amazed by the Googlers and how committed they are to doing the right thing, helping to both educate the city's in some of these best practices or processes or, or you're teaching them technology so that they can then maintain and sustain the project once we roll off the project, you know, and so it's really fun to see the Googlers really rally together behind a common for good purpose. And so it's the individual people. I mean, yesterday being together for the open house with the City of Boulder, I get so much energy just by talking to them and, and even watching them present to the city on their UX research findings. And the insights that they've gleaned, that will then inform the design and it just makes me feel so proud. Just to watch them have learned so much, because there is a learning curve at first. They don't know anything normally about what they're going to be tackling. So there's a lot of like discovery and listening and learning and teaching from the city. And then there's a period where it kind of switches where they've absorbed a lot of the information and the knowledge and then they get to be the teachers and share that knowledge with the cities that they work with. So that's kind of more abstractly. The part I love is working with the Googlers and then and honestly, the other other favorite part is probably the relationships I've developed with individual cities. I mean, I have I have long text chains with folks at the city offices who are our primary project leads, and who are also so dedicated to making sure that the fellows are having a good experience, and that they're learning and that they're getting exposure to different aspects of the city's inner workings. And they're so grateful for the work we're doing and the fact that we're, you know, offering it pro bono and for six months full time, I remember Yvette, who is our primary executive sponsor from the City of Boulder. When I told her that we wanted to chat with her about an opportunity to have Googlers work full time for six months. She literally said I'm sorry, what did you say? [Laughter] Can you say that again? Did I miss did I miss hear what you're saying? And I think she was just floored that we would be able to offer that to her. So I think to again, just the relationships that we've been able to develop with the project leads on the different cities has been really powerful. I'm trying to think of an individual moment.
Alyssa Dinberg
That's good. Yeah, that's a really good memory.
Erin Hattersley
Okay, if I think of one, I'll share.
Alyssa Dinberg
Okay, let me know. I'm gonna put you a little bit on the spot Maegen, just because I'm curious.
Erin Hattersley
Okay.
Maegen Fisher
No problem. [Laughter]
Alyssa Dinberg
Is there anything specifically that you've learned by working with the City of Boulder that kind of surprised you about their operations or an area that's missing in their knowledge or experience base? Does that make sense?
Maegen Fisher
Yeah, absolutely. So I mean, no judgment, because it happens at Google a lot. [Laughter]
Alyssa Dinberg
Oh, yeah, absolutely not.
Maegen Fisher
It happens at Google a lot. I'm just a little surprised at how little about each department, the department, within the departments they know. So when you're talking to someone who's coming to you about a specific program, maybe you're a resident in need, and they want to learn more about housing or food insecurities and you're not able to have that in one fell swoop with one employee interaction, like you necessarily have to do a warm handoff to another department to someone else who can help them with the other part of their ask. So, I mean, it happens at Google as well. I mean, you get into your silos and they work within departments, and they're very good at their department. However, the idea that they could, the city staff could be more horizontal and be more forward in the thinking of, or I should say forward at helping the individual resident by working across this department is somewhat of what I hope that on my calculator will help the city staff do. It's just being more enabled across the departments.
Alyssa Dinberg
Yeah, I think that's a challenge that every city faces, regardless of how big it is or how small it is. And the more departments you have, the more the larger the city is, the more services you provide. And, yeah, it's a challenge and we want to be able to provide good customer service to our residents. So just trying to figure out a way to get as much knowledge in every single employee's brain as possible, I guess.
Maegen Fisher
Well, hopefully a services eligibility calculator will help.
Alyssa Dinberg
Yeah [Laughter] All right, so umm so what have you and your team been able to bring to the table that helps the City of Boulder with this project?
Maegen Fisher
Sure. So I mentioned in the beginning, in addition to building a product we had…. we have other deliverables. So for example, this UX research that Erin had alluded to, that we presented to the city, there's about three phases of research that we did for the city in depth analysis against competitive calculators that could help us build something that was in line or better than what the competitor competitive municipalities have out there. Also talking to users talking to staff recognizing that we originally sought to build this just for the community and just for the residents and recognize that there was a need within this City stock to actually have something similar, or if not be the same calculator. So this research is going to turn into a deliverable. We are going to not only show them the information and what we did to get us where we are. But then there's protocols against that meaning a playbook, we're going to hand over something that says if you want to run a user study in the future, here's how you do this step by step by step. So I feel like that is something that individually each of us have been able to bring. And every part of our, our project will have some sort of deliverable in the form of a playbook page so that they can recreate it. Design workshops is another great example. Like the city was not familiar with what a design workshop was nor how to run one. And now that they've experienced it, and we're going to hand over a protocol on how to build their own design workshop, if they're up against a solution or a product that they need to kind of think more deeply about. They'll know and we'll just hand that over to them as a final deliverable.
Alyssa Dinberg
Is this kind of the format for every fellowship where they all Googlers deliver a playbook?
Erin Hattersley
Well, I don't know that we I think this may be the first playbook. But definitely a principle that we like to kind of instill in the fellowship is teaching while doing so it's not it's, it's not that you and I always tell this to cities and nonprofits going into it, this is not like, give us your challenge. And then we're going to go do something over here. And then we're gonna like throw it back over the fence to you. It's very much a collaborative process, and we need their subject matter expertise as much as they'll benefit from the Googlers technical talent and other talents. But the key is working together to decide on what that solution is. And then I forget what your question was.
Alyssa Dinberg
Oh, just if if what Megan described in terms of how she's leaving the organization to be able to function without them. Is that something that all the other fellowships do?
Erin Hattersley
Yes, very much so. It is part of what we ask the fellows to do as well as it is not just build the product or conduct the research, but also teach the city, teach the nonprofits how to do it themselves. And actually an interesting thing that's come from fellowships in the past, is sometimes an organization when we're vetting a project with them and vetting whether they'd be a good fit for a fellowship, we'll ask them, what are the types of skill sets you think you might need, and oftentimes, they will not consider skill sets that we suggest they move forward with, like user research or user design. And in one case with a nonprofit we worked with called family independence initiative. They weren't certain that they needed user research or design, we ended up giving them both. And at the end of the fellowship, realized how valuable a resource that was, and they have since hired a UX designer. So it really helped them see the value in showing them what it looks like and how to do it themselves. So yeah, our hope is that when we leave that we've taught them how to do these kinds of things themselves for future challenges that they might encounter.
Alyssa Dinberg
That's amazing. And so we talked a lot about city staff, let's switch our attention a little bit to the residents of the communities that you're working with. So Maegen, can you talk a little bit about what the impact on Boulder residents is, and specifically with the results of this fellowship?
Maegen Fisher
Sure. So we go back to the kickoff meeting and start the kickoff meeting back in October when we sat with the city for three days and kind of learned more about who the city is, what their goals were for not near term, but long term as well. And a big part of what we wanted to understand from them was or extract from them was project values and these project values that we developed in the first month of the fellowship umm, kind of set the tone for the work. And that was very much focused on not only the City of Boulders framework that they have, sustainability framework, but also just how they interact with the city residents. And you mentioned warm handoff that was something that each one of the program managers or the people that we worked with, up to date was very focused on, like, how do we make sure that the residents are being taken care of. So we developed these project values. It's something that I think will live on beyond just this fellowship and beyond the calculator, and least we hope it does. And one of them, for example, is 10X thinking. So how do we develop something that not only works for the City of Boulder, but Yvette or possibly Jane from the city manager could take to another municipality that's in need of trying to figure out the same, the same sort of problem and carry that right. So we call it 10X thinking here at Google where we are always thinking 10X. If we can drive a car 50 miles with no gas, can we drive it 500 miles with no gas? So that's what we're really hoping lives on beyond the fellowship with the City of Boulder. It is a calculator that they can use and be proud of and tweak as they need to, but also share with other municipalities.
Alyssa Dinberg
So let's broaden my question a little bit. And I know that Google is doing this because they want to give back to the community. But from my understanding, Google's also doing this to be able to use these products with other cities as well. Is that correct? And what do you plan on doing from a larger perspective with all the projects that are done?
Erin Hattersley
Yeah, so definitely, our aim is always to open source the projects and the code whenever possible, so that we can make it as easy as possible for others to leverage like Maegen mentioned. And so, definitely, that's always our hope. We obviously are respectful of different cities and whether or not that's something they're comfortable doing. But definitely, that's always our preference. You know, Maegen mentioned at the start of the podcast our company's mission is to make the world's information accessible and useful. So we want to make sure that where we are developing solutions that could be scaled, replicated in other cities, counties, states, that we make that available so that it can be easily done elsewhere.
Alyssa Dinberg
Okay, so we talked a little bit about what's next for the projects in terms of scaling and allowing cities to be able to replicate what's being done with the fellowship participants. But what's next for the fellowship? I know that when we were on the phone, you talked to that, yes, you're going to do this again and maybe scaling.
Erin Hattersley
Yes, we are really excited. We're already in the process of identifying our next cohort of fellowships, both with Google.org grantees and future cities. So we can't share just yet who we will be moving forward with. Umm however, one of the opportunities that does excite me most about these civic projects is that opportunity to scale the work like the services eligibility calculator, and for the City of San Jose, the projects they are working on, which I can't share. But I think there's an opportunity there to also scale what they're doing. And I think that's unique to working with cities rather than nonprofits. In a lot of cases, you know, nonprofits are working on very specific local issues that aren't necessarily able to be scaled as easily. And so I think that's a unique aspect of these fellowships with cities.
Alyssa Dinberg
I'm excited to see which cities are participating. [Laughter] Wonder if i know anyone though.
Erin Hattersley
I have one more thing to add.
Alyssa Dinberg
Yeah.
Erin Hattersley
Another, kind of higher level, what's next for the fellowship is that on our near term roadmap, we really want to take the opportunity to lean into sharing learnings from the fellowship, so this Thank you is a great opportunity for us to start, start doing that. But we've learned a lot through working on these fellowships and we would love to inspire other tech companies to do the same and offer similar programs for their employees. And in addition and talking with the various cities, they have learned so much, and how to engage with volunteers or collaborators who want to work with them, and so I think there's a lot of opportunity for us to really do more thought leadership and sharing these lessons learned as practices. So that hopefully, we can just inspire a culture of giving back everywhere. And that it's an expectation that the companies will do that and that cities and non-profits will be equipped to receive those volunteers and those, you know, supporters.
Alyssa Dinberg
I love that call to action. It's great. It's really great.
Erin Hattersley
Had to do it. [Laughter] Like, that's our goal. That's my personal goal.
Alyssa Dinberg
Perfect. Yes.
Maegen Fisher
I think as far as the fellows, and I know you didn't ask this question.
Alyssa Dinberg
No, please.
Maegen Fisher
But I'll just interject. As far as the fellows, you know, I mean, we need to carry this torch. This is important work that we've been tasked to. I mean, it's an award in my mind that we were in a position to take on this fellowship and I think the fellows really need to, to carry that with them. They need to share the light they need to make sure that other people within Google, know that this is an opportunity, but more importantly, how important it was to, you know, our us as individuals, and so that that more Google's more Googlers will apply. And more cities can be involved. So I mean, you want this to to kind of expand and grow within Google, just as important to kind of share out outside of Google, but I think those fellows are definitely tasked with carrying the torch of the fellowship.
Alyssa Dinberg
Amazing. Well, let us know if we can be of any help.
Maegen Fisher
Yes. [Laughter]
Alyssa Dinberg
All right. And so is there anything else you'd like to share with our listeners?
Maegen Fisher I don't think so. I touched on our project values. I mean, I really do think that the City of Boulder is teed up with this, this calculator for it to live and kind of breathe beyond the fellowship and we're really excited to help them get this off the ground, when and where, you know, it's still TBD as far as like where it will live. But I think once they do get it to a place where it works for most of the departments within the city, then I'm just hopeful that we can track success rate, looking at number of applicants within these programs, how many people can we really help, and not having just English speakers and Spanish speakers alike, but more more people getting the services they really need.
Alyssa Dinberg
Okay, so if we have other listeners that work for other cities around the country, and they're interested in learning about how to get involved with the Google.org fellowship, where should they go?
Erin Hattersley
I would encourage them to follow us on Twitter at Googleorg no dot. [Laughter] So just Googleorg. I think that's where we probably keep folks most up to date. We link out to our blogs that we're writing about some of these different grants we're making about fellowships that we're launching. So that would probably be the best place to stay in touch and get a sense of what we're up to.
Alyssa Dinberg
Okay, Erin, did you have anything else you'd like to share before we close out?
Erin Hattersley
I wanted to share an old African proverb that says "if you want to go quickly go alone. If you want to go far go together". I really see the fellowship as a way to achieve more together in collaboration with nonprofits and cities and just excited and grateful to have the opportunity to do this work at Google and with cities, nonprofits and Googlers.
Alyssa Dinberg
Well, thank you. I really appreciate everything you're doing because it's really making a huge impact not just with Boulder, but with the country.
Thank you.
Alyssa Dinberg
All right, last question. I know you both have put a lot of thought into this one. And so if you can be the GovLove DJ for the day, what song would you pick as your exit music for this episode?
Maegen Fisher
So we're going to choose the "Walls" which is a Tom Petty favorite. And it's a great cover by the Lumineers locally. And there's a line in it says that you got a heart so big, it'll crush this town. And I think that's what we're aiming to do here.
Alyssa Dinberg
I love that! Alright, well that ends our episode for today. Thank you so much for coming on and talking with me and thank you for having me at Google. GovLove is produced by a rotating cast of awesome ELGL volunteers. ELGL is the Engaging Local Government Leaders network. We're a social startup with the mission of engaging the brightest minds in local government. ELGL 20 registration is now open and the early bird registration Price Is $315 and is available till February 15. Sign up today and we hope to see you there. For our listeners, you can reach us at elgl.org/GovLove or on Twitter at GovLove podcast. And if you have a story for GovLove, we want to hear it. Send us a message on Twitter or email [email protected]. Thanks for listening. This has been GovLove, a podcast about local government.