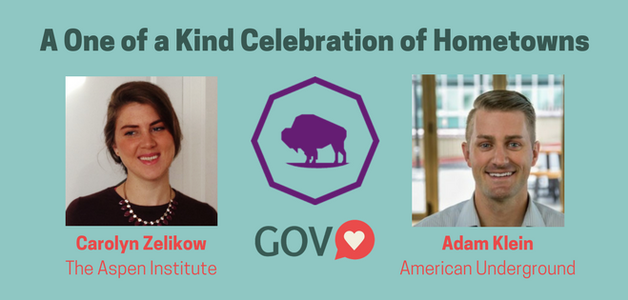 A One-of-a-Kind Celebration of Small and Mid-Sized Cities with Adam Klein & Carolyn Zelikow
Coming to Charlottesville, VA in April is the Hometown Summit, a celebration of small and mid-sized cities across the country. The summit is a convention and celebration of leaders who have spearheaded some of the nation's most creative and successful campaigns for community change. To learn more about it and get the inside scoop GovLove chatted with one of the organizers, Carolyn Zelikow from the Aspen Institute, and a speaker, Adam Klein from American Underground in Durham, NC.
---
Adam Klein is Chief Strategist for the American Underground, a thriving campus for entrepreneurs in Durham, NC. Under Klein's leadership, the American Underground has become a model for how to transform a once depressed downtown into a magnet for high-growth companies. The American Underground is home to more than 240 startup companies across 120,000 square feet of space.
In the News: Is a Different Kind of Silicon Valley Possible?, How a start-up hub made good on diversity goals, and Transforming Durham, North Carolina into a Startup hub
---
Carolyn Zelikow manages the Urban Innovation Lab at the Aspen Institute under Jennifer Bradley in the Center for Urban Innovation. She is also Special Assistant to Aspen Institute Executive Vice President Eric Motley. Before managing the Urban Innovation Lab, Carolyn was Program Manager of the Future of Work Initiative directed by Conor McKay with the leadership of Co-Chairs Bruce Reed and John Bridgeland, as well as Honorary Co-Chairs Sen. Mark Warner and former Gov. Mitch Daniels. At the Institute, Carolyn has also managed Aspen Across America and Aspen Around Town, having started out with the Aspen Ideas Festival team. Prior to joining Aspen, Carolyn was the Assistant Director of Tom Tom Founders Festival, a nonprofit fostering culture and entrepreneurship in Charlottesville, VA. She graduated from the University of Virginia in 2012 with a B.A. in English Language and Literature, and now lives in Washington, D.C. In her spare time, she organizes a conference for small city innovators called the Hometown Summit.
---