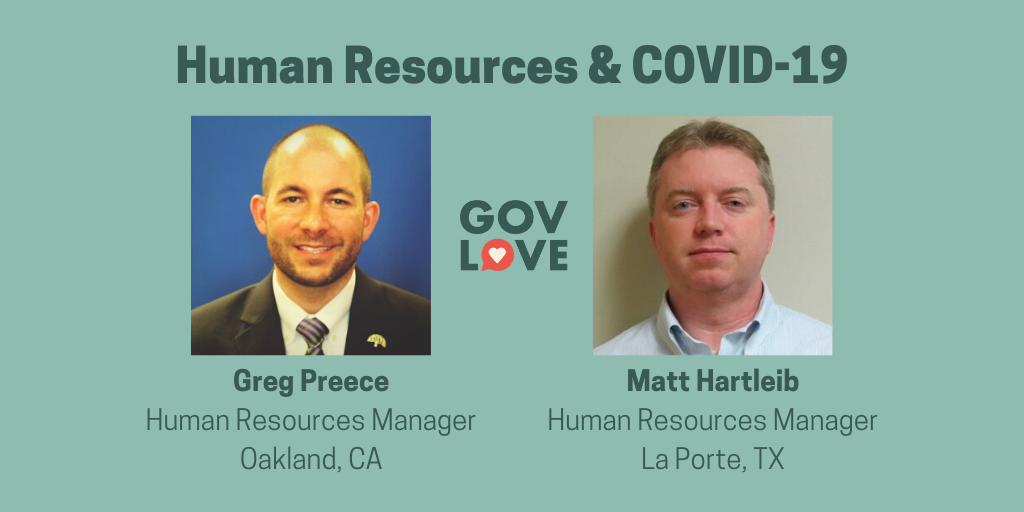 Greg Preece
Human Resources Manager
City of Oakland, CA
LinkedIn
Matt Hartleib
Human Resources Manager
City of La Porte, TX
LinkedIn | Twitter
---
From preparation to reopening. Greg Preece, Human Resources Manager in Oakland, California, and Matt Hartleib, Human Resources Manager in La Porte, Texas, joined the podcast to talk about how the COVID-19 pandemic has impacted their organizations. They shared how each human resources office prepared and managed the crisis, as well as the unique leave and telework dynamics of their organizations. They also discussed the planning process for reopening each workplace as states begin to relax stay at home orders.
Host: Ben Kittelson
---
---
Learn More
Intersection of Faith and Public Service with Matt Hartleib
City of La Porte Human Resources Website
Greg Preece leaving Fairfield for California job
Mills #ELGLInspire Speaker: Greg Preece
City of Oakland Human Resources Website
---
Episode Transcript
Ben Kittelson
Hey all! This is GovLove, a podcast about local government brought to you by Engaging Local Government Leaders. I'm Ben Kittelson, consultant at the Novak Consulting Group and GovLove co-host. For today's episode we're continuing our coverage of how local governments are dealing with the COVID-19 pandemic. And today we're talking about the human resources impacts of the outbreak. Before we get into the episode, I do want to remind our GovLove audience that ELGL 20, our annual conference has been postponed. It will now take place October 14 through 16th in Portland, Oregon. And as a reminder, if you want to support GovLove, you can do that by becoming an ELGL member. ELGL is a professional association engaging the brightest minds in local government. Lastly, GovLove is looking for your feedback. Go to govlovesurvey.com and tell us a little bit about you and what you think about GovLove. Knowing more about you helps us make GovLove better. That's govlovesurvey.com. Now, let me introduce today's guests. Greg Preece is a Human Resource Manager for the City of Oakland, California, a position he's been in for about two years. And prior to that worked as Assistant City Manager in Fairfield, Ohio, as HR director for the City of Blue Ash, Ohio, and in the fire department of Blue Ash. He also serves as an Adjunct Professor for Northern Kentucky University. Matt Hartlieb is the Human Resource Manager for the City of La Porte, Texas, a position he's been in since 2015. And prior to that he was the HR manager and Employee Development Manager for the City of Baytown, Texas, and worked as an HR generalist and recruiter for energy companies in the Houston area. So with that, welcome, both of you to GovLove. Thank you so much for taking the time and joining us.
Greg Preece
Yeah, thank you. Happy to be here.
Matt Hartlieb
Likewise, thanks for having me.
Ben Kittelson
Awesome, awesome. So we have a tradition on GovLove to get to know our guests a little better. And even in you know, these times, it's kind of interesting to hear what folks are doing around some of these questions. So I've got a few lightning round questions to kind of get us warmed up and started. First up, and we'll make Matt start, what book are you currently reading?
Matt Hartlieb
So professionally, I'm doing a second round of a book club of Daniel Coyle's Culture Code, which is a great title. We read through that as an executive team several months back and we were about a third of the way in with a different group, a pretty diverse group across the organization of folks reading through it again, at a bit of a slower pace and then really diving in to it. Personally, I just finished a riveting page turner called Applied Statistics for Public and Nonprofit Administration. [Laughter]That is, that is sarcasm about the math book from the HR guy. I'm in HR for a reason and not finance. Math is not my favorite or my strong suit, but that's taking a course this semester on quantitative methods and so I'm glad to be finishing that up today or tomorrow. I've also been reading a ton of articles about how to train your puppy, how to take care of your puppy. We made the questionable decision of getting a new dog, right at the same time a global pandemic was kicking off. So I'm not sure I would recommend that for everybody. But it's proven to be a welcome distraction over the last couple of months.
Ben Kittelson
I think that's great timing as you get you get more time with the dog than you would normally under your normal schedule. It's probably an easier transition for him but you can do a lot worse. [Laughter]
Matt Hartlieb
It's been alright you know. I think the real test will be when we do start to kind of get back to normal and we're not here. I've been very fortunate, fortunate to work remotely for the last six weeks at least. And so that will come to an end at some point. And so that'll really be the test is how she does when there aren't people at the house all the time. Yeah.
Ben Kittelson
Greg, what about you?
Greg Preece
Well, kind of funny. I'm reading two books. And it's funny that both HR guys are reading finance books, but I'm reading a book, How Finance Works from the Harvard Business Review. It's a kind of an interactive guide, kind of fun. I also am not a budget person for a reason. But I do really like numbers and stats and all that. So I finally dusted this book off. I've had it for a little while. And then I'm teaching as you mentioned, I'm an Adjunct Professor at NKU. So I'm teaching a course this summer and went with a new textbook. So I'm reading that anxiously and exciting the human resource management and public service textbook so that, you know, I didn't read textbooks a lot when I was in school, but now I feel obligated to read them because I'm teaching. Yeah. And so yeah, pretty exciting.
Ben Kittelson
Its good to know at least the professors reading the textbook.
Greg Preece
Yeah, I like to think that they did too, but maybe I'm just overly optimistic. [Laughter]
Ben Kittelson
Awesome, awesome. Are you guys watching or binging any TV right now? Greg, why don't you start.
Greg Preece
Sure. So actually you know I normally don't watch a lot of shows or get into, I don't even have Netflix or anything like that. Normally my television has sports, news or Seinfeld on it and right now all the sports are old. So it's news and Seinfeld pretty much anytime the televisions on.
Matt Hartlieb
Awesome night. Great to be with a fellow Seinfeld fan. I'm also a fan. [Laughter] I know that falling asleep to the TV is not healthy, but I find myself doing that quite a bit lately. [Laughter] And I'm on right now what's been on the screen the last few weeks is my third or fourth binge of Madmen. I couldn't, I couldn't find anything new that looked good. I was not able to get into the whole Tiger King phenomenon [laughter] that was pretty wild for the nation. I just, just didn't do it for me. So I yeah, stick with Madmen. So I'm open to recommendations from from from others on some more more current content than Madmen. Not that it's not good. It's great. It's interesting to watch it, you know, second, third or fourth time at different stages of your life.
Ben Kittelson
Yeah, falling asleep on the couch. That's one of my go to moves as well. So I'm right there with you.
Greg Preece
Yes, me too. [Laughter]
Ben Kittelson
And my last kind of warm up question for you. And, Matt, when you start this one, where do you go for inspiration?
Matt Hartlieb
So lately, I've done some of my best, you know, kind of problem solving, contemplation, walking our new dog in the morning. You know, it's it's pretty quiet. Lots of folks are understandably, not out and about these days and so it's, it's become a a good part of our routine. Sidewalks of the neighborhood are not the most exciting locale. We do have a we, my family, we kind of have a vacation rotation. We find someplace we like and we kind of you know, hit it a couple years in a row and we're not but about an hour's drive from Galveston Island here in Texas. And so we we have plans to do that in a couple weeks assuming everything's okay enough to do that. And that's become really my, one of my favorite places. Growing up, I was not a big fan of the beach. But in my adult life, a few days without really much of an agenda, near the waves, very relaxing, very rejuvenating. So looking forward to that.
Greg Preece
Yeah, mine's kind of the same. You know, just being a few miles away from the ocean here I always before all this, anytime that you needed a reality check or realize how small your issues are compared to the world, go to the beach and just or any really large body of water and just realize how large everything else is compared to you. So that's always good normally. It's a little harder to get over there nowadays with, with some of the transit schedules and road closures and stuff and the beaches just reopened actually here not too long ago. But I also have a puppy. So yeah, or a dog. It's a she's almost two now but walking her in the mornings and throwing in a podcast and just not thinking about anything for half hour, 45 minutes is always refreshing as well.
Ben Kittelson
Yeah, very nice. I want to have you guys both on to give sort of different perspectives on this. You know, City of Oakland, obviously is it's a big organization. And and La Porte is a little bit different size. So, but maybe before we kind of dive into the response to COVID-19, can you guys each give our listeners a little background on your organization, kind of the size of the HR operation? Greg, why don't you start us off.
Greg Preece
Okay, yeah, sure. Well, like you mentioned, Oakland's got about 430,000 population here in the San Francisco Bay Area. It's kind of funny that a city that size is the smaller city in the area. So obviously San Jose is the largest, then San Francisco, and then Oakland. We have about 4300 employees on staff, throughout the city and in multiple departments, and then the human resources department itself has a staff of 50. And we're kind of split into three areas, administration, labor relations, employee relations and risk management and the recruitment classification of benefits.
Matt Hartlieb
So yeah, good, good diversity. Today, La Porte is is a suburb of Houston, Texas. We're on the east southeast side of Houston. Or it's next door to my hometown, where I grew up and still live and used to work actually. But they're very different communities. The size is a big factor. I think La Porte's about 35,000 population. Baytown is about twice that. And then of course Houston is a, you know, really good sized metro area. La Porte's a really wonderful community and I use that term very purposely. It's got a really great hometown feel to it. Residents are very proud of their hometown, very supportive of their Laporte Bulldogs, you know, it's one high school, very supportive of their local businesses and sometimes quite protective of the small town, hometown feel that the community has. We've got about 380 full time employees. And I'm very proud to lead our HR team of four people. So I'm certainly envious [laughter] of a staff of 50. But at the same time, you know, that's that's, that's also bringing some challenges managing 50 folks, especially I'm guessing through through, you know, something that we've all been dealing with for the last last few weeks.
Greg Preece
Yeah, yeah, for sure, for sure.
Ben Kittelson
Um, so I'm curious from each of you guys's perspective, when, when the COVID-19 crisis began, and then maybe even when it was if we go back in time to when it was still a little bit on the horizon. How was, were each of your HR departments preparing? Like what what were, I don't know, policies that we are working on or things that you know, the organization's were thinking about or thinking through from an HR perspective?
Matt Hartlieb
So it's interesting, you mentioned go going back in time, I was a kind of cleaning off my my workspace here at the house the other day and came across a meeting agenda from March 11th I think it was, and that was kind of the first formal conversation we had at La Porte about planning and discussion as a as a city team, for the pandemic. We'd obviously been aware of it for for a while, knew that it was out there, knew that it was you know, coming to the US and you know, but that was really the first time our emergency management coordinator kind of pulled some people and said okay, this is this is something we're going to need to be really giving some thought to. And it was after that meeting was scheduled, but before that meeting took place that the Houston Livestock Show and rodeo was canceled. And for those of you who aren't from the Houston area, that's that's a huge deal. This is a huge iconic annual event, that is you know, multi million dollar revenue generating for not only the City of Houston, but the surrounding areas and so for, for that organization to say, Hey, we're going to cease operations and they were not even half of the way through it's you know, it's a couple of week event with rodeo events and concerts and huge fare and food court, and there had been some positive cases that had been tied to that event. And so they made that decision. And so we walk into this meeting, where again, we'd all been aware of it. But that really kind of made it very, very real. Right. Okay, this is this is right here in our area, and this big event has been canceled. I think it was two days later that school districts started closing initially for, you know, just a week it's right at around Spring Break time for us in this area. And so, my kids school for example, we were they were on spring break, and initially the school just extended that for one week, which then led to no school for the rest of the year. But you know, as far as what we were initially thinking about and doing, it's, you know, we were we have a we have an emergency pay plan, we've got Emergency Operations procedures. But those things were absolutely not designed with a global pandemic in mind. Here on the Texas Gulf Coast, hurricanes, that's, that's what we deal with. And, and because of the industry around us, you know, we also give thought to some sort of chemical event or release or something like that. And those events are very, very finite in span compared to what we're living with right now, right. So I mean, a hurricane, we know one's coming. And we've got, you know, pretty good at this day and age predictions on when it will make landfall and it hits and it's done and it's devastating, and then it's over and then it's time to clean up. And that's not at all what we were looking at at that point. So so a lot of the things that we had thought of really didn't apply. And so initially that was the the focus was what, what works or doesn't work with, with what we've kind of mapped out in these plans. The thing that I kind of latched on to and have have held on to for the last couple months is is employee communication. We really wanted to, I really wanted to make sure that we were keeping our staff informed with consistent, reliable, accurate information. And I you know, went back and looked at that first message that I sent out the next day mid March and it's it's a bit quaint to read now because so much of it has has changed you know. The the talking points there were, the virus isn't here in La Porte yet. There's there are no cases in La Porte, we have no plans to change city services. Here are the symptoms, just kind of keep these in mind and wash your hands. Right. And obviously, quite a bit of that has has changed. Some bits remain the same, right? We're still preaching about washing hands and all that good stuff, but looking back now we would and that seems like forever ago, right? Yeah. And it's it's it's really not, not that long ago. And and so much has changed. How about you, Greg?
Greg Preece
Yeah. You know, for us, kind of the beginning of March, we're starting to hear about it. Our city administrator had announced that she was leaving at the beginning of March, she announced that several months in advance, so we knew that. So we had an Interim City Manager already picked in place. And, you know, the first time I met him, my boss introduced him to me, and he's immediately talking about, you know, hearing this in the news and the need to prepare which our director and the employee relations director and the risk management group are kind of working on, you know, kind of the same things, you know, what procedures are we going to put in place? How are we going to keep employees safe, disinfect the workplace, maintain some social distancing, maybe, but at the same time, you know, we didn't have any known cases here in the City of Oakland. A couple weeks later, obviously, the or maybe a week later the cruise ship docked here in Oakland down at the port, which made national news but still kind of it was very fresh. We're like okay, yeah, it's it's a it's an illness, it's a flu like and but more contagious and and what can we do and what communication do we need to get out to the staff and that's stuff that, that team was working on. And, you know, for the rest of us, it was kind of like, wait for that information to come out and see what we have to do. Never did I think, I don't think any of us said that we were going to shut down the city, the state or the country over this. In fact, I went on vacation, the 13th I flew to or the 12 that night, I flew down to San Diego, I had a trip planned. And, you know, the more I'm watching the news, I'm thinking man, I better get home. They're gonna shut down air travel, which, you know, San Diego to Oakland is seven and a half hour drive. So I was like, so I rechanged my flight and came back that Monday and we're in the office talking about how do we do telecommute? What do we need to communicate to staff and then of course California was one of the first in the country to put in a Shelter In Place Order. In fact, here in the Bay Area, it was the first in the country that six counties around the bay put a Shelter in Place Order effective the 17th of March. So, literally, we were in my boss's office talking about, you know, tomorrow people aren't coming in. So we had to prepare for that.
Ben Kittelson
Yeah, well in when that Shelter in Place Order rolls out, like how was it? How did you even because it I mean, like he has, like Matt mentioned that this plan, like emergency plans for hurricanes aren't quite aligned with this. So do you have to kind of adjust, like who is expected to come in and like say that actually, we need to redefine what's essential right now because, you know, what's essential during a hurricane, it may not be the same as what's essential during a, you know, multi week multi long Shelter in Place Order as part of a pandemic.
Matt Hartlieb
I do think that that the events are different. I think the main difference is just it's just the duration. I think the, you know, the city services that we want to provide are similar. There are there, you know, of course, there are times during a hurricane, for example, where we're really everybody's, you know, just get inside and hunker down and wait for this thing to blow through. But things like public safety and clearing streets and and making sure our utilities are as operational as possible are important there. And those are the priorities that we had in this event. Obviously, for our public safety, folks, it's you know, not a huge difference right. Their job, is still their jobs and and, and there may be better equipped than, you know, any other department, certainly city hall or, you know, others to, you know, work through an emergency situation. That's that's kind of their, what they're built for. But, but yeah, trying to figure out and again, even even at that we were about a week behind. Our county judge issued a Stay Home Work Safe order on the 24th. And we've been having some conversations about, you know, what are we going to do and I, I've been pretty early on, strongly pushing for teleworking or working from home as an option. And as as things kept happening, I kept, you know, we kept talking about it. And, you know, we had we did finally have a case in La Porte community, and we had our first employee that that tested positive and I think it was a day or two after that the kind of the Shelter in Place Order was put in place and really forced our hand and so I think even then, we we didn't know which positions were essential and which which weren't, and I do have a bit of a pet peeve about you know, it's we have positions that are essential and not people all of our people are essential, but I'll get off that soapbox before I get too wound up. But we we really kind of just felt our way through it. I think like a lot of cities in this area, maybe it's a little bit different in California. We are not big users of working from home. We're not you know, we don't that's not a norm for us. And so we a couple of things that I was early concerned about technology. We have a great IT department, and they've done a fantastic job of supporting us throughout this. But we just have a limited number, a limited supply of hardware, that that you need to work remotely. I'm the only person in the HR team that has a city laptop. My other three folks have desktop computers and I've told my city manager and IT manager a dozen times, we should never by another desktop computer. Everyone should have as much mobile equipment as as possible. But there's a there's a pool of kind of loaner laptops. And after that meeting I mentioned on the 11th I, you know, I reached out to our IT Manager and said hey, I need one because I knew I would need at least one of my team members to be able to work as fully as possible, remotely. About the about the same time this all kicked off one of my employees left on maternity leave. So we've been at 75% HR staffing throughout this. But it's it's it's been as far as working remotely, it's been you know, just kind of try it and see what works. I've really tried to stay in good communication with the group. We've got a group of about, so we've got 380 employees total, we've got a group of about 60 that are really working remotely full time. And so I've been engaged with that group through email and group chats, and we've shared tips and strategies and pictures of our workstations and our four legged, you know, office mates, [laughter] stuff like that. It's, it's been really fun to learn together as we work through this.
Ben Kittelson
Yeah, yeah, definitely talk about the telework side of this and, and the HR role in that. But maybe before we move on to that, Greg, was there any kind of when the shelter in place first went in, was there any, like evaluation of the essential, you know, staff and positions in Oakland?
Greg Preece
Yeah. So I mean, I agree with Matt, that that term kind of always bothered me as well. Everyone's essential or we wouldn't have you. But you know, what roles were, what roles could telecommute and what needed to still come into the office and obviously we have large public safety groups, police and fire, so those are obviously essential and don't have the option to work from home. Some of our Human Services Department, some of the stuff they do, some of our maintenance teams, custodial staff, so you know, really it was saying, all right, who can still come in who needs to come in. But essentially, the city said, you know, if you're not one of these folks that need to come in right away, you're going to be placed on paid administrative leave right, immediately, basically tomorrow. And then we'll kind of, we left it up to each department to determine what was critical for their operation, and still something that we're discussing and talking about as it's gone on longer than any of us expected. And so we'll talk about telecommute, you said in a minute, but you know, we here in the Bay, California, I guess you're equipped for earthquakes, and I'm from Ohio. So you're equipped for tornadoes. But as a previous fire guy that sat in through some NIMS classes, you know, pandemic was always one of the scenarios that the Health Officers always discussed. And you as a fire guy, you kind of always just like, yeah, whatever. But here we are. And, you know, I did go through H1N1 in the past. So in my head, I was trying to kind of compare it to that experience, and it's obviously blown well past anything I ever imagined, but yeah, back to essential staff, I, you know, that was just basically today you're here and tomorrow you won't be and we'll let you know. We'll let you know what has to happen after that.
Ben Kittelson
Wow. Yeah. Wow. Yeah. So so to kind of shift shift gears to the telework, like it sounds like Matt there wasn't a policy in place in LaPorte. Greg, did you guys have a telework policy at all already in place or did you end up developing one as as kind of part of the response to this?
Greg Preece
Yeah, no, we had some managers, exempt managers who would telecommute occasionally, but we never had a formal policy either. So yeah, literally, the HR director was putting together a policy, you know, in two days to turn around and put out very good policy but pretty thorough and everything that's required people have to sign off opt in opt out, but yeah, it was it was a very quick turnaround for us.
Ben Kittelson
And, Matt, do you guys now have have the policy in place or is that is it still kind of a maybe informal?
Matt Hartlieb
Yeah, it's it's very informal. I've certainly you know, gathered examples of policies and, you know, have have something drafted ready to go. But, you know, like a lot of things, still at this point, we're still in, let's just, you know, let's get things done. And let's let's, you know, take take care of folks. And yeah, there's obviously benefits to having some codified and formalized policies in place, so everybody's on the same page. And I think we'll get there because I, I hope that what we've seen in making some working from home work over the last few months when we have had to, that maybe that opens it up to something that okay, this is something that we'd have, you know, some employees would like to do, and we've now demonstrated that it's a viable option. And so maybe it's something that we take away from this event as as a benefit and a way to do work in a different way. So I think yeah, there'll be there'll be some ongoing policy development and and discussion, not everybody's, it's not for everybody. It's not for every position like we've discussed. And it's not for every, every person. I was talking with one of our assistant police chiefs, and they went into kind of a rotation, where one command staff was physically in the office every day and the others were remote. And he's really struggled with being remote and not having the, you know, the physical proximity to his his staff. So it's it's been interesting, like I said, to see how, how we've learned together and how opinions of it have have changed over the last couple of months.
Ben Kittelson
Well, one of the things that I've found interesting about the rollout of telework is like this tension between folks that still have to come in and those that are able to do that from home. Have you guys experienced that in your organizations? Has there been people that are like hey, I'd I'd love to work from home or like, I don't think I need to come in and you're saying I'd still do. Has that been the case in in your organizations?
Greg Preece
That I don't think so for us, I like I said, we left that to the department level, so maybe aired to them to the department directors or supervisors. But for the most part, I think people, at least the initial impression I got were people, you know, grateful that they were still going to be paid. That was a big concern. And then the ability, Matt mentioned, the IT department, they sent out great communication, said, hey, this isn't a problem. We'll get you all set up on VPN. I don't think they knew the extent of that, at first, they were behind, but they've done a great job of setting up literally 1000 – 2000 people with VPN access over the course of a few weeks. But yeah, I've not heard of, you know, anyone that didn't have the opportunity or vice versa, directly that was impacted by that.
Matt Hartlieb
For us, there's there's been a little bit of that, I think in part because, you know, we do have some limitations. There just weren't enough laptops, right and other equipment. So I, I've got myself and two employees and I secured that one laptop and I had to make the decision. Okay, who gets it right? And I was able to get, you know, city smartphones for both of them. So at least my other employee was able to keep up with email, you know, not on a personal device. I always like to keep work and personal stuff separate, if possible. But there has been a little bit of that of that tension, not just with teleworking, like similar what I understood, Greg said, you know, if we were going through that process of which positions are essential and which which are not, and we had a job that wasn't essential, and also couldn't be done remotely, well then that that person is at home on unpaid leave. We've also been very fortunate that we've been able to maintain pay status for all of our employees throughout this process. But then you, then you have the apparent inequity of well, this person's at home getting paid fully for not doing anything and I'm here at job doing at work physically doing the job and that that doesn't seem fair. And you know what, that they're right. That's that's not that is different. That's that's not the same. And so I've had a couple of conversations with our city manager. And the conclusion we've gotten to is, there's just going to be inequalities, there's going to be differences that are driven by the work that's done, that are driven by technology, technology limitations and things that are out of our control. And so we've tried to do some things to mitigate that. I mentioned the the rotational schedules, that some departments adopted as we move through this to kind of spread the wealth a little bit about who's who's at work and who's at home and things like that, but there are some things that you just can't make the same for everybody. And I think if you if you make the effort and you do a good job of communicating that, and if you are empathetic to those concerns when they're raised, by and large, most people appreciate that. And that goes a long way to alleviating any, any friction that might come up.
Ben Kittelson
Okay, well, you guys have both kind of mentioned, like administrative leave, and that's not I'm not super like I'm, I don't have an HR background. So I'm aware of that. And I'm only kind of on the periphery. What's, how has that been used in kind of your organizations? And what's what does that mean in terms of like, you know, an employee's PTO balance or like, the impact on you know, their kind of pay and or the organization like, I guess, like, how do you even roll out something like that and decide this one that goes on administrative leave versus telecommute versus needing to come in?
Greg Preece
So for us and previously, you know, in the HR world, paid administrative leave normally meant that you were subject to a, to a disciplinary action where we sent you home, and but hadn't had your due process yet. So we're still paying you and that I think, you know, Matt would agree that's the extent to where we generally have used it. But in this case, we're we we were telling folks to no fault of their own, hey, you can't come into work. And if you can't telecommute, we're going to put you on this paid administrative leave. It's not a bank. It's just a, it's just a pay code designation and everyone, you know, originally when the shelter in place order came out, I think it was through April 3rd or 7th, like that. So we said, you know, we'll reevaluate then. We did, of course, and those who were not able to telecommute, were left on, the full time employees were left on that status through, I guess today, the end of the pay period and needs to be reevaluated again. But so yeah, that's it does not affect their benefits at all as far as their leave balances that their banks and they're just at home and hopefully staying safe and taking care of their family and checking in with their supervisor occasionally if they need to, or when questions arise.
Matt Hartlieb
Yep, very, very similar here at La Porte. I agree previously, you know, paid admin leave had a bit of a negative stigma to it, because it would usually, hey, there's an investigation going on, and we need you to not be at the workplace while we, while we get that done. But we had the same mindset, if we, if we, as an organization made the decision that it's best for this employee to not physically come into work, and they're unable to do their work remotely, through no fault of their own, it didn't it didn't feel right to say, well, then you're gonna have to not be paid or use vacation. And so, we, we made the decision pretty quickly, pretty easily to use that, you know, authorized leave with pay status, and similarly, it has no impact. It's as if they are working regularly. They're just, they're just not, they are kind of a standard, and we put in similar expectations that they would stay available, that there would be some frequent check ins with supervisors because what we found as we went through it is we did need to make some adjustments and what we thought was a appropriate staffing level turned out to be something we need to change. One of the, one of the things we realized was as as people were staying home because of the order they were doing some projects around the house, clean half that garage and doing some yard work and so our, we have a solid waste collection is in house in La Porte, so heavy brush and heavy trash pick up went through the roof. And so we had to go from what was a kind of a skeleton crew to beefing that up and moved into those rotations where Okay, you were initially going to be at home on paid admin leave, but you know, okay now next week you're working and some other people are at home on paid admin leave. We wanted to, you know, try to limit the number of employees that were having contact with each other to stop the spread. But also, you know, like I said earlier, kind of share it share the burden and not have anyone feel like well, it's just not fair that this person sitting at home and getting paid and I'm at work doing this, you know, difficult job in these difficult circumstances and getting  paid the same. We we then started using paid admin leave in a little bit different situation as we started having some employees test positive for COVID. And so before April 1, which is when the family's first Corona response act, went into effect, there was no mandated paid leave specific to COVID-19 and so  we had our first employee test positive and of course, we then do our kind of contact tracing, if you will, and who is that employee had contact with at work over the last few weeks and we identify those people and we direct them to self quarantine because we don't want it, you know, running through our staff. And so again, through no fault of their own, those employees are being told to not come to work. They can't do their job remotely. And so we use that same pay status to keep them whole, to not have them you know, have to burn through vacation. And then when the FFCRA kicked in that that threw another wrinkle into it and that was interesting to try to navigate that and that transition.
Greg Preece
Yeah, same here. We just had the we just did a training with all of our department, we've gone to spark single points of contacts, our HR contacts in each department on the FFCRA, the attorney's office. Did that through zoom because it's very obviously, you know, obviously put together quickly and it's a good benefit but it's got so many parts to it. And, you know, different pay codes, different requirements, who's eligible and how much pay and, and all that stuff. So quite a, normally we have a year or so to prep for this or at least six months. I think we got what Matt maybe maybe about a two week notice. Hey, this is coming out.
Matt Hartlieb
Yeah, I think he's awesome. Some early drafts kind of leaking out and knew something was coming and here's what it would look like but it was okay here it's it's out and it's effective on this day and a couple of waves of guidance from the Department of Labor have been really helpful but yeah, it's it's uh, the intent of that law is fantastic I think, to not force employees to choose between their health or a family members health or childcare issues and their job. But it's been a challenge for us in HR to really wrap our arms around it, understand it well and be able to articulate it to other folks and apply it in a   good way that we would, we would hope to do.
Ben Kittelson
Yeah, well and what what are the impacts of that? I didn't I didn't realize there was like, I guess that should be obvious they didn't but I didn't realize there would be like HR kind of policy impacts. What are those impacts for your organization's?
Greg Preece
So in La Porte…
Ben Kittelson
I know you're probably still learning them but like…[laughter]
Matt Hartlieb
So we had to create some new time codes. The law mandates that there is paid leave for six different criteria related to COVID-19. And that paid leave and this is at least my interpretation, is above and beyond, is separate and apart from other employer provided sick leave or vacation. And so if an employee meets one of those six criteria, they have access to this paid leave through the FFCRA before touching any of their other accrued leave. And so we needed a way to track that. So we created, you know, some new, some new time codes and it's really just been a, a big education effort and a lot of coordination between HR and payroll. Payroll lives in the finance department at my organization. So a lot of coordination with those folks and the departmental timekeepers. A challenging wrinkle was that the law went into effect April 1, but there was no retroactive aspect to it. So again, another inequity, right. You had employees who were maybe in exactly similar situations whether they had tested positive for or they had a family member that had, and just because of timing of when that happened, the law applies to one but doesn't apply to another. And so that's where we, you know, use that employer discretion and use that paid admin leave to try to treat everyone the same and not penalize someone for, for getting sick or having an impact, you know, in March as opposed to April.
Greg Preece
Yeah, we are just kind of the same as far as having to come up with new pay codes and tracking and where do these forms and requests go? Because, you know, these are medical events, which is generally confidential. So just when you put an FMLA request, your supervisor may not know all the details. So you're dealing with an HR representative, and which here is housed in our risk management department for lead balances. So getting that form developed, what and what do the pay codes look like and educating the departments you know, these are options available to your employees and making sure that the employees know about it as well.
Matt Hartlieb
Greg, I'm glad you mentioned the privacy and the sensitivity aspect, because that's been a challenge for us. Because of just the obvious interest in COVID-19, and everyone wanting to know, is the virus here and who has it, and I heard this and I heard this, it's, it's been, it's always challenging to keep everyone compliant with certain aspects of HIPAA and other things like that. But this situation has made it even more challenging because of the interest and I understand the interest, right, I want to, I want to stay well, and I want to keep my family well, and I want to keep my, you know, teammates well, and so I want to know where it is and how I can, you know, keep all those folks safe. But at the same time, we've got to protect the privacy of our of our employees and so it's there's been a couple times where I've had to, you know, make some phone calls and say, hey, look, I know your your hearts in the right place and you know, you got best interest of everybody in mind, but you really got to quit asking these questions or sharing this information or let's, let's, let's remember some other aspects that we have to keep in mind as well.
Greg Preece
Early on, I had a department manager call and say, hey, if somebody is coughing, can we send them home [laughter] or they're over 65 can we send them home. I literally laughed in their ear. And I said, could you do that for any other medical condition? You know, so this is not any different? [laughter]
Matt Hartlieb
Yeah, yeah, I agree. And, you know, we've seen the pendulum swing back and forth a couple times, right. You know, early on, there's, you know, this very heightened awareness. And, you know, then there's, there's some of those conversations and reminders and then, you know, maybe you get a little bit lax and, you know, maybe not share the information, not be as diligent, and it's a constant adjustment of trying to find that, that balance between keeping everybody safe, but also respecting everybody's privacy.
Ben Kittelson
Yeah. Well, and now I'm curious. So we're, what, nine or so weeks into this. And different states are starting to get a little more restless than others in kind of getting back to maybe not normal but closer to normal operations. I know I live in Jacksonville, Florida, and we got a bunch of flack for reopening our beaches for limited hours, a week and a half or so ago. And, Matt, you mentioned the beaches being open down where you are. So I'm curious as kind of, you know, the pressure is different probably in Texas than it is in California. But what are you guys kind of doing to prepare to, you know, as maybe restrictions are eased as things change? What are you guys doing to prepare and kind of talk through, like, how do we open up, but so keep employees safe and kind of meet the new guidelines coming from states? So maybe Greg, you can start this, like, what are you guys kind of thinking through as an HR department about that?
Greg Preece
Sure. Yeah. So our quarters here have been extended through May 31. So we have a little extra time. But there's a team assembled together that's looking at exactly that. What does return to work look like and what safety protocols have to be in place. The workplace is definitely gonna be different. So are we doing, you know, half the team's here Monday, Wednesday, Friday, then Tuesday, Thursday, and then switch the other week. Obviously, more cleaning and sanitation stations, hand sanitizer, putting up barriers at some of our service counters might be an option. Departments will decide that. And then, you know, also we have to remember our staff, a lot of folks here in the Bay Area don't have vehicles. They ride public transit in. So that's the BART system here, the transit system, you know, their ridership is down 90% and people are afraid to ride on there. So how are folks going to get into work? That's something that we have to think of. Are they going to get right back on the public transit system. So yeah, then we also have disaster service workers here in California. All employees during a disaster can be declared as disaster service workers. So we're looking at that now. So are there services that maybe some of the people who were on administrative leave our full time staff, when they come in and how do we keep them safe and then continue testing and making sure their families are safe and things like that, so that Fortunately, I guess, or unfortunately to pay when I look at it, we got an additional four weeks to work on it so we don't have to rush it together. Obviously, our labor groups and our management and our city council and everything, very interested in what is it going to look like when we come back and what are the safety precautions we're gonna take.
Matt Hartlieb
So we don't have quite that much time here in Texas. [Laughter] Today, the state of Texas is reopening in a phased approach. Certain retail establishments are able to open again with I think it's 25% of their standard capacity. So restaurants and and other non essential retail businesses and we've been sort of ramping towards that for a week or so. Curbside retail opened up, I think, a week ago. And so yeah, we've been having those come. You know, that message from our governor came out a week or so ago. And so we started having those conversations of what does that mean for us? What we're doing is we are starting to return to normal staffing scheduling practices on Monday, May 4, where we're not opening back up to the public yet though. We wanted to get more bodies back into the buildings, get  employees back into an office setting and make sure that we have those protocols in place, that we have enough hand sanitizer, that we have, you know, an understanding as as a full group about what does  social distancing look like here in this building. You know, some of the some of the hallways are pretty narrow at our city hall and there's there's no way you can be six feet from someone as you're as you're passing them. So we set an expectation that when employees come back, they they wear a face covering. There's not a state mandate in Texas for face coverings, there is a recommendation. And so we're making that an expectation though, for employees. If you're in your office by yourself and the doors closed, okay, you can you can take the mask off, but if you're out and about in the building coming in and out, have the mask on. Our governor gave some pretty clear again, recommendations. We don't we don't like mandates in Texas. [Laughter] We're very, you know, freedom loving, Lone Star State. And so it's a lot of a lot of recommendations. But one of the things, and I was just talking this morning with our emergency management coordinator is, is screening employees as they come in. And what does that look like? And from from, you know, with my HR hat on, I have probably more concerns than and, you know, see benefits to that, right, whether that's a temperature check, or, you know, just a questionnaire screening, you know, we don't really have the staff to do that. We certainly don't have enough trained staff to do that in a safe way. It seems like it creates a congestion point. A point where there's, there's more person to person contact, which we want to avoid. Or you have kind of an unmanned station with a, you know, some sort of temporal scanner thermometer that people are touching and sharing and that that presents problems and so I think we were, it was good decision that we were going to have this next week to kind of ease back in and get get people back in the building and kind of get some of these things ironed out before we then open open the doors to city hall to to the public and it will continue to be a big education piece you know. We've ordered the the signage to put on the floor to mark out six feet distance for people waiting in lines at like our permit counter and utility billing counters and you know, signage throughout the building about again, recommending people wear the masks but certainly not enforcing that. It's like it has been for the last few months, it's gonna be a learning process, and we're gonna see what works and what doesn't work and have to pivot and adjust.
Ben Kittelson
Yeah, yeah, I think the I mean, the, the immediate response to the pandemic has been really interesting and like seeing what local governments do and how it impacts you know, different different operations. And I mean, that's part of what we've we've been trying to cover here in ELGL and GovLove, but at the same time the reopening will be just as as interesting. Like, how do you start rolling it out and doing it safely and making sure your employees you know, feel safe. And the public feels safe to return back to a more normal operation, but like the, you know, we're all in uncharted territory here. So it'll be Yeah, it'll be interesting.
Greg Preece
Yeah, for sure, definitely.
Ben Kittelson
I've been asking this during these, uh, these COVID interviews and what most, I think there's been some interesting answers, or some revealing answers. What surprised you during this? Is there, is there something that like a challenge that has emerged or something that you guys struggled with in response to COVID-19 that maybe you wouldn't have expected at the beginning?
Greg Preece
So I don't know if it's necessarily surprised but you know, as it went on longer, you know, we obviously impacts to the budget. I know GovLove has done some other budget ones, but you know, that's going to have a long lasting impact on the organization. So more challenges for HR to deal with and the organization as a whole. And, you know, initially for us well, testing has been a topic with this, during this whole crisis across the country, and offering employees the ability to be tested, we were we were one of the first ones are actually the first here in the state to offer testing for our staff. If they thought they were exposed, started with public safety, and then rolled it out to all of our staff. So you know, that was something that rolled out pretty quick that I was surprised at how quickly that group was able to put that testing together. I'm pretty proud of that, that effort. So for us, just kind of the some of the innovative things that you know, we know that we're capable of doing, but sometimes because we're government, we hide behind that and say, well, we're not quite that innovative, and I'm happy to see some of that come out during this.
Matt Hartlieb
This was this was a tough question to think about because there's been so much unknown that we've dealt with so I will I was challenged to really think of, you know, some specific surprises, because it seems like there's just been unexpected and new things around every corner. You know, maybe not a surprise or a challenge, but certainly a reaffirmation, we've seen in La Porte about the, just the support from the community. We've seen businesses supporting each other and our staff, we've had some of our larger industry partners, you know, reach out to some of the local restaurants, not that not the chain folks, but the, you know, the locally owned restaurants and buy meals to be delivered to our, you know, public safety and public works, folks. We, we have a nursing home skilled care facility in Laporte and, you know, those places have been really challenged. And, you know, the guidance and some mandates. They're about no visitors right and so residents really challenged from having their routines disrupted and not having the contact. So some of our staff put together a parade for that facility, having you know, some of the big shiny red fire trucks and police cars and other city and community staff kind of just drive through their driveway and it was really well received and some great you know, some some great images of those residents out on the front porch and waving and just being so genuinely thrilled to have you know, have folks come by and say hey, we know you're here and we still care about you and we're concerned about you and thinking about you. And one of the one of the residents, they made posters and one of them had a sign they held up that said, send Chick fil A and our local Chick fil A franchise, you know got wind of that and they sent over a platter to the. So it's been really neat. Maybe not surprising, but but really encouraging to see those community connections come out that we knew were there, but come out in new ways and unique ways to meet the challenges as we've gone through this.
Ben Kittelson
That's awesome. Well, and Greg, I would be remiss if I didn't follow up on the offering testing. So how are you guys able to roll that out? And yeah, what did that take?
Greg Preece
Yeah, so it was, like I mentioned the risk management team and city admin and the mayor's office all work together with the public safety unions. And basically, it was a pretty much a mobile setup, and that there were some criteria that if you thought you were exposed, or confirmed exposure, then and folks were able to, to put in a request to fill out the application to be tested for that. And that was, I think about the first week after we were closed. So maybe March 20, or somewhere in that week. And then the following week, same protocols, you know, you just couldn't show up. But you had to work through our risk management group in our, and our city physician that's contracted and offered to all employees who may have been under an exposure or were showing symptoms. Because, you know, as we mentioned throughout this taking care of our employees and their families is critical, especially when we're still making people come into work. So that was something that we thought was very crucial and very pleased with how fast that got rolled out.
Ben Kittelson
Yeah, awesome. That's, that's really cool. Cool. So I'm gonna, I'm gonna shift gears a little bit and sort of as we wrap up our conversation, I usually ask this question at the beginning, but it's been kind of a neat way to end some of these COVID-19 episodes. But, and, Matt, if we could start with you, how did you end up in local government? What was your path to, to your current position? I always think it's interesting to see, you know, the different paths that people take and the different routes that lead people to their career and so anyway, so Matt, what was kind of your path to your current job?
Matt Hartlieb
Yeah, I agree. Great question and one that I always enjoy hearing answers to. I only know one person that, you know, said, As a child, they wanted to work at City Hall and that's not me. That's, that's a colleague of mine, Nick Woolery, but I did not grow up thinking I would work for a city. Summer of 2000, I needed a job. I'd been not really going to school very seriously for a few years. I didn't know what I wanted to be when I grew up, but knew I needed a job. I had a really good friend that worked for a city in the public works department. He said, hey, they they posted a job for a dispatcher. And I thought, okay, I can I can dispatch, you know, garbage trucks and stuff like that. And so I applied and showed up for the test. Learn that it wasn't dispatching garbage trucks, it was answering 911 and police, fire and EMS. But I did well on the test, they made me an offer and I ended up doing that job for four or five years. Really, really stressful job, but really rewarding as you can imagine. And in that time, I promoted up to a shift supervisor and so got to be involved in hiring and training and some, you know, kind of policy practice development. In that time I got married, got a little bit more mature, wanted to get off the shift work kind of thing and so went back to school. And when, you know, kind of going back and saying, Okay, well what do you what do you want to study? I was drawn to HR because of some of the experiences I had as a supervisor. And so worked full time, going to school part time, kind of shifted to eventually working part time and school full time and as I finished up my bachelor's did a an internship with the HR department there at City of Baytown and really enjoyed that. They didn't have any openings at the time so off I went to the private sector to get my HR career started but I stayed in touch with with Baytown and a few years in they posted a position and I applied for it and I got a nice letter from them saying thanks but no thanks. And about a year later that position was open again and I applied again and this time I got a nice phone call from somebody and said hey, you know we are glad you're interested still and you know, enjoyed working with you a few years back. We just don't think you have quite the\, everything we're looking for. I said okay, all right, no problem and then a year later, it was open again and third time was was a charm. I don't know if I just finally wore them down. They didn't want it. [laughter] You know, they could, they couldn't escalate it anymore. They were gonna have to come see me personally to tell me no that time. But came in and interviewed and they made me an offer and that was, the timing was great. It was about 2008, the economy wasn't doing great. There was a lot of turmoil in the energy sector that I was in at the time and so really leaped at the opportunity to come back to Baytown and that's really when so so working as a dispatcher in the police department, it's easy to feel like you're not quite part of the full city right? You're very kind of siloed and isolated, you come in you do this job and you go home and so getting back to City Hall, really opened up my eyes to you know, local government as a as a great career. And so I was there for several years and just loved working for my hometown. There are some challenges of working for the town that you live in. But the benefits far outweigh those concerns. It was fantastic. And then I guess it's been about four and a half years ago now. A colleague moved over to LaPorte, reached out to me about the opportunity to come to La Pporte and lead the HR function there and I've long had a practice of not turning down opportunities to at least have a conversation about a career opportunity. And so went over and met with the city manager and then assistant city manager at La Porte and had a really good conversation and after a lot of really difficult deliberation made the decision to come over to La Porte and have just really had my you know, passion for local government reaffirmed in the last couple years. I think it's such a rewarding place to be. It's frustrating at times in you know, there's limitations and we were not quite as agile as I think some of us wish we could be at times, and there's the politics aspect, but serving a community, serving teammates like we do in HR, we're not quite as on the front lines as police or public works or our parks, folks, but doing our job well enables them to do their job well. And so if you had asked me two years ago, Matt, you think you might want to move up in a city management, I would have laughed at you and said no way. I don't want that headache. And yet here I am, in my second semester of pursuing a master's degree in public service with the thought of yeah, okay, maybe so maybe someday I do see myself in the city manager's office. So I could I could go on for a long time being a cheerleader for the local government sector, it's a fantastic place to be.
Ben Kittelson
Yeah, well said. Greg, what about you?
Greg Preece
Yeah, so mine I started as a as a firefighter, fire cadet actually in the community where I grew up, helped start that program and was fortunate to be hired full time as a firefighter paramedic. I also did some 911 dispatching for a little while at the police department before I was fully a paramedic, and from there and went to the City of Blue Ash and I was full time there for a while, promoted through the ranks up to Assistant Fire Chief. And I was pursuing my master's degree or I had finished my master's degree by that time when the city's HR director had a child and decided she wasn't going to come back. So I put in to be the city's HR director. Stayed there for a little while, moved over to the City of Fairfield by in the Cincinnati area as the assistant city manager, also overseeing human resources and internal service functions and communications and then kind of got tired of the cold weather and I always joked I was going to move to San Diego or California. I realized Oakland is not San Diego but just somewhere I don't have to worry about plowing streets and snow and ice. And this position came up. And it's been great. And I can't say enough great things about working in government, it's really cool to see the stuff that you do here at the local level and the impact that it has on the community. And, you know, I always mentioned that, while you can still do that in county, government and state government, I think the higher you get, especially at the state and federal level, it's harder, you're more disconnected from that direct impact. And, and I did work for a little while in the community I grew up in which, you know, like Matt said, has some challenges, especially when you start seeing your elderly neighbors, you know, get sick and things like that. So I'm I did finally move out of that community, as far as working and, and that's when I went to Blue Ash. But yeah, serving the local community is great and local government in itself is great. And of course, I'm a big supporter of MPA programs as well.
Ben Kittelson
Awesome, awesome, awesome. Well, always our traditional last question GovLove is, if you could be the GovLove DJ, what song would you pick as our exit music I'll find a way to queue up both songs here. So we can hear from both of you. But Matt, why don't you start us off? What song would you pick?
Matt Hartlieb
So I've got I've got two kids, I've got a son in sixth grade and a daughter in in first grade. So, Frozen 2 has been in somewhat heavy rotation over the last few weeks. And it's fitting because the, if you're familiar, kind of the the signature song from from that movie is called Into the Unknown. And that's that's the repeated refrain of the chorus. And, you know, I think that's, that's kind of what we're all in right now. Still quite a bit of unknown with COVID-19. As we move forward, I think we've learned some things up to this point. But there's there's still a lot of questions as as we start to reopen and try to get back to whatever the new normal is going to look like. There's still going to be a lot of questions. So it was a in my head based on repetition recently, but I do think it's, it's pretty fitting for times we're in.
Greg Preece
And normally I would pick a Jimmy Buffett song I think, to describe my life
Ben Kittelson
You're going right to my heartstrings yeah.
Greg Preece
Oh man I am a big Jimmy Buffett fan and seldom miss a concert when he's close but you know for this you know lately, let's say The Fighter by Gym Class Heroes I think that'd be a good song to go out on. It would definitely be my song If I were a baseball player that I would walk up to.
Ben Kittelson
Nice nice very nice.
Matt Hartlieb
Just for the record, I would I would not choose into The Unknown for my walk up song. [Laughter]
Ben Kittelson
I think it's too late. I think you've already you've already…. [laughter]
Matt Hartlieb
All right. All right.
Ben Kittelson
Awesome. Well, that ends our episode of the day. Matt, Greg, thank you so much for coming on and talking with me. I really appreciate you taking the time.
Greg and Matt
Thank you. Absolutely. Thank you.
Ben Kittelson
And for our listeners, GovLove is brought to you by Engaging Local Government Leaders. You can reach us online at elgl.org/govlove or on Twitter at the handle @govlovepodcasts. You can support GovLove by joining ELGL. Membership is just $40 for an individual or $20 if you are a student. As a reminder, ELGL 20, our annual conference will be will take place this fall on October 14 through 16th. So I hope to see you in Portland. Last, but not least, subscribe to GovLove on your favorite podcast app. And if you're already subscribed, go tell a friend or colleague about this podcast. Help spread the word that GovLove is the go to place for local government stories. And with that, thank you for listening. This has been GovLove, a podcast about local government.
Message
GovLove is looking for your feedback. Please visit GovLovesurvey.com and tell us a little about you and what you think about the podcast. Hearing from you will help us make GovLove even better. That's Govlovesurvey.com Thanks.
---