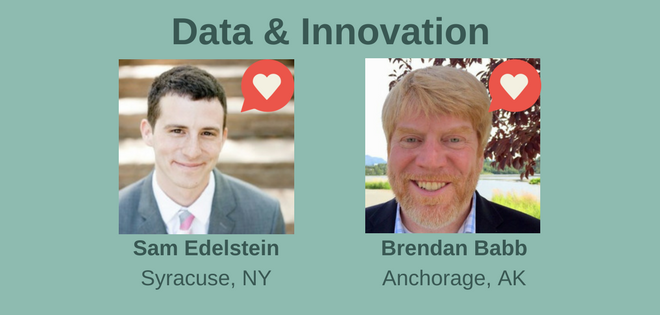 Sam Edelstein
Chief Data Officer
City of Syracuse, NY
LinkedIn | Twitter
Brendan Babb
Chief Innovation Officer
City of Anchorage, AK
LinkedIn | Twitter
---
Open data and innovation from coast to coast. Brendan Babb, the Chief Innovation Officer of Anchorage, Alaska and Sam Edelstein, the Chief Data Officer of Syracuse, New York join GovLove. They answered questions from our listeners, talked about how innovation doesn't have to be fancy and the role of an innovation office in a city.
Topics:
Celebrity look-alike
Code for America (The Anchorage i-team and Code for America have launched a job search website. Brendan compares turbo tax as the website offers steps to prepare to get a job and search for a job with simple checklists and clear tasks.)
Open data for dog licenses
Data analysis challenges for smaller cities
Attracting talented professionals to local government
ELGL co-founder and host of the interview Kent Wyatt would like to thank Adria Finch, Josh Edwards, Samantha Linnett, and Sioux-z Marshall for providing background information for the episode.
P.S: Happy Birthday to Anchorage i-team Program Manager, Sioux-z Marshall's birthday whose birthday is on the date (October 20) of this podcast release.
---
---
Keep Reading
Upstate New York hackathon brings students, professionals together to build products
Led By Data: Insights from the Syracuse i-team
Led By Data II: More Insights from the Syracuse i-team
Sam Edelstein, City of Syracuse – #MITCDOIQ – #theCUBE
City of Syracuse Innovation Team
Brendan Babb, Anchorage's new data maestro
Anchorage Supports Open Data, Innovation With CIO
Anchorage's chief innovation officer wants to make data more accessible
New online service aims to ease commutes, encourage alternative transportation