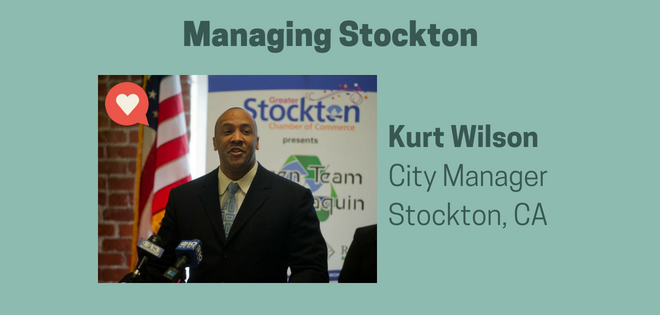 Kurt Wilson
City Manager
City of Stockton, California
Bio | LinkedIn
---
From municipal bankruptcy to universal basic income. Kurt Wilson, the City Manager of Stockton, California, has managed the city through a lot of change. Kurt came on GovLove for a wide ranging conversation that covered his path into public service, principled policing in Stockton, working for Governor Schwarzenegger's administration and more. He described what it's like to manage a City through the bankruptcy process and how Stockton will be the first city to pilot a universal basic income program.
---
---
Learn More
Free Cash to Fight Income Inequality? California City Is First in U.S. to Try
Stockton ranked one of most fiscally solvent cities in US
Smarter Policing and Principled Policing in Stockton, California
What is a Fiscally Healthy City?
Kurt Wilson Awarded Second Harvard Scholarship of 2017-18
Stockton's new city manager talks about the road ahead
City of Stockton Exits Bankruptcy, Officials Outline Financial Plan
Stockton, California, workers relieved as judge ruling secures pensions
What Becomes of an Abandoned City Hall?
Stockton Names Kurt Wilson As New City Manager At City Council Meeting