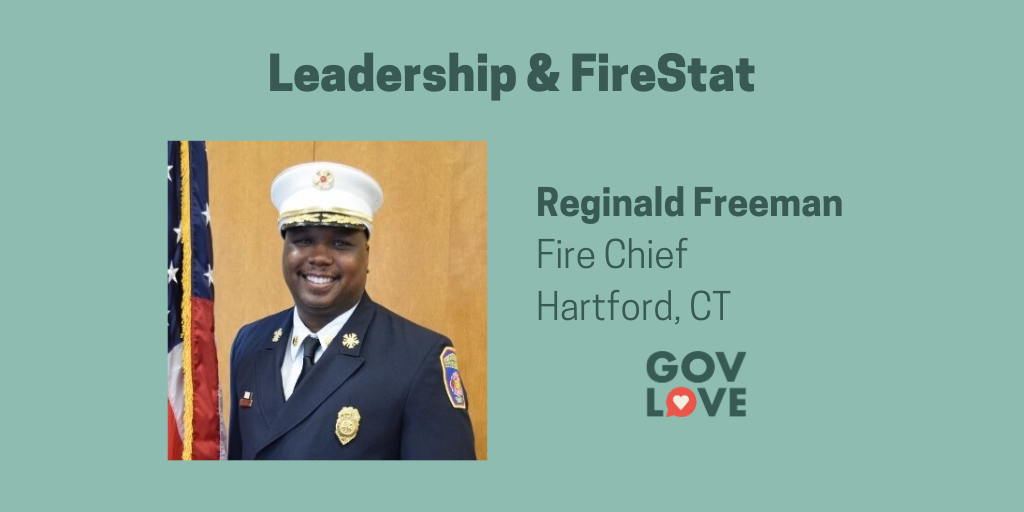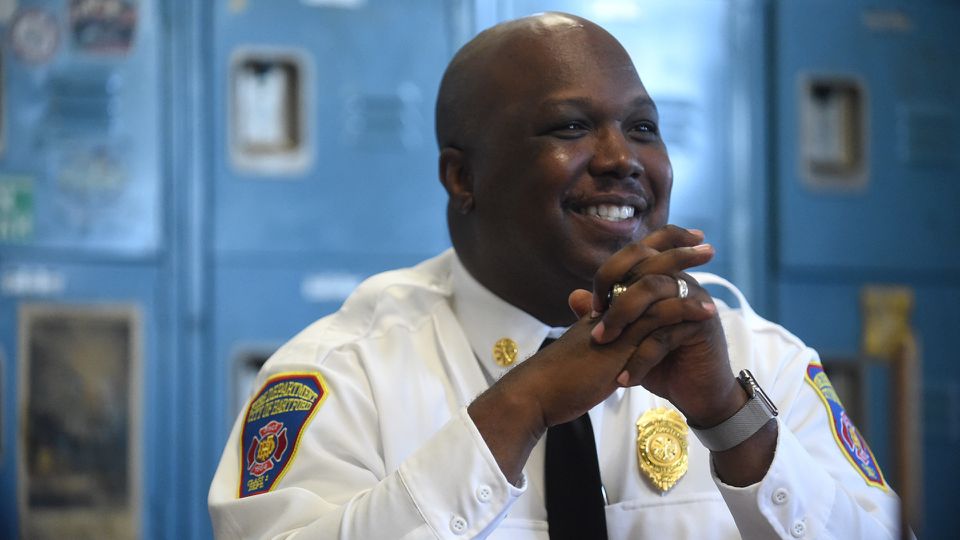 Reginald Freeman
Fire Chief & Emergency Management Director
City of Hartford, Connecticut
Bio | LinkedIn
---
Data and fire service. Chief Reginald Freeman of the Hartford, Connecticut Fire Department joined the podcast to talk about his department's FireStat program and change management. Chief Freeman discussed how they monitor and evaluate performance measures, engaging with fire fighters, and his philosophy on leadership. He also discussed his career path into the fire service, including time in the military.
Host: Ben Kittelson
---
---
Learn More
Hartford Fire Chief Reginald Freeman Breathes Life Into Diminished Department
Hartford Fire Department Website
Transformational Change and the Fire Service
Hartford Fire Chief Reginald Freeman Gets To Work Mending A Damaged Department
A data-driven approach to firefighting
---
Episode Transcript
Ben Kittelson
Hey all. This is GovLove, a podcast about local government brought to you by Engaging Local Government Leaders. I'm Ben Kittleson. I am at the Novak Consulting Group and GovLove co-host. We have a great episode for you today. We're talking public safety in Hartford, Connecticut. As a reminder, if you want to support GovLove, you should become an ELGL member. ELGL is a professional association engaging the brightest minds in local government. GovLove is also looking for your feedback. Visit Govlovesurvey.com and tell us a little about you and what you think of GovLove. Knowing more about you helps us make GovLove better. That's GovLovesurvey.com. Now let me introduce today's guest. Chief Reginald Freeman is the Fire Chief and Emergency Management Director for the City of Hartford, Connecticut. And then since 2016. Prior to joining the City of Hartford he was the Fire Chief for Fort Lockheed Martin. Chief Freeman also served in Iraq as the civilian Fire Chief for the Department of Defense and coalition allies from 2004 to 2008. His last assignment, there was at Camp Victory in Baghdad where he managed more than 700 firefighters and nearly 25,000 calls for service. That seems like a really big fire department. [Laughter] And with that, Chief welcome to GovLove and thank you so much for joining us.
Chief Freeman
Thank you so much for having me. It's truly my honor and privilege and I really appreciate everything that you're doing for local government, local governments throughout the United States. It's an honor to be here.
Ben Kittelson
Thanks, Chief. Appreciate the kind words. Our listeners are familiar with a traditional half on GovLove, a lightning round to get to know our guests a little better. So we've got a couple of fun questions to get you warmed up. What book are you currently reading?
Chief Freeman
Well, you know, I'm currently reading several. I'm truly a John Maxwell fan. There's really nothing that John Maxwell has not published that I have not just fallen in love with and used to my day to day application of leadership and management but, but currently I'm really enjoying the second edition of Investing in People by Wayne, Casio and John Boudreau. And it really talks about the financial impact of human resources initiatives. You know, everything from HR measurements from a strategic standpoint, analytical foundations of HR management, employee health, wellness and welfare. And somebody may say, well, why is a fire chief reading a book that's HR focus? Well, the majority of our issues in the fire service happen in the firehouse and not typically on the fire ground. And we are quasi subject matter experts in human resources being fire chief. So I'm learning a lot and there's a lot of great, great nuggets that I'm getting out of this book that I can't wait to possibly implement.
Ben Kittelson
Yeah, I feel like, the thing I've heard from a lot of directors, it doesn't matter what field,you end up really  needing to know HR stuff and how to get people to buy in more than your professional expertise.
Chief Freeman
That's right.
Ben Kittelson
All right, so my next lightning round question for you, what was the first concert that you went to?
Chief Freeman
Well, you know, I've never really been into concerts that much, ironically enough, especially in comparison to my peers. But my first concert that I recall going to, I love all genres of music, but I'm certainly a fan of urban music or hip hop. And my first concert was actually OutKast, my junior year in high school in 1996. And that was a phenomenal concert. It was, it was, it was certainly exciting, and everyone had a great time. And for that to be my first concert, I had a blast and I have gone to maybe in my lifetime only four concerts but that was our first and really enjoyed it. And it was entertaining to say the least.
Ben Kittelson
Yeah, I mean, well, if OutKast is your first concert, it's hard to top that.
Chief Freeman
Hard to top that. Exactly, exactly.
Ben Kittelson
Alright, so next question for you. What was the best advice you ever received?
Chief Freeman
You know, that's, that's a great question. I would say, the best advice that I have received is success, you know, when you think about success, this is something one of my mentors, David Daniels, who was Fire Chief of Fulton County at the time. He said Reggie, one thing that you always need to remember as it pertains to success, God given talent is only going to take you so far. The rest is hard work. And it really took me some time to truly understand exactly what he meant by that. But as I progressed in my career and I had lofty goals and and strategic objectives, it was clear as day what he meant by that and I  tell that same story or use that same quote, with my officers and my firefighters today. You know, we all have God given talent. But depending on what your goal is, you're going to have to work extremely hard towards it. And don't ever let anyone tell you what you can't do or what you shouldn't do, if it's pertaining to your advancement professionally. So that's, I would say that's probably the best, best advice I was ever given is, God given talent is only going to take you so far, the rest is hard work.
Ben Kittelson
Alright, so last question for you. Where do you go for inspiration?
Chief Freeman
Wow. Well, you know, for me, it starts at home. You know, I've been married 17 years. I'm 41 years old. And we have two beautiful daughters, my wife and I, who was my rock and my inspiration, but my personal inspiration certainly comes from home. Professionally, I'm truly inspired by visiting my fire stations, my fire houses and sitting down with my firefighters. And just simply asking, how's the family? How's everything going? Is there anything I can do to make your job easier? And it doesn't matter how difficult or challenging the day is. I certainly, certainly get my inspiration from going to the firehouses, visiting with my firefighters, because it truly reminds me why I'm doing what I'm doing. You know, my job is to first and foremost, ensure that their health and safety is safeguarded. And then secondly, they have all of the tools and equipment or resources to adequately do their job. And whenever I need professional inspiration, that's my first stop is visiting with my firefighters in the firehouses.
Ben Kittelson
Awesome, awesome. So let's, let's talk about that job and your career. One of the things I always ask guests, when I interview them on the podcast is how they ended up in this field. And for you, you've had a very unique career path. And so for you, what was your path to, to being the Fire Chief in Hartford? What was, how did you end up working in this field and in local government?
Chief Freeman
Well, I took a very unorthodox route. You know, when I first went to fire service in 2000, it doesn't seem that long ago. But when you do the math, that's 20 years ago, and this is certainly strange for me to say i have been in the fire service 20 years already. But my my fire service career started in Mississippi, on the Gulf Coast, and I was a firefighter EMT, and I was a student athlete in high school and in my freshman year in college. I got hurt, which was what catapulted me into finding my passion. And I've always been very focused through life, with people in service. And what I quickly discovered is that I'm very passionate about, about people and being of service, and with the fire, with the fire services, its athletic, you know you're doing things in a community, you can have an immediate impact and immediate positive impact on the quality of life of people within your respective jurisdiction. And I joined the fire department, after I was hurt and my collegiate athletic career was over. And I absolutely fell in love with it. And it was something that I thought I wanted to do when I filled out the application. But my first day at the Academy, I was convinced that there's nothing else I'd rather be doing, than riding on that apparatus, responding to emergencies and helping people and it's been outside of my family, the most rewarding thing I could have ever done and that I have ever done. And it's truly an honor and privilege to wear my uniform and to serve the citizens of Hartford.
Ben Kittelson
Awesome. Is there something maybe in you know, the academy or in that first job where, I don't know, like a call or event or something that was like, that made you realize, oh, yeah, this is this is for me this is awesome?
Chief Freeman
Sure, absolutely. You know with the fire service you know, most firefighters they join the join the fire service, because you know they want to go fight fires. But that's only a very small percentage of our total call volume. So in Hartford, 2019, we ran on 29,532 calls for service, but only literally 10% of our calls were fires, and just over 70% EMS calls. And so I've ran on a number of difficult calls pertaining to structure fires, motor vehicle accidents, and it's unfortunate, but we see, like law enforcement officers we see the worst that humanity has to offer and sometimes that can be challenging and difficult, and an unfortunate reality in the fire service is that in the last year alone, the United States Fire Administration has reported that there were more firefighters that committed suicide than actually died in a line of duty. And I think that number was roughly 170 firefighters committed suicide last year, and only 53 died in the line of duty executing their duties and responsibilities. And so you know, there had been some very significant calls, traumatizing calls that I have responded to, and you find positive ways to cope with those trapped travesties. And unfortunately, some members of the fire service they go a different route. You know, they turn to drugs, they turn to alcohol, and some unfortunately commit suicide. But with with my career, you know, starting in Mississippi and then transitioning over to civilian DOD work in Iraq for four years from November 5, 2004 to November 12, 2008, and then after that going to Lockheed Martin, and then here to the City of Hartford, I've just been so blessed and so fortunate to have the opportunities that I've had. And it's a different kind of gratification when you're serving as fire chief. And I tell anybody that will listen, the best time of my life was when I was on the apparatus responding to fires as a firefighter. And the most gratifying has been the opportunity to serve as chief of the department and serve my firefighters to give them everything they need to do their job.
Ben Kittelson
Yeah, that's fair that you probably don't get into the fire service meetings and look at statistics but you can have a much bigger impact on on the field when you're doing that. Um, you just mentioned like how kind of buried your your career in the fire service was, or has been? What was maybe let's talk about your time in military and doing fire service for the DOD. What was kind of that life, were there any lessons you learned from that? One thing we we highlight a little bit in ELGL is the skills that veterans have and how they translate to working, working local government, and we sponsor a fellowship for veterans in local government. So like, it's definitely something we're aware of and talk about, but I haven't heard of a fire service in the like, you have a much more direct career for in the in the military. So I guess could you could you talk a little bit about that, and kind of what that experience is like, and then how it informs your work today?
Chief Freeman
Sure, absolutely. You know, I was I was raised by a career, noncommissioned officer in the Air Force. My father served 20 years and we moved around every few years and lived in several different states and three different countries growing up. So I had that structure of a of a of an NCO, as they say in the military, as I was raised with a very strong hand. [Laughter] So discipline wasn't necessarily an issue with me, and having the opportunity to serve those who protect us, in Iraq, in a combat zone. Certainly at a very young age, I believe when I was in Iraq, I was got over there as an officer at roughly 25 years old. So, there was the structure of the organization and discipline that was paramount for us to have while serving in a combat zone and having to respond to rocket and mortar attacks on the military bases, which led to of course, mass casualty incidents, structure fires in ammunition holding areas, in flight emergencies with fixed wing aircrafts and rotary aircrafts, helicopters, and so that structure was very, very influential on how I lead today. And in the fire service and typically speaking, the fire service for the longest has been very authoritarian. And, you know, people ask me all the time well you know, what's your leadership style? And my response is always the same. Well, it depends on the person and the situation I'm dealing with. And there's 7600 documented leadership styles out there and with five different generations in the workplace today, and in the fire service, specifically, particularly speaking here in Hartford, we have three different distinct generations. And so with that come different values, you cannot paint everyone with the same brush. If you're dealing with an issue pertaining specifically to a millennial, and you have the same exact scenario that unfolds with someone who is a baby boomer, then you may, in essence, and most likely you're going to handle that situation differently in regards to how you approach it. And so servant leadership, which was established by Robert K Greenleaf in 1970, which is a Christian based leadership style, which in essence just turns the organizational chart upside down. The authoritarian aspect is taken out of the equation. And you are truly as the person in position of authority, whether it's in a private sector or the public sector, the CEO of the organization, the way you see the world is not that every employee that works for you, has to serve you. Your mission is to serve those who are under your command. And so I've certainly adapted that leadership style here in Hartford or to actually throughout my career, as well as of course transformational leadership, which was established by Bass in the early 80s, which is similar to servant leadership, but it it makes the interactions that one may have in a position of authority, a lot more fluid and a lot more sincere and genuine and truly inspires members of the organization to do their job instead of them feeling obligated to do it. And I always tell people, you know, you want people to work for you. You don't want people to do their job. If people just come to work and do their job, they're just checking boxes. But it's that inspirational leadership to where you're approachable, people feel comfortable voicing discernment, they feel comfortable in disagreeing. And when people have that comfortability, then the organization gets better, you can truly address problems before they become a crisis. And so my experience in Iraq, it really and working with the military has really given me the foundation of what structure is and what structure should be. And then of course, bringing that back to local government, while specifically here in the City of Hartford, I am able to adjust that even more to ensure that every member of the team understands that he or she is valued, and they should feel welcome to provide input and give feedback as often as necessary.
Ben Kittelson
Yeah, yeah. Well said, um, well, I kind of on that note, you mentioned that like fire departments tend to be very hierarchical traditionally. But like the kind of leadership style that you're espousing, and and talking about implementing, is that so what was maybe the reception or how do you go about, you know, changing the culture and kind of an approach to leadership that, you know, traditionally fire department or or any Public Safety Department wouldn't have that kind of leadership style? It'd be, like you said, much more hierarchical and less collaborative.
Chief Freeman
Yeah, that's an interesting question, because, you know, you have the fire service, and then you have the New England Fire Service. You know, we have, we have been doing things a certain way here in New England for quite some time and actually here in Hartford, we celebrated our 155th year anniversary this past December 6th. Being a incorporated career Fire Department, we were actually established in 1790. But with the fire service and New England fire service in general, you know, it's, it's, it's always important for chiefs of the department to come up through the ranks with that respective organization. And that's typically how it's done. You know, and for me, when I was sworn in on February 1, 2016, I was 37 years old and was sworn in as the 37th Fire Chief in our department's history. But yet and still I had to overcome the fact that I was an outsider, and I had to truly assess where we were at the time and communicate my expectations for the team. But most importantly, at the end of that conversation, I would ask the question, what are your expectations of me? And so it was very important for me, in my first four days to visit all four of our tours, because here in Harford, we work 24 hours on and 72 hours off. Our firefighters work every fourth day. And it was very important to me to establish the relationship of inclusiveness. And for me to send a message that you matter. And I'm showing you that you matter, by me visiting with you my first four days in office. And that conversation was had with all 17 of our companies on all four tours. And after I asked the question, what are your expectations of me? There was a common theme, which I thought was very interesting. All of the groups said, Chief, we want more training and more accountability. Now, the training aspect, I understand, but there's not many fire departments to where their members would ask the chief to hold them more accountable. That just does not happen. So that's the that's, that's where we were when I assumed command collectively, as a department, and we had just had the the tragic line of duty deaths of Kevin Lamont Bill who died on October 7, 2014. And from the account of our members, from their testimony, it was a breakdown of the culture of accountability and leadership within the organization. So we worked hard on addressing that. And I created a 100 day plan. After I gave that plan to the Mayor, sat down with him and briefed him on on the contents of that document, I shared it with the entire department. And as we were able to accomplish those things that the members asked of me in my first four days, I would then send that information out to the entire department from a memorandum, as a memorandum from my office so they can see that you know, I heard what they said and we are working towards attaining, you know, the things that are important to them. And to this day, firefighters tell me that they really appreciate that that open line of communication and transparency.
Ben Kittelson
So that open communication almost made up for you not being like one, quote unquote, one of them, right. Like, is that fair to say?
Chief Freeman
Sure. Yeah, exactly. Exactly. And, you know, for them to know and understand that, you know, it's not just lip service, you know, we're going to, you know, we have our issues, we know what those issues are. We're going to formulate a strategy to address those issues. And we're going to do it collectively together. And it's not just me dictating as the chief of the department, what we're going to do, but we're going to talk about what we're going to do, but I'm also going to ask you how we're going to go about doing it. And it's so very important, I think in today's workforce, that leadership, regardless if it's public sector, private sector, public works, Fire Department, police department, economic development, you name it. It's very important for us to engage the members of our organizations and the member, members of our team in an inclusive manner.
Ben Kittelson
Interesting. Yeah. And that, I like that I really like that. Um, so for you, have you maintained that kind of like meeting with the firehouses as like a way to get their feedback and be that inclusive, like communication and leadership? Or I guess how do you sustain it post first starting, I guess?
Chief Freeman
Most certainly. We have regular station visits and, and what I do, I try to make it a point for it just not to be me as a chief. I have two assistant chiefs, one Assistant Chief of Operations, another system chief in support services. And we have frequent conversations about my expectations that they do the exact same thing. It's very important to be in touch with the men and women who's actually doing the job because it doesn't matter how many memorandums i send from my office or the third floor and headquarters, it's the men and women wearing the uniform that actually have to get the work done. So it's imperative that we are, we are in constant communication with them and the little gestures go such a long way and in an example, you know whether I'm coming or going to a meeting if I do not have to be somewhere within a, you know, 15-20 minute time and I'm driving by a firehouse, and I see one firefighter outside or the entire company, outside of the firehouse, whether they're checking the apparatus or they're just hanging out, getting ready to train or getting ready to conduct business, I make it a point to stop, I make it a point to stop. And a lot of times, I don't even turn my truck off. I pull up on the front apron of the firehouse, I ask first and foremost, how are you? I then ask how's your family? And my last question, is there anything I can do for you to make your job easier? And that two minute interaction might as well be 20 minutes, because they appreciate the fact that you took the time to stop. You took the time to ask, is there anything that they need to do their job more effectively, and it really lends to people working for you instead of them simply doing their job.
Ben Kittelson
That's Yeah, that's great taking the time. And what do you hear from, from guys when, when or from your staff when, when you're out there and you're asking them what they need? It pretty, Is there like a common theme when you may get feedback from them? Or is it just kind of, depends on the day, depends on the issue that is going on in the community?
Chief Freeman
Yeah, there's really, there's really not much in way of tangible things that they ask for and they need. And really nine times out of 10 the response is, no Chief, we're all set we're good. You know, and I always ask, do you need any, how are your uniforms? How's your personal protective equipment? Is there anything we can get for you there? But we have weekly staff meetings with the staff here at headquarters and all the division heads. We have monthly staff meetings with the tour commanders, who are the most senior officers in operations and then we have quarterly meetings with the company officers. And that's critically important because the company officer, whether it be a lieutenant or captain, they have legitimate authority from my office as the chief. But at the same token, they're actually in the firehouse and on the apparatus with the firefighters. So if the first line supervisors don't understand the mission, or they have not bought into what it is you're trying to accomplish, because they there's a lack of understanding or lack of communication, then the initiative is going to die or be totally ineffective. And that's why those quarterly meetings which we establish when I first assumed command four years ago, were so critically important to where those company officers truly feel as if they're an extension of my office and they have legitimate authority. And it's good for the firefighters to see that those company officers are an extension of the chief office, and they're there to also help them be successful.
Ben Kittelson
Yeah, yeah, they're not just their own independent firehouse. They're part of this bigger team.
Chief Freeman
Absolutely.
Ben Kittelson
Hey, GovLove listeners. We are fundraising to support the podcast you love, at this very moment. All this month we're accepting donations to help take GovLove to the next level. And if that's not enough, one of the rewards is a shout out on the podcast read by yours truly. Today we have a shout out from actually a recurring GovLove guest, Brent Stockwell. And here it is. Brent wants to wish a Happy Valentine's Day to his wife Raelynne, his kids, Danielle, Abby, and Emily and his whole team at the City of Scottsdale, and all of his ELGL local gov friends. Thank you so much Brent for supporting GovLove and for our listeners that haven't donated yet, you can find out more at ELGL.org. Now back to the interview.
Ben Kittelson
Well, and one of the things in preparing for this interview that I read about was, one of your meetings that you instituted when, when you started was a fire staff meeting. So what
what was kind of the goal when you set up the program.
Chief Freeman
Well the goal is, first thing I promised the mayor, our community as well as our firefighters was that I was going to bring back structure, organization and discipline. And we were in the news all the time for all the wrong reasons. You know, we had a few firefighters make some very poor choices and decisions, and the entire organization suffered because of it. And one of the ways to bring back that structure was to institute a performance management metric, which I literally took from William Bratton, the Commissioner of, of NYPD and the Compstat model that he utilized to hold his police officers accountable. And we just made it Fire, Fire specific. So an example we look at on a monthly basis, are response times for all of our emergency response vehicles on all tours, and all 17 companies. And we utilize the National Fire Protection Association standard of 1710, which is a standard that speaks to the competencies and expectations of career fire departments and the deployment of those resources. And within NPFA 1710, if the expectation is that the first arriving, fire suppression piece of equipment should get on scene is six minutes and 20 seconds or less 90% of the time. And so we look at that on a monthly basis. And if there are any companies, or any tours, or shifts as we go, or we call them tours, but most people refer to them as shifts, if they don't meet that metrics, then we're having a conversation as to why. And not only are we having a conversation as to why, we're actually pulling up those runs in the emergency operation center where we hold these meetings and having a discussion and that tour commander at the lectern has to, has to explain to me and my command staff as well as everyone else in the room, why it is that the goal for that month was not met. We also look at the percentage of properties saved when we respond to fires, structure fires. And when we first built this out, my strategic planning manager, he first had that category, titled percentage of property loss. And so we sat down and I explained to them the importance of the words that we use and the message that we're trying to get across. And why it was so important to change that specific field to percentage of property saved, and the conversation went, went in the direction of when we respond to a fire, we didn't start the fire. We're there to make everyone's life easy. We're there to to protect life and to save property. So we need to change that field to percentage of property saved instead of percentage of property loss, because the property loss stops when we arrive on the scene and start rendering our services. And it made all the sense to the world once we had that discussion. We also look at fire alarms compared to actual fires, and some people may call them false alarms. And that's important because you have fire apparatus responding what we call cold, lights and sirens, to these alarms, and if it is, quote unquote, a malfunction of the system, we want to be able to look at that and track it and have a conversation with that respective entity. Because if there's an issue with their alarm system that needs to get properly addressed, because firefighters are responding, lights and sirens, putting themselves in danger as well as the general public, getting from the firehouse to that respective address, and that, that analysis also transcends even into our support services division, which we have our fire marshal's office, our Special Services Unit which is in charge of public fire life safety education. And then with specifically our equipment maintenance division, which we have a full time full time crew that addresses all of our maintenance needs for our apparatus. And that's my largest non-personnel line item within my budget. And so we track the first the gallon usage for all of our apparatus support vehicles and, and our engines and our trucks and heavy rescue. We track the out of service time for our apparatus, and all of those things are indicative to our capital improvement plan and the age of our fleet. So if you have the engine, for instance, that it's been trending for five years prior to they were using less fuel but running on the same amount of calls in comparison to today, then that's indicative of possible serious, serious mechanical issues that's going to have to be addressed, so we can take a deeper look into that specific apparatus, as well as the time that's accounted for, for everyone to support services. And that target goal is 90%. So 90% of the time of everyone in the Fire Marshal's Office, of Special Services Unit, the training, division, etc, they have to input that into every task they do on a daily basis, has to be inputted into our records management system, which then generates that monthly report. And if that number is below 90%, then that division head is going to have to explain why is your time accounted for less than 90%. So we can't necessarily do that on the emergency services operations side. But we can certainly do it with all of our personnel assigned to support services.
Ben Kittelson
Well, you kind of touched on it, but until it makes total sense to be looking at these measures and especially response time, if you see a pattern of I don't know, like a certain type of call that might be prevented with more community education or some more prevention type things. Is that a part of this as well? Or that that unit might go out and do you know, education around fire alarms and single family homes or something like that?
Chief Freeman
Most definitely, most definitely. So within fire said at the very end of our fireside presentation, we use GIS maps and within Hartford we have 124,000 people and 17 square miles, so we're a very densely populated community. And at the very end of Firestat on our GIS maps, we have them broken down by our 17 distinct neighborhoods. And we actually show the number of calls for service. There's a chart or a map for every call for service that we respond to that represents the majority. So EMS calls, rescue calls, fire calls, etc. And for instance, for 2019 on our northeast neighborhood, we ran on 1798 calls for service. And then that is then even broken down to the specific types of EMS calls that they responded to. Our busiest neighborhood for 2019 was Asylum Hill for EMS, for EMS purposes, and we responded to 2189 calls for service in that in that neighborhood. So we take that data from the GIS maps and then we go to our community risk assessment tool, which really breaks down the social economics within every specific neighborhood. And we look at where special services have installed smoke alarms, where they have actually done home escape plans within certain neighborhoods. We look at how many people and specifically where our special services or public fire life safety educators have actually gone in and conducted programs Then we measure that against the fires that we have. So that helps target specific neighborhoods to the block on where we should actually be sending our resources. So, you know, and the old adage is time is money, right? So we want to make sure that, you know, especially when we send personnel out that are working overtime, that that money is well spent. And we are actually getting the biggest bang for our buck by having targeted outreach, not just going out to certain areas and neighborhoods just to say that we did it. But we're literally knocking on specific doors to from where our data shows that we're most likely going to have a fire incident. And so once we're approximately 60% done with that on the fire side, and then we're going to transcend on to the EMS side of the house by the end of this year. And for fires, the key indicators for fires from the data that we have show that density, density of population, poverty rate, density of rental housing units, unemployment rate, the number of households on SNAP benefits, the number of households on public assistance, public assistance income, medium household income, median person age and the number of households that have single parent homes. All of those are key fire indicators. And our data tells us that and so we know exactly where we need to go to provide public education and then from the emergency response GIS maps, specific topics, whether it's food unattended on the stove, whether it's smoking, whether it's electrical, we have all of that data at our fingertips to have targeted public education initiatives. And that truly, truly has been making a difference for us here in Hartford because we call way too many things, accidents, and you know, in our society, right? And the way I explain it to our team or whether I'm traveling, doing lectures is if you truly look at an accident, and you dissect it, and if you you come to the conclusion that if it's predictable, then it's preventable, and if it was preventable you can't call it an accident. It was an avoidable incident. So for us, we're in the business of saving life and property. But first and foremost, we're in the business of presenting avoidable incidents from occurring through our public education.
Ben Kittelson
I love that twist on, on the accident thing. That makes total sense. And it's, it's taking that next step from just reactive to being proactive and trying to knock down knock down the number of calls so you guys even have to go out on. That's, that's great. So, let's say you're in the middle of a fire staff meeting, one of the, you know, the station managers has some, some issue that forced him or led to them not meeting their their target for the month. What's kind of the next step from there? I'm always curious because it's easy to like highlight, hey, you're not meeting that you're gonna have to fix it. But what, how do you help them figure out what's going wrong and take that next step to make sure they're meeting that performance measure?
Chief Freeman
That's a great question. And I think, for us, everyone was very apprehensive when I came to this 150 plus year organization, which was which has always been great at emergency mitigation, and never really embraced the administrative side or strategic goals strategic objective side of managing a fire and emergency services organization. And so I wanted to put them at ease by starting off by saying, this is what Firestat is, this is how it can help us but first and foremost, and this is not something that is meant to embarrass, demean or belittle anyone. We are all on the same team, there's going to be problems that we're going to identify. But it is all of our responsibility no matter what division that problem rests in, for us to address the issue. And so we're going to collectively address the issue. And so when we do have those issues that arise where someone has not met a goal, or they feel short, we do talk about why and in the collective room, we have a general discussion, because every member of the team brings value. It doesn't matter if they've been, they've been on the job for two years or 20. They were hired for a reason. And the city has invested a lot of time, money and resources into into our firefighters. And so there may be something that someone could offer up as a solution to a problem. And that's better done when everyone feels comfortable in speaking up and it is an environment that is not done to, that is not established to break or belittle. And so when those issues arise, we talk it through. Sometimes we have to table it during that meeting, because we're going to have to go back and look at more data sets. Or we're going to have to establish a meeting with other individuals who aren't in the room to formulate the strategy to address the problem.
Ben Kittelson
Yeah, it gets back to that, the thing you talked about with leadership and being that open communication and that, that servant leadership, it's, it's creating that that trust.
Chief Freeman
Absolutely.
Ben Kittelson
So you kind of touched on this a little bit, but what's the response been of the firefighters and kind of the rank and file in the department to you know, this, this new approach and, you know, changing, making a change to like you said, a 150 year old organization?
Chief Freeman
You know, it's been interesting. They've been very receptive. But I think it's because we deliberately set the stage for them to embrace the process by making them part of it. So even though division heads are the ones that are presenting their data, we actually invite three companies from different firehouses throughout the city, during our Firestat, and our Firestat is the last Thursday of every month at 9am here at headquarters of the EOC. And so, so they have a better understanding, they being the firefighters. For them to have a better understanding of what Firestat is and how it actually helps our organization. We bring three different companies to the meetings, every every Firestat. So you actually have line firefighters sitting in the room that's listening, that's listening to the presentations, that's seeing how, how we address these problems. And they're actually offered at the end, and they're actually offered an opportunity to weigh in to provide any input or feedback or suggestions for any changes that we could make. And I've always been a proponent of you get firefighter buy in through firefighter empowerment. And I think that that really transcends in any profession. You have an organization that small or large, we have 357 firefighters here in Hartford. And you get buy in through empowerment. So we try to not only be transparent, we enhance our communication with the men and women that's actually doing the job by inviting them to the Firestat presentation and letting them see for themselves, what's going on and how really, in essence, not only the tour commanders and operations are speaking on their behalf, but then also how hard all members of support services are working to make their life as easy as possible. And that's been very effective.
Ben Kittelson
Yeah, yeah. It's such a great way to get people to kind of buy into those performance measures too, because it's easy to have that disconnect. I feel like we saw this a little bit when I was in the Budget Office in the City of Durham, was there like people might be doing, you know, doing their jobs and collecting performance measures, but not seeing how, you know, others are higher up the chain or in a different department are using that measure to make decisions or make you know, inferences about their performance.
Chief Freeman
Absolutely.
Ben Kittelson
Okay, well, so my last question kind of for you is what's next for you? We've talked a lot about kind of your your first the Firestat and your first few, you know, days and years on the on the job. What do you have planned next for the fire department?
Chief Freeman
Well, we're very, very fortunate to where we were the first Insurance Services Office we call it ISO Class One department in all of New England. We earned that designation under Chief Giambi Stewart's leadership, who was the first African American fire chief appointed in the city in 1980. He served for 12 years, retired in 1992. We earned our class one designation on February 1, 1991. And the first week of January, we just had a peer review team site visit from the Commission of Fire Accreditation International to earn and obtain our international accredited status through CFAI. So the peer team, they did an out brief and they advised the group that they are recommending us for accreditation and that is so so significant for us because that will that will mean that we will become on March after March 3 at 1:30pm, when we sit before the commission we will be the first internationally accredited Fire Department in the State of Connecticut and we will be the first career Fire Department accredited in the, all of New England. And last but not least, we will be the only class one international accredited Fire Department in all of New England. And, you know, for us to be where we were four or five years ago and to be on the cusp of earning this distinct honor, and there's roughly 28,000 fire departments in the country. And out of the 28,000 there are 270 fire departments internationally accredited. Wow. And out of those 270 there's roughly only 80 that are Class One and accredited. So it really, it really shows, it proves that the hard work of the men and women have paid off. We we hold ourselves accountable, we hold each other accountable. The pursuit of excellence means something to us, it's just not lip service. And our Class One international accredited status just proves it. So that that's what's next for us and then from there, it's maintaining. You know, success is never final. We have to continue to look at what we're doing and how we're doing it to continue to push that needle of excellence and success, sustainability. And the men and women they're up for. You know, it's a very proud organization. And we had a lot of turnover in 2016 – 17.  We had a contract negotiation that was not too favorable for the firefighters. They gave up $3.5 million in concessions and so a lot of my senior firefighters left. On top of that, I was already short, roughly 50 firefighters and that means out of, I hired 125 firefighters in 18 month period, and six years ago, the average the average tenure or the average experience on the job for our firefighters was 19 and a half years and today it's 7.7. Wow. But at the same token our, even with our calls for service going up, our on the job injuries are down, our lost time is down, percentage of property saved is up. And we put, we put forth a lot of strategic initiatives to ensure the survivability of the organization. So for us to go through all of that, and this time next month, we'll be accredited. It just it really, it really just makes me very proud and very fortunate to be able to lead this exceptional group of men and women.
Ben Kittelson
Yeah, yeah, you should be proud. Congratulations. That is very impressive.
Chief Freeman
Thank you. Thank you.
Ben Kittelson
Awesome. Well, that's that ends our episode for today. Chief Freeman, thank you so much for coming on, and talking with me.
Chief Freeman
Oh, thank you. Thank you very much. Very, very, very grateful for the opportunity.
Ben Kittelson
Yeah. So and for our listeners, GovLove is brought to you by Engaging Local Government Leaders. You can reach us online at elgl.org/GovLove, or on Twitter at the handle GovLove podcasts. As a reminder, you can support GovLove by joining ELGL. Membership is just $40 for an individual. We're also looking for your feedback. Visit GovLovesurvey.com to help us make GovLove better for you the listener, and be sure to subscribe to GovLove on your favorite podcast app. If you haven't already subscribed, you should and go tell a friend or colleague about the podcast. Help us spread the word that GovLove is the go to place for local government stories. With that, thank you for listening. This has been GovLove, a podcast about local government.
---