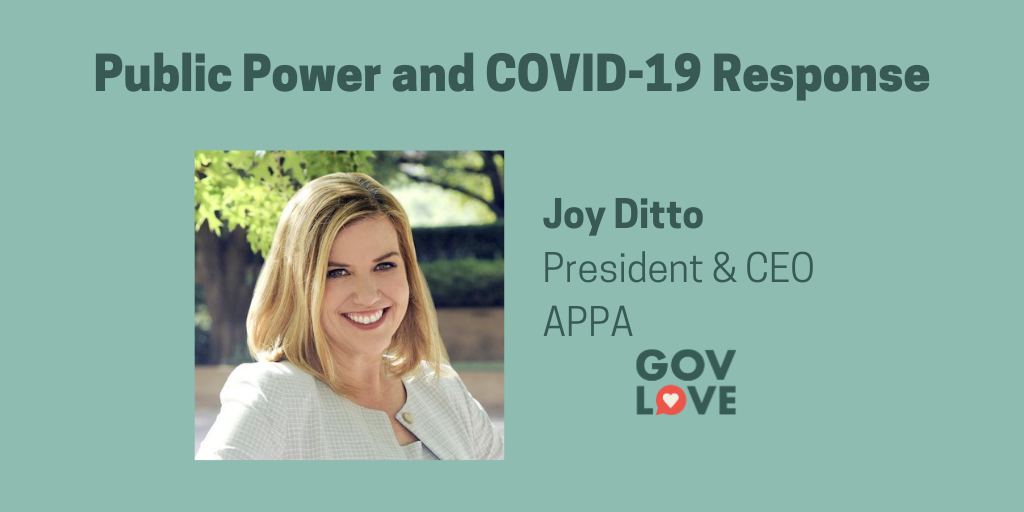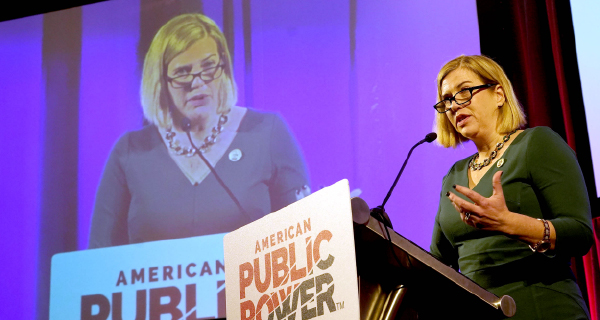 Joy Ditto
President and CEO
American Public Power Association (APPA)
Bio | LinkedIn | Twitter
---
Powering communities. Joy Ditto, the President and CEO of the American Public Power Association (APPA), joined the podcast to talk about public power utilities and how the electric industry has responded to the COVID-19 pandemic. She discussed how APPA shared best practices to keep employees safe and how incorporating pandemic response measures fits with the safety culture in the electric industry. She also talked about the role of public power agencies.
Host: Kirsten Wyatt
---
---
Learn More
Public Power COVID-19 Information Hub
Steps Congress can take to empower economic recovery
American Public Power Association Website
American Public Power Association chooses Joy Ditto as next CEO
---
Episode Transcript
Message
Gemütlichkeit, Gemütlichkeit, Gemütlichkeit. ELGL's annual conference is all about a state of warm friendliness and good cheer. Hence the Gemütlichkeit theme. We're doing an Oktoberfest themed ELGL conference. And for the whole month of October ELGL members will be gathering virtually to learn from one another and connect. You'll be able to customize your registration and pick the sessions that most interest you or work best with your schedule. We have a session every day in the month of October. It's going to be great. Plus all sessions will be recorded for later viewing. To get you even more excited, here are a couple of our awesome sessions. We've got a session on Nudges, Behavioral Insights and Other Ways to Impact Change, Integrating Racial Equity into Local Government, Creative Community Engagement While Social Distancing, plus many, many more. You can learn more at the ELGL website and register for what will be the best conference of the year by going to ELGL20.org. That's ELGL20.org to learn more.
Kirsten Wyatt
Coming to you from Portland, Oregon. This is GovLove, a podcast about local government. GovLove is produced by ELGL, the Engaging Local Government Leaders network. We engage the brightest minds in local government. I'm Kirsten Wyatt, the ELGL co-founder and executive director, and today I'm joined by Joy Ditto from the American Public Power Association. Joy, welcome to GovLove.
Joy Ditto
Thank you so much, Kirsten, and thanks so much for having me.
Kirsten Wyatt
Today we're talking about Public Power and how these critical utilities are faring during the coronavirus pandemic and hurricane season. And we'll also talk about whether Public Power is the right fit for your local government. But first we'll get started with a lightning round. What is your most controversial non-political opinion?
Joy Ditto
My most controversial non-political opinion is that horseback riding is the most dangerous sport in the world. The reason for that is I ride horses and I, well first of all, it is dangerous that there are unfortunately fatalities from people riding horses, both in racing and other types of horse related sports because it is usually a 1200 to 1500 pound animal you're dealing with, with its own mind. But it's also the most thrilling sport in my opinion. And this comes from someone who has also jumped out of an airplane and done other risk taking activities. And I can tell you, the most thrill I've ever had is riding a horse over jumps. So that's my most controversial.
Kirsten Wyatt
And what event do you compete in?
Joy Ditto
It's called Eventing and it's kind of like a triathlon for horses. That's the closest thing to compare it to, although it's not identical. So there are three different components to it. There's two jumping one kind of cross country over ditches and walls and banks and then through water, and then one in jumping in a ring and then one called dressage, which is kind of like horse ballet.
Kirsten Wyatt
Okay. Very interesting. I think you might be our first equestrian guest on GovLove.
Joy Ditto
Awesome!
Kirsten Wyatt
So I'm grateful for that. Thank you. All right. Next question. What is the best breakfast food?
Joy Ditto
Bacon. Hundred percent.
Kirsten Wyatt
No hesitation on that one. Okay, I appreciate that. All right. Last lightning round question, who is your celebrity best friend? Meaning if you could be best friends with a celebrity, who would it be?
Joy Ditto
Oh, wow, that's a hard one. Mmm hmm. See, I think I'm a history major. So I think it's gonna have to be a historic celebrity. I'm a huge fan of Teddy Roosevelt. I just think he was like an adventurer and an innovator and I would have loved to have met him. And and just…
Kirsten Wyatt
That's a great answer. And it tells a lot about who you are and what you're interested in that you didn't select, like Paris Hilton. [Laughter]
Joy Ditto
Not as interesting to me.
Kirsten Wyatt
All right. So let's talk about your work and the important work at the American Public Power Association. Explain to our listeners, what is the Power Association? What is your, what is your purpose and your mission?
Joy Ditto
Absolutely. So APPA, the American Public Power association is celebrating, we're celebrating our 80th anniversary this year. And so yeah, so we've been around a while and we represent publicly owned electric utilities. So they are not for profit, electric utilities. And like most trade associations, we represent them on in a number of areas primarily in the advocacy arena. So federal government advocacy, legislative and regulatory advocacy, as well as we provide a platform for them to share information with each other, best practices, benchmarking, education and training of their workforce. So we're traditional trade association, but we're focused at the federal level.
Kirsten Wyatt
And generally speaking, is Public Power, just electricity? Or is it more than that?
Joy Ditto
Public Power is just electricity, although our members themselves are typically affiliated with local governments with municipal governments. So in some cases, they actually also run water, wastewater, in some cases, natural gas utilities in kind of their umbrella. So Public Power itself is only electricity. And we only represent our members on their electricity component, but some of them do more than that.
Kirsten Wyatt
And do you have a favorite or fun Public Power anecdote that you want to share to get us started?
Joy Ditto
Yeah, so my, my favorite, this is not necessarily fun, but it's my favorite. So right after Hurricane Katrina in around 2005, I was working at APPA previously before I became CEO. And we were going to have our meeting in New Orleans a couple years after Katrina. So they were still cleaning up after Katrina, and we decided to implement what we called our Day of Giving as part of our national meeting. And in so doing, we decided to take a whole day, invite whoever wanted to come in advance, and we would do, we would work with local groups to help the community and so we I remember cleaning up from Hurricane Katrina, cleaning up a yard and a house that was covered in sand. So we kept that, that Day of Giving ever since. So we do it every year. And we change venues every year for our national conference. Obviously, we haven't been able to do that this year, because of COVID, which we'll talk about. But what that also inspired is this, this idea of service, and several years ago, one of our members is the Navajo Tribal Utility Authority, which actually provides electric service to the Navajo Nation. And their CEO, a guy named Wally Haase, kind of looking at this whole service mentality said we really need to help the Navajo. There are 30,000 people on the Navajo nation who are without electricity still in this day and age in America. And it's a population of about 300,000 people. So that spurred the Light Up Navajo initiative. So a few years ago, we had our first Light Up Navajo and we brought in electric utility volunteers to electrify about 600, well, about 230 homes, which provides electricity to about 600 people. Just to put it in perspective, that took six weeks of volunteer time from about 12 utilities. So it's a big undertaking, and it's very expensive. But we are prepared to go back. We were supposed to have Light Up Navajo too just during COVID. So it had to be postponed. But it's something that we are going to continue to build on.
Kirsten Wyatt
Well, and it really showcases the fact that your member utilities have that same public service ethos as GovLove listeners. And so I'm so glad you could join us today and share some more of your stories and some more of your work with us. As you know, most of our listeners are working in local government. So we'd love for you to share how they should think about the issues surrounding public power. What is kind of the one thing that you want to kick off today's conversation with?
Joy Ditto
Well, I think it is that publicly on utilities, and they're sometimes called unis or municipals, because they are often affiliated, as I said earlier with local governments. The key thing is they represent their community. They're not for profit, they're not in it for anything, but to provide optimal service to that community, whether it be a small town or a larger city. They're there to enhance community development, either for businesses to provide low cost electricity, but also to innovate, if that's the desire of the community to do so. So we're really there. It's all about local control and decision making, rather than having a corporate entity making decisions for you five states away.
Kirsten Wyatt
Right. And utility workers were declared essential workers at the start of COVID. Can you share more about how Public Power and your members are doing during these very challenging times?
Joy Ditto
Thank you for that question. Interestingly, we were declared essential, but it was a little bit of a tough task. It was it was not necessarily obvious to kind of the health, the health care community about how essential electricity was. So we had a little bit of education to do of some of our government partners early on in the pandemic about the need for electric workers to be declared essential sort of right below health care workers. Right. So that was kind of eye opening to make sure that we were telling our story to a broader group of people. But I will say our, our stories are really positive, one, in terms of response to the pandemic, the lights have stayed on in our communities. We had, we early on in the pandemic, even before it was really, really known how serious it was back you know in February, we started outreaching to our members about preparation. And utilities, including Public Power, prepare for things like pandemics which are called high impact low frequency, meaning they don't happen very often, but they could have a big impact if they happen. We do think about these things, and we prepare for them. But we hadn't ever had to really implement our pandemic plans. But we knew that our members had such plan. So we encouraged them to get the plans out and start thinking about this. And then as we moved into March, and then it became more clear that this was truly something we had to deal with in a big way, we started preparing in a very aggressive way to protect our essential workers from getting the virus. In some cases, we had to sequester, meaning, basically, you know, quarantine in a location, our control room operator, so we oftentimes would quarantine them either in the control room itself, or we had trailers for them to live in. And in some cases, I think the longest I heard was a whole month of sequestration. So they were away from their families, because they were really the most essential of essential, and then some of our lineworkers, our field workers who go up and, you know, climb poles and restore power and maintain the system. They were off, they were scheduled to go out together, they were scheduled in shifts, and you know, extreme hygiene measures were put in place, masks, etc. So there were not a number of things that we undertook early on, that really served us well, because we did not have significant amounts of spread of the virus. I think early on in New York, there were some utilities, not necessarily public power, but others who had more cases than they would have liked. But they were able to eventually, you know, deal with it. So significant safety measures were put in place throughout Public Power, and, you know, really control room and control rooms. In addition to the sequesteration, we also made sure that our field workers were protected. And we put in safety measures related to hygiene, made sure that our workers were working in shifts, and it really did help prevent the spread of the virus in a significant way to our public power entities in addition to entities across the industry. So other electric utilities, deployed the same measures, and we really did work with them hand in glove, so that we could respond as an industry and keep the lights on. So that was very significant. And I can't emphasize enough how grateful we should be to these electric workers. Because I think without electricity, we would be in a very serious situation as a society.
Kirsten Wyatt
Absolutely, and, you know, great point about obviously, hospitals, understanding how important how critical this utility is. Now, as we're all heading back to school, obviously, it's a huge, huge factor for us to all successfully homeschool our kids and, and have that connectivity that that we're all desperately trying to have. Share with us the effect on revenues, especially as we were seeing office buildings and factories and warehouses shut down, and, you know, the effect on the economy, how has that impacted Public Powers revenues?
Joy Ditto
So Public Power, we're about 15% of the electric service in the country. We're in 49 states all but Hawaii, and most of our communities are in, or most of our utilities are in communities of 10,000 people or less. So there are 2000 Public Power utilities across the country. The vast majority of them are in very small towns. So they're like small businesses themselves. We do have a handful of larger cities. But again, a small sort of a small town focus for the most part. And what we've heard from our members is that the impact has been quite varied. It's quite different depending on what the utilities profile is, meaning, if they largely serve residential customers, they haven't been as affected by demand loss, for obvious reasons. And I'm sure everyone can understand that because people have been working from home, using maybe slightly more electricity instead of doing from their residences, versus some of our members who maybe serve more commercial or industrial customers that either had to shut down during quarantine or have been impacted, you know, or their businesses have been impacted because of quarantine or other measures that have been put in place to fight the pandemic. So we have some members who've been extremely affected, you know, in the in the case of some, 20% of their revenues have gone, you know, or they've lost revenue up to 20%. In some cases, others have not seen that kind of fluctuation or decrease. So what, so again, what we've seen is really varied. And I think that probably is indicative of the way the entire country is. We haven't seen as many impacts in certain parts of the country as others. So we did do some surveying and analysis of our members, and we believe it's going to be about a $5 billion loss of revenue of our members in total throughout the country, for 2020. We'll see what happens in 2021. Yeah.
Kirsten Wyatt
And in your recent op ed, for the hill, you called for direct financial assistance for Public Power customers, and also workers. Tell us more about that request. And for our listeners we'll link to that op ed from this episode's page on our website.
Joy Ditto
Thanks for that question. And I'll say Public Power utilities and APPA, we don't typically ask for direct assistance from the federal government. We, we tend to be you know, okay, we use financing through the tax code, we use tax exempt bonds. And that's usually where our focus is kind of on the financial side. So this is not a typical request for us. What we have done in the past is, we and for many years, is we've supported programs that are federally run, or federally funded, that are for low income customers. So there's a there's a mechanism called the Low Income Home Energy Assistance Program, whereby the government gives money to the states to then distribute to low income customers to pay their electric and gas bills. So we have long supported that program. And that program did get a bump during the one of the COVID-19 response legislation, pieces of legislation. We think it needs more funding. But in terms of direct assistance for, for us, one of the things that our members have done, which is a great thing, it has, we've suspended shut offs of power for our members, or sorry for our customers or members customers. And that's, that's been really helpful, I think, as many of our low income, but also even above the low income, more of our middle income customers have suffered from the pandemic. But what that means, we still have to run our operations, we still have to provide a service, we have to pay our own employees, we employ about 93,000 people across the country, we have to pay for power for our power supply, we have to pay for infrastructure to keep the lights on. So at some point, we have to be able to recoup those dollars from somewhere. And because Congress has been recognizing that businesses are suffering and small businesses in particular, we believe that some form of direct assistance to just help us bridge that gap, particularly, as we pay for these, you know, moratorium on power shut offs, and we increase our arrearages in that in that situation, we think it's appropriate for us to get direct assistance. But only in a very targeted way, only if we need it. And some of our members don't, as I said earlier, but for those who do, it would really help them and help their communities.
Kirsten Wyatt
Well, and in many states, the decision was made for your members, correct, you know, by the state putting a moratorium down. And so clearly there's, you know, even though it might be the right thing to do, it may also just be something that was forced upon them, correct?
Joy Ditto
Correct. It's that idea of an unfunded mandate. And again, we do have this, we do have to run our businesses. And, you know, it's kind of conceptually it would be like, going in to a grocery store and just, you know, not paying for your groceries, or, you know, and get so you're getting the service, but you're not paying for it. So it again, I think it was the right thing to do. But now we're getting into sort of a time where we need to be able to pay our bills as well. So yeah, that is an unfunded mandate piece would be helpful to get funded.
Kirsten Wyatt
Well, and then if the pandemic wasn't enough, we are in hurricane season and now also fire season. How is that affecting Public Power, facing multiple major challenges at the same time?
Joy Ditto
No, thank you for that question, too. And I think our members and Public Power utilities have done a phenomenal job in responding to a few major storms. One was actually a more localized storm, but it was early on in the pandemic in April. There was a tornado that came through the city of Chattanooga, Tennessee. And it would have significant impacts. And we had to bring in crews from other states during the height of the pandemic. And they were really able to, to restore power for Chattanooga and not again, spread the virus. So that was really heartening, and I think helped us understand how we could do it right, when we came to a bigger storm. And as folks have probably read, there was the tropical storm in the northeast Isaias, tropical storm Isaias, which had unexpectedly large impacts in the northeast, and we had crews from all over the country come in to help. And they were able to restore power as quickly as possible, again, helping their fellow public power utilities do so and limiting or eliminating, there was no spread of the virus to our knowledge from that situation. And that was at least a month ago. So that's really heartening. There are still crews helping to respond to Hurricane Bora that hit the Gulf Coast, and particularly Louisiana and Texas, or the most impacted, and we're still facing restoration in Louisiana. So we're really heartened by the response. I think 29 states sent crews. And this is a case where Public Power works with our brethren, investor in utilities, which are for profit utilities, as well as rural electric cooperatives, which are private not for profit utilities, we work hand in glove with them on this type of response. It's really important that we as an industry are able to keep the lights on and restore power to as many people as we can, no matter who they're served by. So it's been an amazing response. And we're very heartened by it. And again, we continue to be very mindful of safety.
Kirsten Wyatt
Well, it's such a reminder that your workers are truly first responders, and they are essential. And I think sometimes we can forget about the critical role that public works and utility workers play in those first responses. And so, you know, thank you for that reminder. And, and kind of that affirmation I think that a lot of our members know of how critical these positions are.
Joy Ditto
Absolutely. And there are others, obviously, you know, water utilities, and we talked about some of those already. But it really is, you know, in addition to that first response piece. Thank you so much for acknowledging that Kirsten. There is this element of, of high risk, because you're dealing with live electricity. So even prior to the pandemic, our workers who are out in the field have have very strict safety protocols so that they don't electrocute themselves. It could, it's a real danger. Unfortunately, we've had people die from electrocution, even people who are well versed in safety protocols, because it really is just so important that they be, have heightened levels of awareness of their safety protocol. So this safety culture exists in in our utility sector or public power sector anyway. So to add on the pandemic, I think is, you know, something we could tackle, but it definitely, you know, it was a challenge, but it was something that we could assimilate into our safety culture.
Kirsten Wyatt
And thinking about Public Power, is this, are you seeing new cities or local governments introduce Public Power? Or is this something where it's kind of been that way forever and it just continues on that way? Or is this something that a local government could consider and pursue for their community?
Joy Ditto
Absolutely. A local government could consider it. There is, we do have what we call a municipalization of power company. So if you're served by a private electric utility, which we call investor owned utilities, a for profit entity, they have a franchise agreement with the city or the town. And often those when those franchise agreements are up, say it's a 20 year agreement, typically, the municipality can look at making a change at that point, because we are considered close to monopolies in the electric sector, are across the board, we're kind of considered closer to a monopoly. So our rates are regulated, either at the local or the state level. In the case of Public Power, our rates are regulated locally, in the case of investor owned utilities, they are regulated at the state level. So it's not really a matter of kind of take, you know, public, public utilities taking over a private sector entity. It's really kind of an exchange of monopoly, who you know, who is better optimized to provide that power. And we believe that that local control and decision making is so key that oftentimes municipalities will say, we're not getting what we need from our investor and utility, whose corporate offices are five states away. We need to be able to have more accountability locally. So we want to explore the idea of having a public power utility here. And it can oftentimes be much more affordable in the long term because we are not for profit. We are providing electricity at cost rather than for profit. And even those, even though those rates are regulated, they're still regulated in order to be able to have shareholders make a return on their investment for the investor and utilities, Contrasting these, we don't have investors, we are there in the community, we're not for profit. So oftentimes, it's very interesting for a community to consider that and we have seen, municipalizations happen, you know, on average, maybe three or four a year in the last twenty years or so.
Kirsten Wyatt
And anecdotally, do you see evidence that, you know, that return to a nonprofit model or a publicly governed model? Does it invite more innovation or sustainability? Or I guess even creativity in the operation of the utility? Because, you know, there, there's more of that kind of direct connection between the customer and the utility? Or, you know, is that something that's kind of like secondary, I guess, to that the overall structure?
Joy Ditto
I think it does, I think you've hit on a really good point, Kirsten and it may be seems counterintuitive to people who don't think of government that way, because we are affiliated with local government, but we are actually very innovative. And it's it is because we have the connection to our community. So think about, you know, the local Chamber of Commerce or the mayor or the city council saying we want to spur economic development. Let's work with the utility on making sure that we're enticing businesses to come to our town. How do we do that? So there can be a conversation about innovative ways to attract businesses to the community. That's one example that's a little bit more traditional. Another example is in the area of clean energy. The you know, community could say we're very focused on this. So maybe we're actually willing to pay a bit more in our rates, we're not as concerned about the kind of cost piece, that we're more concerned about deploying clean resources. So in our community, that's where our focus is going to be. Hey, public power, utility, community owned utility, can you help us develop that plan? What would that look like? And how would we make that happen? So those conversations can occur on the local level. We  also often have, many of our utilities have sort of advisory councils that are comprised of, again, local businesses, interest groups that we take advice from, or that they take advice from at the local level about how to really foster that community development, foster innovation. So yes, it can be a very innovative approach. And we've seen that happen time and again. In fact, a public power community put in the very first wind farm that was connected to a utility in Iowa. So back in …..
Kirsten Wyatt
Oh really?
Joy Ditto
Really. Yep.
Kirsten Wyatt
That's very cool.
Joy Ditto
Yeah, in the US at least. I don't I can't speak to the rest of the world, but in the US. Yep.
Kirsten Wyatt
And, again, I can't help but think that the Public Power approach does return some of that, especially that interest in trending topics and issues, you know, back to a community. And so obviously, all of us here on GovLove, love government, clearly. But, you know, I think APPA has been, has been clear that sometimes public power isn't the right option for every community. Can you share more about that? So if someone's listening to this, and they're super excited, because of what you just said, what's kind of the other side of that coin I guess?
Joy Ditto
Well, I mean, you certainly have to do your due diligence. You know, if you were to explore, if you had a, you were served by an investor in utility, and you thought maybe your rates were too high, or you weren't getting what you needed on clean energy, or whatever the case is, you need to do your due diligence and conduct a feasibility study. I think it's important to understand, you know, to work with engineering firms and financial firms in the industry that are well thought of and that are neutral, and then haven't necessarily, they don't have a perspective one way or the other. So doing that feasibility study is an important first step. So you can really see what the true cost would be. There is typically a cost in purchasing the assets of the investor and utility. However, it's not a market based approach. Typically is, you know, there's some depreciation of the asset. There's an analysis that goes into what that cost would be. And sometimes that gets fuzzy if there's a debate around this or if this gets sort of politicized. So you have to do your due diligence, you have to conduct your feasibility study, you have to decide if there's a desire to spend the town's money on that initial investment and the assets of the investor and utility. We believe that, that would pay off in spades over time. But sometimes a community may have other priorities that they want to spend that money on in the short term. So it's really kind of a long term view that a company would need to take, I think in in deciding to make that purchase, no matter what the cost, because it really is going to pay off over the long term to have that public power utility asset in your community. But that, again, that decision is up to each locality to make. And we're here. We have a lot of resources at APPA that if if one of your listeners is interested in exploring the option, we can provide a lot of background. So please have them reach out to us, go onto our website at publicpower.org to just get some initial overview. But I think the important piece too is having Public Power around in the first place provides a yardstick that you can actually determine what that differential is, what that markup is on the profit of the investor and utility, and also can kind of yardstick for services like reliability. And reliability is a term of art. But it really means how often your lights stay on over the course of time, right. So we have a high reliability standard in the public power world. And that really matters to businesses, especially manufacturers. And so you can make those comparisons with between us and the investor. And if we weren't around, you wouldn't be able to make those direct comparisons as well. So sometimes it's also an opportunity for communities to negotiate a better agreement with their investor and utility. So it kind of just varies, but we I would say, you know, I'm biased, and I think public power is the way to go. But again, communities have to make their own decisions based on their local circumstances.
Kirsten Wyatt
Well, and you're talking to the right audience, because we, we all love public employees as much as you do. But if some of our listeners, you know, regardless of their if they're served by a public utility or not. If someone's listening, and they want to protect their community members from power shut offs, what is some advice or perspective you you'd give kind of from both sides, both from the privately owned or the publicly owned utility?
Joy Ditto
So meaning, protect them from the power shut offs, because there's they're experiencing problems from COVID? Or, I mean, just can you flush that out a little bit? I'm sorry.
Kirsten Wyatt
Sure. Let me rephrase that question. How should local governments protect their community members and customers from power shut offs resulting from COVID? What would be some advice or best practices that you would give?
Joy Ditto
So I think, as we talked about earlier, you know, there are having moratoria in place. Sometimes from the state level, sometimes the community has instituted itself moratoria on power shut off. So there haven't been power shut offs for many months now. And I think if, I think what we would recommend that the utility is going to have to start instituting the shut offs eventually, again, because of what we talked about it about just having to run their own businesses, eventually, they're going to have to reinstitute shut offs. But the way that's done is really important. And I think Public Power really wants to talk to people who are struggling, so communicate with utility, say, look, I'm having trouble, I'm gonna have trouble paying my bills, they're still accumulating that bill. And that's another key component, they're not that bill is still on the books, even though we waive late fees and things like that, they still owe that money to the to the utility, so we will want to work with them on a payment plan, our members had put in place those types of payment plans, we also want to get them connected with their local low income Home Energy Assistance Program, so that they can also get money to help pay their bills. So we're, we need to be used as a resource and seen as a resource, when, when we're when we're looking at those needs. So I would just really encourage communities to reach out to their utilities to talk through what that looks like, so that they can avoid shut offs. And and they can also be pointed in the direction of places that that can help them pay their bills.
Kirsten Wyatt
Thank you for that. And you know, thank you for the work you're doing to advocate for both the utility and also for customers. I think it's important and and we'll make sure we link to in to your op ed as well. Any closing thoughts for our listeners about how to best work with Public Power?
Joy Ditto
Well, I just want you to just remember that we're, we're there for a reason we're there to serve. We're there to provide low cost, affordable, safe, environmentally sustainable electricity, and we want to work with our customers to do that. So really communicate with us. If if you're in a public power community, develop a relationship with the electric utility folks. They want, they want to have that relationship. If you're in a town that does not serve by public power and are interested in it, feel free to reach out to, to us and we can help explain more. But just please see them as a resource, because that's what they want to be. And, and they are there to really help the community and serve the community.
Kirsten Wyatt
Well, one more thing I just thought of, correct me if I'm wrong, but you know, similar to other city departments or other local government departments, a public power agency or department is going to have a finance function and an analysis function and an HR function. And so for our listeners who want to work in public service, this is just gonna be a reminder that this is yet another avenue to go down and, and can work on some really interesting and trending issues, you know, as it relates to power.
Joy Ditto
That is a great point. Thank you, Kirsten, for that advertisement for us. We would love to talk to your listeners about workforce, you know, and being in the Public Power community in that way. And as you said, yeah, we have all those types of departments, we need all types of employees. And that's a great, again, great advertisement for working for Public Power. Thank you.
Kirsten Wyatt
So I have one last question, for real this time. [Laughter] If you could be the GovLove DJ, what song would you pick as our exit music for this episode?
Joy Ditto
You know this one, I struggled with this one. I knew you were gonna ask this question. This was not this was not a surprise. But I think because of the nature of Public Power and our service nature, I'm going to say, Lean On Me the original version of the 90, which is by Bill Withers. Yeah.
Kirsten Wyatt
That's great. That's, that's really great. And again, I think I I'm guessing our listeners know this. But if you haven't sat back and reflected on how important your electric company is, during this time of COVID, during this time of emergency, I hope that our listeners are just remembering that and that the choice of Lean On Me is an excellent one. So thank you for that.
Joy Ditto
Thank you. Thank you so much for having me and please feel free to keep in touch.
Kirsten Wyatt
GovLove is produced by a rotating cast of ELGL volunteers. We are the Engaging Local Government Leaders network and our mission is to amplify the good in local government, and we do this by engaging the brightest minds in local government. Our annual conference is coming up in October. It's called Local Gov Oktoberfest, and we are celebrating local government service over the entire month of October. You can sign up at ELGL20.org. For our listeners, if you'd like to learn more about Gov love, you can reach us at elgl.org/Govlove on twitter at @govlove podcast. And if you have a story idea for GovLove, we want to hear it. You can send us a message on Twitter or email [email protected] Thank you for listening. This has been GovLove, a podcast about local government.
---