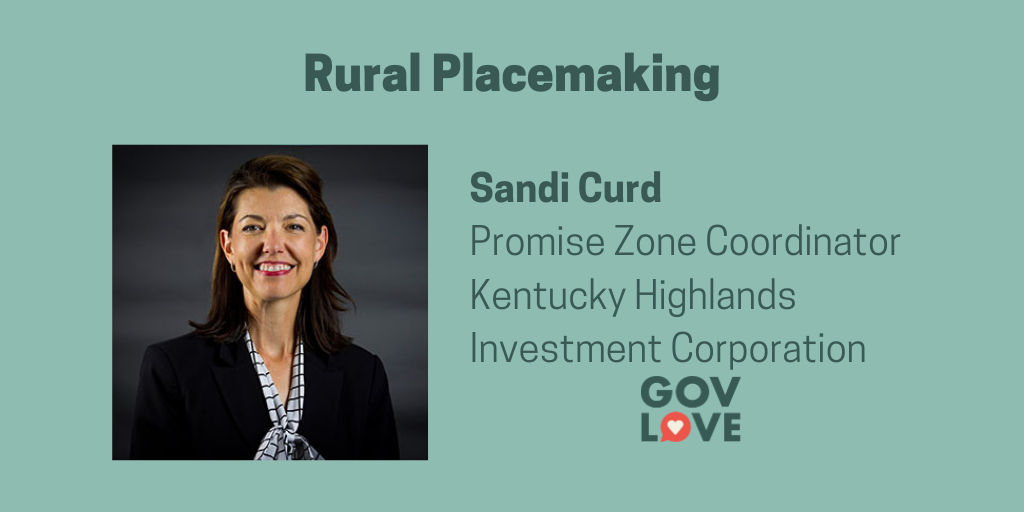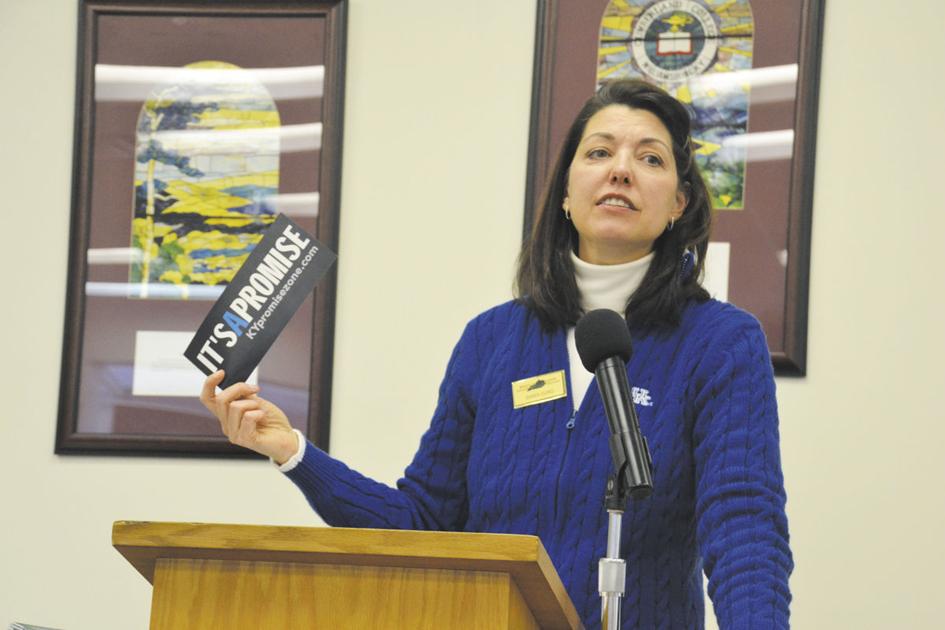 Sandi Curd
Promise Zone Coordinator
Kentucky Highlands Investment Corporation
Bio | LinkedIn
---
Arts and economic development. Sandi Curd, Promise Zone Coordinator for the Kentucky Highland Investment Corporation, joined the podcast to talk about her work supporting communities and small businesses through placemaking. She shared how the Promise Zone impacts the 22-county service area in southeastern Kentucky and how placemaking can serve as an economic incubator. Sandi also discussed placemaking examples and how the community drives what they do.
This episode is part of ELGL's Creative Community series, a partnership with ArtPlace America and CivicArts to write, explore, share, and learn about creative placemaking.
Host: Ben Kittelson
---
---
Learn More
Rural Placemaking: Making the Most of Creativity in Your Community
Kentucky Highlands Investment Corporation Website
How place-based initiatives work for, and with, communities
Kentucky Promise Zone Director Sandi Curd is our guest on Our Mountains
Coordinator explains Promise Zone goals at luncheon
Inaugural Colonel Sanders Half Marathon set for Saturday
---
Episode Transcript
Message
Hi ya'll, it's Emily at ELGL. Cohorts for 2021 are now open and you can take up any of the issues that you're most interested in learning more about in data citizenship, creative placemaking, justice and equity,  valuing engagement and building resiliency. You can read more today at elgl.org/cohorts and applications are due December 15. Hope we see you there.
Ben Kittelson
Coming to you from ELGL, Jacksonville, this is Gov love, a podcast about local government brought to you by Engaging Local Government Leaders. I'm Ben Kittelson, consultant at the Novak Consulting Group and GovLove co-host. We've got a great episode for you today. We're taking a trip to the Kentucky Highlands and today's episode is part of our creative community series in partnership with ArtPlace America and Civic Arts. Before we get in the episode, the best way to support GovLove is to become an ELGL member. ELGL is a professional association engaging the brightest minds in local government. Now let me introduce today's guest. Sandi Curd is the Promise Zone Coordinator for the Kentucky Highlands Investment Corporation, which is the first rural Promise Zone in the country. It's no longer the only. She's a farmer with 25 years of experience in the fields of healthcare and agriculture. She also has a Bachelor's from University of Kentucky and a Master's in Healthcare Administration from the University of Minnesota. With that, Sandi, welcome to GovLove. Thank you so much for joining us.
Sandi Curd
Well, thank you, Ben for having me.
Ben Kittelson
Yeah, so um, we have a tradition on the podcast to, like, get to know our guests a little better before we ask them all the hard questions, um, to do do a lightning round. So my first question for you, what was the first concert that you went to?
Sandi Curd
Ben, you're gonna like, age me right here at the beginning, you know, but the one that stands out is Bruce Springsteen in the Born in the USA tour. So that would that would have been like, my first one. That's awesome. Awesome.
Ben Kittelson
That's awesome. Awesome. My next question was, what book are you currently reading?
Sandi Curd
Oh yeah. So I'm reading this Picnic at Hanging Rock. It's this like, interesting Australian book. And I have a well established book club. And that's what we're all reading. And then we'll all gather together when it's safe together together and talk about it.
Ben Kittelson
Awesome. Yeah, I knew join a book club. It's something that I've thought about for years.
Sandi Curd
Well just make it, just do it yourself? Don't you know, don't try to find one. Just grab some people that you know that read. Make it small, no more than six people and tell them the rule is you have to talk about the book. You know, because if you don't make that a rule, then all of a sudden you become everything but a book club, but still. Yeah.
Ben Kittelson
[Laughter] Then it's a drinking club. Right? [Laughter] It's not…
Sandi Curd
Yeah. It becomes a or an eating club. Yeah, yeah, absolutely. Yeah.
Ben Kittelson
All right. My next lightning round question for you. Um, you know, in kind of our stay at home world right now, are you watching or bingeing any TV right now?
Sandi Curd
Yeah, I'm telling you. Netflix is my best friend. But I just finished the Queen's Gambit. And that was so exciting because it's set in Lexington, Kentucky, which is about a two hour drive from where I live. But I grew up in that area. And it's in the, you know, the turn of the 60s into the 70s. And I mean, it is it was just it was riveting. Everybody needs to be watching that.
Ben Kittelson
Yeah, we devoured that in like a day or two. It was really good.
Sandi Curd
Oh, yeah, I need or you reach a point and you're like a tears coming down your eyes. You're like, Oh, yeah, so anyhow. [Laughter]
Ben Kittelson
Awesome. All right, my, my last question, lightning round question for you. Um, where do you go for inspiration?
Sandi Curd
Yeah, um, so being I'm, my inspiration comes from my church family. I'm actively involved in my small community. And that's, uh, you know, that's a big deal for me spiritually, as well as a sense of community and inspiration.
Ben Kittelson
Awesome. All right. So one other kind of way I like to help introduce our guest to to the audience and kind of get into our conversation is kind of learn about folks career paths. And one of the things we cover in, you know, GovLove and through ELGL is that there's, no one has one, there's no one career path in local government, and you've got kind of a very unique role. So for you, how did you end up in your current role as a Promise Zone coordinator? What was kind of your career path to where you are today?
Sandi Curd
Oh, man, it's absolutely crazy. You know, I mean, it, you know, it's so funny, cuz when I was a little kid, you know, people would get a job and they'd stay in that job forever, you know, and you get a degree and you'd use it forever. And I just, I mean, it's not even happening in my lifetime, you know, and, but, so, you know, I was headed in health care, you know, wanted to be a great big hospital administrator, you know, and, and was working in that, then fell in love and, you know, married a physician and so then tried to help him develop his practice. And then we bought a farm and I was like going to try to be, you know, I was going to return to the land and I wanted to be like this amazing farmer and, and, and I'm America's very worst farmer ever. But, but anyhow, but what I realized was that what I really enjoy doing is I enjoyed working with farmers markets, and, and I enjoyed trying to develop our rural farmers market and being a part of that. You know, I wasn't instrumental, but I was a part of it. And it was through that work, that I came to the attention of a Economic Development Corporation, Kentucky Highlands. They've been around since Lyndon B. Johnson declared war on poverty and, you know, go out and try to make loans to companies that, you know, create jobs for our area, and so forth. And they had just been named this Promise Zone, which, you know, was unheard of. I mean, it was invented in 2014. And, and, but they needed a coordinator for it. And they had watched my work with the with the farmers market, they had experienced some interaction with me when I volunteered for our local leadership organization. And they're like, I wonder how this would be for a fit. I interviewed and I'm telling you, I've loved this job ever since the moment I stepped foot into it. It is absolutely some of the most rewarding work that I've ever had the privilege of doing.
Ben Kittelson
Awesome, awesome. And for the folks who may be kind of unfamiliar with where you're at in Kentucky, can you maybe give a kind of snapshot of kind of the part of the country you're in and then and then I want to ask more about kind of the work of Kentucky Highlands.
Sandi Curd
You got it. So Kentucky looks like a fish. Okay. And the the the nose of the fish points east, okay. And so if you look at the throat of the fish, that's kind of the area that I'm in that is southeastern Kentucky, and this is part of the Appalachian Mountains. And an area famous for its coal, famous for its moonshine. And, and its beauty. And it's also been an area that is just, you know, really, really struggled to find its economic moorings, to be able to have a diversified economy and to be able to have a population that was rich and diverse in all sorts of economic statuses. And, but it is it is truly some of God's most beautiful country.
Ben Kittelson
Yeah, well I was a former resident of North Carolina, and I used to love going to the, I still love going to the mountains. So like, yeah, that area is beautiful.
Sandi Curd
Absolutely. Absolutely. That whole Blue Ridge, you know, I mean, we're just on the other side. And, you know, and so, and we would, you know, we value it, we think this side of the mountains, you know, is equally beautiful, and especially this time of the year when it's just now starting, you know, well, it's the leaves have come down, but you know, it just, you can't you can't you can't build places that are this gorgeous.
Ben Kittelson
Oh yeah. So I kind of learned about your work through a publication kind of talking about rural placemaking, and kind of what you've been doing through the Promise Zone. But what does kind of before we talk about that specifically, what is Kentucky Highlands Investment Corporation? What is kind of maybe that some of their day to day work like? Or are there other maybe some examples of stuff that they do that can kind of help our our listeners understand what the kind of organization is, and then kind of your your piece of it? You betcha.
Sandi Curd
You betcha. You betcha. So Kentucky Highlands, as I mentioned, I was part of Lyndon B. Johnson's war on poverty in 1968. And it was to bring to the distressed area, the forces of the capitalistic market. And so we've been down here and operating. And we are essentially called CDFIs. We are a community development financial institution, which is a fancy word for saying non regulated lender. We don't have depositors, that we re-lend their money. But we do borrow money from the government or solicit it in grants. And then we relend that and we have a tiny little market that we're able to reel into, because these are the individuals that are unbankable at the commercial banks. Because maybe they're a startup or there's some particular reason that the bank is just not able to lend to them. And then we come along and say, Wow, you you really do have a good business plan. And you're going to be creating jobs for our people. And so we're able to then invest in those organizations. And being unregulated means that we are able to really get in there and work with these organizations to try to help them to become as successful as possible. And so and so we've been doing that in our 22 County service area for the last 52 years, and we haven't, you know, eliminated poverty, but we certainly haven't let it get any worse. And, and so we have been able to, to look at all sorts of ways to be able to diversify our markets, we've implemented different investments into manufacturing jobs, into food processing, we've been able to help move a lot of those government contracts for being able to perhaps, you know, provide the customer service for the entire Veterans Administration, you know, things like that,  and to locate them here in Kentucky. And so that lending is our bread and butter. And then we will engage in other activities, from time to time, such as applying to be a promise zone and getting heavily involved in community development. We have an Innovation Center, where we hope to incubate entrepreneurs, gives them cubicles that they can rent, but have a legitimate business site, complete with a conference room and access to a copier, and all of those things as well as the other entrepreneurs that they get to hang out with. And we even have our relationship with the housing division. Because we truly believe that home ownership is the way individuals actually create and maintain wealth. A job is fantastic, but a job doesn't actually create wealth. And wealth is the difference, we believe with regard to the destiny of a region.
Ben Kittelson
Awesome, and sounds like rather than like the traditional, maybe if for our listeners that are working for cities, or counties with a traditional economic development, role of like attracting a business to a community, you guys are investing in the small businesses that are already there. Is that fair?
Sandi Curd
Yeah, exactly. You know, other people in economic development or in industrial development are looking to recruit into their region. And you're and you're right, we are providing an alternative financing for those for those that are being recruited.
Ben Kittelson
Which is cool. Like that's, that's awesome.
Sandi Curd
Thank you.
Ben Kittelson
Those. Yeah. So okay, so then you mentioned the Promise Zone and like, that the organization applied to be one. So, what is a Promise Zone? Let's start there.
Sandi Curd
Okay. Well, it's a 10 year federal designation, and it did not come with a big pot of money. We really do wish it had. But what it did do, is it came with a promise. And that promise was that on certain federal funding streams, we were going to get a priority of preference, so to speak, so that our, you know, if we applied to become say, like a Promise neighborhood, or maybe we wanted to do a Burns Criminal Justice innovated grant or something like that, that our application still had to be highly competitive. But we would get an extra point. And in getting that extra point, would we see a redirection of federal funds focused into this area that we call a Promise Zone. And so we have in the, we've been this since 2014, we've got three more years in our designation. We've written almost 500 letters of support, where partners not necessarily located in our region, but you know, are in that are serve these counties. And we watch them actually, because of that competitive advantage to focus and say, Okay, well, we're in this business. But if we turn and look to these eight counties as being where we want to focus a service and put our application in, where we're going to deliver that right here, in these areas, that will give us a competitive advantage. And maybe we'll be able to expand our body of work. And we've watched that happen. And we started out with 12, implementing partners back in 2013, when we said we're putting in this application, if we get it, will you be on board? What will you do with us? We now have 96. We are looking at an over $847 million that have been invested in our area, or scheduled or announced to be invested in our area. And I have to be really careful because I've identified this money in that, like, if, if I wrote you a letter of support, you know, did you get the grant and how much was that? You know, maybe I heard through the grapevine that somebody got a grant that didn't require a or didn't have Promise Zone preference that goes on the list, you know. I read in the newspaper, that somebody's going to come along and invest, you know, $8 million, and put a plant in my eight counties. That goes on my list, you know, and so it's a it's a, it's a real list, but it's not quite as you know, where's my check kind of list. And one of the things I have to also do when I share that number is I have to caveat it because when the energy industry changed around 2008 – 2010 about that, and we saw our mono economy that was already distressed just really collapse in on itself. What you saw was, you know, the exodus of billions of dollars from this economy. And and then when you come around and you say, Well, hey, gosh, in seven years, we've identified $847 million. Well, yeah, that's great. But the two, I mean, the two buckets are hugely different in size. And so we're very pleased with that. It gives us a sense of pride and a sense of direction. But it doesn't, it just, it's not, doesn't go as far as you might think, is, I guess, my way of saying it, so.
Ben Kittelson
So so your kind of like day to day role then like, identifying like organizations that are that want to apply for federal grants, or some sort of grant like finding ways to, like connect them with resources or like, add your support to them? Or what is that maybe what is your kind of normal day to day look like?
Sandi Curd
Yeah, so essentially, I, I coordinate the the partners that are working in this arena, as well as coordinating that with the local government, and with any body that's on the ground, like chambers, or school districts, or those types of things. Because Promise Zones are trying to attack wicked problems by hitting it from all these different angles. So instead of just saying this is an economic development problem, it's like, sure, we're going to hit it with economic development, but we're also going to hit it with education, we're going to hit it with healthcare, we're going to hit it with housing and with crime reduction, and all these different things. And the thing about it is, is that these particular groups of traditional silos, they, they have their own language, they have their own contact list, you know, and so when a federal funding stream comes down, so let's say it's the USDA's Farm to School program, okay. Well, a farmer sitting over there going, I'd love to participate, but I don't know anybody in the school district. And the school people are saying, Man, we'd love to buy from some farmers, but we have no idea where to begin. And so what I do is, I coordinate those introductions, you know, and I'm able to rapidly put together individuals and groups of individuals that might be interested in pursuing this federal funding that cross sectors, you know, and then if there were other like, for example, we did some work in homelessness, youth homelessness in particular, well, then all of a sudden, we're, we're connecting our housing people with our education people, and we're trying to bring them together to try to address and put our hands around, you know, why is there such a huge amount of children that don't know where they're sleeping tonight? And what could we do to improve that situation? You know, and and is it you know, it's pretty self evident. If you're a kid, and you don't know where you're sleeping, it's awfully hard to, you know, get excited about school or to have any interest in connecting with that. So what type of impact is that having on us long term, and it's really, it was really interesting with youth homelessness, because that was one of the it's an invisible problem. You know, we don't realize how big it is, until all of a sudden, somebody starts sharing with you numbers of the number of kids that just don't have a permanent address. So so that's the way that it works. And I coordinate those activities and, and just try to bridge the gap, trying to translate everybody's unique language so that they all understand each other, and, and see whether or not we can get some synergy going and go after some of these grand ideas.
Ben Kittelson
Yeah, it's awesome. And because of like, kind of your jurisdiction area, or your service area, you get to like, cut across, like jurisdictional boundaries and team cities and counties up with one another. That's cool.
Sandi Curd
Absolutely, absolutely. I have eight counties, I have 16 different incorporated cities with 16 mayors, I have like 17 school districts, you know, but it's still it's fantastic. You know, and, and we do not have a long history of enjoying working with one another. You know, I mean, that's just one of the things Kentucky loves having 120 counties. And part of that is because we want to compete with one another. But there's a there's a beautiful time that you need to be the very best you can be and compete against everybody that's in your eye shot. And there's other times when you need to just say wait, hey, we all need to work together on this, you know, I kind of use the sports analogy, even though I'm not a sports person. But I you know, the all star team, you know, it's great to be competing, but at a certain point in time, you take the best of your players and you put them together and they have to be able to put behind them, you know, and work together as a team there, because that's just better for the overall sport. And so you know, it there are opportunities like that and they abound. And so we have to be able to gain trust with one another as well as being able to learn when when are you competing to be the best city you can be? And when do you need to, like, join with the other city and say, let's do this together and see what happens.
Ben Kittelson
That's awesome. So, um, one thing I wanted to make sure to ask you about is kind of the the placemaking work that you've done for this role. So, I don't know if it'd be best to serve as kind of a definition, but like, how do you how do you kind of define placemaking? And, and what what does that kind of look like for for you?
Sandi Curd
Well, you know, it's one of those things that everybody's like, they know it when they see it. Oh, but we, when I was working on a group that was statewide, and was co chair with the director of the Kentucky art Council, on this work, we came up with a really comprehensive and complex definition of creative placemaking. You know, and it included everything, and the kitchen sink, I think it's even in their kitchen sink included in this. Um, but what I think of it is, is, is, first of all, it's intentional. And it's intentional, where you go, and you take a place, and you make it attractive and conducive for people to want to hang out, that they want to gravitate towards it that they want to spend time there. And you can utilize food art, you can utilize the placement of furniture, you can use, you know, there's so many things that you can do to create place. But it's but it's vital, because we are desperate for wanting to be able to find these places that are comfortable to stand in, that are comfortable to, to shop in or to explore, we're drawn to them. And so my work with playspace began before I even knew that that word existed, and that came through the Whitley County farmers market. You know, I joined in with a group of farmers that were very interested. Their perspective was not that we're creating place or that we're creating community. They wanted to be able to bypass the middleman and directly sell their products to the customer, you know, and and to be able, therefore to make a greater amount of money on those vegetables or those that meat or what are chickens or whatever it is, you know, because that was a good business model for them. But what we watched was our city managers that were like using it and said, no, no, this is a you know, if we do this, right, this can be very instrumental in the revitalization of our downtown's. And so I watched the main street manager and in my hometown, Corbin Kentucky, and he made sure that the farmers market had a location in the downtown area, that they he pushed them to solidify their date, their time, you know. He made sure that they were you know that they were always planning on being there, it wasn't going to be one of those, you know, if I feel like it today, I'm going to sell vegetables sort of thing. He added in music to it. He made it very festive. He advertised it, you know these types of things. And as a result of that, we saw, you know, people that were drawn into it. We had been hearing about farmer's markets in the bigger cities, we've been watching TV shows that had people going to the farmers market and buying their things. And so it was exciting, because now it was here for us, you know, and some people came in and they had set up their grill and they would actually grill local ingredients and they would serve it so that you could eat, listen to the music and buy your groceries, your honey, you know, all of these types of things. But then the other thing that the farmers market did, so it created this, this festiveness okay, and it brought the community together. And we you know, we would see one another and we congratulate each other on you know, what did you buy and and what looks good, and what vendor should I check out, you know, those types of things. So we were building community there. But it also served as this economic incubator, because we started to watch. So there would be this farmer who comes who starts selling and then they start to look over and they're like, Man, that person has got a grill over there. Boy, they are really, they've got a lot, they've got a lot. So the next thing you know, they'd investigate getting the right licenses and those types of things and they would decide, okay, I'm going to produce a food that can be sold,  now prepared food that can be sold, and I'm going to sell that in addition to my vegetables. Okay, so now we've increased them as their farmers and farmers market. Well, we watched that and that we had an individual who launched into all that and now has a renowned restaurant on Main Street. Yeah, yeah, the the Wrigley Fine Food and Eatery is it's just, you know, it's just amazing. And it's, it's got that and it's got that whole beautiful thing that comes with playspace making that you know, it's like it's individualistic, and it's kind of quirky and it's kind of arty but it just, you know, it's anything but what you would find in a chain restaurant where, you know, they're trying to recreate this vibe, but they can't because, you know, they're buying, you know, all of their booths from the same location. There's a theme, they've got an interior decorator, you know, all that crazy stuff. But anyhow, and so once that investment was made, well, then we started watching all these other folks that were just kind of like, Oh, hey, look, they're doing really good. I wonder, you know, I've always wanted to have my own restaurant, you know, and, and maybe I want to, you know, throw my a in, see if it'll work. And so we've we've actually had this little downtown restaurant boom, of independently owned and operated restaurants and bars. And, and that has just been amazing to watch. We watched another entrepreneur who was in not in the farm goods, but in the crafts. And she was a potter. And so she would bring her wheel to the farmers market. And you could watch her as she was working and making cups and plates and those types of things. And she sold there. And the next thing we did is we saw her and then suddenly, she had like shared rental space with the local coffee shop. And so now she has a little retail shop, but it's just a little place. And then she went and bought her own …. and had her own place. And so she was now selling 100% of the time offering ceramic classes, they even did this whole thing, oh, this is the coolest thing. I don't know if you've ever had thin crust pizza that is baked in a ceramic kiln, but it is to die for. I mean, it is delicious, okay. And so they would have these like pizza events where they would advertise it, and you would go in and you'd order your pizza, and they put it in the big old kiln. And you know, 15 minutes later, you got this amazing, crusty wonderful hand thrown pizza. And, you know, just saw them and being able to be so creative in the things that they were offering. Um, so so, what I love about placemaking, though, is it's intentionality. You know, it was it's not, it doesn't just come together, like, organically, it might feel that way. But that's you actually use you look to create that environment, okay, you've looked to be able to establish this place so that people want to gravitate, you know, you you see so many times that folks, especially if it's community, you know, leadership that's always worried about their resources, okay, you know, they might, okay, well, we're going to put up a statue, but by golly, we're going to build a fence around that, you know, and we'll, we'll be very careful, because we don't want anyone to abuse this. And what you're secretly doing is you're telling people, well, we don't want you to actually use it. And so you have to take that away, you have to say, well, you know, instead of us going and buying outdoor furniture that will last 30 years, you know, why don't we just go and invest, you know, medium, almost cheap furniture that we know is only going to get through maybe two to three seasons. But we know that it's not the end of the world if we replace it, so that we can just make it available to people and that they feel really comfortable with. And then if somebody does come along and decides that they must have this chair for their front porch, that, you know, we all won't go freaking out over it, you know. So that's, you know, that's part of that whole idea of being conscious of the invitation in and you know, to be honest with you, I think coffee shops kind of like really got us going in this because if you think about it, some of the best coffee shops that you've had a chance to visit probably have that quirky feel. You go in, and you're just kind of like, oh, that sofa looks like what I used to play on in my grandmother's basement, you know, I can't believe it still exists. But you also feel very comfortable sitting in that sofa for as long as you want. You know, and and taking up that space and not feeling yeah, like you need to rush out. So that was a really long answer and I hope that's not too much. [Laughter] So that's great.
Ben Kittelson
No that's great. And the, your examples I think are like, I want to highlight them because that it's the next level effective of placemaking it's not only hey, this is a fun gathering place for folks and like a fun way to see like, you know, the different vendors at a farmers market, but it's you know, and I think maybe this is a good example for people that maybe have an economic development department, you know, in their city or their county, like there's this next level where you see someone that's that wants to take their business to the next to the next step and you can provide the resources or make the connections to kind of help them. It sounds like that's what you're you're being kind of a here's a here's here's how you can do this next step. Now that you've kind of like seen we what you can do out there.
Sandi Curd
Well, and they don't risk everything they own. You know I mean by by moving on upward in gentle increments, it gives them the opportunity not, it reduces the risk when if they fail, and it's okay in and when you have to be okay, if they do okay, because, you know, one of the things, I don't know, maybe it's because we're rural, maybe because we're balanced, I don't know. But one of the things that we've caught ourselves doing is we're just be like, Oh, you never, you know, you don't want to do that, you're gonna lose your, you know, sure, you know, and, and so forth. And it's like, you know, and so if you get out there, and you fail, and somebody comes along, and just says, yeah, I told Jay, you know, and, and so forth, we've got to get over that. You can't get innovation, and you can't get entrepreneurism, if you're not, if you're not regularly failing, you know, and we've got to be able to set it up in such a way that allows folks to be able to do it, and still move forward and take with them their learning experience, because, you know, it might be that second time, or it may be that third time, but then they're, they're going to hit on it, and they're going to have finally figured out what it takes to make it work. And we need to encourage that, because that's the whole, you know, that's the genesis of innovation, and so forth. Since you're all about Govlove, and so forth, let me throw out, you know, folks that might be listening to this, check out the EPA, Environmental Protection Agency. They have this program called Local Food, Local Places, and it's all about technical assistance. So it doesn't come with any money, but you get, if you are awarded one of these grants, your community gets all of these brilliant people that come in and help you convene all the stakeholders to help you be able to take an idea and to incorporate local food into it. And also be able to expand out to make it, for it to have its greatest economic impact, and its community development impact. And so we got one of those grants, and we're very excited, because we're still unless something's changed, we're still on their website, you know, with a little video of when they came to Corbin, Kentucky to watch how Farmers Market revitalize downtown. So you know, in an other area, my work on the state level, in this regard, Ben and share that with you is just this whole intersection of art, food and health. You know, and, and to get that message out to like hospitals and to you know, big, you know, multi doctor specialty offices and those types of things, to get involved in this activity, because if they start creating place, and they get with their farmers market, there's all sorts of beautiful ways to incentivize that participation, which goes in line with their health care mission. The favorite one I like is what's called a Farmacy Program, and that's spelled with an F instead of a Ph. But seriously, their doctors give prescriptions that these folks can redeem at the farmers market for fresh vegetables. So you get them to, you get them to experience the farmers market experience, okay, you get them to get high quality vegetables, you know, at affordable price, because it's free, and and you got them being active and being in the community. And so, in the preliminary studies on a very micro level, it showed that there it made an impact, it made an impact on certain things like obesity, on blood sugars, and on blood pressure levels and hypertension in just that, you know, getting out going to the farmers market, participating in with a really cool function of your community, and then eating vegetables when you got them home. So, you know, vegetables changed the world. There you go.
Ben Kittelson
Yeah. [Laughter] That's great. So you I mean, you've mentioned like, how many partners and all the people that participate and stuff like this, like how do you, how do you go about like, we really want to get, you know, this healthcare sector involved or we know this this farmer has been coming to the farmers market a while, like, how do I engage them to kind of take that next step? What's kind of your, your process for engaging those partners and kind of like all the resources, they or all the connections that they that your organization can offer?
Sandi Curd
Yes. So you know, the thing that you have to do is you have to be open to whatever it is that bubbles to the surface in your area. Okay. So um, you know, so for example, one of my Promise Own communities has struggled in trying to be able to get a a farmers market going. They just simply can't find any farmers in their area that are excited about spending time on their Saturdays, you know, trying to sell vegetables okay. So the question becomes, well, what could you do you know, what, what do you have artists, I mean, so what Yeah, you know, you don't start with food, start with artists, you know, start generating the market concept out there with what you have. You know, you can't get to the hospital CEO, well, can you get to doctor? Can you get, you know, who can you find that buys into this idea who likes this idea? Go and steal the idea from someplace else that they watch. And that will get them motivated, because definitely don't want anybody to have a greater farmers market than you have in your community, you know. So a little competition there is really is really good. I want to plug Becky and Deb's. They are on the web, and it's called Save Your downtown, and they are out of Iowa. And these two ladies are excellent in providing ideas to small rural communities on how to do what they call the Ideal Friendly Method in which you are able to get people excited about participating in an activity because you have not squelched the creativity out of that idea. You've just really thrown out a concept. And then you have people who come along and say, Hey, I can get in on that. Because this is my idea. And it contributes to the other the overall idea. And I'll give you an example, the idea of friendly method, you come along, and instead of saying we're going to decorate the main street for Christmas, and we're going to use just red and green lights, and it's going to have to all be this type of greenery, and it's going to have red ribbons, you know, and all this other stuff. What if instead, you came along and said, Hey, community, we want our main street for the holidays to be so lit, they can see it from the Space Lab, okay. And we're interested in any idea that you have that can make that happen, and you just get out of the way. And all of a sudden, you see people bringing in their lamps, and they're bringing in their shop lights, and they're bringing in every single thing of their Christmas stuff. And they're just putting it in every window and every outlet and those types of things. And for this one season, you have this amazing community effort that they proudly show to everybody. This is the year we lit up so much, they could see us from space, you know. And so that's how, you know, it's different. It's a different way of doing it to build community. And I want to plug those gals because I really think they're onto something, especially in the smaller communities that you know, the old fashioned way of somebody having a plan and finding people to volunteer for the plan. And, you know, we're all too busy. There's way too many other things that we could be doing. The things that we want to do, are the things that we that inspire us as individuals and we have to then find a way to get them involved in those things.
Ben Kittelson
Well, and kind of on that note, like is that maybe what's distinct about placemaking in a rural area is that you got to kind of be more open. You can't just come in with like, hey, this worked in you know, yeah, in back in Lewisville or Louisville, so like, Hey, we can do it here or what's maybe what's what's distinct about kind of placemaking in a rural area?
Sandi Curd
I think you've got it. I think you've got it in and and kudos for the proper pronunciation of Louisville you know,
Ben Kittelson
I had to correct myself because we I've done a project with a city in Colorado that goes by Lewisville. But it's spelt the same. [Laughter]
Sandi Curd
I know, I know. I know. And, and the way we pronounce it, it's not even close to the way it's spelled at all, you know.
Ben Kittelson
But it's the proper way.
Sandi Curd
Yeah, exactly. We just depend and a whole bunch of the letters in the middle of it, you know, and everything. But, but yeah, you know, it's, um, I think you're going to have your most success. And I would even say this for a city environment, you know, you, you might think you can cookie cut and put certain things into place. And, and maybe that will work for you, you know, to be able to do that sort of thing. But if you will allow certain things, if you will intentionally try to create an environment, rather than mandating what that environment is, you may find that you find your success earlier, more successful and with less investment, than if you go the other direction. And, and communities really, really need to come together to have that sense of community pride, because that's what that that's what bonds us together. Um, you know, we used to think that it was the greatest thing in the world to have your own shopping center so that you could drive out there and park and go and do all this other stuff. And, you know, we all complain that we didn't have malls and all this other stuff. And as a result, you know, our little Main Streets all got boarded up and look sad and pitiful, and so forth. But what we've realized is that nobody goes to that spot to just hang out. They go specifically to go buy something, you know, it's like I'm on a mission. I'm getting my groceries. Get out of my way. You know, but if I go to downtown, I want to walk, I want to look at the windows. I want to have ice cream afterwards. You know those types and it it really is a whole different approach and it provides the heart for your community. So and it's vital for our smaller communities for sure. Cuz you've got to have a heart.
Ben Kittelson
Mm hmm. Well, what's what's been kind of the response from like residents and kind of folks that you have multiple stakeholders that to kind of these placemaking efforts? It sounds like it's been pretty successful.
Sandi Curd
Yeah, I think so. You know, I mean, we still, you know, even I've, I no longer work with the farmers market, specifically, as it's open those days and so forth. But you know, they still, they still will have somebody come up to 'em going, I had no idea we had a farmers market. And you're like, you know, we've been here 10 years, how could you miss us, you know, but you know, it, that's just, that's just the way it is, you know, people get their information from so many different sources, and some of them don't get their information at all. You know, they do not, you know, they're not a part of social media, they're not getting the newspaper, you know, and just different things like that. But yeah, I think you see it in the amount of support, I think you see it in the amount of of, of how they share that with other people. You know, they may not be routine people going to these places, because let's say maybe they just don't like fresh vegetables, or, you know, it doesn't make sense as a single person to to buy, you know, vegetables when it's so much easier to just go out and eat, you know, things like that. But still, you talk about it in a prideful manner, because you're like your community has something that other communities have, we're not going without, we've got, you know, we've got it instead. And, and you see folks talking about it and comparing notes. And, and sometimes you'll even, you know, we had a Thanksgiving market where it was indoors, because we had no idea how you know that, but we wanted you to put a piece of Whitley County on your Thanksgiving table. And, and so anyhow, what you found was that folks would start texting one another. It's like do they have sweet potatoes? And you'd be like, Yeah, they do. They're this much. Okay, can you give me so many pounds? Yeah, I got it covered for you, you know. And so anyhow, so it created community in that particular way, as well. So I think I think the stakeholder support has been good. You know, I mean, it can always be better. We've always got room to grow, and so forth. But, but I think, the stakeholders, the community leaders, they see, you know, how valuable this is and how it becomes the launching pad for the next thing. It's like, well, you know, they were good at this. Well, maybe if we try, well, I will just share this. My community in Corbin had its very first half marathon just a couple of weeks ago. And in the middle of the pandemic, okay, but we thought because it's an inaugural, a half marathon, you know, we're probably not going to get more than 100 runners, no matter what type of pandemic is going on. And they exceeded and they had over 240, there were 30% of our folks were from out of state. It was an incredible event. But a whole bunch of that came from just that sense of confidence and success that had come from all the other activities that built up to that point. And I think you'll someday be looking on the runners calendar, in your part of the woods and you'll be like, Ah, there's that Colonel Sanders half marathon that she was telling me about looking there. It's still going on, and they're expecting 700 runners this year, so but that's the type of thing I think it can really do for a community.
Ben Kittelson
Well, now I gotta put that on my calendar for 2021.
Sandi Curd
Are you a runner?
Ben Kittelson
I am, yeah.
Sandi Curd
Oh, man. Yes, you do. Okay. It's looking like it's gonna be the well, hang on a second. It was November the 12th. Hang on a second. Hang on a second. What day was it? Because it'll be the same. Okay, it was November the 14th. So that's the second Saturday in November. So just go ahead and and plug that in 2021 and just plan that you need to and they've reinvested the owners of the very original Colonel Sanders Kentucky Fried Chicken. They have put I don't know I mean, I don't even know how much money they put in this place. But it is stellar. Oh my gosh. So not only can you run this but you can go to where it all began. And you can have some original chicken you know, um, and and and have your you can have your photo made. We've got this nice bronze statue of the colonel there. You can have your you know, your photo made with him. And so all of those things, but yeah, absolutely. Put it you know, and honestly, with it being you know, if you're a good runner, you're liable to go home with a prize.
Ben Kittelson
Yeah, that's awesome. [Laughter]
Sandi Curd
Okay. I'm looking for you, brother. I am looking for you.
Ben Kittelson
Okay.
Sandi Curd
Yeah, I'm the one who says the end of the group. Okay, I'm the slow one that's barely able to get there before they shut down the race, but I'm still there. I'm getting my medal, you know it you know, but I'm not going to get a prize, but I'm gonna get a, I'm gonna get a medal. Yeah,
Ben Kittelson
Finishing, finishing is all that matters.
Sandi Curd
Yeah. That's what I tell myself the entire way. [Laughter]
Ben Kittelson
Sounds like, it sounds like you guys have still been pretty active with some placemaking stuff like, despite kind of the pandemic. Is that, how has the pandemic kind of impacted your work? It sounds like you've still been able to do do some things, but I imagine there's there have been back.
Sandi Curd
Well, it I mean, you know, the pandemic hits the hardest your restaurants, you know, and I mean, and we watch them, and we're all just, I mean, the, you know, we're, people are ordering takeout to a level that they've never in the, in the past, because they're just like, I've got to, I've got to do what I can to help these restaurants. Because we were now into our third shut down, and of in, in restaurant dining, and we're like, gosh, how much more of this can they take. You know, how much more how many, you know, because we really, you know, we we love this atmosphere. And, and so, so anyhow, so that's been, that's been tough. But, you know, they came along the city, when we had a shut down during the middle of summer, the city just closed off a couple of little alleys and put up these big tents and put tables outside so that it was safer to eat. You could go and get your food and take it into those. And they did that until the the shutdown was was over. This coming Saturday, they're doing this Oh, man, it's crazy idea. But it's called a reverse parade or a reverse Christmas parade. So the floats are going to be all stationary on the side of the street. And then there's going to be this line and you get in your car, and you're going to drive the parade route. And you're going to wave at all the floats. [Laughter] And I assume Santa is going to be at the end, you know, passing out candy, you know, doing all that other stuff. But I'm like, Man, that is just so creative and so cool.
Ben Kittelson
That is a good idea. Yeah.
Sandi Curd
Oh, yeah. You know, I mean, just to be able to, to try to keep some semblance of normalcy, but to do a twist on it. And, you know, and just, you know, keep on plugging. I mean, that's, that's what makes resilient people and I know, Eastern Kentucky is filled with resilient people. And America is filled with even more. So yeah, that's what it's, that's what it's all about.
Ben Kittelson
Awesome. Well, you have me very inspired to come to Eastern Kentucky and see all the cool stuff you'll are doing so. [Laughter]
Sandi Curd
Okay, well, you just keep my email in your contact list. And I'll make I'll make sure you get a grand tour.
Ben Kittelson
Awesome. So we have a traditional last question on GovLove. So if you could be the GovLove DJ, what song would you pick as our exit music for this interview?
Sandi Curd
Well, you know, umm, I don't know when folks will listen to this. But in case they haven't noticed, it's December and it's Christmas season. And so I would conclude with It's the Most Wonderful Time of the Year. Yeah, yeah. And really get folks into that spirit, that Christmas spirit and try to be able to, to make it important and beautiful, even if it's not the way it's been in the past few years. So….
Ben Kittelson
Awesome. Well said, well said. With that, that ends our episode for today. Sandi, thank you so much for coming on and talk with me. I really, really appreciate it.
Sandi Curd
Thank you, Ben, and I loved it. That was great.
Ben Kittelson
Yeah. And for our listeners, GovLove is brought to you by ELGL. You can reach us online at elgl.org/govlove or on Twitter at the handle @govlovepodcast. The best way to support GovLove is by joining ELGL. Membership is $40 for an individual and $20 for students. You can also sign up your whole organization. Lastly, subscribe to GovLove on your favorite podcast app. And if you're already subscribed, go tell a friend or colleague about this podcast. Help us spread the word that GovLove is the go to place for local government stories. With that, thank you for listening. This has been GovLove, a podcast about local government.
---