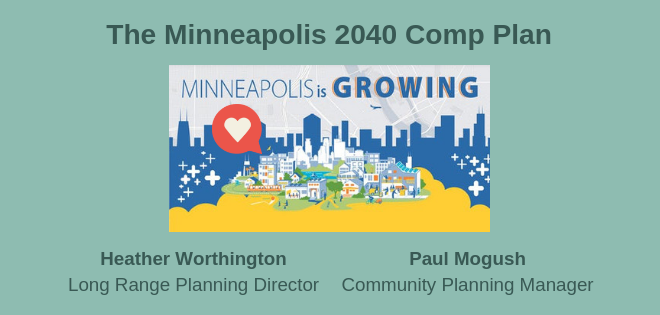 Heather Worthington
Director of Long Range Planning
Minneapolis, MN
LinkedIn | Twitter
Paul Mogush
Manager of Community Planning
Minneapolis, MN
LinkedIn | Twitter
---
Battling disparities through planning. Two people from the City of Minneapolis, MN join the podcast to talk about the hottest comprehensive plan in the country, Minneapolis 2040. Heather Worthington is the Director of Long Range Planning and Paul Mogush is the Manager of Community Planning for Minneapolis. Heather and Paul discussed the goals of the new comprehensive plan, which put dealing with racial disparities at the center of their work, and how they engaged the public throughout the process. The new plan will make big changes to land use in the city including eliminating single family zoning and parking minimums.
---
---
Learn More
Minneapolis 2040: The most wonderful plan of the year
Can Minneapolis's radical rezoning be a national model?
All the ways the City Council changed the Minneapolis 2040 plan
Triplexes, max heights and parking: what to expect from a revised Minneapolis 2040 plan
To cut pollution from cars, Minneapolis wants more neighborhood destinations
In planning for its future, Minneapolis tries not to repeat the past
Streets.MN Podcast #120: Minneapolis 2040 with Heather Worthington and Paul Mogush