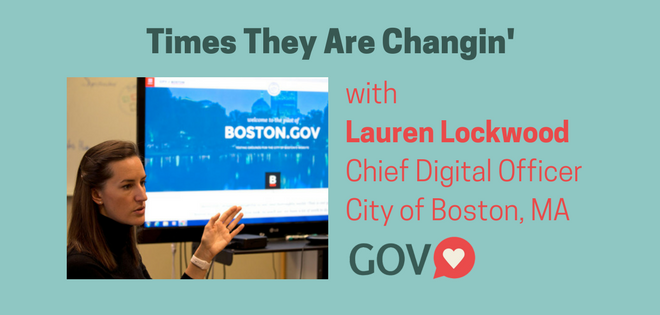 Lauren Lockwood
Chief Digital Officer
City of Boston, MA
Bio | LinkedIn | Twitter
.
Lauren Lockwood, the Chief Digital Officer for Boston, MA joined GovLove to talk about technology, communications and bringing new thinking to local government. She discussed redesigning the city's website and holding government to the same standard as the private sector when it comes to digital engagement.
Other topics discussed:
Celebrity look-alikes
Lauren attended Harvard Business School and worked at Morgan Stanley. Based on this experience, she gives an honest assessment of local government's ability to adapt to technology.
Boston's digital vision: digital media, digital services, and digital engagement.
Transactions with government should be as easy as using Amazon.
The debut of a new website is a "point in the journey, not the end."
"I'm optimistic." The future of female leadership in technology and business.
Dave Matthews Band makes a late appearance in the episode
.

.
Extra Credit
City Hall Appoints HBS Grad Lauren Lockwood as Chief Digital Officer
Boston's Chief Digital Officer, Lauren Lockwood: A Data Fanatic, Puzzle Solver, Dog Lover
Boston CDO Lauren Lockwood On Coding Civic Engagement
The Download: Boston's chief digital officer, Lauren Lockwood
Women's ILab Interview with Lauren Lockwood, Boston's First-Ever Chief Digital Officer
City launches preview of radically redesigned website