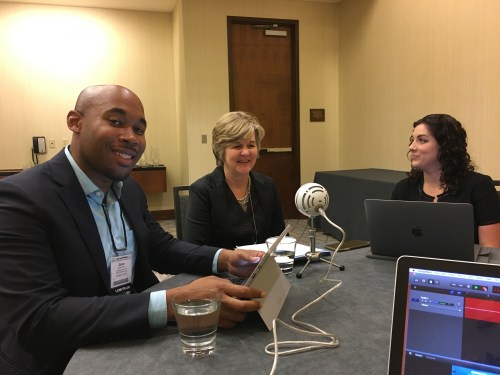 Heidi Voorhees
President
GovHR USA
Bio | LinkedIn
---
Recruiting & retaining talent in local government. Heidi Voorhees, the President of GovHR USA, joined GovLove to talk about the work of finding and attracting talented local government employees. Heidi discussed her experience as a Management Fellow in Kansas City, MO with current fellows Javon & Alyssa. She also talked about the importance of LinkedIn and the drawback of residency requirements.
Topics: Lightning round (0:35), Heidi's experience as a Kansas City Management Fellow (3:30), what drew her to human resources (5:45), tech in human resources (7:00), recruiting & retaining the next generation (8:55), GovHR USA's work (10:55), the challenge of finding and attracting talent (14:50), and her LinkedIn tips (22:25).
This interview was recorded at the 2017 ICMA Conference in San Antonio, TX.
---
---
Learn More
Heidi Voorhees and Joellen Earl, Co-owners of GovHR USA
Salary range for next Grand Rapids city manager starts at $175K
Joliet pay scale aimed at keeping managers ahead of staff
Wauconda hires new village administrator