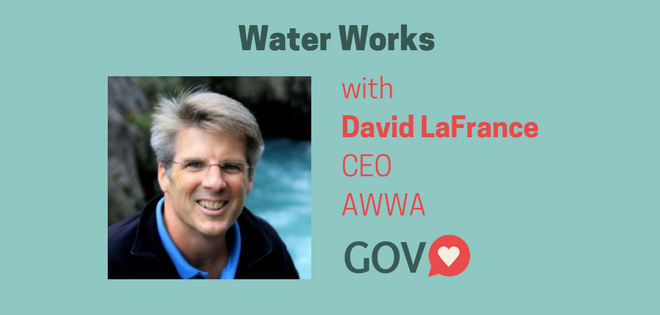 David LaFrance
Chief Executive Officer
American Water Works Association
LinkedIn
David LaFrance serves as the Chief Executive Officer of the American Water Works Association he joins the podcast to talk about his work with the professional association, the challenges to Water service, Flint and more. David served as Director of Finance for Denver Water for the past 12 years and is a respected industry leader in the areas of utility economics and water rates. Prior to being named Director of Finance in 1998, he served as Denver Water's Manager of Rate Administration for five years. David got his MBA from the University of Colorado, Denver in 1992 and went to undergrad at Lewis and Clark College in Portland. 
Podcast Topics
10% of life is what happens to you; 90% of life is what you choose to do.
Advice for the new GFOA and ICMA Executive Directors.
How children impacted David's career.
The importance of affordability, communications, and water chemistry in wake of the Flint water crisis.
Growing globally: AWWA's presence in India
Attracting and retaining employees… how water agencies are preparing for a wave of retirements.
Learning from our mistakes: David's biggest mistake and what he learned from it.
---
---
Keep Reading
David LaFrance of AWWA Talks Getting the Lead out of our Water
AWWA Names David LaFrance New Executive Director
The City That Unpoisoned Its Pipes
Partnership for Clean Water Launched by AWWA