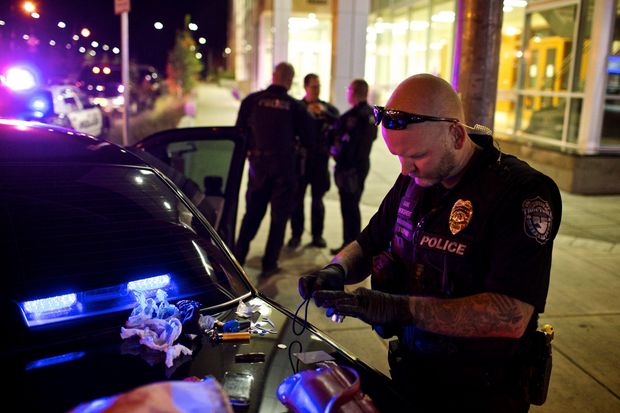 In response to direction from the Santa Ana City Council, this past week I assisted with preparing an informational report relating to police oversight. In today's Morning Buzz, I'll share some of the research I gathered.
---
What I'm Listening to – FARR – Someway Somehow
What I'm Reading – Civilian Oversight of the Police in Major Cities, a surprisingly digestible article published by the U.S. Department of Justice in 2018 and commissioned by the Office of Community Oriented Policing Services. If you're interested in learning about how cities across the United States and Canada approach police oversight, I encourage you to check it out.
What I'm Doing – I came into work early today to catch up on some outstanding assignments. Notably, I'm working with my city manager and a local university to deploy COVID-19 serology testing and data modeling. Wish me luck!
---
Background
Across the United States, at the federal, state and local level, debate is underway regarding law enforcement. This broad conversation ranges from social justice, accountability, the role of the police, funding levels for law enforcement, the laws, policies and procedures governing police departments, and oversight.
At the June 16, 2020 City Council meeting, the City Council directed staff to prepare an informational report providing examples of police oversight models in place across law enforcement agencies in the United States. More specifically, the City Council directed staff to explore best practices for police oversight, identify various models of oversight, and evaluate the various frameworks.  In addition, this report provides an overview of the Santa Ana Police Department's approach to police related complaints.
About the Santa Ana Police Department
The mission of the Santa Ana Police Department (SAPD) is to deliver public safety services to the community with the utmost professionalism and integrity. SAPD's values act as the guideline for the discretionary use of police powers and are the basis by which employee actions are evaluated.
SAPD is committed to creating and maintaining a safe, secure, and enjoyable environment for community members and visitors alike. SAPD strives to provide fair, courteous, responsive, and effective service equally to all people while observing each individual's dignity and worth. Therefore, it is the policy of SAPD to accept and thoroughly investigate all complaints of alleged misconduct by any member of the department. The complaint process has two goals:
To correct improper employee conduct.
To protect employees from unwarranted criticism when their actions were lawful and justified.
To that end, a Citizen's Complaint Form is available on the City of Santa Ana's official website.  If citizens cannot access the internet, complaint forms are mailed out or hand delivered to the individual wishing to file a complaint.   Below is the process by which individuals submit complaints of police misconduct:
Complainant prepares and submits SAPD Citizen Complaint Form or communicates alleged misconduct to any staff member
Complaint is reviewed by supervisor to determine if the nature of the complaint describes alleged police misconduct
Complaint is assigned for investigation and inspector reviews all facts, policies and procedures pertaining to the complaint
An investigation is conducted within the one-year statute of limitations (may be extended due to exceptional circumstances)
A determination is made as follows: (1) Sustained; (2) Not Sustained; (3) Unfounded; (4) Exonerated
Complainant is notified within 30 days of finalizing the determination
If complaint is sustained, discipline is recommended to the Chief of Police, who makes the final determination
Due process rights are available to the involved officer(s) to appeal any findings and/or imposition of discipline
Personnel Board reviews the findings and imposition of discipline on appeal
Involved officer(s) may appeal the Personnel Board findings to the Superior Court.
The Citizen's Complaint Form procedure is an example of an internal police misconduct investigation, where the individuals who investigate the complaint are composed of internal law enforcement and/or other individuals from within the local government agency. This differs from the external investigative component conducted within a police oversight model where the individuals who investigate the complaint are civilians who do not work for the law enforcement agency or local government agency.
Overview of Police Oversight Commissions
While the definition varies by source, a police oversight commission is a form of oversight of law enforcement officer conduct. The purpose of these oversight systems is to improve law enforcement performance and accountability.  A leading scholar, Samuel Walker, distilled best practices into a concise and practical list designed to facilitate police reform (Walker, 2005)[1].  These strategies are based on the 2001 Department of Justice report, Principles for Promoting Police Integrity.  These include (a) use of force and other critical incident reporting; (b) open and accessible citizen complaint procedures; (c) early intervention systems; and (d) external citizen oversight.
Any successful model must address the rules, policies, norms, and culture of the police department.  Research suggests that police misconduct is often driven by the ethos of the police organization (Armacost, 2004, p. 456)[2]. In 2019, SAPD leadership, working with members of the community and co-facilitated by the Orange County Human Relations Commission, revised the Department's Community Oriented Policing Philosophy (which clearly emphasizes accountability, integrity and transparency); and established a 2019-2024 Policing Strategic Plan.
Oversight Models without Investigatory Powers
This model consists of members who review police misconduct investigations to determine whether they were conducted appropriately and adequately.  Members agree or disagree with findings of the internal affairs investigation and may make recommendations. This type may also provide proposals or recommendations regarding departmental policies.
Example: A Chief's Advisory Board is created to act as a community resource for the chief in forming strategies, developing community policing priorities, increasing public awareness, and transparency.  The board is intended to provide a forum for discussions concerning community concerns and its goal is to have a broad spectrum of viewpoints represented.
Advantages:  Boards or commissions without investigatory powers can produce findings more quickly than an investigatory model.  This model also provides an opportunity for residents to be directly involved and have input on policy issues.
Disadvantages: A large amount of labor and time is required for those serving on the board or commission.  Members must have some knowledge and training to identify problems in complex investigations.  Without investigatory powers, the board or commission is limited to the evidence and investigation conducted by Internal Affairs.  Members may feel obligated to pursue specific agendas or policies.
Oversight Models With Investigatory Powers
This model consists of assigned members who have the additional authority to investigate complaints separately and externally from the police department. This model is generally seen in organizations who have a history of serious patterns and practices of misconduct. The board or commission may make findings because of such investigations and make specific recommendations to administrators regarding discipline and/or policy.
Advantages:  Can provide increased public confidence in misconduct investigations and give the community a greater sense of inclusion.  Provides additional oversight as investigations and findings come from an agency other than the police department.
 Disadvantages:  Members must be highly trained and willing to spend a considerable amount of time to conduct fair, unbiased, and consistent investigations.  Substandard investigations can create significant problems for the community and police department.  The board or commission must have the ability to compel evidence (subpoena) and the ability to hear testimony from officers.  Would require significant and adequate funding to function properly.
Summary
Although the models set forth above depict the two general types of oversight board/commissions, there are numerous variation between those with investigatory power and those without. There are civilian review boards, monitors, auditors, and inspectors general, among the variations. The "best" approach continues to be a subject of debate among scholars and practitioners. In part, this is because so many different factors influence what particular agencies and communities need and can sustain. A variety of police oversight classification systems have developed over the years because of the wide variation in approaches adopted by communities. The National Association of Civilian Oversight of Law Enforcement (NACOLE) adopted a system developed by Samuel Walker in 2001 with some modifications of their own. NACOLE places police oversight bodies in one of three classifications:
The investigation-focused model involves routine, independent investigations of complaints against police officers, which may replace or duplicate police internal affairs processes, staffed by non-police civilian investigators.
The review-focused model concentrates on commenting on completed investigations after reviewing the quality of police internal affairs investigations. Recommendations may be made to police executives regarding findings, or there may be a request that further investigations be conducted. A review board composed of citizen volunteers commonly heads this model, and they may hold public meetings to collect community input and facilitate police-community communication.
The auditor/monitor model focuses on examining broad patterns in complaint investigations including patterns in the quality of investigations, findings, and discipline rendered. Further, in some cities that use this model, auditor/monitors may actively participate in or monitor open internal investigations. This model often seeks to promote broad organizational change by conducting systematic reviews of police policies, practices or training, and making recommendations for improvement.
Since the 1970s, more than 200 police oversight commissions have been established throughout the United States. For information that is more detailed please see Exhibit 1 for a report published in 2018 by the U.S. Department of Justice's Office of Community Oriented Policing Services entitled Civilian Oversight of the Police in Major Cities.  In order to better understand how police oversight plays a role in local law enforcement in California, a summary of police oversight bodies in select cities is provided in Exhibit 2. Civilian oversight programs vary significantly from one city to the next and even within the general categories described here, and some communities deploy police oversight commissions that incorporate more than one characteristic of each of the models.
In addition to the flexibility of the makeup of each police oversight commission, variability also exists among the costs associated with each. Research of a handful of cities indicate that the models with full investigatory power requires the greatest amount of annual funding; whereas, non-investigatory power models that serve to monitor require the least.
Comments and Direction from the City Council at the September 15, 2020 Meeting
The City Council met this past Tuesday to discuss the elements of this report. Ultimately, the City Council directed staff to return to the City Council in 90 days with an updated informational report which includes the following:
Provide a thorough analysis of the cost associated with police oversight models with investigatory (subpoena) powers and those without
Provide a breakdown of the structure of both models (investigatory vs. non-investigatory)
Conduct a comparative analysis of two to three cities who have deployed investigatory vs. non-investigatory police oversight models; share what worked and what didn't

Review comparable cities (such as Long Beach, Oakland, and Anaheim)
Use data to show effectiveness of each

Contact the Orange County Sheriff's Department to seek feedback relating to the Sheriff's Advisory Council and share findings
Conduct community engagement to solicit feedback and ideas from the community. Specifically, reach out to the following: (1) neighborhood associations; (2) businesses; (3) Santa Ana Chamber of Commerce; (4) all other stakeholders using a survey
If you have any questions (or tips) for me, let me know!
---
[1] Walker, Samuel. The New World of Police Accountability. Thousand Oaks: Sage Publications, 2005.
[2] Armacost, Barbara. "Organizational Culture and Police Misconduct." George Washington Law Review.