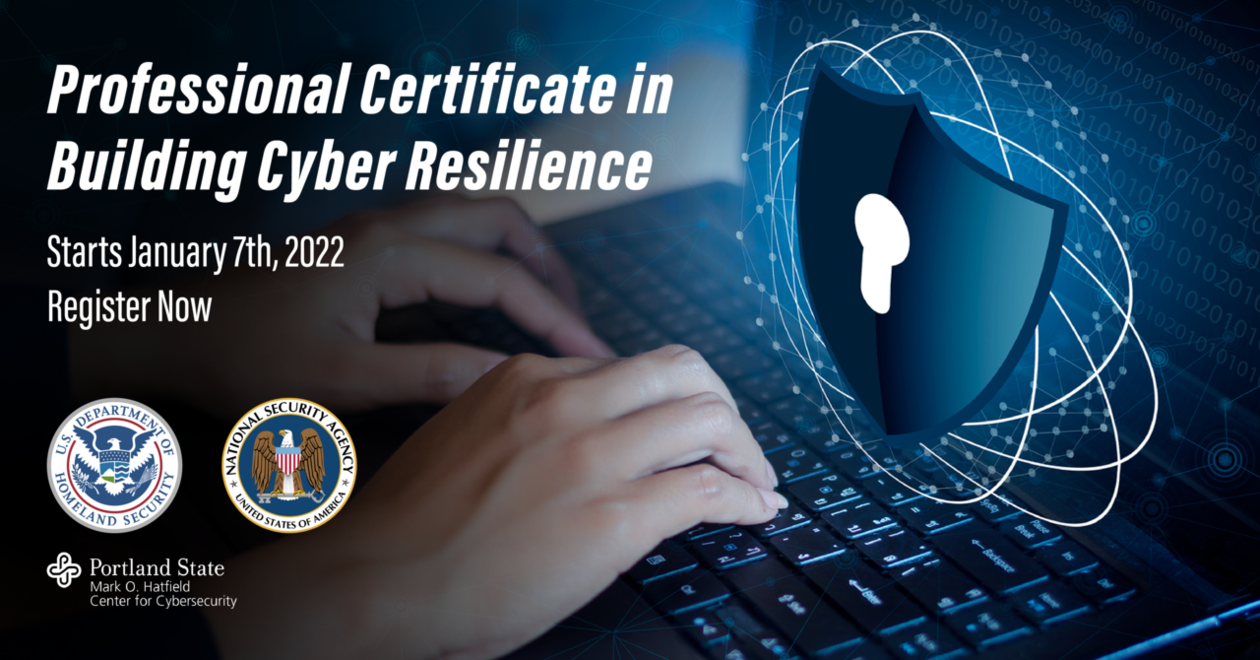 This professional certificate is offered by our friends at PSU, Center for Public Service. 
---
About the Program
Understanding cybersecurity risk is an essential first step in protecting data and ensuring organizational resiliency in the event of a cyber-attack or natural disaster. Cyber risks can take the form of technical or physical threats or vulnerabilities, regulatory compliance requirements, financial loss, data loss, or reputational harm.
To help address these challenges, PSU's Mark O. Hatfield Center for Cybersecurity is offering a 12-week non-credit professional certificate program in Building Cyber Resilience. This program is highly collaborative and will use a cohort-based case study approach to learn about common cyber risks; how to identify, assess, and communicate cyber risk; and how to conduct the first step in mitigating threats through a risk assessment. A deep technical background isn't required, and technical concepts will be explained through the course of 12 weekly sessions. Program coaches will work with participants to create a unique shared learning experience that is approachable for non-technical practitioners.
Who Should Attend
This certificate program is designed for private and public sector leaders, managers, public administrators, IT professionals, and doesn't require technical knowledge of cyber security or risk. Examples of professions that will benefit are:
City and County managers
CIO, CFO, CEO, and other organizational leaders
Cyber security and information technology staff
Privacy and compliance staff
Risk managers
Disaster and emergency managers.
What You Will Learn
How to create and implement a comprehensive cyber risk assessment program for your organization
How to leverage internal and external collaboration to enhance risk management
The impact of cyber threats and vulnerabilities on organizational resiliency
How issues such as privacy, legal and regulatory frameworks and compliance, social and geopolitical impacts, national security, and evolving technologies can impact an organization's cyber risk and security posture
The importance of identifying and mitigating risks from vendors and other external partners
Program Information
Dates: January 7, 2022 to March 25, 2022 (live virtual sessions on Fridays)
Cost: $3,500
Application  Deadline: December 30, 2021
---
Instructors
Your instructors will be experts in cybersecurity, collaboration, and local government. This unique combination of expertise and practical experience will help ensure an accessible and highly impactful program.
Margaret E. Banyan, Ph.D.
Margaret E. Banyan, Ph.D serves as a Senior Fellow for land use planning, strategic planning, organizational design and development, and sustainability planning. Dr. Banyan is extensively involved in both land use and organizational strategic planning in a variety of national, regional, and local efforts. She has worked with a wide range of local governments, nonprofit organizations, and special districts conducting policy and organizational studies. She has published in Public Administration Review, Administrative Theory and Praxis, the Encyclopedia of Governance, and authored several individual and joint book chapters.
Dr. Banyan has significant experience in both the public and private sectors, including serving as a Professor at Florida Gulf Coast University, Senior Fellow for Portland State University, a Senior Planner, Special (Fire) District Administrator, Coordinator for the Center for Public Participation, and Hatfield Scholar at Portland State University. She has designed and implemented innovative projects, collaborative research initiatives, and multi-jurisdictional planning efforts; including cybersecurity studies strategic plans, comprehensive land use policies, community plans, economic development initiatives, health impact assessments, citizen surveys, focus groups, and needs assessments.
Dr. Banyan holds a Ph.D.: Public Administration and Policy from Portland State University, a Master of Public Administration from Portland State University, and a Bachelor of Science, History, from the University of Oregon.
Ronald Buchanan, M.A.
Ron Buchanan is the Chief Information Security Officer (CISO) for the St. Charles Health System in Bend, Oregon. Prior, he was CISO for the state of Washington and Chief Information Risk Officer and Director, Information Security & Privacy Office, for Oregon's Department of Human Services and the Oregon Health Authority. Before joining the state of Oregon, Mr. Buchanan consulted with Pearson VUE to build their global special investigations and threat analysis program identifying and mitigating technical and physical threats to Pearson VUE's intellectual property.
As a consultant for the Federal Bureau of Investigation's Criminal Justice Information Services (CJIS) Division, Mr. Buchanan was a lead author for the CJIS Security Policy resulting in a national risk-based and technology agnostic framework for protecting Criminal Justice Information. Additionally, he served as a civilian Supervisory Special Agent with the Air Force Office of Special Investigations focused on cybercrime and counterintelligence investigations and operations in the US, Europe, and Asia.
Mr. Buchanan is retired from the Air Force Reserve, has an MA in Business and Organizational Security Management from Webster University, and Certified Information Systems Security Professional (CISSP), Certified Information Privacy Professional (CIPP/US), Certified Protection Professional (CPP), and Project Management Professional (PMP) certifications.