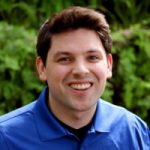 Greg Stopka
Park District of Oak Park, IL
Strategy and Innovation Manager
---
Insightful, Innovative, Visionary
I have only known Greg a short while but right off the bat knew he was making (and will make) a major impact in the local government community. While he serves as the Strategy and Innovation Manager for the Park District of Oak Park, he organized a regional benchmarking group to facilitate the sharing of best practices in order to learn and drive improvement.
Now, he has taken that vision and is expanding it to a national level working with key partners like ELGL and us to help execute. It is exciting to see his vision unfold and to follow his lead. Meanwhile, he has taken his own organization's strategic planning efforts to an all new level.
Recently, Greg wrote a blog for ELGL called Purpose-Driven Strategic Plans: How the "Great Resignation" is an Opportunity for Local Government to Create Purpose for Employees. I found it incredibly insightful particularly at this time and an important addition to ELGL's body of knowledge.
I believe Greg is one to watch in the world of local government. He has all the makings of a visionary leader and I look forward to following his career to see where it takes him!
---
The 2021 Top 100 Influencers List is made possible by ELGL's partnership with CivicPlus.