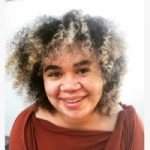 Sabrina McLeod
Port Saint Lucie, FL
Strategic Initiatives and Grants Project Coordinator
---
Driven, Tenacious, Innovative
Sabrina is a total rock star in Government Transformation. Over the last two years, Sabrina led multiple transformation initiatives throughout the office. During the height of the pandemic, Sabrina worked with multiple agencies to help reduce storm water calls and enhance the work in the field for the storm water team. She is able to cross walk with executive staff and line staff without missing a step. Because of her work, the PSL team reduced call volume during a hurricane by 50%. Sabrina helped develop new web information, videos, handouts and even helped document line level SOPs. Her biggest Innovation and transformation included emailing and texting residents before the storm on what to expect to during a heavy rain event.
Currently, Sabrina is running two major projects within the organization including a large scale multi department project within the 311 team. She facilitates all the meetings, follows up with every participant and doesn't allow people an excuse to not perform. It's magical to watch!
I was hesitant to suggest Sabrina's age…however, it should be noted that Sabrina is 25. I've worked in government for more than 20 years…I have never seen someone take project management, process improvement, innovation and transformation to the level she is able to perform at such a young age. Sabrina is proof that the kids are alright. 🙂 She makes me believe that the local government community will thrive in the future.
Sabrina McLeod started with the City of Port St. Lucie as a summer intern while completing her graduate program and had always done an amazing job with any given assignment. The pandemic led Sabrina to return to Port St. Lucie unexpectedly to complete her last semester of graduate school and she reached out to the City to intern again.
Sabrina's latest internship turned into a contract position supporting the City Manager's Office Strategic Initiatives program. When the City decided to launch our first virtual innovation academy and innovation project, Sabrina was assigned as the project manager. Sabrina quickly absorbed the innovation academy curriculum and began managing complex projects with the ease and ability of a seasoned manager. She has become a driving force for innovation citywide and has managed innovation projects ranging from improving 1PSL (the City's 311 call center), to helping staff improve customer service and drainage improvements and more.
Sabrina quickly jumps in with the needed analysis, follow up and drive to deliver on innovation projects, training countless staff and always identifying opportunities to improve. In addition to innovation projects, Sabrina has assisted the City with obtaining grants, supporting performance management and supporting implementation of the City's strategic plan.
Sabrina has an incredibly bright future and we are so fortunate that she decided to return to the site of her first local government internship and plant roots – we can't wait to see how she continues to grow.
---
The 2021 Top 100 Influencers List is made possible by ELGL's partnership with CivicPlus.