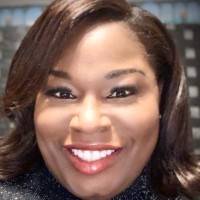 Paula DeBoles-Johnson
Leon County Government
Employee Engagement & Performance Director
---
Collaborative, Catalyst, Inspirational-Influencer
Paula DeBoles-Johnson serves in dual roles. She works for Leon County Government and Capital City Youth Development, a nonprofit she established almost 20 years ago. She lives by the motto, "Nothing that ever do for children is wasted." She strives daily to make the world a better place through her dedication to youth and young adults throughout our state. She has demonstrated her love and support of youth for more than 30 years in both her personal and professional life. Whether it's fundraising for activities, hosting events for organizations, serving on committees and boards that advocate on behalf of children and families or founding a nonprofit because a gap needed to be filled, she is all about making the community better for the children.
In her role with Leon County Government, she is responsible for fueling the engagement of more than 700 employees through education, training and professional development. While she's been with the organization for less than 4 years, she's already been selected for many awards and recognition for her work. She is very passionate about her work and her colleagues and gives EVERY BIT of her experience, wisdom and talent to her team members every day. If you ask, her first comment is that she LOVES HER WORK!
Paula took the national stage in early 2005, sharing the message of healthy relationships and the need for specialized training for minority youth. Her trainings were so popular that she was invited to present at the National Board of Governors. In 2006, Paula joined the staff of Volunteer Florida, where she shared her passion for empowering families through education and service across the state. She challenges herself, to grow and create. She single-handedly created two unique programs at Volunteer Florida; the Leader Guides for Program Directors and the first ever LeaderCorps Initiative in the state of Florida. She finds ways to tap into the very best of each individual and challenges members to be the catalyst to change their communities.
Paula has selflessly devoted more than 60 hours a month for the last 13 years, volunteering on numerous community boards including the Human Relations Council, Airport Advisory Committee and the TPD Community Advisory Committee. It is no surprise that she was selected, unanimously, as the Chair for Tallahassee Leon County Commission on the Status of Women and Girls. Her innovative #YearoftheGirl initiative, the summits hosted and their first ever Status of Girls Report are just a few of the reasons she is called upon for her leadership.
Paula is an inspirational leader, always reaching back to lift up others, giving them opportunities to grow and to share the spotlight. She has recently been selected to lead Club 25, and she continues to give back to her community through service. Throughout Florida she is affectionately regarded as a "grower of greatness" and these are just a few of the reasons that I believe that she should be awarded your highest honor. As you can see, I'm a fan!! Thank you for your consideration.
---
The 2021 Top 100 Influencers List is made possible by ELGL's partnership with CivicPlus.