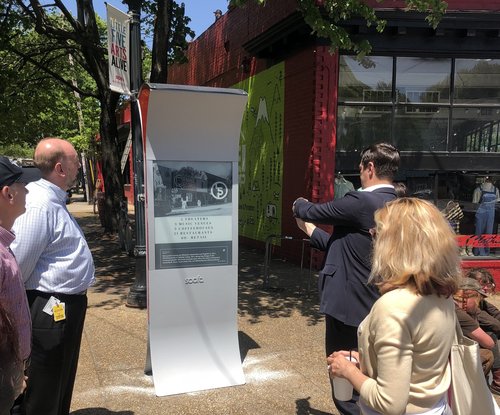 This guest post is by ELGL member Ed Krafcik.
---
Goal
Enable real-time outdoor communication for the City of Atlanta's Customer Service Department (ATL 311), as well as the City's residents, neighborhood associations, and local businesses.
Solution
The City of Atlanta selected the Soofa Sign and Soofa Talk content management system to deliver important messages and share relevant City updates to citizens in some of its most active neighborhoods like Little Five Points and Old Fourth Ward.
Results
A multi-phased Soofa Sign installation, successfully supported by local business advertising, generating over 50 locally created pieces of content per week and used regularly by the City of Atlanta's Department of Customer Service (ATL 311) to reach citizens where they are.
---
---
Goal
The City of Atlanta, home to just under 500,000 residents needed a new way to engage and update them outdoors in the public realm. SmartATL, the dedicated Smart City Team for the City of Atlanta, partnered with Soofa to deploy Soofa Signs in the City's most popular neighborhoods to reach people outdoors on the go, effectively extending the City's existing reach via its social media channels and online based communications.
Challenge
The City didn't have budget for digital signage at the scale required to achieve its outdoor communications goals and its citizens and neighborhood associations didn't want big, irrelevant advertising supported digital infrastructure in the neighborhoods they live in and love.

Strategy
Soofa worked closely with the City and its neighborhood and business associations to identify the most appropriate locations for the first phase of Soofa Signs. The Signs had to be located in neighborhoods that are highly walkable, diverse, and home to many local businesses.
The Signs are designed for people on foot. No matter the content shown, the theme is always the same – the information displayed on the sign is relevant for you to take action on immediately, so it's either something happening down the street or nearby in a neighboring community in the City.
Results
Phase 1 was completed in June of 2018 and phase 2 is set to launch in August 2018. The Soofa Sign network sees over 50 pieces of local content posted per week, including advertisements from local businesses, community posts about upcoming events or block parties, and regular updates and information from the City of Atlanta Department of Customer Service (ATL 311).
Phase 2 neighborhoods include 
Kirkwood
, 
Inman Park
, and 
East Atlanta Village
. Soofa has continued to build relationships with the key stakeholders in each neighborhood to ensure the right locations are selected to be mutually beneficial for the residents who will see them every day, the City for its real-time communications needs, and the local businesses who use the Signs to delight existing customers and reach new customers.