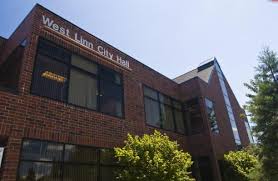 In today's West Linn Tidings, Kirsten Wyatt, West Linn (OR) Assistant City Manager, is recognized for being the recipient of the ICMA Early Career Leadership Award. H/T to ICMA for recognizing leaders in our profession. 
Link: 2015 Awards Program Booklet
Wyatt's expertise a welcome resource
Kirsten Wyatt's passion for public service is impossible to ignore. This palpable sense of duty and service has been recognized by administrators throughout the country. It is evident in her longstanding dedication to West Linn, Oregon, whose residents are lucky to have such a high-caliber leader working on behalf of them every day.

Kirsten's infectious enthusiasm for the mundane, oft-overlooked trappings of local government has made her an ideal role model for the next generation of municipal leaders. Together with her husband Kent, she founded Engaging Local Government Leaders (ELGL) as a way to connect with and educate tomorrow's public servants. This organization started with 16 members in the Portland area and now boasts more than 1,000 members nationwide.
ELGL has zero paid staffers and relies entirely on volunteer work from its members. We are happy to volunteer our free time to support the organization because we firmly believe in its mission to connect, communicate and educate about public service.
Earlier this year, ELGL hosted its third annual conference, which brought together more than 200 public sector professionals to learn from a wide range of speakers, including two former governors.
Kirsten has participated in several panels recently about the use of social media in government, and she has presented the communication model used in West Linn as an example for local governments around the country. After realizing that the percentage of women in local government leadership positions had not improved in three decades, she spearheaded the #13 percent campaign in 2014 to shine a light on this disappointing gender gap.
Thank you, Kirsten. We, the undersigned, are so thankful for your work and have benefited tremendously from your expertise, commitment and steady leadership. Most of all we are better public servants because of your efforts.
Ben Kittelson, Budget & Management Analyst — Guilford County, NC; Bridget Doyle, Community Relations Director — Sterling Heights, MI; Sam Taylor, Deputy City Manager — Morro Bay, CA; Julie Underwood, Assistant City Manager — Daly City, CA; Sarah Hazel, ICMA Management Fellow — Charlotte, NC; Mike Ekey, Communications Director — Raymore, MO; Katie Babits, Human Resources Generalist — Eugene, OR; Ben McCready, Assistant to the City Manager — Rock Island, IL; Brittany Bennett, Development, Policy & Impact Associate Self-Help —Durham, NC; Emily Leuning, ELGL Leader — Tigard, OR; Rebecca Olson, ELGL Leader — Shoreview, MN; Stacy Schweikhart, ELGL Leader — Kettering, OH; Ryan Adams, ELGL Leader — Irving, TX
Wyatt more than earned professional award
What a year it has been for Kirsten Wyatt, West Linn's Assistant City Manager.
The citizens of West Linn know Kirsten for being an outstanding assistant city manager and neighbor. Her work during her seven-plus years in West Linn helped rebuild the integrity of the city's finance department following several well-publicized thefts by city employees. She has also taken the lead as the city's communications director of all citizen engagement and outreach. Now, West Linn boasts a communication strategy that is a model followed by many cities across the country.
As the assistant city manager, she also helped create the West Linn Citizens Leadership Academy to identify and educate future community leaders. She even took it one step further and created a West Linn Youth Leadership Academy that opened in 2014.
Municipal government leaders in the Portland region have come to know Kirsten and her husband Kent as the indefatigable founders of Engaging Local Government Leaders (ELGL). Through ELGL, they have created a network that has helped connect and educate current future municipal government professionals. In October, ELGL held its third annual conference for the benefit of 200 local government professionals. Kirsten and the ELGL board were able to pull together a conference that not only included municipal experts, but two former Pacific Northwest governors. It is through outstanding professional events such as this that assures our communities will be served by the best and brightest in local government.
This year, our professional organization, the International City Managers Association (ICMA), at its annual conference in October, honored Kirsten with its annual award for Early Career Leadership. This award "recognizes an outstanding early-career local government professional who has demonstrated leadership, competency, and commitment to local government as a profession." Only one individual is so honored each year. With this award, the 10,000 members of ICMA learned what those of us in the Portland region and West Linn citizens already know: We are lucky to have Kirsten Wyatt as a member of our profession. Congratulations, Kirsten. And thank you for your continued dedication to our profession.
Don Krupp — County Administrator, Clackamas County; Nancy Newton — Deputy County Administrator, Clackamas County; Laurel Butman — Deputy County Administrator, Clackamas County; Erik Kvarsten — City Manager, Gresham; Steve Wheeler — City Manager, Hood River; Martha Bennett, — Chief Operating Officer, Metro; Bill Monahan — City Manager, Milwaukie, Marty Wine — City Manager, Tigard; Craig Prosser — Former City Manager, Tigard; Sherilyn Lombos — City Manager, Tualatin; Chris Jordan — Former City Manager, West Linn
Supplemental Reading