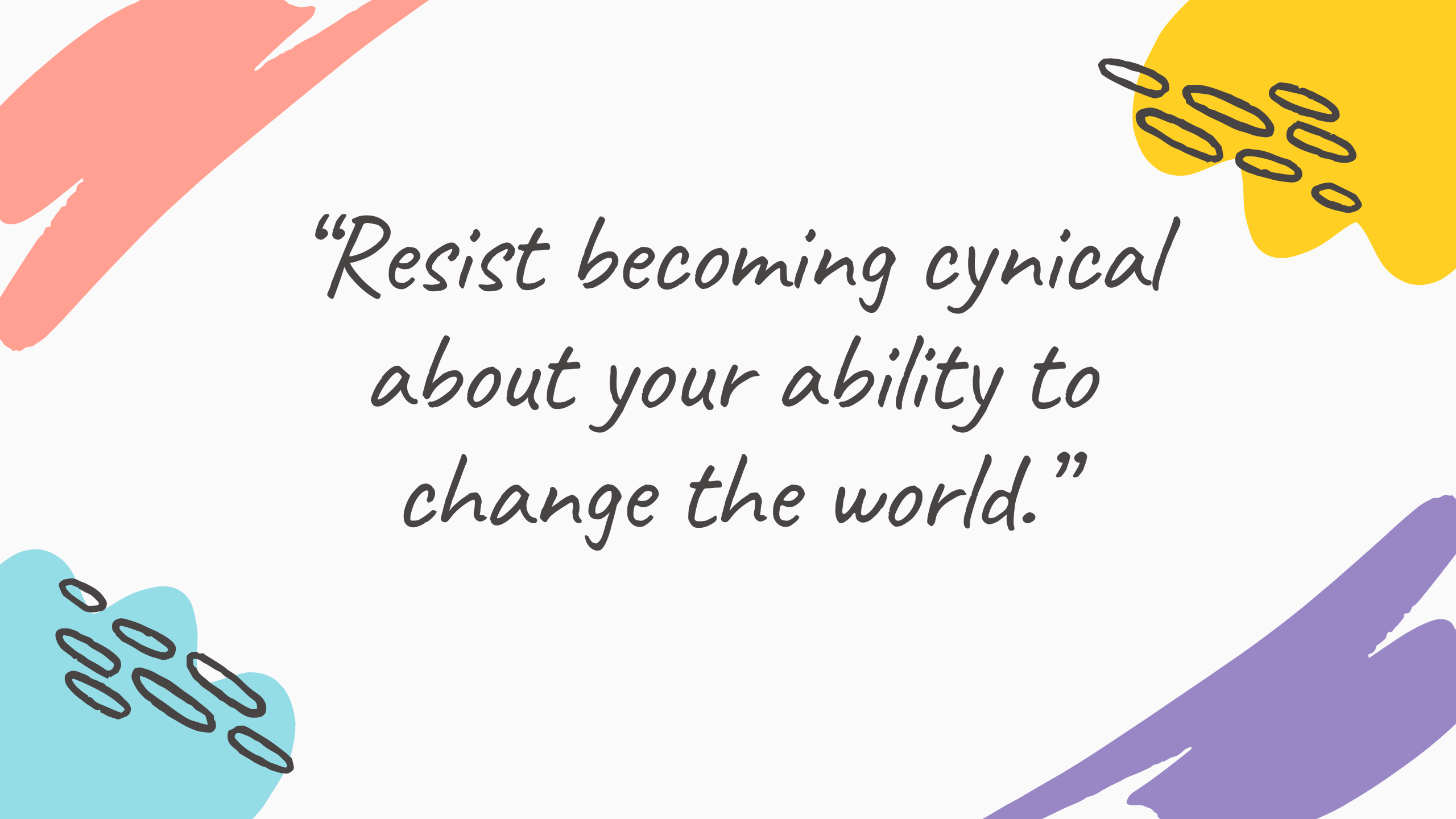 Today's Morning Buzz is by Jessica Hoffman, Assistant City Administrator in Wentzville, Missouri
---
"Resist becoming cynical about your ability to change the world."
Like many of you, I try to be a positive person and change agent in my organization. I try to point out the silver lining in difficult situations. I am a hopeless optimist but I would be lying if I said that the state of the world hasn't felt overwhelming lately. 
A few weeks ago a fellow ELGL member emailed me about a virtual Emerging Managers Summer Camp in Colorado. I am first to admit that I have a difficult time engaging virtually. I check emails and multitask when I am on webinars. I get easily distracted trying to engage without people physically around me.
Although, recently I've been walking on my treadmill at home while listening to a webinar which helps a ton if you have the ability to do that. Anyway, I saw some pretty interesting speakers and topics for the Summer Camp, and for only $25 if I was able to get 1-2 good things out of it, I wasn't out too much.
For those of you that were there, you know that it is an understatement to say this was the best $25 I have ever spent on training or any conference in my adult life. We are back in the office here in Wentzville, so I booked a conference room to try to avoid distractions and interruptions.
From beginning to end this conference was engaging, inspiring and for me, reenergizing. Today's Morning Buzz isn't a summary of the event and you can check out the conference agenda here. I wanted to share with you some of my biggest takeaways from the conference. 
Digital Conferences can (and do) work! Shout out to the Camp Counselor Kirsten Decker and her team for making this conference THE example all of us should be considering when we organize these in the future.
We used different platforms to engage participants including Zoom, Slack & Kahoot! The time we are living in right now is difficult, however, never would I have been able to attend this conference in person pre-COVID.  There are opportunities for us to all engage differently and with a broader group of humans that we have before. Take this opportunity to do some research and check out what colleagues in other states are doing. 
Again, all of the speakers were amazing including ICMA Executive Director Marc Ott who shared a personal experience that literally brought me to tears. A speaker that I want to highlight is Joe Neguse, who represents Colorado's 2nd Districtrict in the U.S. House of Representatives. Rep. Neguse spoke to us from his office in Washington D.C. which was incredible.
He even asked us to excuse the "ringing" as he was being called down to vote. It felt like an incredible behind the scenes experience. Rep. Neguse also said gave advice that I think represents my whole experience, "Resist becoming cynical about your ability to change the world."
I have thought about that every day since that experience and have shared it with many colleagues. We are change agents and while we don't have to carry the weight of the world (even though it feels like we do sometimes) we certainly have the ability, resources, and arguably the responsibility to do so. 
So, while my intent was not to push #ELGL20: Local Gov Oktoberfest, it is now! If you are feeling like you need something to look forward to and are possibly feeling demotivated or down about your role in local government, I promise you, this conference is a must.
Thank you to everyone who continues to push for positive change in their communities and for carrying the weight every day. You are not alone and remember: Resist becoming cynical about your ability to change the world.