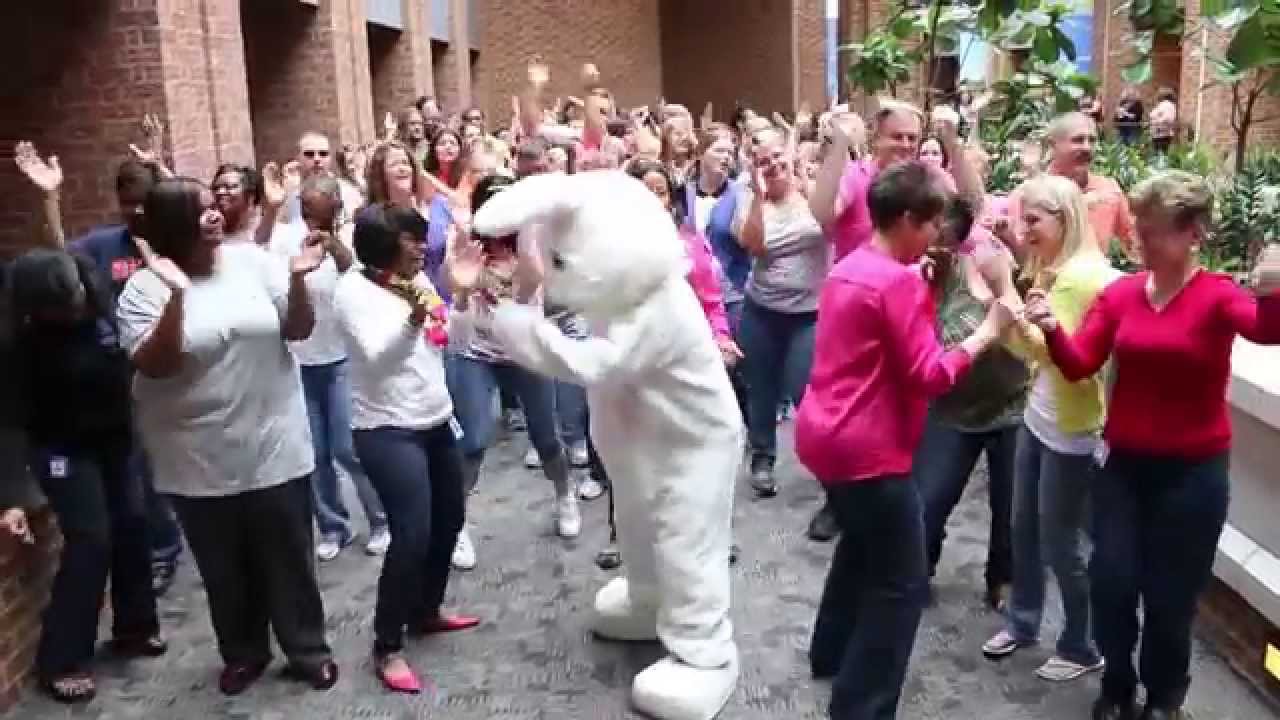 Debuting in November 2013, "Happy" is a song performed by Pharrell Williams. It appeared originally on the Despicable Me 2 soundtrack album and later as the lead single on Pharell's  second studio album, G I R L (2014). The song was written and produced by Pharell.  Since its release, the song has appeared in Fiat commercials, covered on The X Factor, and covered by Conor Maynard.
The original version was a 24-hour interactive music video produced by Clement Durou and Pierre Dupaquier of We Are From L.A., made up of 400 people showing off their dance moves.  The interface for the video, found on the website 24hoursofhappy.com, sets the clip at a time corresponding to the local time of the viewer, with the ability to fast-forward, rewind and skip around to different times of the day. The video features guest spots from Odd Future's Tyler, the Creator and Earl Sweatshirt, Steve Martin, Steve Carell and more. 
---
The Rest of the Story
The City of Lynchburg, Virginia is HAPPY – and they want to tell the whole world. As a way to spread the word, the City borrowed the popular Pharrell Williams tune and filmed a fun video featuring staff, Council members and residents. Look closely and you will see ELGL board member and Lynchburg deputy city manager Bonnie Svrcek.
The idea came from a city firefighter after he saw the City of Richmond's video. Shortly after sharing the idea, a Gallup poll named Lynchburg one of the happiest and healthiest cities in the country. The City released the video during National Tourism Week as a way to encourage citizens to explore their hometown and take advantage of all Lynchburg has to offer.
"The video is just a fun way to have residents and City staff send the message that Lynchburg is a great place to live work, and play," says Communications and Marketing Director, JoAnn Martin. 
The cities of Buffalo, NY, Franklin, TN, Safety Harbor, FL, Camden, NJ and Rockingham County, NC have also joined the "Happy" movement in releasing their own version to represent their communities. In the Rockingham County video, County Manager Lance Metzler is dressed as The Mad Hatter doing the moonwalk, spins, splits, and cartwheels. Recently, the Atlanta Police Department produced a video featuring both sworn and civilian Atlanta Police Department employees from various units/sections/divisions across the city. The Baltimore Police Department debuted their version to celebrate their 50,000 Twitter followers.
In Los Angeles, a different take on "Happy" has appeared on YouTube. An anonymous group produced a parody video highlighting the challenges of navigating the buckled sidewalks around Los Angeles. The video coincided with the release of a budget report that supports increasing the city of L.A.'s sales tax to pay for failing streets.
ELGL stumbled upon the Lynchburg video in developing the 50 Nifty profile with Kim Payne, Lynchburg city manager. The excitement in the video was apparent and left us with a series of unanswered questions including what other local government could learn from the experience of filming the video.
---
Background Check on Lynchburg
Connect: Facebook | Twitter | YouTube | Website
The City of Lynchburg (population 75,568) is known as the "City of Seven Hills" or "The Hill City." Lynchburg is the principal city of the Metropolitan Statistical Area of Lynchburg, near the geographic center of Virginia. It is the fifth largest MSA in Virginia with a population of 246,036.Lynchburg's sister cities are Rueil-Malmaison, France and Glauchau, Germany.
Lynchburg is the home of Central Virginia Community College, Liberty University, Lynchburg College, Randolph College, and Virginia University of Lynchburg. The Lynchburg MSA also includes Sweet Briar College.
The largest employers in Lynchburg are Centra Health, Liberty University, Areva, and Genworth Financial.
---
Background Check on Bonnie Svrcek
Bonnie Svrcek was appointed Deputy City Manager in June 1999. In this position, she oversees the City's Office of the Assessor, Community Development, Communications and Marketing, Financial Services, Fleet Services, Libraries and Information Technology.
Prior to her appointment, Ms. Svrcek served as the Assistant Town Manager in Blacksburg, Virginia, from 1990 to 1999. During her tenure with the Town of Blacksburg, Ms. Svrcek served as the Interim Director of Public Works for nine months and as Interim Director of Finance for nearly a year, and Interim Town Manager for four months. She served as President of the Montgomery County, Radford and Floyd United Way and the Montgomery County Rotary Club. She also served as a Budget Analyst in Fairfax County, Virginia, from 1985 to 1990. Prior to her position in Fairfax, she served as a Staff Assistant in Washington, D.C. for the City of Los Angeles. She received her B.S. in Housing and Applied Design from the University of Maryland and a Masters of Public Administration from the University of Southern California, Washington Public Affairs Center. She also attended the Senior Executive Institute in Charlottesville and in 2011 she attended the State and Local Government Excellence Executive Education at the Harvard Kennedy School of Government.
Ms. Svrcek was recognized in 1994 as the Outstanding Assistant Manager in Virginia by the VLGMA and was honored with the Athena Woman of Worth Award in September 2006 by the Greater Lynchburg Chamber of Commerce.  She served as President of the Virginia Local Government Management Association (VLGMA) in 2005.  She completed a term as a Southeast Region Vice President on the Executive Board of the International City-County Management Association (ICMA) in 2009.  In June 2011, Ms. Svrcek was selected President-Elect of ICMA and began serving a three-year term as President-Elect (2011-2012), President (2012-2013) and Past President (2013-2014).
---
Q&A with Bonnie
Bonnie is quick to point out the team effort involved in creating the "Happy" video. She credits Ann Martin (Director of Communications and Marketing), Phil Spinner (videographer with  LTV, Lynchburg's television channel), an intern from Lynchburg television, Heather Brown (Human Resources) and Jason Campbell (Lynchburg Fire Batallion Chief).
Tell me how you and your team came up with the idea.
Jason Campbell, Fire Batallion Chief, saw a "Happy" video produced by the City of Richmond, VA and thought "hey, why don't we do our own Lynchburg "Happy" video.  An idea was born. With the assistance of a talented co-producer from Human Resources and an extraordinary staff in Communications and Marketing the video was developed, scheduled, filmed, edited and premiered at a City Council meeting in less than 21 days!
How many views has it gotten?
The video has received about 30,000 views on You Tube and nearly 40,000 "reaches" on Facebook.  
What were you hoping to accomplish with the video?
The video was created from start to finish in two and a half weeks. Our goal was to inspire, energize employees and citizens.
While shooting the video, Jennifer Kennedy, Lynchburg Market Manager said, "lots of times we're usually working and kind of, you know, like ships in the night. So this allowed us to get together, be happy, and do a little happy dance together to celebrate our city being one of the happiest in the United States."
What did city staff think of the video?
The majority of City staff thought it was great!  The majority of persons in the video are City staff. In fact, my understanding is that our Department of Human Services (Social Services and Juvenile Services) are randomly playing the video to inspire happiness in a quite demanding and not necessarily happy environment!
We debuted the video before the City Council on April 22. The Mayor is quoted by the Lynchburg News and Advance as saying, "Lynchburg has maintained its vision statement of being a great place to live, work and play… This is a wonderful show of how happy we can be here in Lynchburg."
Have citizens given feedback?
Oh, yes!  Particularly after the video release, Lynchburg citizens from  all sectors of our population were buzzing about it. The video has a created a nice vibe that continues to linger in Lynchburg.   
Lynchburg Vice Mayor Ceasor Johnson commented that "the citizen participation has just been great," and that he was told by a citizen that the video,"… made him feel like someone liked him and cared about him, and I hope that is what everyone will feel."
What was the most fun scene to shoot?
Because the video is so happy, I think that the videographers had a great time with all of it! And, City Council was invited to participate during a citizen engagement meeting on the budget.  Five of seven Council members were there, they all participated and then we invited citizens to join in as well!
Will you explore videos for other city events?
Of course! On a related note, it so happens that on the same day that we decided to "make the Happy video happen" we were named the 37th Happiest and Healthiest City of 189 cities throughout the country by Gallup. Perfect timing!  The only other Virginia cities that ranked higher were the Washington D. C. area including Alexandria and Arlington for large communities and Charlottesville for small communities. 
Our city manager Kim Payne views this recent ranking by Gallup as further illustration that Lynchburg is a great place to live, work, and play.  The entire report can be found here. 
Do you know of other organizations using videos to promote themselves?
I think that Pharrell Williams' song has inspired lot of organizations to do a "Happy" video.
(Editor's note: one of the most recent "Happy" videos and one of our favorites comes from the Oxford Senior Living. Oxford Senior Living creates "Happy" video. Other examples include John Carroll senior makes 'Happy' video to thank school; People 'Happy' in Port Dover library video; and Washington Wizards release music video of Pharrell Williams' "Happy".)
Making the video was clearly fun and brought excitement to the community. Are there bigger takeaways that we can glean from the making of "Happy."
One takeaway is the informal leadership as exhibited by the Fire/EMS Batallion Chief who stepped up, said let's do this, connected the right dots and behold, the Lynchburg Happy video was born!
---
Supplemental Reading
New "Happy" video features Buffalo
Knope of the Week: Bonnie Svrcek, ICMA President and Lynchburg (VA) Deputy City Manager
VA: Kim Payne, City of Lynchburg, City Manager
Lynchburg debuts 'Happy' video
'Happy' Lynchburgers celebrate community through dance
Safety Harbor city employees, community, get happy in video
City police 'Happy' to celebrate 50K Twitter followers
Atlanta Cops Want You to Know How 'Happy' They Are
Virginia Governments Make Their Own 'Happy' Music Videos
Pharrell parody video gets 'Happy' over LA's cracked, broken sidewalks