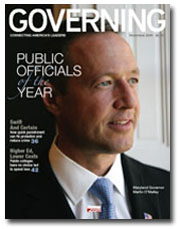 The Original Story
The nail was finally been hit on the head with the recent Governing article, "Millennials Face Hurdles Breaking into Public Sector."  The writer highlights that the millennials' lack of interest in government work is only a small part of the equation in attracting younger, talented workers to the public sector. A dramatic decrease in internships and entry-level positions, a disconnect between government agencies and the needs of the younger generation, and an antiquated job recruitment process are hampering government efforts to reach this new workforce demographic. You'll read in the article about several proactive initiatives to change this including the Young Employees Initiative in North Carolina and Management Talent Exchange Program.
Surprisingly, these barriers to entry in the public sector have not led to a dramatic decrease in student interest in public sector employment. 
ELGL commends Governing magazine for continuing to place a spotlight on government's upcoming "brain drain" and "silver tsunami."
Vitals
Mike Maciag
Data Editor, Governing Magazine
Experience: Online Reporter, Erie Times-News and Computer-assisted reporting, South Florida Sun Sentinel
Education: George Mason University, Master of Public Administration and University of Dayton, Bachelor of Arts, Communication: Journalism, Computer Science
Connect with Governing: Facebook, Twitter, and World Wide Web
Mike analyzes databases and works on computer-assisted reporting projects for the magazine. He writes on a variety of topics and manages the Governing Data portal for Governing.com. He previously worked at local newspapers in Erie, Pa., Fort Lauderdale, Fla., and Atlanta. A native Midwesterner, he graduated from the University of Dayton with degrees in journalism and computer science.
Lightning Round
Before we get to the serious stuff, let's find out how Mike responded to our Lightning Round.

First concert: Lollapalooza

(Complete the sentence) Before I die I want to……. Hike the Appalachian Trail
 Three accomplishments in the last 24 hours.
Completing this questionnaire
Describe the inside of your car. Fairly clean, except for some newspapers.
(Complete the sentence) I know I sound old when…….. people think it's odd you still buy music CDs.
Dream job when you were 12: Play-by-play announcer for the Cincinnati Reds.
Your parent's best advice:  Do something you're passionate about.
Q & A with Mike
Talk about initial feedback that you've received on the article. Positive? Negative?
I haven't received much email feedback, but the article was shared a good deal on social media. I guess that shouldn't be surprising considering the subject matter.
We previously ran features in the magazine on baby boomers and Gen Xers. Most people very much identify with their generation, and millennials are no exception.
Give us two or three items that surprised you the most about the "hurdles" facing entry into the public sector.
With all the doom and gloom, you might expect to see young people turning away from government careers. For the most part, this hasn't been the case.
In fact, government topped all other industries in a recent National Association of Colleges and Employers survey asking graduating seniors where they wanted to begin their careers:
I think most students are well aware of the challenges of breaking into the sector, but many continue to view government as the best way to better their communities.
I was also surprised that a number of people I interviewed mentioned younger workers count retirement benefits as one of their top priorities. Being such a long way off from retirement, conventional wisdom suggests they would be more narrowly focused on their paychecks. It seems, though, these benefits are a significant factor when they're weighing job offers.
In your opinion, which level of government is the easiest to enter?
Any level of government that is hiring! Most federal agencies, particularly the Department of Defense, have been unable to expand payrolls as much as they'd like to accommodate entry-level workers.
State and local governments are generally starting to fill slots lost over the past few years from attrition. But others just aren't hiring. A survey conducted by the Center for State and Local Government Excellence found more than a quarter of governments implemented hiring freezes over the past year.
Perhaps the hardest part about reporting on workforce issues is that it's very difficult to paint a picture of what's happening nationally when there is so much variation across jurisdictions. If a local economy suffered major job losses in recent years, surrounding governments likely eventually saw their revenues plummet and personnel budgets shrink. Other areas managed to fare better.
Regarding the hiring process itself, all levels of government have long been criticized for how long it takes to get employees on board. While it's typically quicker for states and localities, those applying for federal jobs can often expect to wait at least four to five months to hear back.
Fast forward five years, talk about the consequences of the "brain drain" or silver tsunami.
What some may not realize about the "silver tsunami" is that it isn't going to take place all within a couple short years. The baby boom generation spans 20 years. It's a vast segment of the workforce, and these folks won't all be filing retirement paperwork soon.
So governments still have some time, but they need to start preparing their workforces for the long haul. Some of the positions you'll find in agencies require very specialized skillsets, and hiring managers need to ensure that knowledge transfer takes place.
The "brain drain" is a huge concern of the industry associations, and they're pushing their members to implement initiatives around it. Peer mentoring, I'm told, is one of the more common answers governments have sought to address to the "brain drain" problem.
For some states and cities, unions are capable of hampering the younger workforce by employing a "last one in, first one out" mentality. Did you come across the issue of unions while writing the article?
I did not. That doesn't mean it hasn't happened, but I suspect it's rare.
Younger workers more often might lose out on opportunities when agencies are faced with doing more work with less staff. Let's say an agency needs to consolidate a few roles into a single position – a scenario that's not too uncommon these days. They'd probably much prefer to hire a seasoned veteran with a range of skills than a newcomer fresh out of college.
With the popularity of the NBC show "Parks and Recreation" and books such as "The Metropolitan Revolution," is it fair to say local government is the trendiest level of government for now? Is "Parks and Recreation" a positive or negative for local government?
Funny you asked that. One recent grad I interviewed compared his job to the show.
I've only seen the first two seasons and part of the third. To me, it does reinforce some of the stereotypes about local government. My guess is that it has still had an overall positive effect and those early on in their careers can relate to the parts of the show.
Besides, who wouldn't want to work for Ron Swanson?
And if there is a "trendiest" level of government, I do agree that it is the local level. Millennials want their ideas implemented and really value work that yields a direct payoff they can see firsthand. Local governments are the best place to do that.
The millennials often have a better grasp or understanding of new technologies and communication tools (Facebook, Twitter, etc.) Did you come across any anecdotal evidence that this may prevent the older workforce from hiring millennials so as to not be overshadowed by the newer tech-savvy employee?
If anything, governments ignoring social media are missing out on recruiting younger qualified job candidates.
Some agencies have found ways to reach out to more tech-savvy workers. The Louisiana Department of State Civil Service, for example, uploaded a series of job preview videos on YouTube.
http://www.youtube.com/watch?v=lNig3MJxr1o
If you were a hiring manager at a local government, what three action items would you employ for creating more opportunities for the younger generation? 
Listen. This generation has different priorities that they'll expect employers to meet. Talking to younger workers helps managers better target their efforts. For the story, I interviewed several folks in North Carolina who are involved with an advisory panel of young employees working in various state agencies.
Provide opportunities for employees to innovate. A common complaint we'll see from public employees in our surveys is that agencies either aren't encouraging innovation or, in some cases, are hindering it. Some governments have responded by launching awards programs to push their employees to come up with new ideas.
Expose them to other departments/agencies. One of the more intriguing initiatives I've come across is the "Management Talent Exchange Program" in Silicon Valley. Participating local agencies there essentially swap employees for three months so that they're developing skills in different disciplines. Something like this sounds like it could be particularly beneficial for those just starting out in their careers.
Isn't succession planning just a buzzword? It seems rare that governments actually take substantial steps to develop such a plan. Some local governments seem to shy away from succession planning because they feel that employees are likely to leave before stepping into a leadership role.
I do think that's generally the case. I've recently been in touch with a few governments that just started initiatives around succession planning this year. By and large, though, governments don't appear to be ready yet for the aforementioned brain drain.
If you had a son or daughter in college right now, would you encourage them to pursue a career in government. What insight would give them to gaining entry into the government workforce?

Absolutely – as long they know what they're getting into. The jobs aren't quite as stable as they once were.

One key to landing your first gig, which I know is true of other sectors, is to be mobile. Casting a wide net in your job search makes a big difference. This is particularly true for those eyeing jobs in jurisdictions under extended hiring freezes.

On a related note, students have figured out that you don't necessarily need to work in government to serve the public. Most of the professors and deans I've talked to mention they're seeing more and more students ending up at nonprofits or private contractors.
What's next for you?
We're about to launch a redesigned website for Governing soon. Along with covering workforce issues, I manage the Governing Data section of the website, so I've been busy getting the site ready. We hope it can serve as a useful resource for anyone working with state and local government data.
Also: If you have any story ideas, send them my way!
Related Profile: The Rest of the Story with Rob Gurwitt, How Generation X is Shaping Government
Supplemental Reading