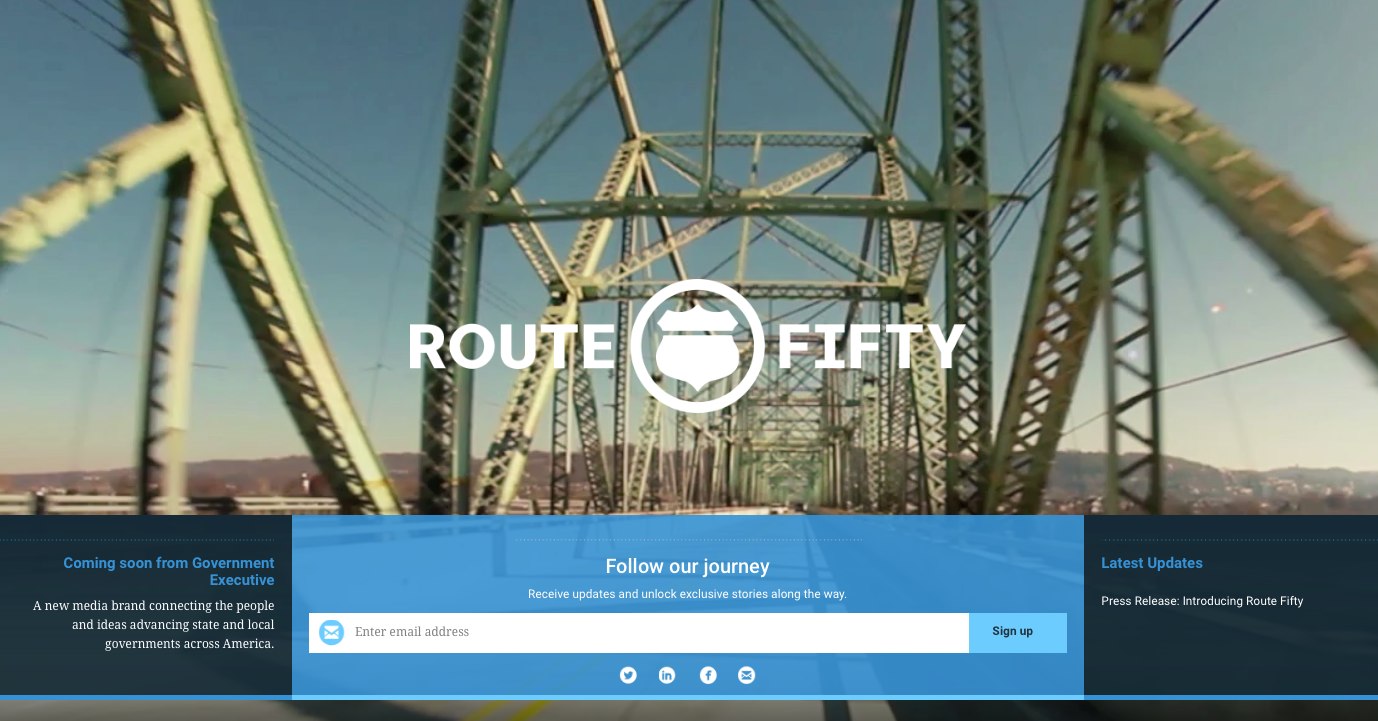 ELGL loves local government news. That's one of the reasons we're excited that Government Executive is re-launching its state and local channel as Route Fifty.
In relaunching the channel, Government Executive is devoting more resources to covering local government news. We interviewed Michael Grass, executive editor of Atlantic Media's Route Fifty, who is leading the effort and learned the rest of the story behind the Route Fifty. Read closely as there are opportunities for you to get involved with Route Fifty.
Michael Grass, who joined GovExec in June 2014, is the founding co-editor of DCist.com and worked as a copy editor at Roll Call, local and online editor at The Washington Post's Express newspaper, deputy managing editor at The New York Observer's Politicker.com, deputy managing editor at Washington City Paper and the D.C., Maryland and Virginia local editor for The Huffington Post. He also managed a non-profit network of state-based policy news sites in Colorado, Iowa, Michigan, Minnesota and New Mexico.

What I Am Reading: I'm fascinated with seismology and disaster preparedness and management. I recently reread "Earthquake Storms" by John Dvorak. It's a history of seismology in California and considers what will happen when California's relative seismic lull comes to an end. It's a good complement to "Full Rip 9.0: The Next Big Earthquake in the Pacific Northwest" by Seattle Times writer Sandi Doughton.
What I Am Afraid Of: Soil liquefaction and historic buildings in seismic zones with beautiful architectural detailing.
What I Am Watching: A lot of local government videos uploaded to YouTube. Have you seen Lakeville, Minnesota's puppets?
What I Wish I Was Doing (Instead of Completing This Questionnaire): Either swimming (I usually swim laps three days a week.) or eating delicious street food in Chiang Mai, Thailand, Penang, Malaysia, or at a cluster of food trucks stateside.
What I Consider As My Career Accomplishments: In 2004, I co-founded a local D.C.-area news site called DCist.com, which I haven't been involved with for years, but is still around and is part of the local D.C. media ecosystem. It's helped many writers build their professional careers, including me.
What I Am Listening To: I've been rediscovering my love for a Welsh band called Super Furry Animals, which is hard to describe but maybe psychedelic rock-folk is a good characterization. I also regularly attend classical chamber concerts at the Library of Congress, which is an underappreciated asset here in D.C. Some of the world's best classical performers regularly take the stage at the Library of Congress, and the concerts are free.

What I Wish People Knew About Me: As a child, I had a terrible speech impediment. Although I've mostly outgrown my stuttering, it's something that can be, at times, difficult to manage. I often have to anticipate what I'm going to say to avoid certain vowel-consonant combinations that I know will trip me up and find ways to sidestep them with other words. A lot of people take the ease of conversation for granted and look strangely at those who can't speak flawlessly. At least for me, I speak more strategically and definitely think before I speak, something that many people should do more of.

What I Wish Would Go Away: The District of Columbia's lack of representation on Capitol Hill and congressional meddling in local affairs. As a District resident (and my family has roots in D.C. dating to the Civil War), I do not enjoy the same rights and freedoms that most every ELGL member has. It's a constitutional quandary and the cause of D.C. statehood is a complicated one, but there should be some solution to give equal rights to those of us who live in the nation's capital. How would you like it if a congressman had the ability to block your local laws? There's low visibility for this issue and a solution will only come with support from people who live outside the District. I'm not holding my breath for any meaningful progress anytime soon.
What I Wished You Asked Me: So, what's up with your mnemonic navigation skills? The way my brain is wired, I have a strange ability to retain geographic and cartographic knowledge. I've driven across the United States without a map before. I know how cities, landmarks, transportation infrastructure, and terrain fit together. I can also recall the exact roads I took on family road trips when I was a kid (because I was the navigator). Some people navigate in a very 2D sense via landmarks along the route. I navigate in very 3D ways looking at a section of geography as if I'm flying over it. (I'm good at identifying towns and roads on cross-country airplane rides.) It's a great skill for Route Fifty, too. Understanding location geography helps put certain stories in perspective and understanding how an issue in one jurisdiction might impact another.
Rest of the Story
Route Fifty launches this month. Tell us what to expect from the launch. Articles, format, etc?
We have a great mix of articles and analysis from San Diego to Michigan's Upper Peninsula to Oklahoma City written by our staff members and guest contributors from all over the United States — including ELGL co-founder Kirsten Wyatt. The site is designed to make feature stories stand out but also be nimble enough to cover news that's unfolding in the current news cycle. Our sweet spot has been and will continue to be the intersection where innovation and good ideas meet state, county and municipal government. We don't place an emphasis on politics, though depending on where you are in the U.S., it's hard to escape politics in how state and local governments operate.
Describe the goal of Route Fifty. How will you measure success?
Our goal is to build an audience that's actively engaged in how state, county and municipal governments function. While much of that audience is rooted in the public sector, there are people and organizations in the private and non-profit sectors who are very interested in how state and local governments work. We want to bring all those stakeholders together. Web traffic, certainly, is important to us, but we're more interested in building an active and connected audience that places high value on how state and local governments tackle problems, learn across jurisdictional boundaries and encourage fresh thinking.
What's your process for generating story ideas? What if one of our members has a story idea, are you interested in hearing those?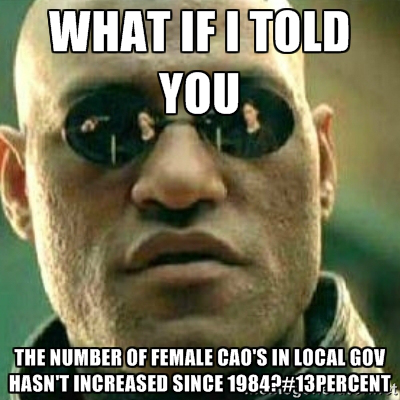 There are many ways we come up with story ideas. An idea might come from Twitter, it might come from a newspaper feature, it might come directly from a state or local government press release. Generally, we are most interested in stories that aren't necessarily about what state and local governments are doing (or not doing) but the how they're doing what they're doing (or not doing). I love story ideas that come with a solid case study or great real-life examples. And if any ELGL member has a great idea, please send them my way at [email protected].
Innovation is a term that is often overused in local government. In your opinion, what are local government projects that you view as innovative?
Innovation is often a code word for technology. And you're right, not every "innovation" is actually innovative. For instance, if your city is gearing up to launch a 311 system, that might be an innovation within your local community, but 311 systems have been around since the 1990s, so you aren't necessarily implementing a breakthrough technological innovation.

Unlocking municipal information as part of an open data initiative is certainly interesting, but the innovation comes when a local government does something to make that unlocked information more valuable to the public or a civic hacker takes that municipal information and creates an app, a tool or some other data function that helps the public or the local government. Just look at how successful Chicago has been with its efforts to unlock its data and empower its civic tech community. Also, not every innovative idea needs to be technologically advanced: I recently profiled an intriguing idea out of Charlotte, North Carolina, that received funding as part of the Knight Cities Challenge. A public information officer came up with the idea, which is relatively simple: Recruit 150 municipal employees to take 10 minutes, once a week, to interview a member of the public to get their ideas that would make Charlotte a better place to work and live. That idea isn't high tech, but the interviews and data collection could prove to be a particularly effective way to figure out how the citizens of Charlotte feel about their community, its problems, challenges, opportunities and its potential.
Based on your readership from last year, what are the top three issues they want to read about?
That might be hard to specifically quantify and boil down to three, because engagement can be measured in different ways. But if you look at some of our most shared stories on Facebook, for instance, they include the impacts of Albuquerque's police shootings on the city's innovation and economic development ambitions, a tablet app used by the state of Mississippi to help children with autism communicate, and a dissection of the management problems that have delayed D.C.'s streetcar program. Transportation and infrastructure stories always seem to be of interest. Stories involving intergovernmental relations, which is a natural extension of GovExec's federal specialty, resonate with readers, too. Intergovernmental relations stories are usually connected to stories involving budgeting and finance, and we've seen a lot of interest in those stories, too.
Did Parks and Rec accurately portray local government?

Since I've never worked directly for a local government, I can't say for sure that it is. But my first job out of college was working for a post-9/11 Federal Transit Administration program bringing municipal government stakeholders together with their local transit agencies, state governments, federal partners and first responder communities. I traveled all over the U.S. with that program and I definitely encountered Leslie Knope-like characters. Even though Parks and Rec may not be a good representation of a big-city municipal government, it definitely reflects the spirit, enthusiasm and interesting characters you come across in many local governments.
Give us three areas where local government needs to improve.
For lack of a better phrase: "customer service." It's something that requires continuous improvement in local government. It only takes one rotten experience with local government — whether it involves permitting, trash pick-up or an unanswered Twitter inquiry — to give a constituent a bad impression and with social media, that bad impression can travel miles beyond that one instance. (But that dynamic also works for good experiences, too.)
Being content with the status quo: Sure, your local government might have figured out a great way to deliver a service or manage a particular operation or operation with efficiency and competency. But that can lead to stagnancy down the road if your local government gets too content. While it can be sometimes dangerous to push change just for the sake of change, local governments should be actively engaged to look ahead and search for new ideas or adapted practices. And perhaps more important, local governments need to continuously find ways to communicate their successes and challenges with the public.
Unlocking data: There are great examples of big cities utilizing open data initiatives. They obviously have more complicated datasets and information management challenges than smaller jurisdictions, but smaller jurisdictions — and the public they serve — can benefit, too. Some challenges involving public records requests would be met if more information were available through a local government website or data portal. If you publish budget documents and make them accessible to the public, you're more likely to avoid a public records request that might require jumping through a bunch of procedural hoops.
#ELGL15, our annual conference, is being held in October. List three topics/speakers that we should highlight.



Municipal broadband: The Federal Communications Commission's recent ruling involving Chattanooga, Tennessee, and Wilson, North Carolina, will open doors for local governments to think about how they can help build or manage public infrastructure to provide high-speed Internet connectivity. It's not an option that will work for every community and there's opposition from traditional Internet providers, but there are some intriguing possibilities.

Civic tech engagement: Some localities are blessed by having an actively engaged civic tech community that will help local government build cool apps, tools and make public information a more valuable public asset. How do you identify those people outside local government who can help those inside local government? Sure, you can host a hackathon. But that's only a short-term idea. How do you build lasting, relationships between your local government and members of the community who have great ideas for innovation and improvement?
Learning across jurisdictional boundaries: What's a good case study where one local government took an idea that was successful for a peer jurisdiction and then adapted it and deployed it in their own community? Obviously, it's a great idea to always look outside your jurisdictional boundaries for good ideas and best practices. But what are some lessons in scaling up or scaling down a practical idea to make it fit for your community?
Are you a believer in the Metropolitan Revolution? Are we in the age of cities?

My short answer: Yes. Cities and other municipal governments are not just the incubator of good ideas, but they're the place where they're put into practice. As I've traveled around the United States and met with local leaders, they often cite the Metropolitan Revolution. There's a sense that with dysfunction at the federal level, local governments have either had the room to experiment and innovate or they've had no choice but to. Local governments are rising to the challenge to solve complex problems. There are great opportunities as well. It's an exciting time for anyone in local government.
What question(s) should we have asked?
Question: How often do you get out of the office and into the field?
Answer: Usually about once a month. I've been out on the West Coast a lot and will continue to be out there. But I'm regularly in the Great Lakes and up and down the Northeast Corridor. Building connections is important and I'll be heading to places like Atlanta, Denver, Nashville and Salt Lake City in the coming months. But Route Fifty is more than just me. I have a team of staff and freelance contributors, so our footprint is larger than it might appear.
Supplemental Reading

In Raleigh, State Lawmakers Throw Wrench in City's Central Park Plan. Again.
Atlantic Media Announces Hiring of Michael Grass
A Look at Gov Exec's Newest Brand
Rahm Emanuel and the Tale of Two Cities